The Shrewsbury Classic is my home festival, and I have had great success over the years, even winning it in 2019. However, I knew this year would be super tough because of the high levels and, even more worrying, the sewage deposited into the venue, which is another story altogether. Here is my account of how I got on.
Day One
I drew Peg 45 on the B section, which is known as Priory Walls. With a shallow area of five feet and 1.38m on the river and a rich colour, my priority was to catch a fish first and then concentrate on eels and perch. For this, I set up my Cadence CP200 6M Whip using a Top 3 in flick tip form to a 4 x 10 float to 0.10 mainline and an 0.8 bottom to a size 20 hook for bits. I also set up a pole bomb rig of 0.18 mainline, 0.16 bottom and a size 12 hook. In addition, a third setup included a 20g flat float and the same line and hook setup as the pole bomb rig. Very simple methods to prioritise the minimum number of bites to be had, given the conditions.
As the shout for all in came, I introduced a small ball of groundbait with a few pinkies in it and used pinkies on the hook. After ten minutes, I had a micro dace followed ten minutes later by another, so I took my time to concentrate on the flat float and pole bomb methods. To say it was hard was an understatement, but I kept my faith with the methods I was using and soon managed two perch on lobworm for 3-2-0. This had me finishing second in my section and equal third overall with my good mate Spud. The start I wanted.
Day Two
The rotation system used in the Shrewsbury Classic Festival saw me on Peg 65 on the C section. A snaggy peg, twelve feet in depth on the inside and boiling like a hemp pot! The river had risen to 1.52m, and few bits would be had as the colour was red and full of sediment. I kept my tackle very simple, a 1g whip rig for the edge using 0.10 mainline, 0.8 bottom and a size 20 hooks. I also put together a flat float rig of 25g to a 0.18 mainline, 0.16 bottom and a size 10 hook.
Again, it was all about concentration and, more importantly, getting that first fish in the net. On the all in, I fed a small ball of groundbait with pinkies in it, alternating pinkie and maggot on the hook. In the first twenty minutes, I had two roach for 4oz – objective achieved!
It was time to break out the flat float, feeding a mixture of worm and meat through a bait dropper and after ten minutes, I had an eel on, only for it to come off! I hoped this wouldn't be costly, especially as the next hour and a half passed without a single sign of a bite. Out of the blue, though, I hooked another eel. This time a proper chap, only for it to snag me up. I let the line go slack, hoping it would release itself if it felt resistance. I gave the pole some decent side strain only to break the male joint on the seventh section. My fault for not checking the join was tight! By the time I had shipped back, my pole was out of reach, but the tip of the pole was reachable, provided I stripped off to retrieve it. Boy, was that water cold!
By the time I'd got in the water and retrieved the tip, the eel had gone. Thankfully my mate Frosty was on hand to lend me a spare section to use for the rest of the match. I did manage one small eel for a total of 0-14-0 and fourth in the zone with 2-8-0 winning it. Gutted was an understatement.
Day Three
The last day of the Shrewsbury Classic. I drew peg 7 on the A section, a long walk, but with the chap, the day before catching a couple of roach late on and the colour of the river improving, I was confident of catching a few. The peg itself is in a bay with a nice flow on the stick line and nine feet of water, the bolo line was twelve feet deep, and I set a perch line at five sections.
Tackle wise, I went for a 6 No 4 stick float to 0.14 mainline, 0.10 bottom and a size 18 hook. The bolo rig was 2.5g with 0.14 mainline, 0.10 bottom and a size 18 hook, and the perch rig was a 1g carrot pattern to 0.18 mainline, 0.16 bottom and a size 12 hook.
I kicked off the session on the bolo, feeding hemp and maggots on both stick float and waggler lines. After ten minutes, I just felt the bolo wasn't right, so I swapped to the stick float and started to catch small dace and roach. I then hooked into a decent chap, slipping into the net a perch of a pound. In between catching silvers, I added two more big perch over the next two hours. I moved over to the perch line. Feeding just lobworms, a big perch hit that looked around three pounds and another after, which weighed about a pound. I then alternated my methods, but no more perch were caught, and only one small roach and a dace graced my net afterwards. I ended the day on 14-9-0, an overall win for the day but, more importantly, one point.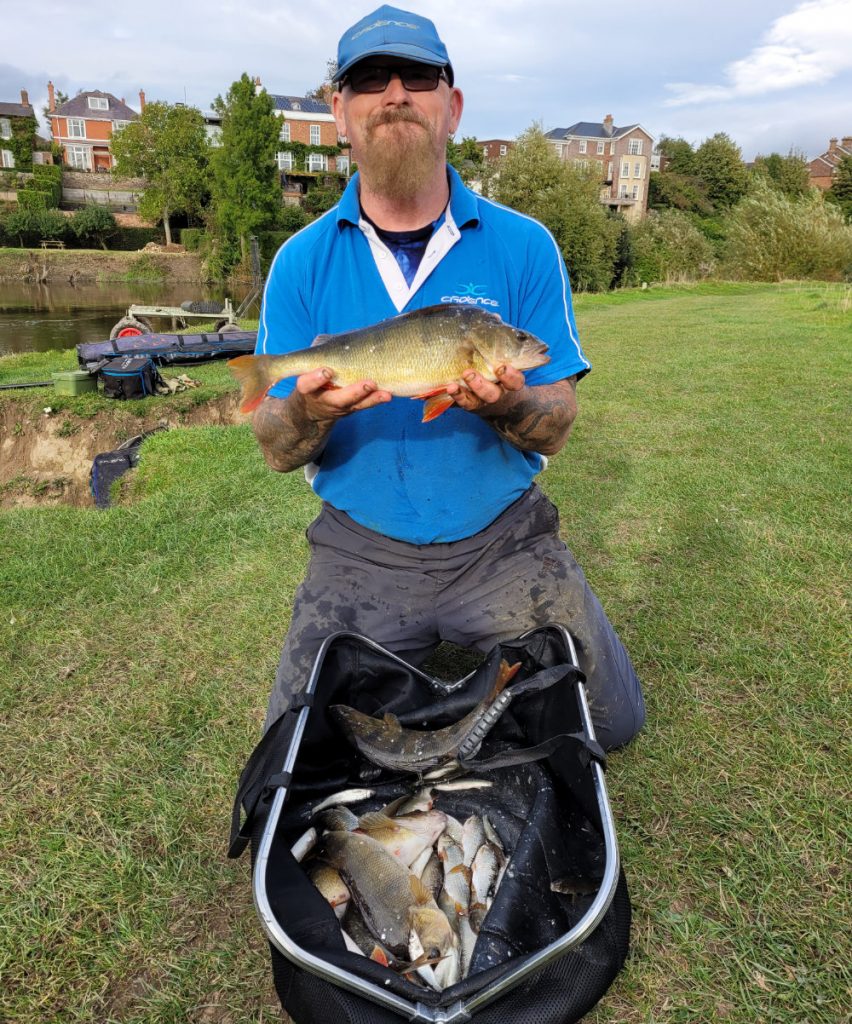 Back at HQ, my great friend Ian Hughes put in another sterling performance to win his section again, giving him the title on four points. I could only curse my bad luck from day two, which would have put me on equal points. So, where would I finish on seven points? Well, I'm very pleased to say I came in second overall, so I was a very happy chappy!
My thanks to the Shrewsbury Classic organisers, anglers, and the weigh-in boys for making this another memorable event!