I've mentioned that my fishing is mainly pleasure fishing with a leaning towards a more specimen approach. Although I started out match fishing and still enjoy the occasional club match, my first love is specimen fishing, and I thought I would give you a little run down of my use of the Cadence CR10 Specimen Rods with bite alarms.
CR10 Specimen Rods are two-piece rods. They come with one Avon tip and one carrier section with a 3oz and 4oz carbon quiver tip. For more information on the CR10 Specimen rods, I'd encourage you to watch the introduction video below with Des Taylor and James Robbins. James and Des explain everything you need to know about the rods, and Des is also fishing with the quiver tips in the video.
Multi-Purpose Rod
The rod can be used for both float and ledger fishing on rivers and still waters. I love nothing more than roving along a river with just the rod, landing net and a bag with a few bits and pieces of tackle in and some bait. Scanning the river, looking for likely places that hold fish and sight fishing for them with polarised glasses. When I spot a fish, I decide on the best approach to try and catch it. Ledgering with a still bait, using either a feeder or straight lead, rolling a moving bait like luncheon meat or running a float towards a nice overhanging bush. The CR10 Specimen rods give you so many options and are ideal for this type of approach.
Another way that I use my Cadence CR10 Specimen rod is on lakes with bite alarms. Some people may well think this is a sit back, wait and lazy style of fishing. I can assure you that it is not; these bite alarms can be used in different ways to cover a diverse range of situations.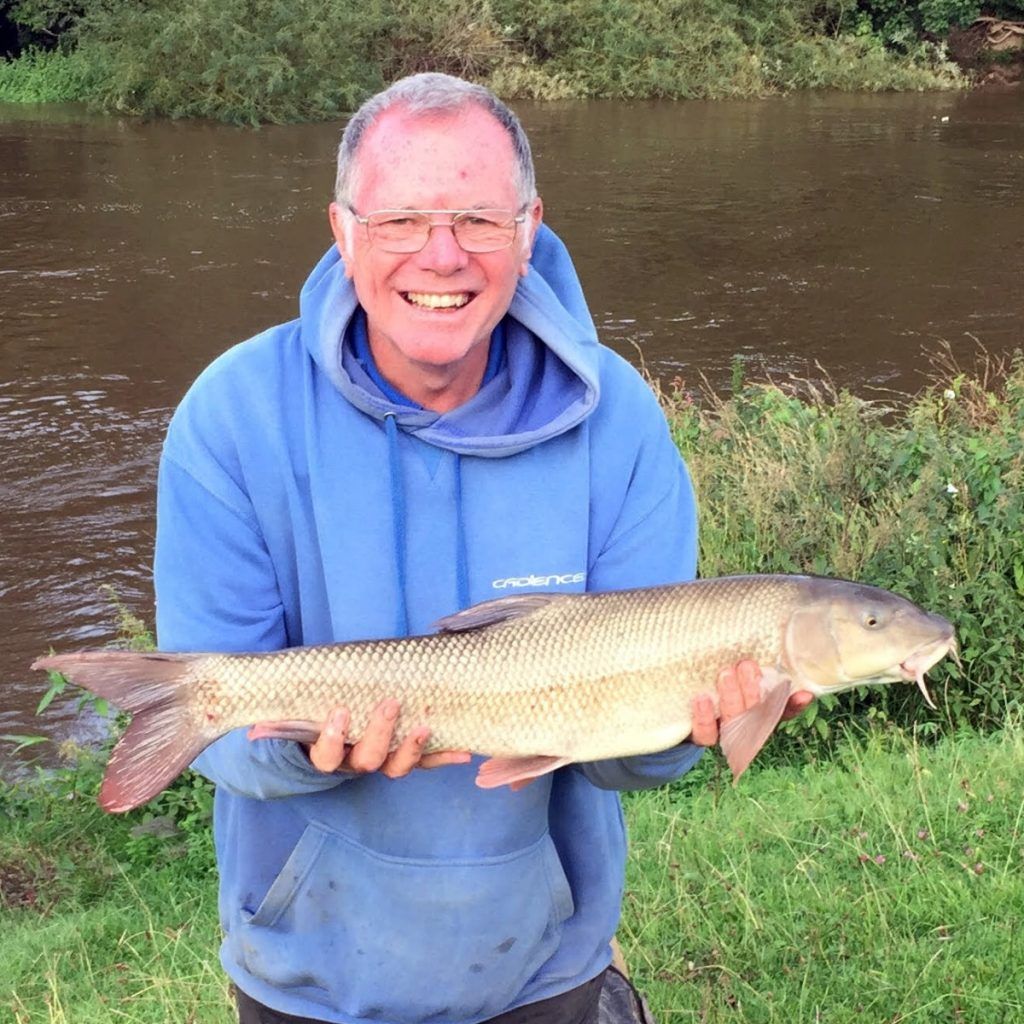 Alarms and Bite Detection
With the help of the photograph below, this is how I use bite alarms for fishing on lakes.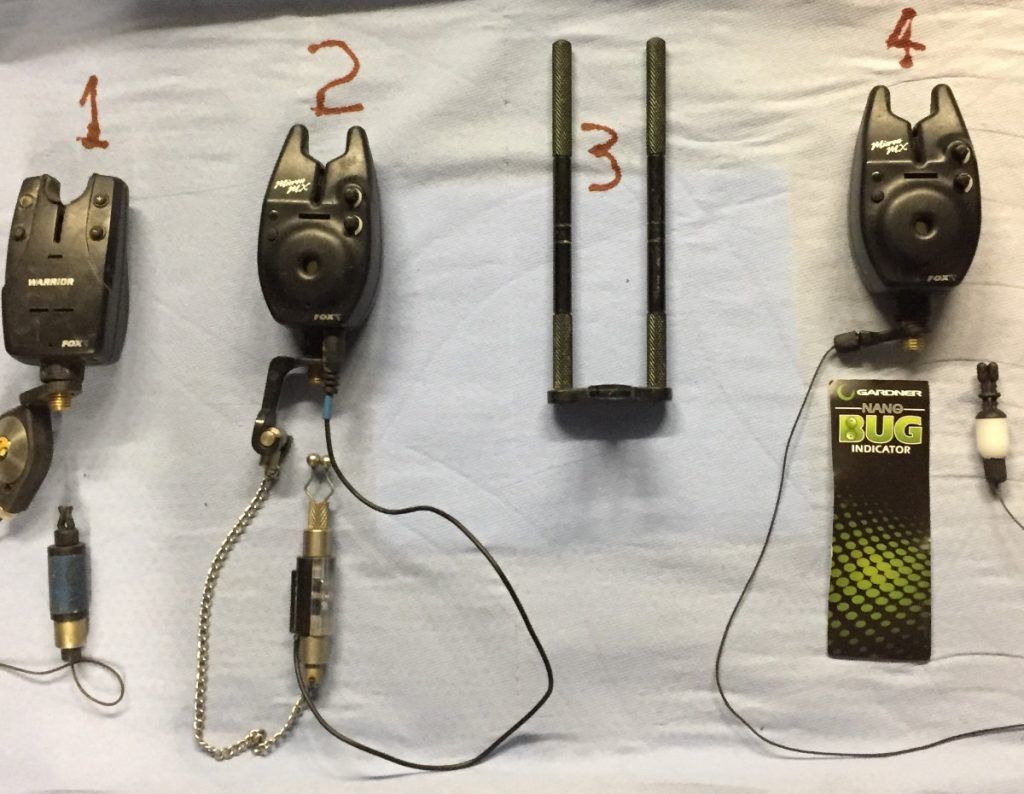 Number One – This is a cheap Fox Warrior alarm. The left-hand button is ON/OFF. The two buttons on the right are the volume control, and it's worth mentioning here that having a loud alarm is a real annoyance to other anglers, so set it so that only you can hear when you get a bite. You're the only person who needs to know you have a bite, not Dave 200 yards away! The bobbin is on a cord and gives a slight weight to keep the line in contact with the roller on the bite alarm, if the line moves either backwards or forwards, it turns the roller, and this movement sets off two things, the LED will flash, and sound will emit from the alarm.
Number Two – This is another Fox alarm, which is a little more expensive than the first. With this one, the bobbin is connected to the alarm via both a chain and a plug-in lead. I use this indicator mainly for night fishing, as both the bite alarm and the bobbin will light up when the alarm goes off.
Number Three – Snag Ears are probably the best value for money, cost saver you can buy. When fishing for either barbel or carp, if you get a three-foot twitch, screaming run, it will save you losing your rod and reel. The extra length that the snag ears provide makes sure that your rod can't bounce out of the bite alarm during a run before getting to your rods. I use this combined with the Drennan Grip Butt Rest for added security. I know several anglers who have had their rods dragged into the water and lost forever. That is why it is a cost saver.
Number Four – Well, I will explain this a little bit later at the end of the Terminal Tackle section below.
Terminal Tackle
In the next photograph, I've illustrated the terminal tackle that I use with the first two bite alarm setups.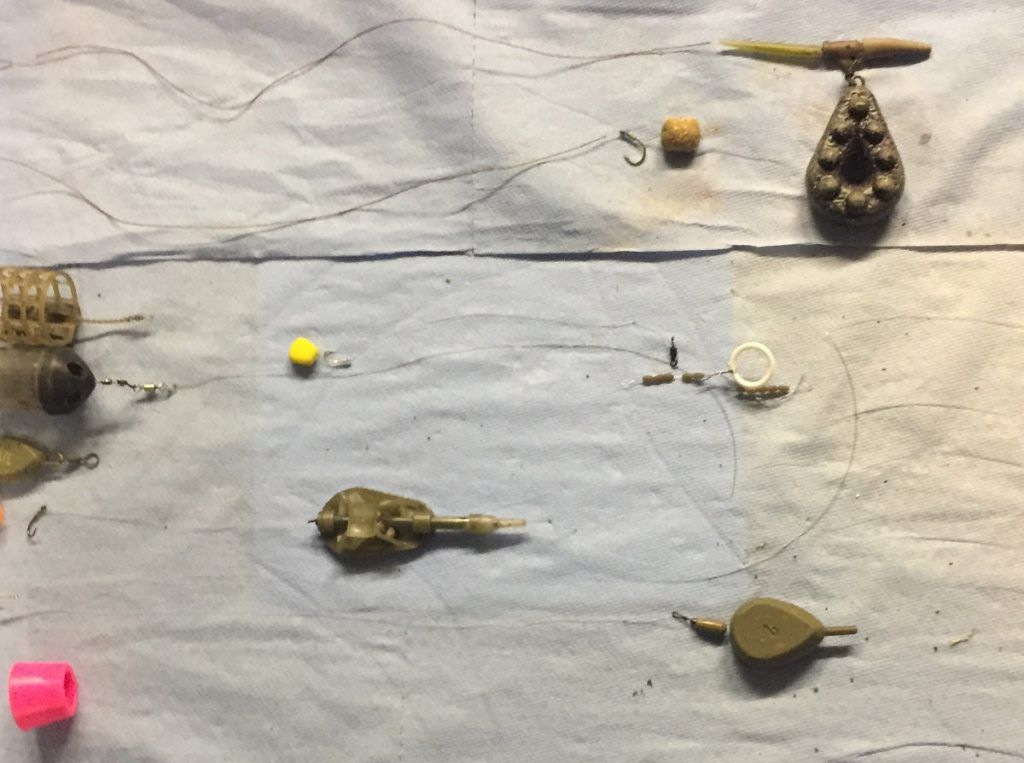 At the top is a flooded river barbel rig, with which I use boilies, pellets, and luncheon meat. I feed using PVA bags, or sometimes if using meat, I will lose feed several swims and rove about. The object in the top right of the picture is a clip-on back lead. This is used to keep the line hard on the bottom and is clipped on after the cast. The line then goes straight down from the rod tip.
Below this is the swim feeder and straight lead setup that I use on lakes for carp, crucians, tench, bream and roach. I fish helicopter-style, which is a short hook length set on a boom above the feeder. A good tip with this setup is to make sure the hook is above the top of the clip swivel on the feeder to avoid tangles. The hook length is on a swivel between the float or feeder stop and is free to spin, hence the name helicopter. Helicopter rigs are excellent for casting long distances and due to the hooklength spinning around the mainline, help minimise the number of tangles you might encounter.
This method can be fished very effectively using alarms as it can as an inline straight lead using either feed in a pellet cone or PVA bags.
All these setups are effectively bolt rigs, where the fish picks up a bait, feels resistance and bolts away and self-hooks. When the fish picks up the bait and runs away or goes off to the side and away, it will produce a run. When the fish picks up the bait and swims towards you, this will be a drop back. This is where bobbins are essential. They will give you a quick visual indication of whether the bite is a run or a drop back. Set the bobbin short below the bite alarm at around 5cm or 2 inches, for us old uns.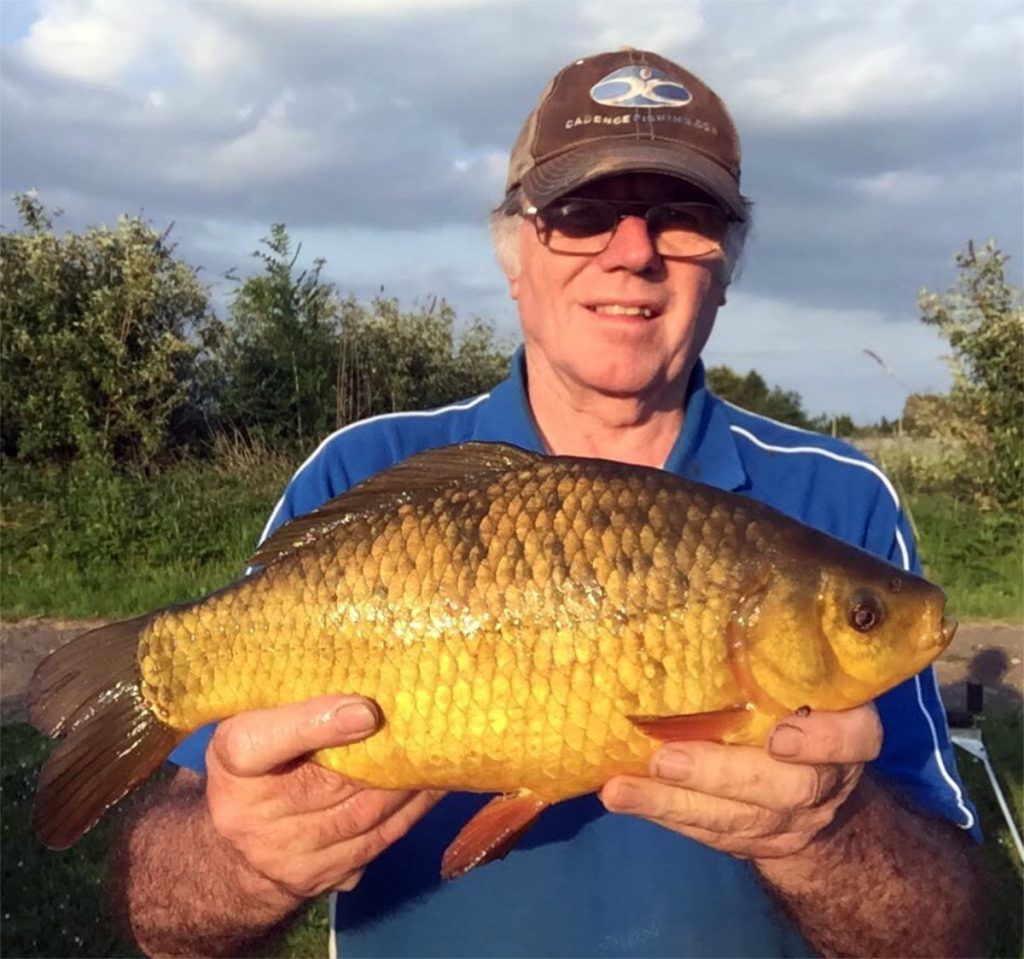 Lastly, when I'm using alarm set up four, my terminal tackle changes as I'm predator fishing, searching for perch, eels, and zander. I don't fish for pike, but this setup can be used for them too. Anglers like Des Taylor can give you a much better article on fishing for pike!
It may surprise anglers that fish with lures, but perch, eels and zander are very timid when fishing with a still bait. This can best be explained by going back to my childhood, fishing with worms below a float for perch. The bite would be a couple of bobs, a little sideways movement, a few more bobs and eventually a slide away. In other words, there was a lot of messing about at first. Perch and eels are cautious, smelling and tasting a bait before picking it up. If there is any resistance, the bait is ejected. So, your bite alarm set up must be completely different from the bolt type of fishing.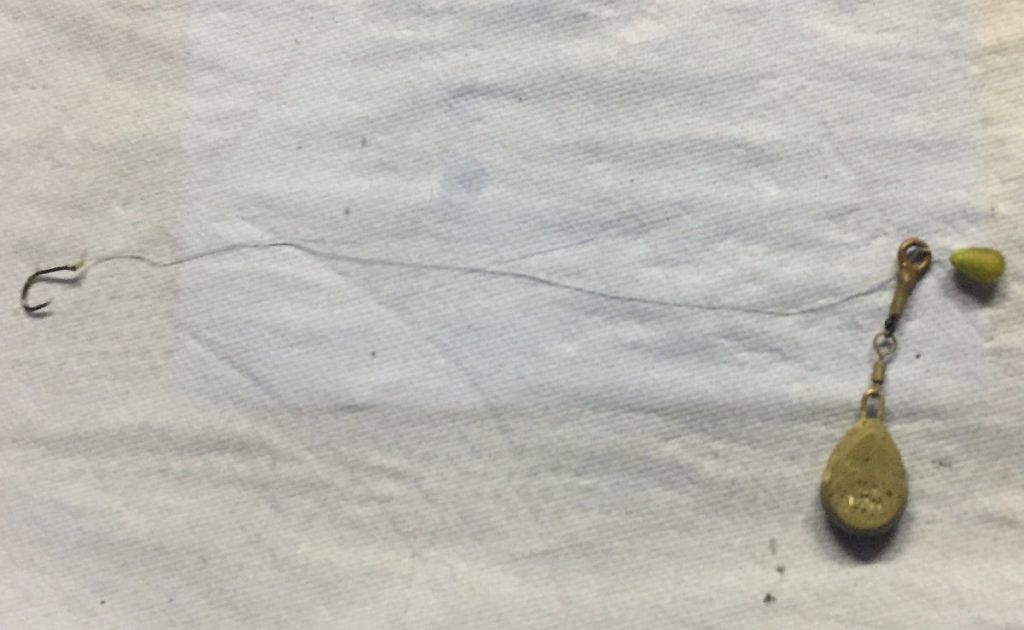 You must use a free-running setup. I use a Korum run ring with a small lead and a hook length of at least 50cm with a large, barbless hook of at least a size ten and often bigger. The bait is either prawn or pieces of uncooked fish. The bobbin on the alarm is a Gardener Bug, a plastic clip-on bobbin with no additional weight. It is best hung at least 30cm below the alarm. The line down to the lead is fished quite slack, so the setup is very low resistance. As a predator investigates, the bite alarm signals movement but until there is a good run or a drop back, don't strike!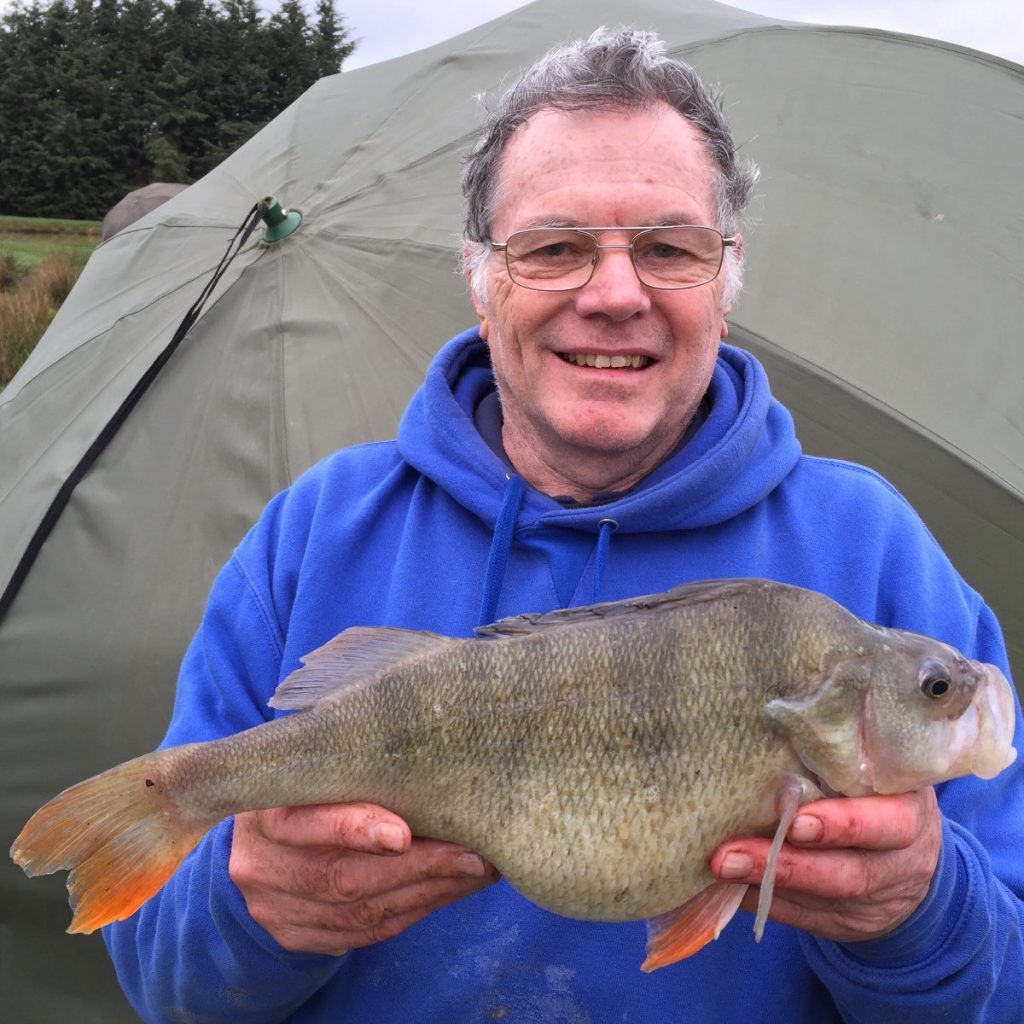 For the eagle-eyed amongst you, yes, the photo of the free-running rig is wrong. I just threaded the hook through for the photo, the clip should be on the left of the lead, and the line runs back to the rod.
So that is how I fish with bite alarms. Please get in touch with me if you want to know more. Catch you next time!