In this blog, Cadence's North West ambassador Alan Barnes sings the praises of what are classed as natural venues and the wild fish which live in them.
I don't know about you, but natural venues and the prospect of catching wild fish has such strong appeal to the angler in me. The chance to go fishing in highly appealing surroundings, on venues such as the Lancaster Canal, adds up to one thing, solace for the soul.
I was joined by Cadence cameraman and friend Ian Chapman on the Lanky towpath not too far from Kirkham for a short, four-hour session, and this marvellous waterway did not disappoint.
Choosing to fish more towards Preston than Garstang offered the prospect of a relatively peaceful fishing session with fewer boats around than at Garstang, which has several marinas.
I chose a very fishy looking spot with far bank trees and 'stickups' to my left, both highly promising 'fish holding' features in themselves.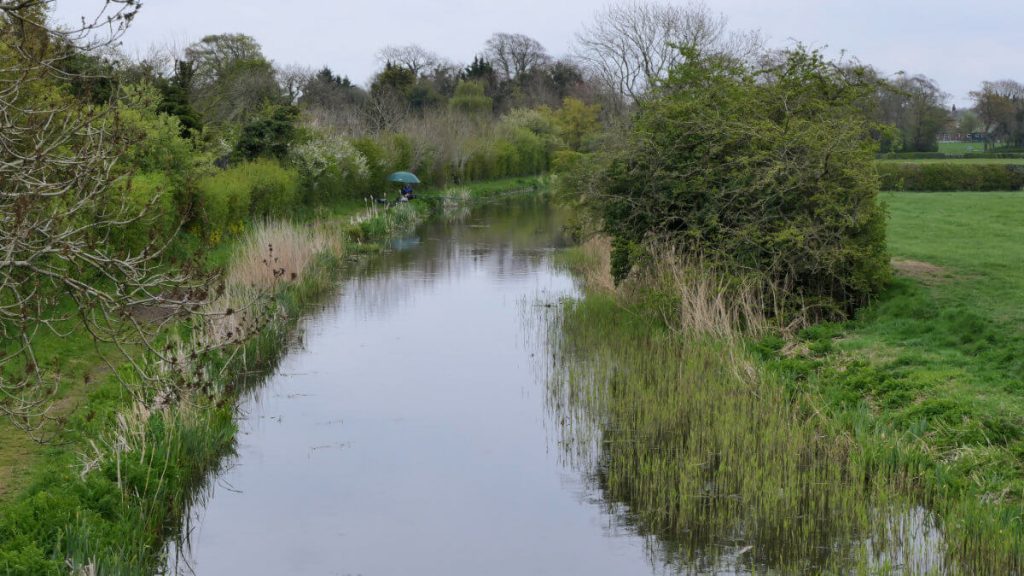 We live in an age of many mind-boggling bait choices; multi-coloured and flavoured pellets, paste, boilies, wafters etc., but if I could take only four baits for a session on a canal, they would be – in order of importance and fish-catching attraction – bread, worms, casters and hemp.
Bread is still a very underrated bait, but it fascinates many anglers, judging by the response to the Cadence video I made with Chappy almost three years ago. In the video, we looked at bread punch fishing on the Leeds Liverpool Canal, and it has been watched a staggering 39,000 times! You can watch the video here.
What is the appeal of bread to fish? Honest answer? I haven't got the faintest idea, but they love it, and the response is generally instant. It certainly stands out on the hook in the water and as a cloud of attractive particles when fed. The fish just can't help but investigate.
The Lanky is a good bread venue, and if I can run through a few essentials of my approach, you may wish to apply them to your fishing as bread works pretty much anywhere.
Bread preparation
The liquidised bread for feeding is simple enough to prepare. Buy two large, medium white loaves. Leave them in their bags or wrappers for four days to go dryish. Cut off all crusts and put the bread through a food blender. My personal preference is to put the liquidised bread through a pinkie riddle, then bag it up, label it as 'pinkie riddle fine', add the date the batch was made, then freeze. Then remove the bread to defrost the night before your fishing session. Easy!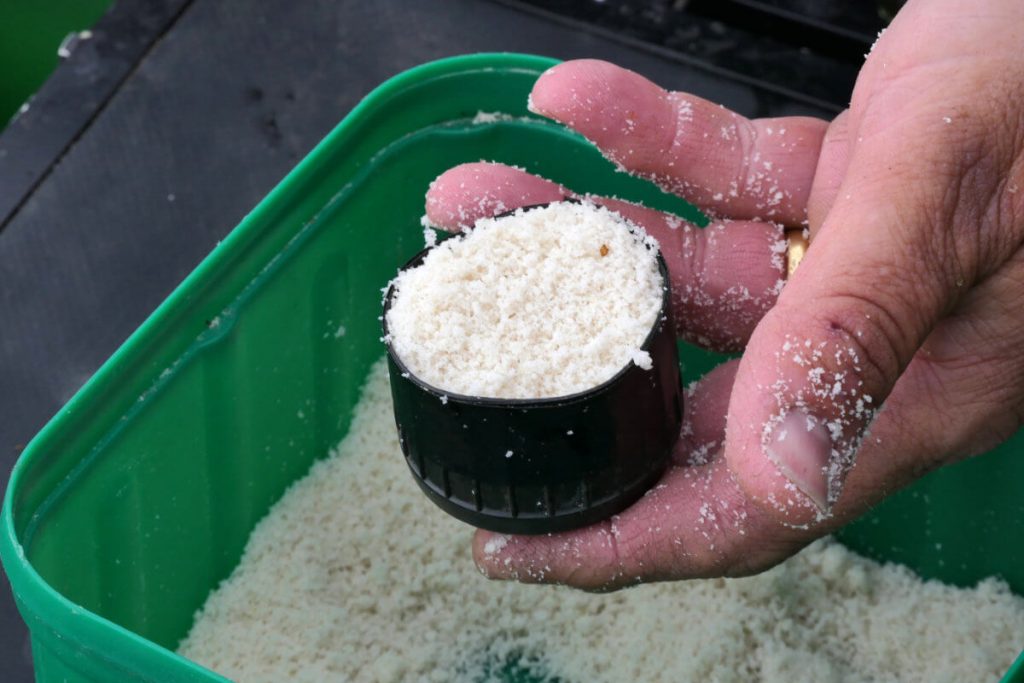 Float size and elastication
My preferred float is the Drennan AS SF2 pattern. This body down shaped float has an unbreakable nitinol wire stem and comes with four inter-changeable see-through, hi-viz tips in orange, red, yellow and black.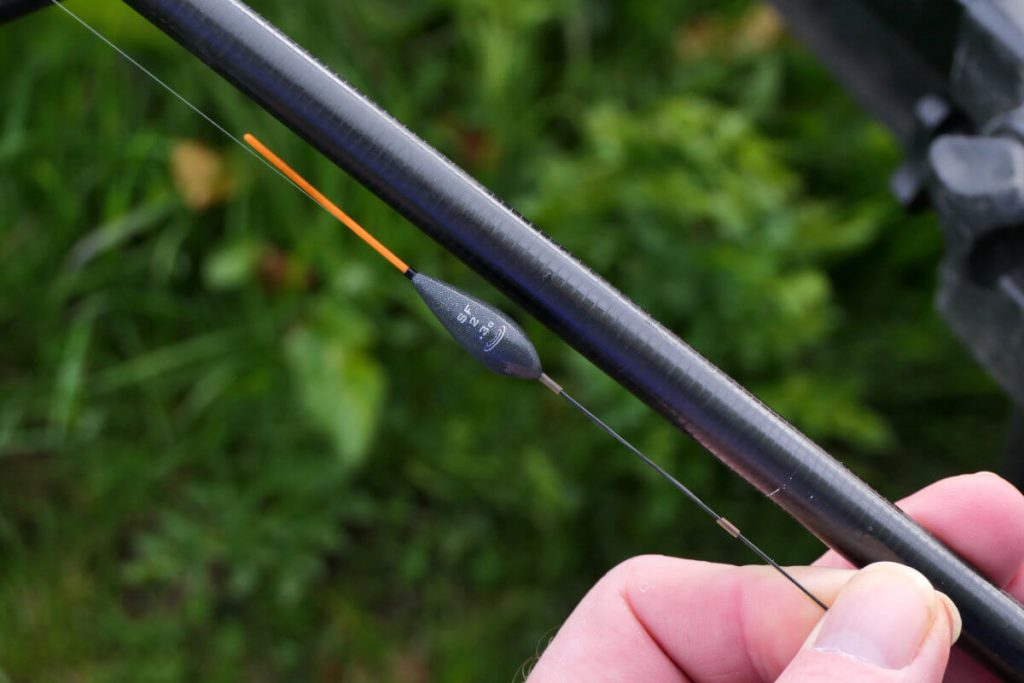 A common problem for pole fishing beginners is the dilemma of what size of float to choose. The simplest way is to match the size of float to the depth of water. So in four feet of depth, you will not go far wrong with a 4 x 14 or 0.4 gramme model. In three feet, 4 x 12 or 0.3g, or in two feet, a 0.2g or 4 x 10.
What elastic strength would I recommend? On the Lanky, it is a possibility – but not always a probability – that you may encounter one or two large bream, and they go up to 4 lb.
The Lanky has a big head of hard-fighting roach/bream hybrids too, these days, plus my favourite species, roach, which vary in size, maybe up to 12 ozs.
Therefore, the safe and sensible option is to go for a softly-tensioned solid elastic to cover all eventualities. My preference is original Slip elastic by Preston Innovations. Size 5 or maybe 6.
My elastication method involves using eight inches of the microtip on my Cadence CP2000 pole, incorporating a neat and unobtrusive internal PTFE bush. The elastic is run through the microtip and number two section of the pole.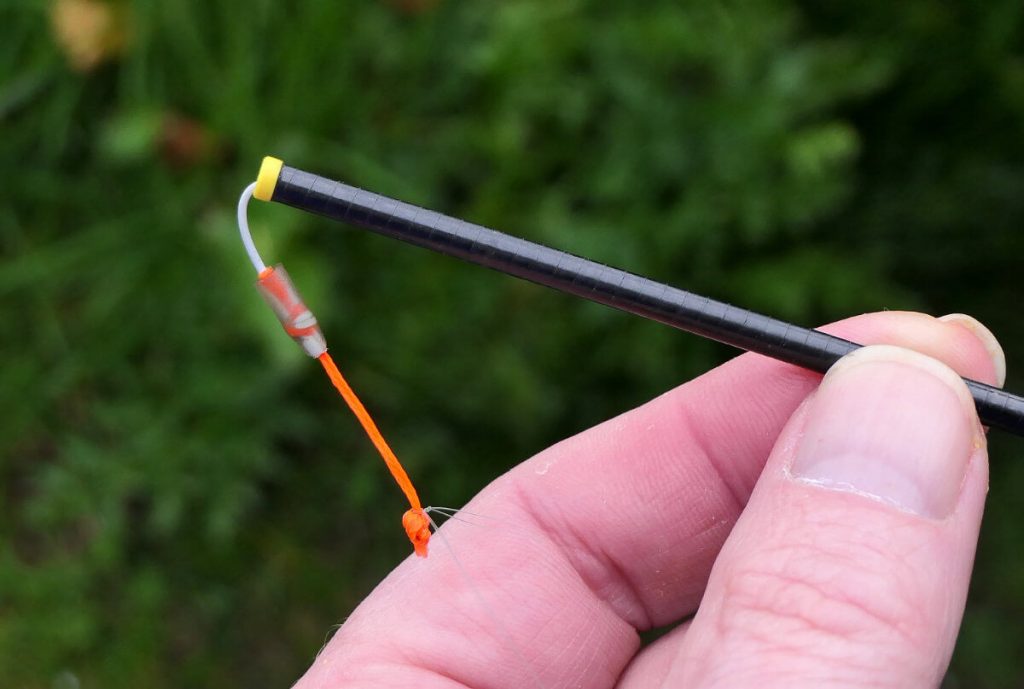 This means that softly tensioned, there is getting on for four feet of elastic in the top kit, which can stretch to 12 feet-plus if a big fish is encountered, and it gives you EVERY chance of landing your bonus specimen.
For pole fishing beginners, can I add that softly set elastics result in fewer missed bites and fewer 'bumped' fish.
Staying on the subject of elastication, lubrication is important. Let me rephrase this:
regular, through the session elastic lubrication, is hugely important.
You may prefer a shop-bought proprietary brand of pole elastic lubricant, each to their own, but I use cheap, common or garden washing up liquid diluted to a ratio of 50:50 with tap water. It works for me, and I have seen no evidence of it rotting pole elastic.
The importance of plumbing
The canal is 14 metres wide here, but from the mid-point at seven metres, the depth shallows gradually from four feet up to around a foot.
It pays to take a couple of minutes to plumb around your chosen fishing spot, rather than just attaching a plummet, choosing one particular spot, and getting a depth read there.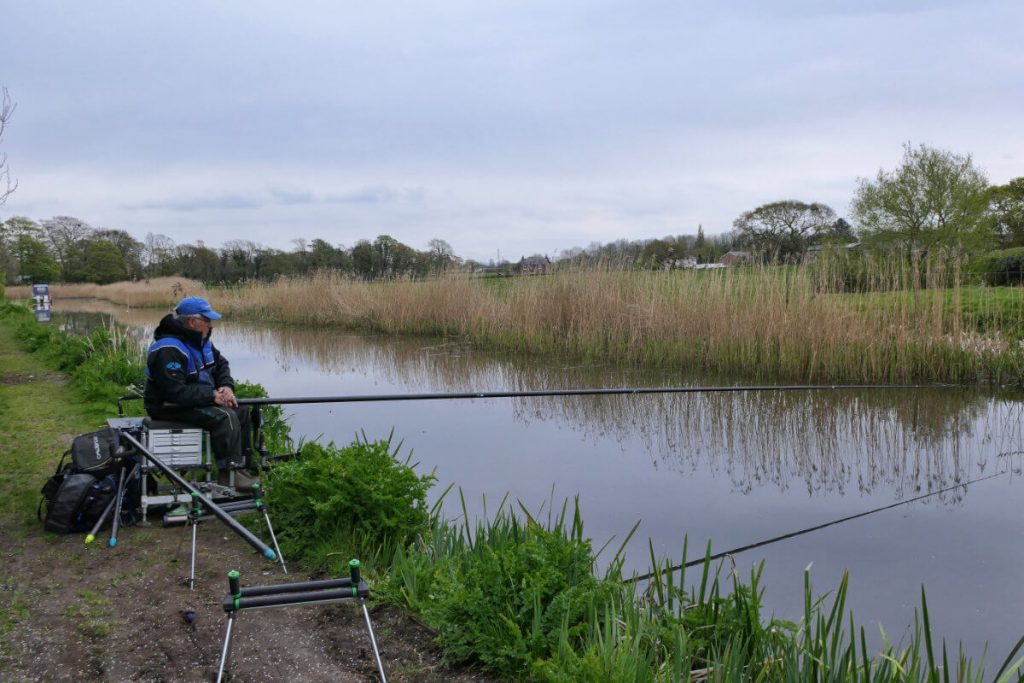 Why, you may be asking. Well, I just want to establish a mental image in my mind's eye of what the bottom does in front of me. Watercraft can't be taught. It is something that we all develop over time, but trust me, by plumbing around, you may find an underwater feature or fish-holding spot such as a slightly deeper hole.
Another thing that Chappy found interesting was my homemade plummet! On any venue with a silty bottom, we face the problem of the plummet sinking into the silt, resulting in a false reading. After much thought on how to beat this, I came up with my idea, which is cheap but very effective. I drill a small hole in a 2p piece, then Araldite (don't use superglue, pop pickers, it won't work!) a felting nail in place, and use a piece of black silicon float sleeving, the sort you'd use on the stem of a stick float. I nick the hook in the rubber and plumb up, knowing the plummet will sit on the surface of the mud/silt and not sink into it. A small but important point for accurate plumbing.
The rig
Back to the events on the session, and on seven sections of my Cadence CP2000 pole, I found a depth of just over three feet.
My rig, using a 0.3 gramme Drennan AS SF2, was made up on 0.10mm diameter Match Team line. This particular brand has a couple of attributes that I like. Firstly, it is robust, and the shot can be moved on it without causing line damage or pig-tailing. It is also relatively cheap compared to some other hi-tec line brands.
The float is shotted using the coated green-coloured Sensas shot. These move easily, and I formed a bulk which was positioned 15 inches from the hook, which was a size 20 Kamasan B511 on a 15cm (6 inch) hooklength of 0.08mm diameter Colmic Teck Stream line. The dropper shots between the bulk shots and the hooklength loop were three size 14 half Styls.
After marking the float depth on the pole using liquid paper, I slid the float up the line by a full float length so that I would be starting the session looking for a bonus, bigger fish. I also started the session using a 5mm bread punch.
The session
I kicked off by putting in a decent-sized offering of pure white liquidised bread. I used an old pole cap as a measuring device. I squeezed the liquidised bread before potting it in, and I just add a small amount of canal water by just slightly immersing the edge of the feed cup in the canal. Doing this, you get the best of both worlds; a cloud from the wetted liccy and a more substantial ball dropping to the deck before breaking up. Double the attraction to the fish, I reckon!
The session went like a dream, with good, confident bites from the word go.
It soon became apparent that those hybrids, going up to 12 ounces, were ravenous, joined by roach up to three ounces.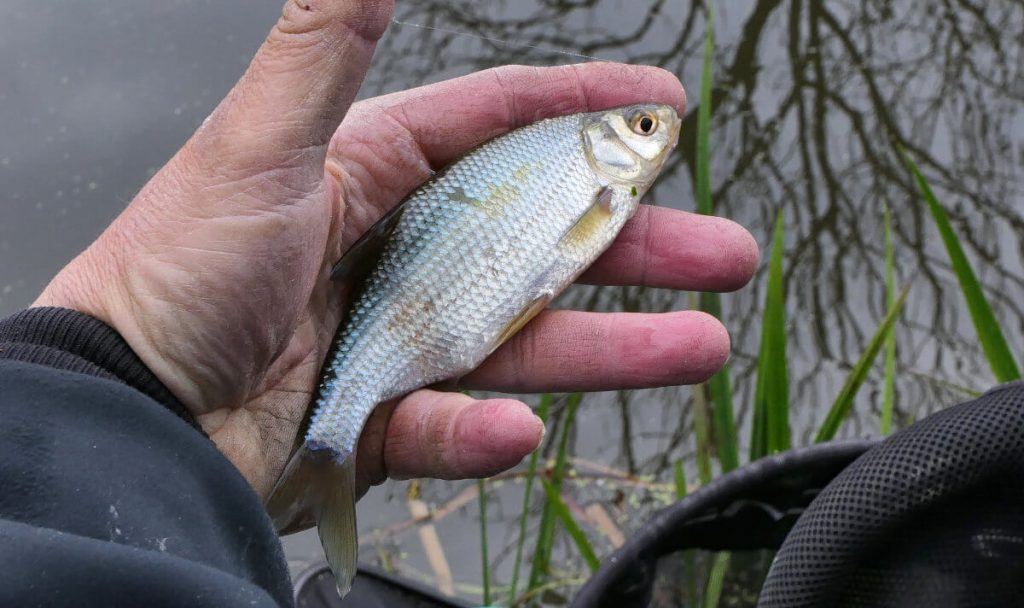 After an hour and a half and with a comfortable 4 lb of fish netted, I experienced something I hadn't experienced before today, a put-in without a bite.
"That means a big fish is in the swim," I suggested to Chappy.
Laying the rig back in, the bristle settled and, after a matter of seconds, vanished, the lift of the pole seeing eight feet of elastic pull from the pole tip before a 4 lb Lanky bream gave dogged resistance in a fight lasting five minutes before finally hitting the landing net.
Regular top-ups of bread, using the measure, kept bites coming.
A few fish also came to a caster line, but there is no question, bread was the best bait, and I finished with a pleasing 10 lb plus, underlining just what an effective, deadly and cheap and cheerful bait bread is.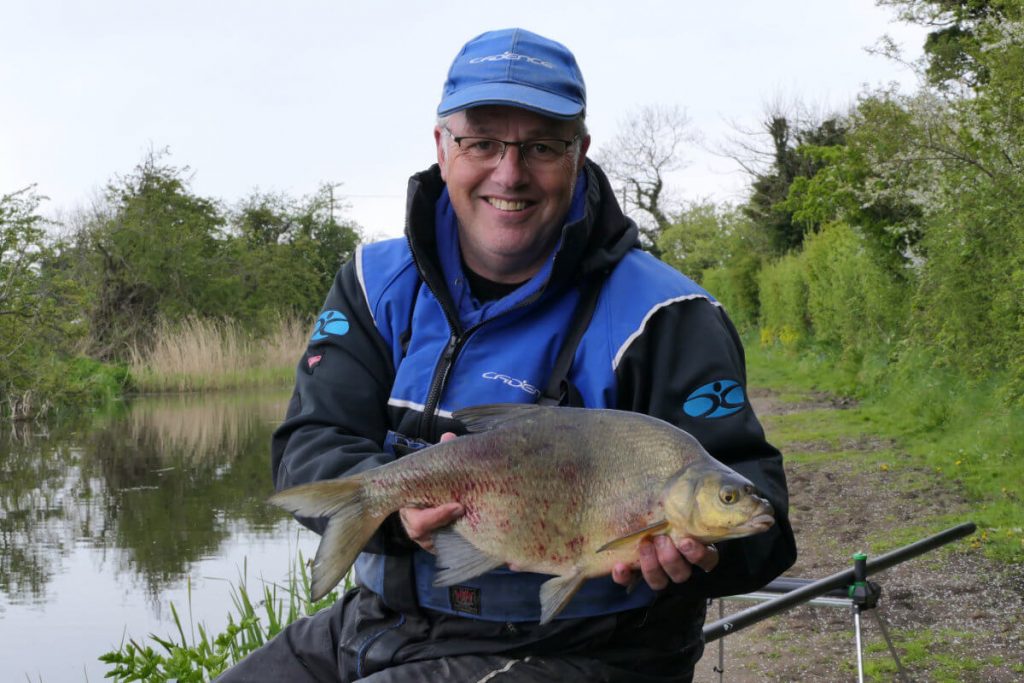 For the techno-heads out there, the caster rig was a 4 x 10 Ron Scales pole stick on 0.10mm main line to a Kamasan B512 size 22 hook to 0.08mm Colmic Teck Stream hook length, with a string of no 12 shot. Elastic was again a Preston Slip No5 solid elastic, fished in two feet of water at an angle to my right, well away from the bread swim.
We never saw another angler all the time we were there, and the unfolding spring flora was a delight to behold. I am not ever going to knock busy and understandably popular commercials, but give me this little piece of canal heaven any day! Loved it!