A self-confessed river addict, James Robbins, takes a closer look at his pole fishing rigs for the upcoming season, with a focus on Riverfest…
The Riverfest competition has become a major focus for my river fishing season. I really enjoy the qualifiers as they cover such a diverse range of venues around the country.
They are fiercely competitive, great fun and require great versatility to cope with the different venues and conditions encountered.
I'm sure that anyone who fishes the qualifiers will agree and I believe the competition has significantly raised the bar in terms of the skills and dedication required to compete and qualify on these brilliant matches.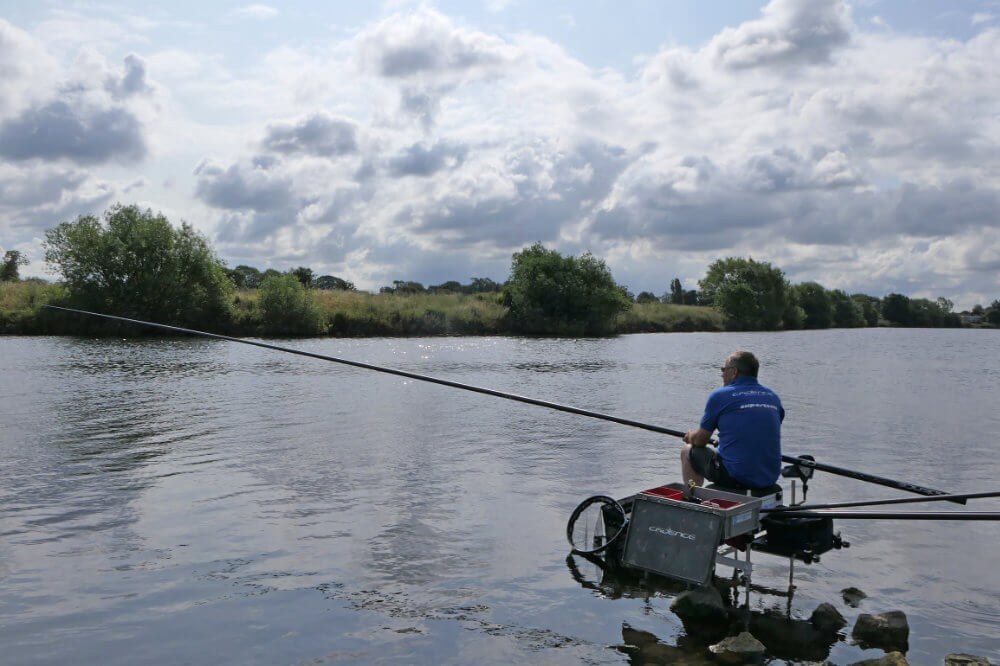 Since the Riverfest started back in 2013, I've managed to qualify for the final six times. I've qualified on the River Calder, Warwickshire Avon, Severn, Tidal Trent and Wye twice. Now that's a diverse range of venues and methods!
During this period, I've made a conscious effort to improve my tactics, methods and preparation. In short, I've had to!
Like many, I've had some painful matches, just missing out on qualifying, so close yet so far.
Tactics wise, for some time now, I tend to fish in a more defensive way with the aim to try and catch what the peg gives me. Maybe a stupid statement, but it's easy to try and force a peg and blow it or target big fish like bream or barbel that don't feed on the day.
Most of the times I've qualified or come close, it's been on days when a big weight hasn't been needed. Sometimes a peg or area in the qualifying zone runs away with it and the peg you have isn't simply good enough. But that's match fishing!
A mini section win is something to go for and some consolation in these situations.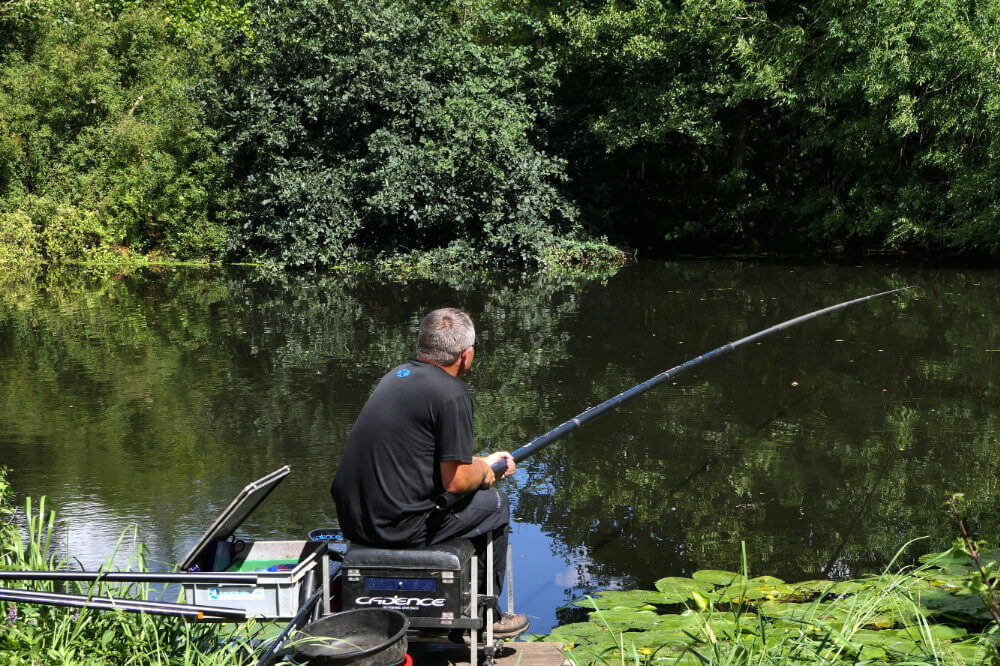 Where possible I try and fish the same qualifier venues every year. This helps you build up information on the key methods and target species. When I've felt weak on certain methods, I've forced myself to practice them and improve. I also try and fish some open matches on the venue in the run-up to the qualifier, this is so valuable as it gives you a great feel and understanding of the target species, methods, and conditions likely on the day.
One big weakness I've had to improve is my tackle preparation and in particular making pole rigs. This is not something that I enjoy, I have to admit! Like most, I feel my life is a difficult balance between work, family and fishing. I do fish a lot and I suppose in many cases that was at the expense of tackle preparation.
In recent years I've forced myself to improve my preparation and it's had a significant impact my performances and results.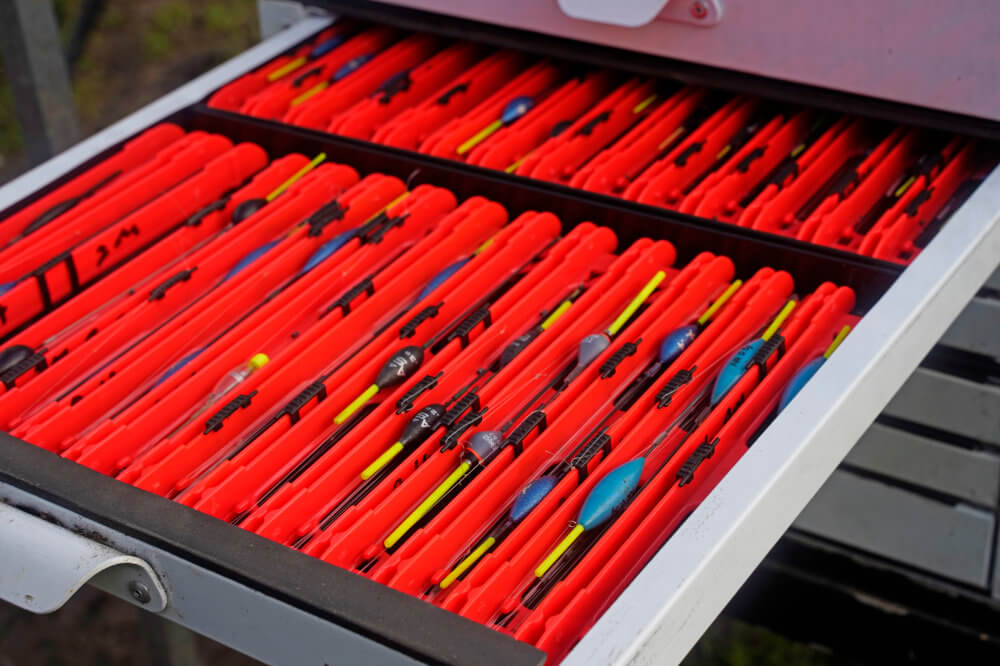 Also, if I can take a positive out of the lockdown early last year, it was the fact I had more than enough time to spend on sorting my tackle preparation out! This time allowed me to really think about all aspects of the terminal tackle I was using and as a result, I have consolidated it and finally got better organised.
So that's the theme of this article and I wanted to share with you six of the most successful rigs and terminal tackle I've been using when pole fishing on the Riverfest qualifiers and finals in recent years.
On drop / hemp rigs
I use these rigs when hemp fishing on all but the deepest or most powerful pegs. Also, use them for fishing other baits like maggots or casters when fishing on the drop. I like using styl leads on this type of rig as I believe they offer the best presentation and eliminate the chance of shot bites when hemp fishing (in my mind anyway). My most used sized float is 0.4g, I find it positive enough when building a good weight in most conditions and venues. I will use the lighter rigs when fishing shallower pegs and when bigger roach are feeding up in the water.
Chainti shape float (0.1g-0.4g) – the floats I use are made by Paul Power to the spec I wanted. Key features are the slim body, carbon stem and hollow tip.
Mainline – 0.11mm Vespe Pro
Hooklengths – 0.75mm to 0.96mm Vespe Pro
Shotted with styls – No10 and 3 x No8
Hooks – B511 size 20 / 18, Vespe V2 size 20 – 16. Tend to use the B511 when using hemp exclusively or the V2 when using hemp and other baits like maggots or casters. Don't like hooking perch on B511's as find I lose to many!
2 different rig lengths – 4 or 5 sections
Elastic choice – 4 or 5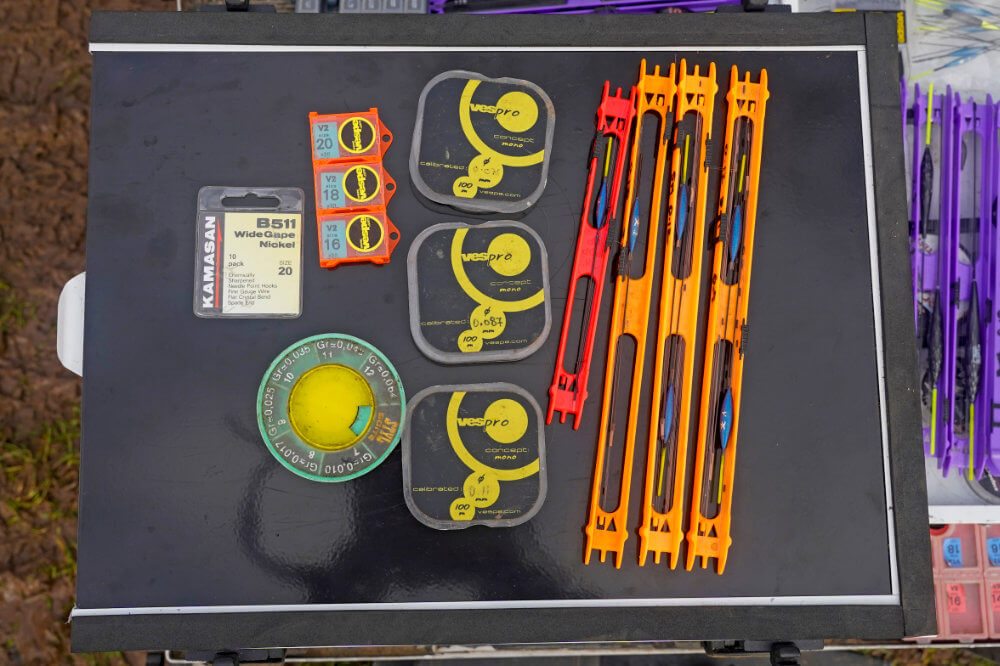 Finesse Olivette rig
This is my go-to rig when fishing over groundbait with maggots or pinkies or when using bread punch on harder venues like the Warwickshire Avon or Soar. Finesse is the aim of the game and I really like the wire stemmed Jean Françoise pattern. Its wire stem and body shape make it easy to control and it also strikes 'cleanly out the water'. The fibre tip is sensitive enough when using smaller baits and when catching a smaller stamp fish.
I use an Olivette and four No10 droppers. When it's hard, I tend to spread three or four droppers out to give a better presentation. Alternatively, pushing three or four droppers together just above the hooklength gives a more positive 'double bulk' presentation.
Sensas Jean Françoise (0.6g – 3grm)
Mainline – 0.11mm Vepse Pro
Hooklengths – 0.64mm – 0.87mm Vespe Pro
Olivette – Prefer the lock and slide versions with silicon attachments to prevent damage on the finer mainline
Hooks – Drennan Fine match 22-18. I love these hooks! Nice and fine, sharp and the crystal bend is perfect for maggots, pinkies and casters. When fishing Bread punch I'll use a wide gape hook the Vespe V2 20-16 sizes or B511 20-18
2 different rig lengths – 4 or 5 sections
Elastic – 4 or 5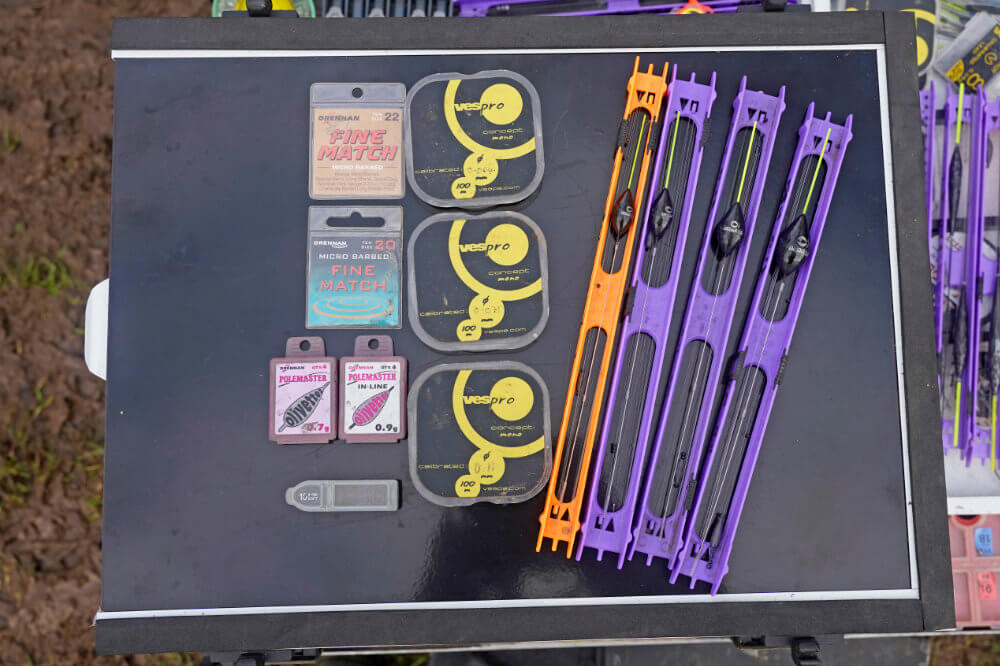 Standard Olivette rig
This is the rig I have set up on most Riverfest venues. It's extremely versatile and utilises a similarly shaped body as the Jean Françoise but has a stronger carbon stem and thicker bristle. It's perfect when fishing more positive hooks and hooklengths and when targeting bigger weights of fish on rivers like the Trent and Thames. I'll use it when fishing over groundbait with maggots, casters or bits of worms. Also, due to the Olivette it is very useful when fishing deeper more powerful swims and loose feeding over the top of groundbait.
As the rig is more positive, I like to combine it with a slightly heavier No6 elastic and this enables fish like roach, dace and perch to be easily swung in to hand. Also, handy if you hook a bonus fish like a chub or bream.
Sensas 'Avon' (0.6g – 3grm)Mainline – 0.15mm Pro Gold. This is a more robust 'traditional' type of mono that I'm now struggling to get!
Hooklengths – 0.87mm – 0.11mm Vespe Pro
Olivette and 4 x droppers. 0.6g-1gm – No10s, 1.25g-1.5g – No9s, 2-3g – No8s
Hooks – Drennan carbon match 18-14 for maggots or casters or Hyabussa 19-16 when fishing casters or worm for perch and skimmers
Elastic – 5, 6, 8
2 different rig lengths – 4 or 5 sections
Running rig
This is another essential rig for many of the Riverfest venues. The float is slim and sensitive but also stable.
I use it when I'm loose feeding and want to run the float through the swim, rather like a stick float. It's mainly shotted with number No8's and like a stick float can be fished with spread or bulk shotting patterns and everything in between! One of my favourite shotting patterns in recent years is to have all the shot spread out in the bottom third of the rig. I believe this gives great presentation but gets the bait into the feeding zone quickly.
Adjusting the depth of the rig keeps me in touch with the fish very efficiently. I like to use a long line with this rig and often make them up on six sections of my pole. Also, I'll use this rig a lot whip fishing and on powerful venues like the Wye and will use an Olivette on the 3g and 4g rigs.
A great tip when adding the No8 shots on the rig line is to double up the line at the bottom. Pinch the shot onto the doubled-up line and then slide it onto the rig. The shot will then move easily and not damage the line.
Sensas Alberto (0.6g – 4grm)
Mainline – 0.15mm Pro Gold.
Hooklengths – 0.87mm – 0.11mm Vespe Pro
Shotted mainly with No8 shot + 4 x No9 or No10 droppers.
Hooks – Drennan carbon match 18-14 or Drennan fine match 18-16 in tougher conditions
Elastic – 5, 6 and 10 on the Wye
2 different rig lengths – 5 or 6 sections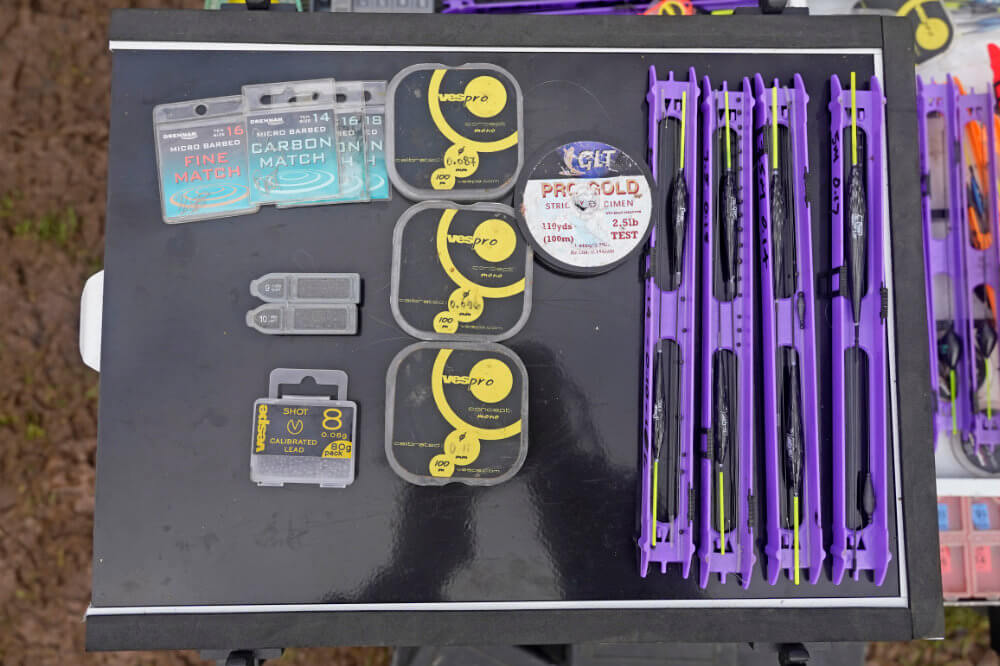 Heavy Olivette rig
This is my heavy-duty rig when fishing powerful venues like the Wye and when I want to really slow down the rig or hold on to it and fish over depth. The float has the same proven shape as my other Olivette rigs and has a thicker hollow tip that is perfect when using bigger baits and when catching big weights of fish. I often overshot these rigs with No1 or No4 shot to help get the perfect presentation. Also, prepare to use really positive droppers when fishing the rig to hand on long whips and when using big baits like lobworms.
Sensas Thames (1g – 4grm)
Mainline – 0.17mm or 0.19mm Pro Gold.
Hooklengths – 0.112mm – 0.178mm Vespe Pro
Olivette – prefer the inline versions, have lost a few lock and slide Olivettes when catching well.
Hooks – Sensas 3180 BZ 16, 14, 12 for heavier hooklengths and B560 16, 14 when fishing 0.11 and 0.12mm hooklengths
Elastic – Solid 8, hollow 10/12, Black hydro
Rig lengths – 4 or 5 sections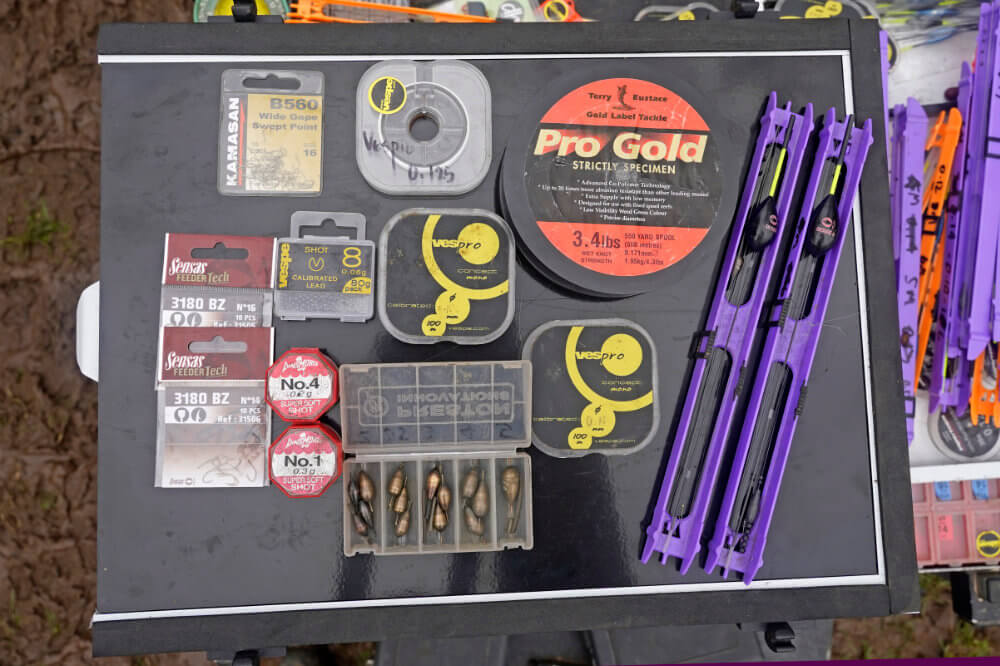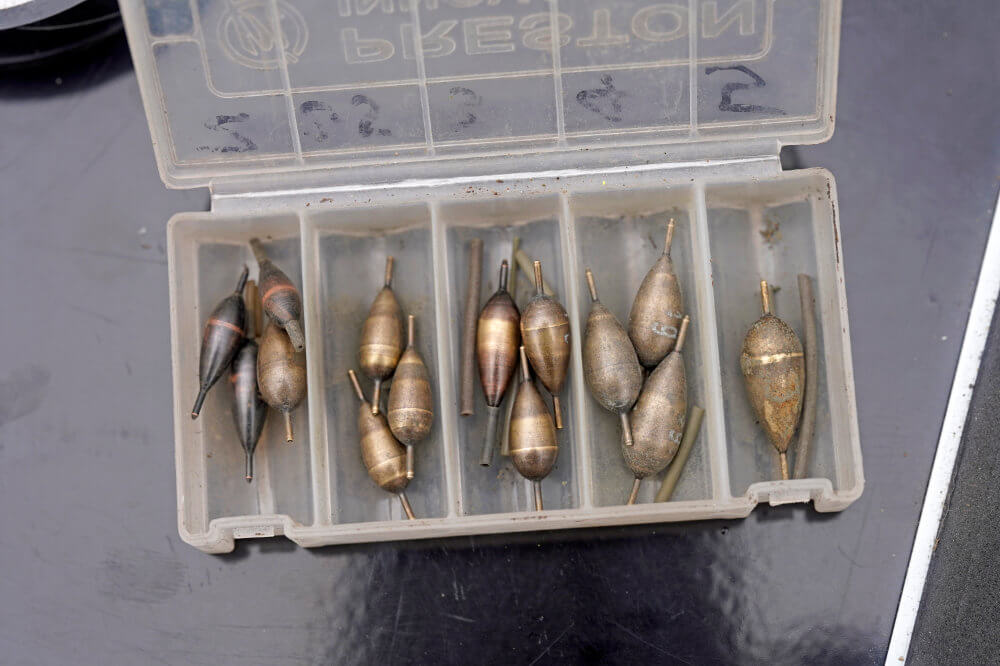 Flat float rig
Flat floats have become really popular in recent times and I do like to use them in specific situations. I like them in smaller sizes when I want to really ease the float through the swim and this can be devastating on days when rivers like the Avon, Severn and Trent are carrying extra water and pushing harder than normal.
I also like to use them when 'laying on' and fishing well over depth when targeting big bonus fish like perch, eels, chub and barbel. I carry three different patterns of flat float and have sizes from 2g up to 30g. In river matches like Riverfest, when ledgering is allowed, I only tend to use them up to 8g. Over 8g I'd rather use a pole feeder or standard feeder as I believe they are easier and far more effective.
A great tip I use is to make most of my flat float rigs up on standard pole winders. I don't keep the flat floats on the winders as they take up loads of room and can be easily damaged. All the flat floats I use can be fixed on the line with silicone tubing, so it's an easy job to add the flat float onto the rig. This also means I can change the pattern of flat float quickly to maximise presentation and if conditions change. For this reason, I also like to use 'lock and slide' Olivette's so I can change the weight accordingly and quickly.
Sensas Pawel (1g – 3g) – use this when fishing smaller baits and when targeting roach or skimmers
Cralusso Ray (2g – 6g) – great when easing the bait through and really slowing it down on rivers like the Severn and Wye
Cralusso Torpedo (3g – 30g) – this is the flat float I use when blocking the float and holding the bait still on the bottom
Mainline – 0.17mm, 0.19mm, 0.21mm Pro Gold.
Hooklengths – 0.10mm, 0.12mm with the Pawel and 0.12– 0.19mm with the Ray and Torpedo
Hooks – B560 18, 16, when fishing 0.10 – 0.12mm hooklengths – Sensas 3180 BZ 16, 14, 12 for heavier hooklengths – Gamakatsu LS-2210S 10, 8, 6 when fishing lobworms
Olivette – prefer the 'lock and slide version' so I can change them quickly / easily
Elastic – Solid 5, 6, hollow 10/12, Black hydro
Rig lengths – 4 or 5 sections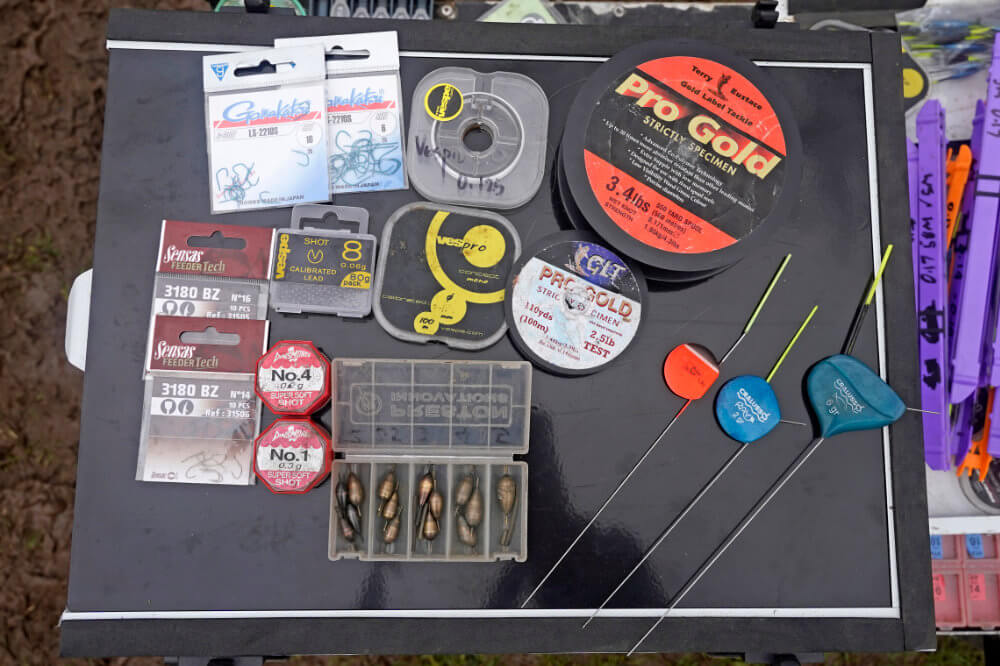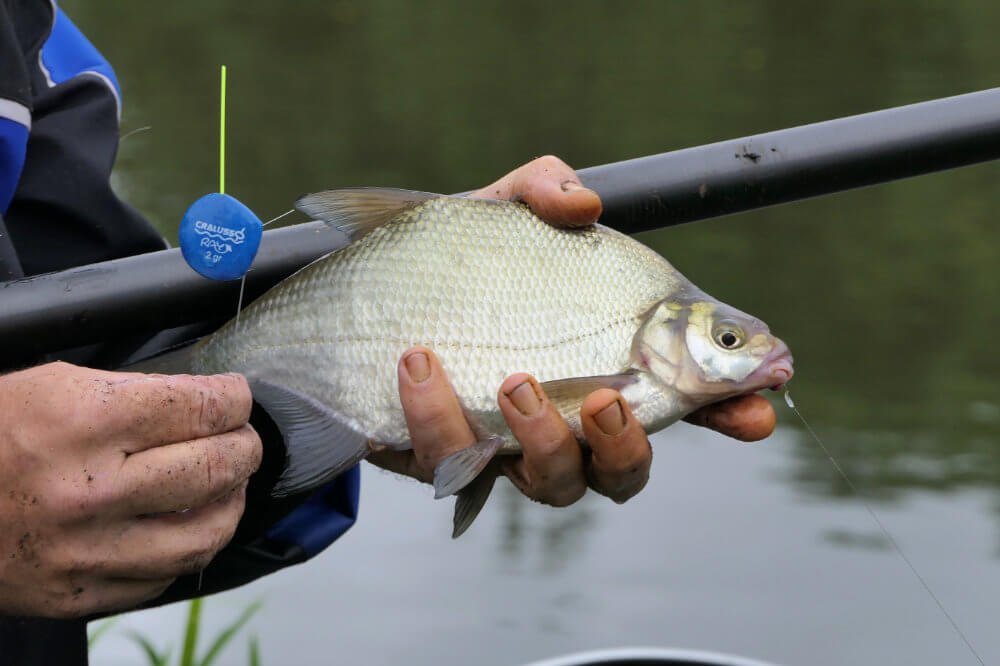 Final tips
Here are some final tips that have helped me when making my pole rigs.
I like to use black silicon tubing on the float tips instead of blacking them out with a marker pen when fishing. Saves ending up with loads of blacked-out floats and rigs (and having to make more!)
I tend to make most my rigs on the longest line I'm likely to use. That way I can quickly cut them down to size.
I like to mark the line with a permanent marker when making the rigs to show the different lengths, saves a lot of time. So, for example on most rigs, I make them 6m long and mark the line at 4m and 5m.
I've started labelling the draws on my Octbox too, so I can select rigs quickly and keep them organised.
Also, drink plenty of beer or wine when rig making, it helps with the pain…(Only kidding folks!).
So, there you go, hope this article helps you out on next seasons river matches and Riverfest qualifiers, I can't wait.
I'll see you there!
This article first appeared in Match Fishing Magazine.