In this picture blog, Cadence Superteam member Jason Cuningham highlights the power of the humble earthworm as a crucial part of his winter canal tactics, especially for perch fishing.
You have to have an open mind when match fishing, particularly in the tougher winter months. When water temperatures are at rock bottom, it's all too easy to think that roach and skimmers will feed, but they can be very quickly put off by even the slightest of falls in temperature.
One species has a stronger tolerance to the cold, though in my experience, and that is the perch. When nothing else can be tempted, perch will usually save a blank. From a team fishing perspective, they are a real saviour!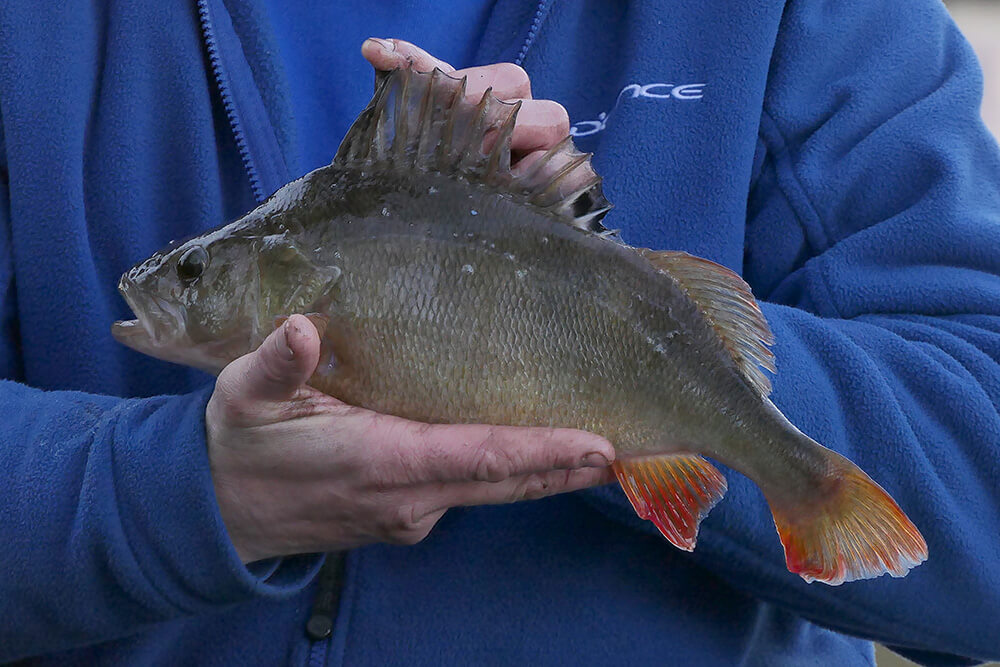 This session was on the Trent and Mersey Canal at Willington, Derbyshire. The peg I chose was between the moored boats, of course, if you were pleasure fishing, then it would always make sense to seek out such swims which attract all species, and predators such as perch will be there too.
What I would always advise is to plumb the depth accurately all around the swim to locate any depth variations, deeper holes, and most importantly to set the rigs accurately. Why is this so necessary? Well, let's have a think about a perch and how it behaves underwater.
Perch typically swim off the bottom. Even if they are close to the bottom, their mouth would still be off the bottom to a certain level depending on this size of the fish itself. The mouth of a pound size perch would be an inch off the bottom for example. The point I am making is that even though you can establish the exact depth, give or take the silt, the fact remains that your hookbait should not necessarily sit on the bottom where it can soon be out of sight of a perch, and they are sight/movement predators after all.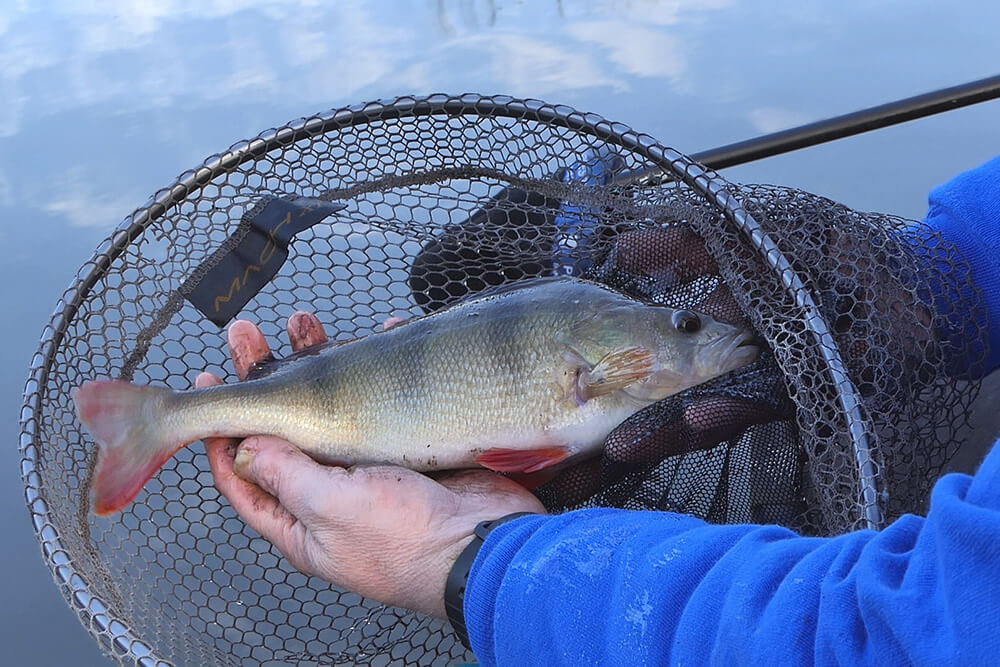 What I am driving at here is that you can mark the depth, but that does not mean that you should always stick to dead depth. The canal here has significant flow on it. Therefore, it can be productive to have the hookbait set over depth to compensate for the drag/tow.
Additionally, you can score with perch by setting the hookbait to sit an inch, or more, off the bottom so a perch can more easily detect it. All told, it pays to be open-minded and to experiment with the depth settings when pursuing perch because they can take at all levels.
Rig wise, there's nothing complicated required. I am using the Cadence Fishing CP2000 pole, which is an incredibly light and robust tool. The top kit for perch fishing needs to be rigged with appropriate elastic, and I'd suggest 6 to 8 strengths. For mainline I would recommend 0.16mm, you can get away with 0.14mm, but I don't see the point. Perch are not put off by thicker mainline. Hook length diameter can be as low as 0.12mm, but if your swim has no snags, then it can be better to fish straight through to the hook. You don't want to sit for so long in a match waiting for a bite and then lose a cracking fish!
Hook size is a sensible compromise, with a size 14 B611 being my choice. You need a fairly large hook to accommodate worms which are big hook baits, which I'll discuss in more detail shortly.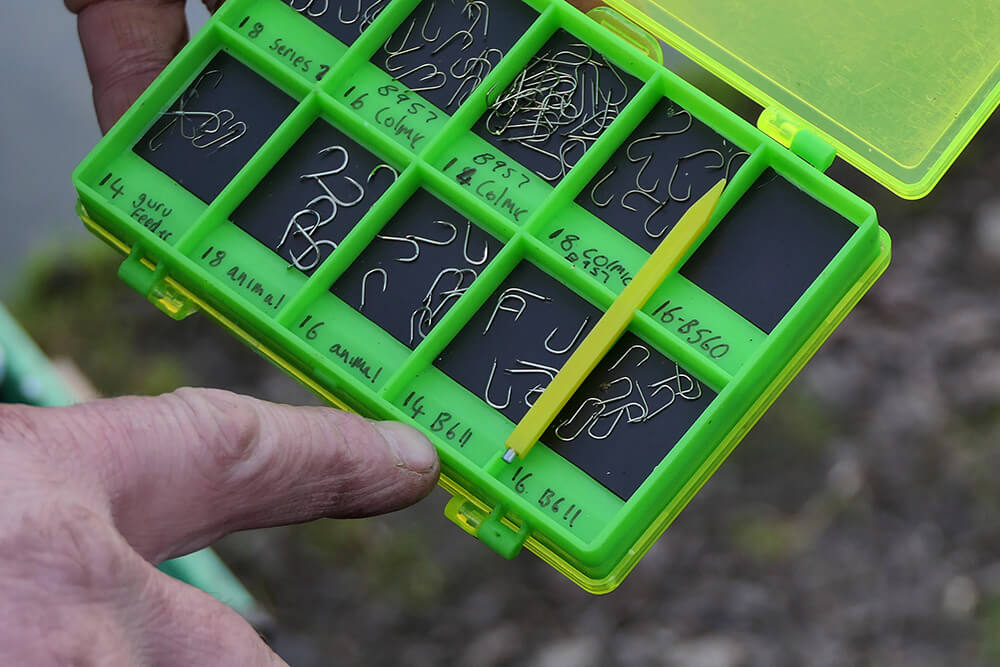 The float I use on a typical perch fishing rig is a simple egg-shaped pattern with a hi-viz antenna which I can set low if I want and still see it clearly. The float takes 0.6 gramme. I shot it with a bulk of no 10 shots set around eighteen inches from the hook. This bulk will 'catch' in the tow and help to maintain a steady bait presentation. Two no. 10 droppers shots are spread below with the final one set six inches from the hook.
Feeding is always done via a pole pot for sheer accuracy, and you can visually mark when it has been emptied. I would suggest feeding three or four spots around the swim. Down the centre track is a good area in winter, but the margins and boat cover can also be productive spots.
A pot of chopped worms, casters and red maggots is hard for any perch to resist, even on the coldest of days, so don't be afraid, go for it because what tends to happen is the small fish will home in on it first and that in turn will attract the larger ones.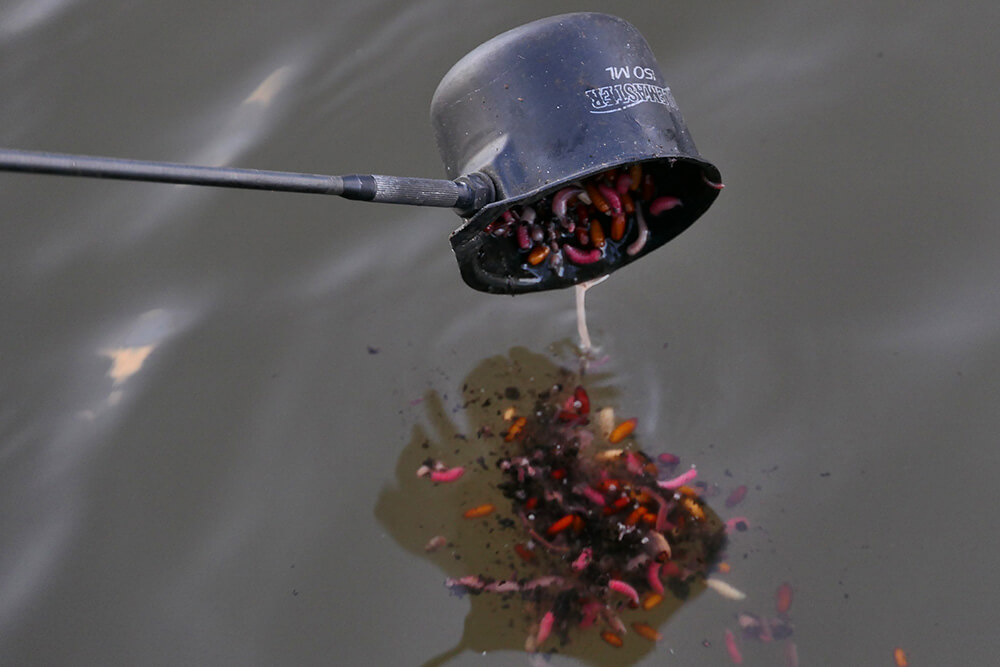 Hook bait options as varied. Half a dendro' is a winner, so too can be a lobworm head, double redworms is also a favourite of mine. Just keep ringing the changes until a perch decides to have a go, and keep swapping between feed spots until you find a response too.
I top up the swims every hour if it's slow. New bait can bring new stimulus, and passing boats do wash away earlier introduced bait of course!
It's a combination of feeding, correct presentation in particular depth, a suitable rig and ultimately considerable perseverance on a winter's day. That perseverance has paid reasonable dividends today with a couple of bigger perch, one well over a pound, plus a few smaller ones which would have brought me mega points on a team match when other species failed to show up. I tried bread punch earlier and never had a bite. Keep an open mind and worm your way to some mega points in winter…maybe even a win!