For a while now I've been on the hunt for a double figure river bream, I made it my mission after witnessing and weighing one that had been caught by a mate of mine, however, finding one, has proved rather elusive so far.
The venue of choice for this mission has been the Relief Channel in Norfolk. My last trip out was a rare over night session along with my mate, Dave. This had been arranged due to the extreme temperatures we experienced during the day, temperatures well above 30 degrees are not ideal and there was no way I was going to be fishing in that!
We got to the venue around 6pm, it was marginally cooler now, with the temperature just below 30 degrees but, with the overcast skies and a good breeze on the horizon, the conditions were set to be almost perfect. Once we'd had a look around and decided on the area to fish, the first thing to do was position ourselves on the platforms and get some groundbait into the swim.
Groundbait Mix
My groundbait would be a 50/50 mix of Bait Tech Omen and Kult Carp Sweet Fishmeal, with four pints of brown crumb added, which I prepared at home a few hours previous. I also added two pints of dampened Bait Tech 2mm Carp and Coarse pellets to the mix once the finished mix was complete. To make this groundbait I blend all the dry groundbait together in one bucket before separating it into another to make the mixing process a little easier. Once I've got the dry groundbait mixed how I want, I leave it for an hour before dampening it down again until I achieve the required consistency. It is then that I add the pellets and with a final blitz with the drill, the mix is complete.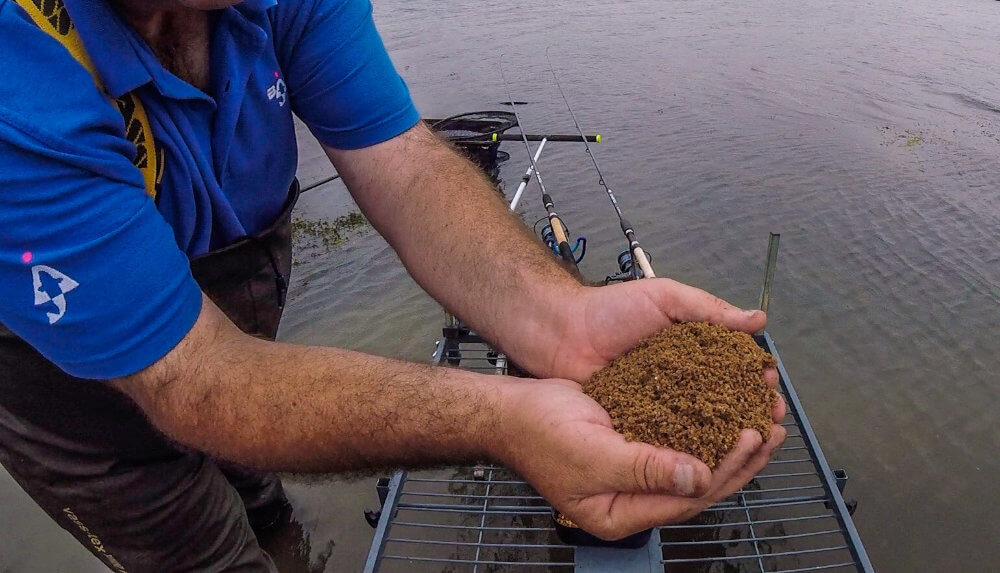 I usually bait up via a big feeder, but, as this was an overnight session, I decided to get a decent bed of bait down. So, out came the catapult and I introduced twenty balls of groundbait, getting plenty of bait into the swim. Ten neat balls and ten packed with Bait Tech Natural sweetcorn. The rest would be laid down through the feeder while fishing.
For the hookbait, I had red/fluoro maggot, both live and dead. Casters, corn, some wheat and plenty of worm, which I'd chopped up a third of a kilo and mixed with three quarters of a pint of caster.
Tackling Up
I decided to use two rods, which would be the same setup. Through the night I would only use one rod, as carnage in the daylight is one thing but at night-time it had the potential to be completely chaotic. The rods I went for were the Cadence CR10 13ft #3 Feeder fitted with the 3oz tip, coupled with the CS10 5000 reel loaded with 6lb mainline and an 8lb shockleader. At the business end a hooklength of 015 down to a size 12 N30 hook. I've been using a helicopter rig setup for my feeder fishing this season, especially when fishing at 40 meter plus ranges, it's simple, anti-tangle and extremely effective.
I've used the Cadence CR10 13ft #3 Feeder for a while now and have found it ideal for this style of fishing. Using a 45g feeder packed with groundbait and punching 45 to 50m each time, requires a rod with plenty of backbone to it. The action also needs to be soft enough to cushion sudden lunges when playing fish and the CR10 13ft #3 ticks all the boxes! Hitting into average sized river bream of between 8 and 9lbs is like striking into a brick wall, and these rods cope with ease for this style of fishing. The bream in the Relief Channel test our gear to the max and on most occasions, as soon as you strike into one, you're on the backwind straight away. You need to have the up most confidence in the gear you're using.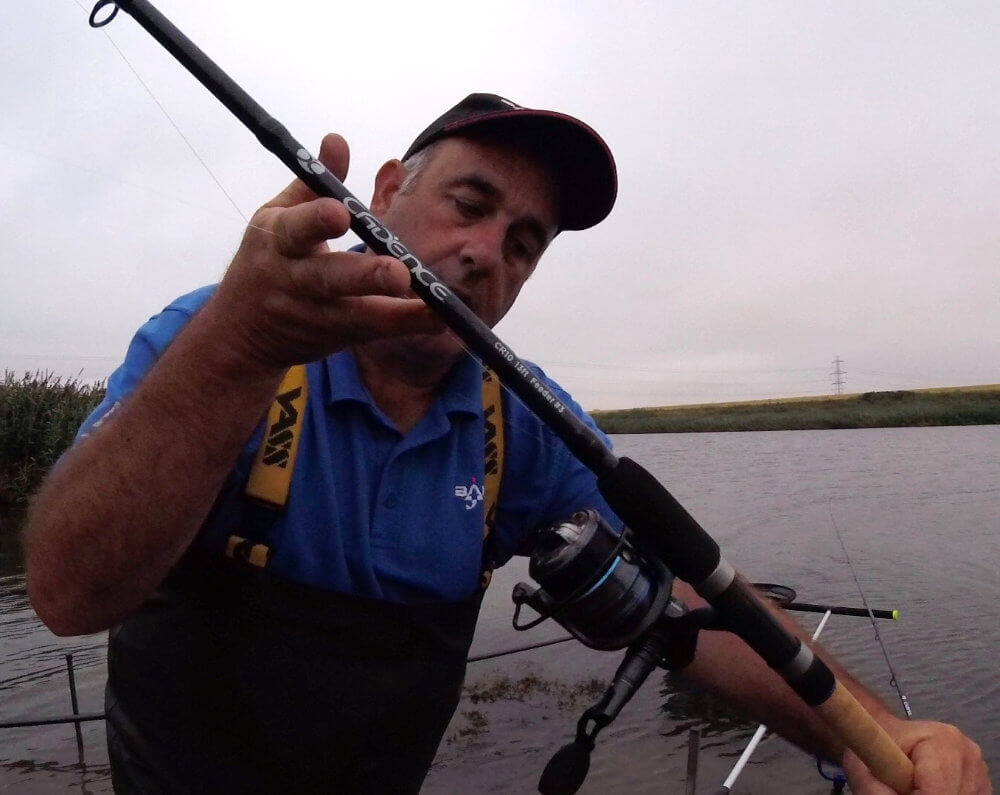 The Session
With everything ready to go, the carp chair was positioned on dry land, all the gear was organised within reach if required and the flask was at the ready. The evening soon drew in and hopes were high for some activity before darkness arrived.
Evening went into darkness which soon transferring to night, with not a touch. Maybe they would feed through the night. To cut a long story short, this didn't happen either, only Dave had a couple of small hybrids but not what we were hoping for.
The decision was made to reel in, introduce a few more balls of groundbait and have a couple of hours sleep, as to be honest, I'm pretty sure I'd nodded off briefly while I was stood in the water, which is not a good idea!
The temperature had dropped away, the hoodie, coat and flask all came in handy.
I started back fishing around 3am and had a small indication straight away. A couple of liners later, I struck into the customary nod of a bream and breathed a sigh of relief once in the net. Next cast, a small skimmer and something I didn't want, a wriggling, slimy eel! This proved to be the end of my short flurry of bites. Dave picked up a bream on the double corn when light was dawning, which again proved to be a short spell of indications.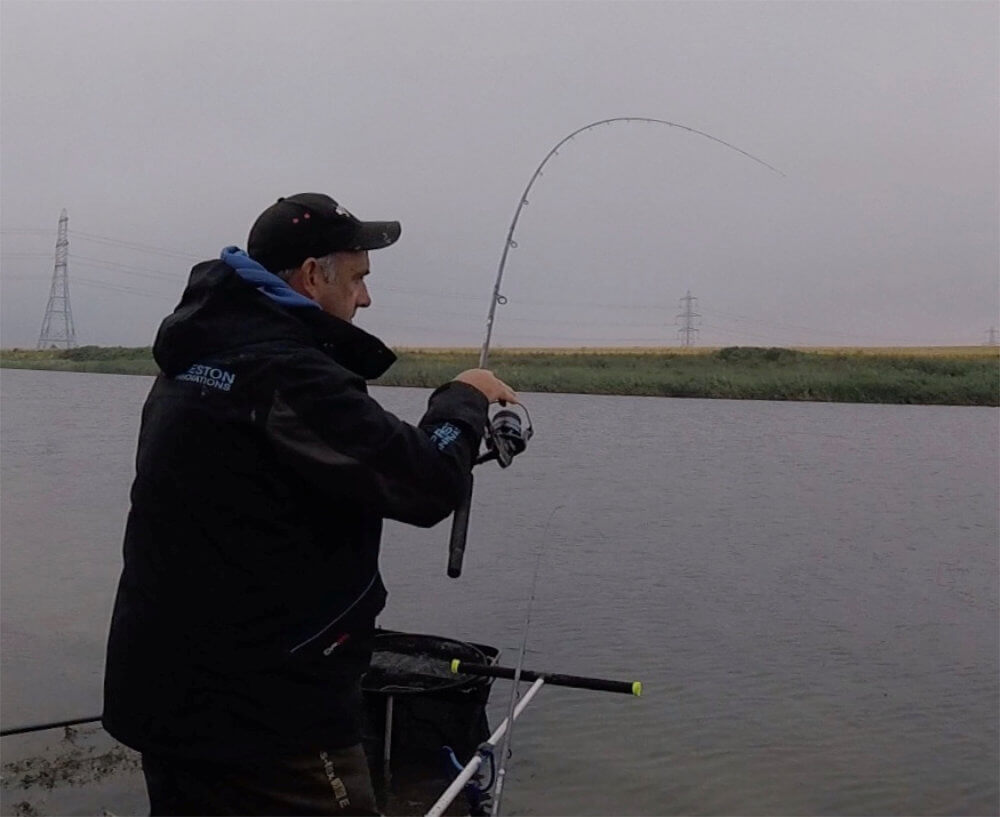 Dawn moved into morning and hopes were not very high of any action, but, miracles on miracles, my tip moved, and I had a liner. I was straight back out, the second dropped back and finally another fish was hooked and safely netted. This was the start of a decent couple of hours bream fishing, not frantic by any means, but produced several big fish a couple of which had me shaking as I knew they would get me close to my end goal. Strangely, if I had worm on the hook all I could get were tiny indications from small hybrids, once I swapped to corn, I couldn't buy a bite, yet, it was the worm/corn cocktail that was bringing in the bigger fish.
There was an episode of the forementioned carnage towards the beginning of this blog. One rod went, then the other went as I was playing the fish in. This proceeded to get tangled into one of Dave's rods and the whole scene became chaotic. A lot easier to sort out in the daylight than it would have been in the hours of darkness.
With eleven bream in the bag, morning was starting to creep in. We decided to call it a day and the time had come to break out the scales and see what the scores on the doors were. Dave did the honours for me, we weight the fish out in the water and picked out what I thought were the bigger ones.
Dave put the first fish into the sling and lifted the scales and said "well, you've done it, well done mate, 10lb 9oz". I couldn't believe what he had said, and I asked again just to be sure. It was then I just became overcome with emotion as I realised my target had been reached. Several other fish over 9lbs were weighted in and believe it or not, there was a second double in my net that weighed in at 10lb 2oz.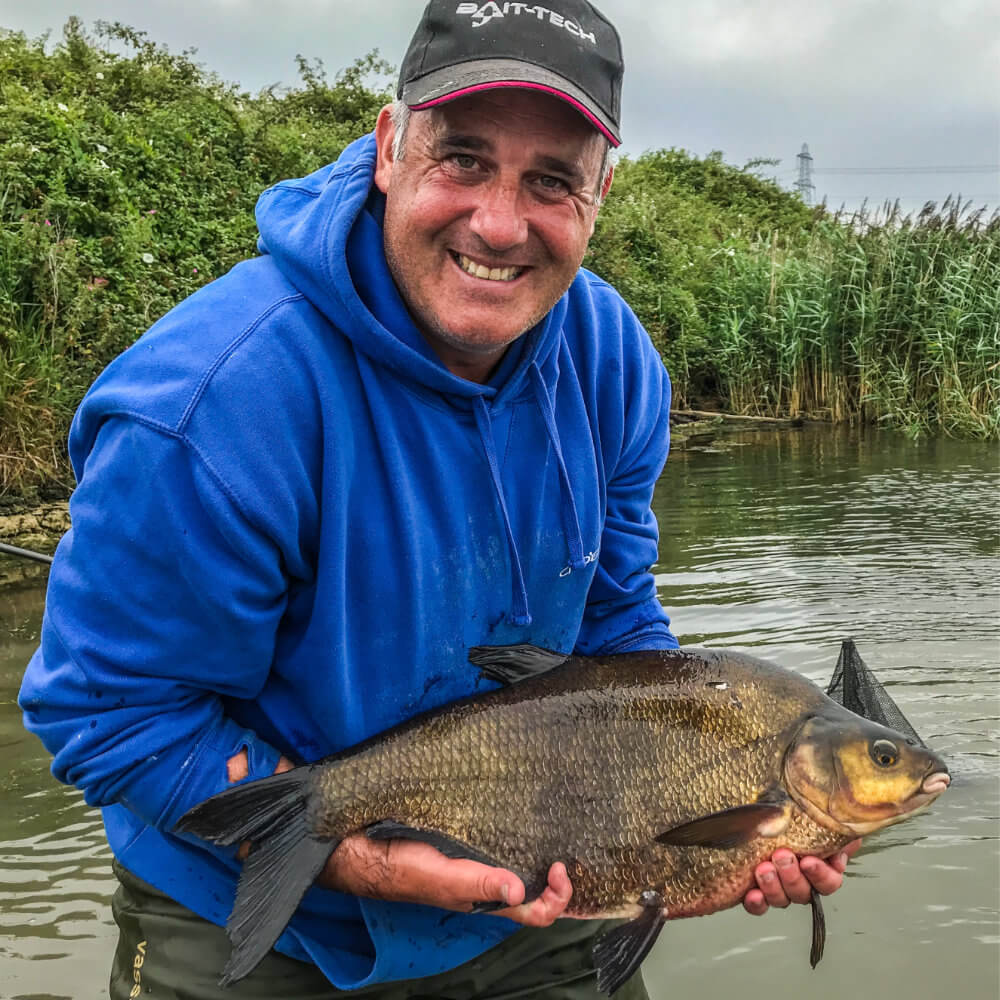 To say I was elated would be a massive understatement and those who are aware, know I have put a lot of effort into reaching my target. My good friend Keith has helped me along the way, and it was his double figure fish that I had weighed, which initially lit the desire in me to catch one of my own. Like buses, these happened to come along together in the same session and to share it with a mate on the bank, made it even more special.
What the rest of the season holds for me, only time will tell. I've been lucky enough this season to catch two 200lb plus bags of bream, something I didn't dream of ever achieving and I've had numerous fish over the eight, nine and now a couple over ten pounds. I now have a new personal best bream at 10lb 9oz, but, more importantly, for me, it's mission accomplished.