James Brewer looks back a post lockdown trip with his son, Harry, at Acorn Fisheries, a trip that reinforced the importance of keeping that childhood intrigue and angling passion alive, no matter what age we are.
With the lockdown restrictions eased, I could finally take my son out for a long overdue day on the bank. Harry is six years of age and has been a keen angler since I introduced him to his first roach when he was two and a half. Unlike many of us, I can't tell you how old I was when I caught my first fish. I can't tell you where I caught it or what it even was. Back then it didn't matter to me. I was immersed in a world of mystery that had whispered its existence every time I gazed at the remaining items of my father's tackle hanging from the garage walls and ceiling. My dad had been hooked on angling since he was a small boy, taking himself off with a rod and reel and exploring the trout streams of Ireland, eventually making a good name for himself as a respected angler around the Bristol match scene.
At some point not long before I was born though, my grandfather introduced him to lawn bowls. He grew to love his new sport and found himself drawn to fishing less and less, ultimately selling a great deal of his tackle to clear the ever-dustier corner of the garage his gear occupied. When I discovered it, I had no idea what any of it was, or how to use it. All I knew was that I was captivated by it all; homemade floats, packets of pre-tied hooks, odd little plastic stick things (that I later learned were called disgorgers), spools of spider web thin line, weird wonderful rod rests and of course the rods and reels themselves. I could have spent, and indeed did spend vast amounts of time rummaging and exploring these dusty little mysterious objects, painting a picture in my mind's eye of what I imagined the world of fishing to be like. As time went by, the burning urge to go fishing grew and eventually I managed to persuade my dad to take me. As I've mentioned, I have no recollection of the events of my first day on the bank, all I know is that my wildest dreams had been far surpassed and I'd been left with a permanent "ache" that would bind me to fishing for the rest of my life. Whatever magic was in the air that day cast its spell on my dad too, rekindling his own urges to fish by reacquainting him with his beloved childhood hobby.
I remember the first time I fished with James Robbins he told me about his childhood memories of fishing and so much of it resonated with me. He told me it was said of him by his relatives that he wasn't addicted to fishing, he was afflicted by fishing. That one sentence has stuck with me ever since and seems a fitting description of an "illness" of which I too am a lifelong sufferer. One proven way to diagnose an angling illness, addiction or obsession is with what I call the Bridge Test. Picture the scene: you're in a car, driving across country. The scenery is superb, the countryside is obliging you with glimpses of shy deer grazing cautiously in fields, buzzards mewing majestically overhead and to cap it all off the weather is perfect for a successful day on the bank. But there is something missing. Suddenly you spot what you've been waiting for, the missing puzzle piece is a bridge. As you wind along the road closer and closer to the bridge your mind races, flooding with images of what you hope to see below. My mind always reminds me of the scene in A Passion for Angling where Chris and Bob peer over a bridge on the Hampshire Avon and admire the roach that "are nearly as big as the chub."
As you get ever closer your mind becomes tightly focussed, total tunnel-vision consumes you and your thoughts are wholeheartedly dedicated to creating your own piece of fishing heaven. Even the backseat complaints of your children declaring they need a wee stop don't shatter your daydream. When you finally get to the bridge you peer over, waiting to be greeted with clear, fish-filled waters. But that's not what this bridge crosses and when the view you are met with is a dilapidated old train track, if your natural reaction is anything other than "It's a ****ing railway line!!!" and a sense that your whole week is from this very moment in total ruin, then you my friend have failed the Bridge Test. You are not an angler.
For those who fail the Bridge Test, it isn't all doom and gloom for you save yourself the burden of a costly prescription. Fishing is of course the number one remedy for an angling affliction, followed closely by anything fishing related: tying rigs, reading books, watching DVDs or YouTube clips and of course, the wife's favourite… buying new tackle! My birthday fell four weeks into lockdown and by that point I'd watched and read pretty much everything ever written or filmed and was left with no choice but to buy myself a new rod and reel as a little birthday pick-me-up. Having sorted through my gear a thousand or more times in the four weeks preceding my birthday I noted the thing I was lacking was a small rod for short range commercial work. Another large consideration was that I wanted something small and light enough for Harry to be able to use as well. He'd mastered short 3m whips and was fully competent with my six foot six Greys spinning rod, landing everything from small dace and chublets with a stick float on the river to 5lb carp on pellet feeders. A quick chat with James confirmed my suspicions and I ordered the tackle I "needed" in the form of a Cadence CR10 9ft feeder rod and a small lightweight CS8 3000 reel. I thanked James for his help and promised him a blog if the planned post-lockdown session went well.
Despite the lockdown conditions my tackle order appeared quicker than my children do at the mention of the word "sweets." Harry loved the rod and reel and I was delighted that he said it was comfortable for him to use. Taking advantage of the amazing weather I set up my seatbox in the garden and gave him a few lessons in casting a small pellet feeder, after refreshing myself first, as this isn't a regular type of fishing for me. Having heard the satisfying clunks of the feeder hitting the bin lid target a few times I handed the gear to Harry. As instructed and with his own utmost diligence, he hooked his finger around the line, lifted the bail arm, gently positioned the rod behind him and cast. As expected, the first few casts were a gamble, rather like me playing golf, with some landing a few feet in front of him, or to the side and some even falling behind him. Then on around his seventh or eighth attempt the something that clearly clicked in him led to the feeder being saved from a trip into next door's garden by the fine branches of foliage reaching over our six-foot fence. His next few casts proved it wasn't a fluke and with the line clip put into good use he was soon putting in some remarkably consistent casts. Bingo!
Day at Acorn Fisheries
Eventually the day of our eagerly awaited post-lockdown session arrived. The chosen venue was Kingston Seymour based Acorn Fisheries run by the Bartlett family and known for its main lake specimen carp fishing as well as its superb match fishing lake, The Paddock. Knowing I was going to attempt a blog with accompanying photographs at a match venue fished by some big name sponsored and international anglers, such as Callum Dicks, Des Shipp and Craig Edmunds, I felt a certain pressure to perform. No, that's not true. What I felt was a pressure to look the part. In the days running up to the session I'd thought through what tackle I needed to take to make the blog look good. I figured I'd take the seatbox and put four carp keepnets on it and my stormshield side-tray, that would make it look like we knew what we were doing. I thought I'd need to make sure I took a variety of Cadence tackle too so the brand is in the background of the pictures, that way, even if the carp were spawning and we didn't catch, at least the blog would look good and I wouldn't come across as a total noddy.
When it came to loading the van though I listened to the quiet voice inside telling me that I was missing the point. Rather than being faced with an opportunity to produce a blog and make myself look good in front of the wider angling community I realised I was blessed with a day on the bank with my son. Pure and precious one-to-one time with him. Today wasn't about anything other than father and son forging a bond and creating memories that would last a lifetime. It didn't matter what we looked like, it didn't matter if we caught, previous sessions had taught me one of his favourite things to do when fishing is to throw maggots in, by the bucket load! His catchphrase of "more bait daddy?" being coined in his first few outings as a near three-year-old who was obsessed with feeding the fish, watching big handfuls of maggots twist and turn as they fell through the water, desperately hoping the fish below would unveil themselves, betrayed by their sudden sharp flashes of silver as they darted amongst the falling feast. It was cultivating that childhood mindset and captivation of the mystery of fishing that was the aim of the day.
I never set up a rod for myself when we go out together because I want to make the day about him. I know to achieve that goal simplicity is the key to success, so I packed the new rod and reel, a chair for him, an unhooking mat for me to sit on, minimal tackle and bait boxes of 2mm and 6mm pellets, as well as good old faithful maggots. The checklist wasn't complete of course until I'd packed our lunch bag with our essential, special fishing day out drink of choice: ginger beer, the same drink I enjoyed on the bank as a child with my dad.
The setup for the day was nice and simple, the Cadence CR10 9ft feeder rod coupled with the CS8 3000 reel (loaded with 6lb Dave Harrell Pro Feeder), a small pellet feeder and a four inch (minimum length permitted by the fishery) 0.17mm Reflo Power hooklength terminating in a banded 6mm pellet on a size 16 Guru QM1 hook.
Whilst I set the rod up Harry sank right into the childhood fishing realm by teaching his fisherman doll how to fish with his homemade, boy's classic string on a stick. The doll was made by granny (my mother-in-law who is amazingly thoughtful and creative) and its camouflaged attire is modelled on yours truly and as such, it won't surprise you to learn he is a fisherman called James!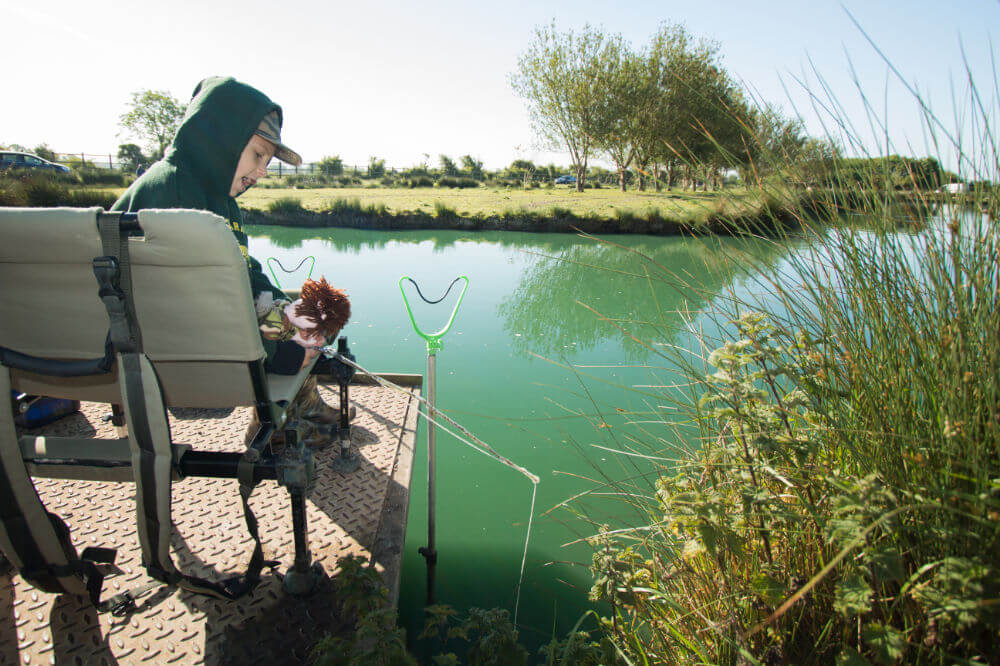 The carp were still feeling amorous when we arrived and with fish crashing and splashing on the surface an arm's reach from the platform, I wondered if we would struggle to catch. I needn't have worried though, the fishing was superb and our casting practice paid dividends; I cast a few inches short of the island where I thought the carp would be feeding and later in the session Harry cast well into open water. The pellet feeder produced rod wrenching bites every cast and Harry, with his excellent attention to detail became an expert at ignoring the small quivers of the sensitive 1oz tip and sat on his hands until the rod tip hammered round as his quarry had obligingly hooked itself.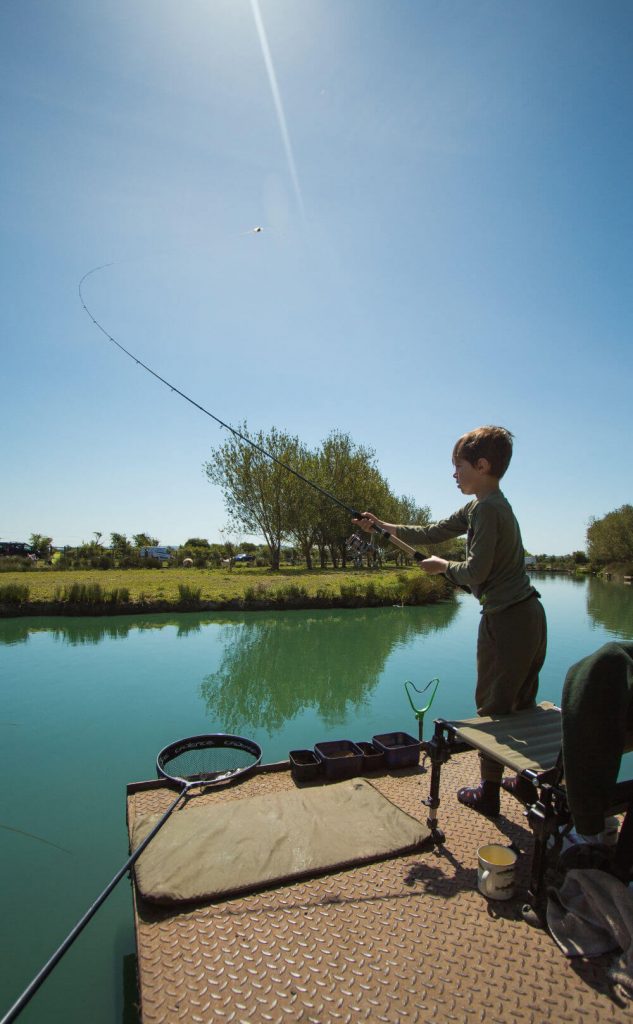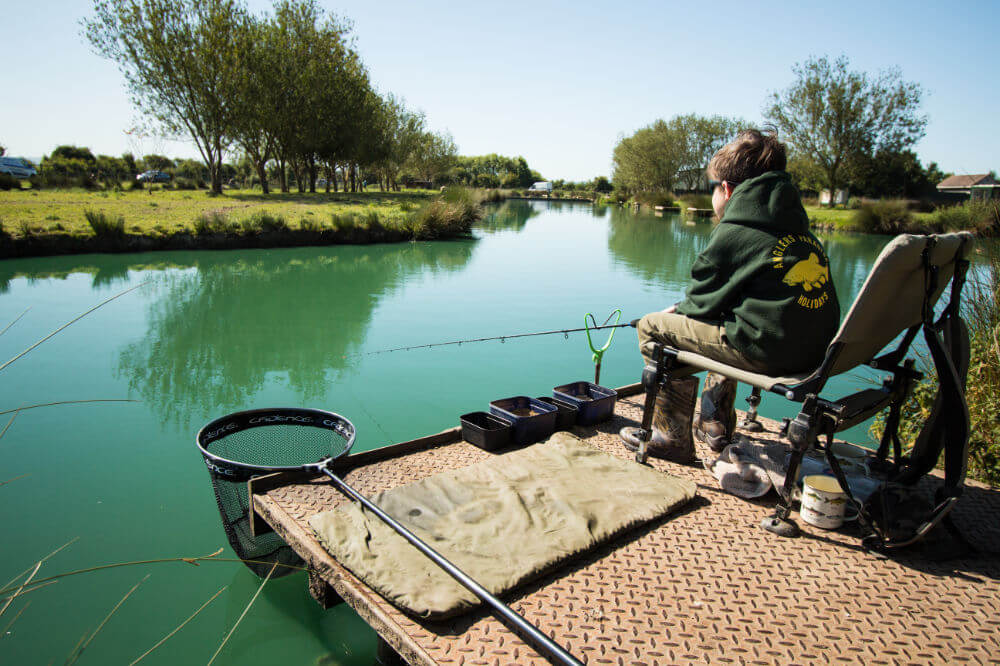 Harry christened his new rod and reel with a nice carp around 1lb. The next fish was slightly bigger and put up an equally impressive scrap in the summer sun. Harry wanted me to cast to the island again and the pellet feeder landed with a satisfying plop just to the left of a clump of long grass on the island that had been rocking and waving around as fish patrolled past it. The bite was savage, and the first run of the fish was slightly terrifying considering we were fishing clipped-up. The soft through action of the rod saved the day and absorbed the fish's initial run and persuaded it to swim our way. Harry quickly gained control and the fish came in surprisingly easily, after its first run I thought it was going to be a big carp. As I grabbed the net and placed it in the water ready, we were both surprised and delighted to see the fish that was about to grace our net was a stunning, rocket powered tench and Harry's first of the species.
After the tench, Harry tucked into some well-deserved lunch and I had a few casts to the island where I managed to catch a few bigger carp around the 4-5lb mark.
Harry insisted on taking a break from his munching to take some cracking photos of these fish for me! When he'd finished his lunch, we had a chat and decided on a change of tactics that would give Harry full control of the reigns. We swapped the pellet feeder for a maggot feeder with a longer and lighter hooklength with double maggot on a size 16 Kamasan B911. We also removed the line from the line clip. Harry assumed casting duties and launched the rig effortlessly into open water around fifteen metres down the bank to our left. A few knocks on the tip indicated something had taken an interest and then a better pull prompted Harry to strike. The rod took on a good curve and another fish was expertly guided to the net, this time a bream was Harry's prize. Just as we were about to release the fish, my wife arrived with my daughter to say a quick hello and replenish our dwindling food and drink supplies. Charlotte is four and although not quite as enthused by the actual process of fishing as Harry is, she's very capable and takes a great deal of interest in touching, holding and stroking the fish. After letting the bream rest for a while in the landing net, the children enjoyed examining it before releasing it together from the net.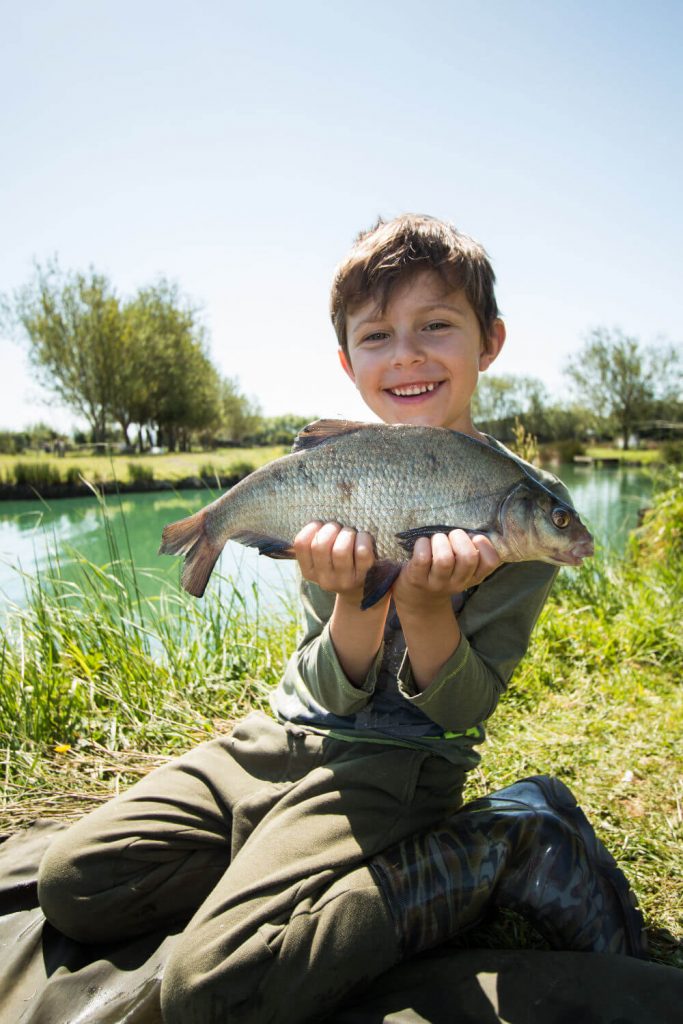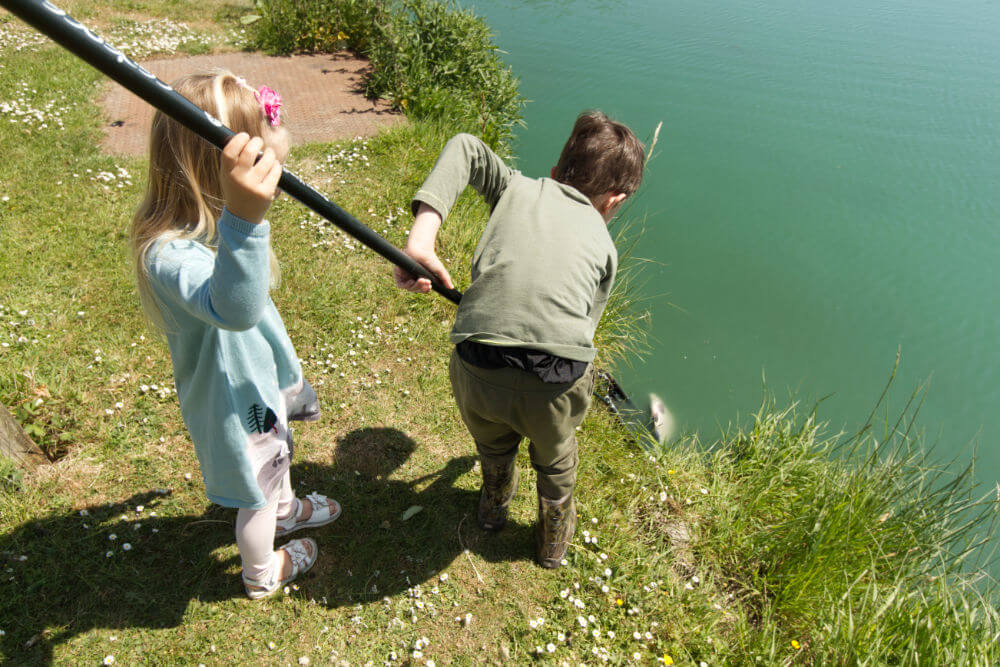 The day was a huge success and reinforced in me the importance of keeping that childhood intrigue and angling passion alive within us, no matter what age we are. We took photographs of every fish we caught because Harry wanted the fish to be remembered. From the largest carp, to the smallest roach and rudd, the most knobbly and brown to the most stunning and orange, all fish were special to him and required equal admiration. The number one goal in fishing is enjoyment and that can be rekindled in anyone sharing a day fishing through the eyes of a child. Teaching my son to fish and seeing the joy it brings him is magical. So much so that's it's inspired me to sign onto a Level 2 coaching course with the Angling Trust, my aim being to teach fathers and sons how to fish so they can enjoy the bonding and enduring memories angling has brought to three generations of my family. The joys of angling are a gift I treasure and a gift that I cannot wait to share.