I qualified for the Riverfest Final back in June on the River Calder, it was my first match this season and I managed to qualify from peg 25 on the Ship Inn section with 9lb 14oz.
I've fished the final three times since it started and really look forward to the two-day event held on the Wye at Hereford.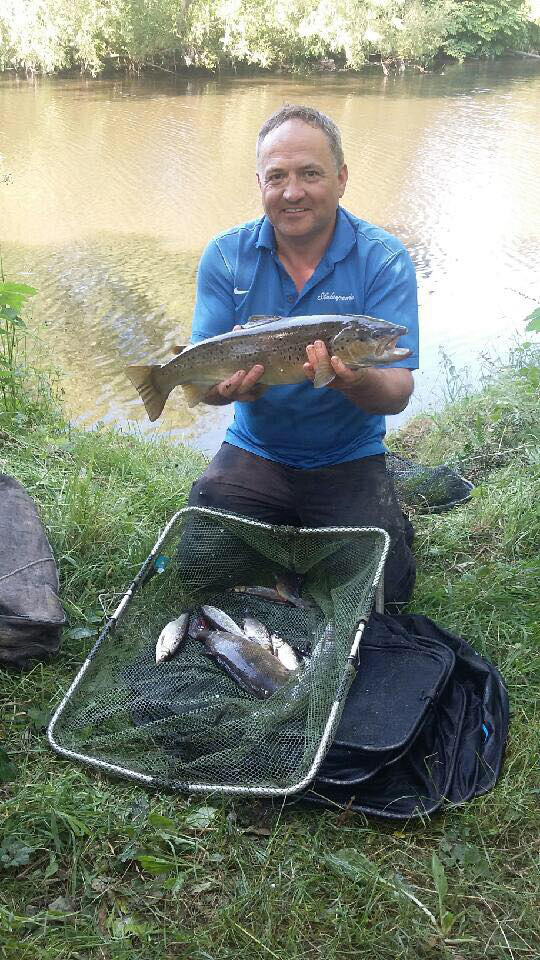 In the run-up to the final, I fished two rounds of the Winter League, two opens and the three-day festival.
This was good preparation and I was feeling confident after some good results and a win on the last day of the festival, with 23lb from peg 92.
It was apparent that the river was fishing well between the Old Railway and New Town Bridge, on the railings and even up to the Pump House and above when the dace were running upstream.
Bigger dace seemed to be prevalent throughout the stretch with puppy chub up to 1lb shoaling up in certain areas, these were extremely important in building the bigger winning weights.
With favourable conditions, this year's final was looking to be a classic and as always on the Wye, many areas had potential to produce good weights of fish. Perhaps the only exception was the top pegs above the Ash path as the big chub and barbel pegs where not producing.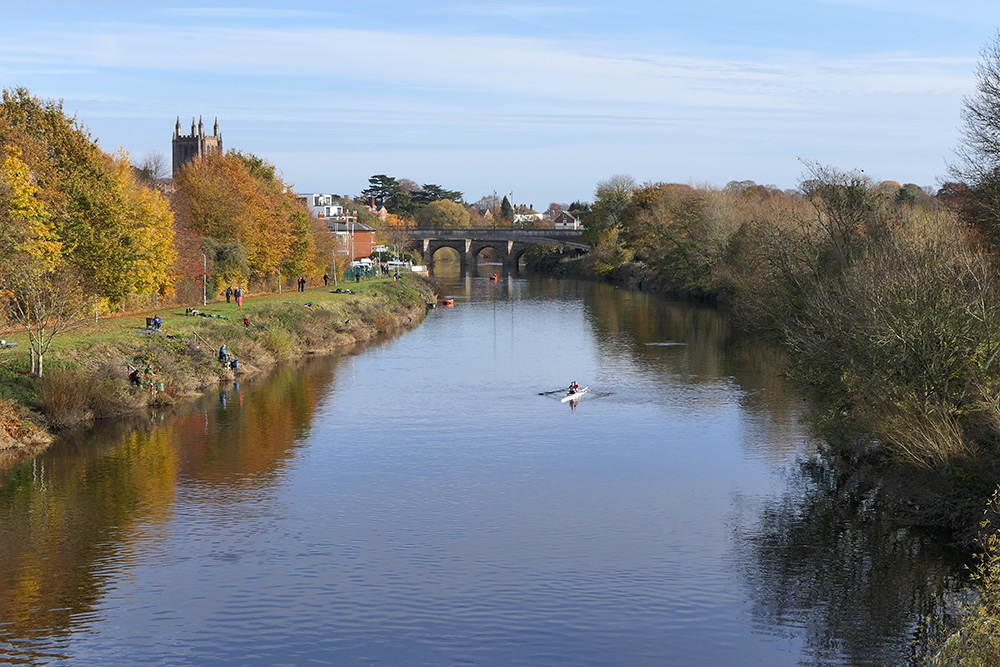 In comparison to many of the previous finals, conditions for the first day of the final were right. We'd had a cold snap with some hard frosts, but with a good river level, we really couldn't complain.
At least we would be able to fish properly, with a variety of methods and a draw in the town and on the railings would be a great start.
There was a definite buzz and excitement at the draw, and when you look around at the anglers present, the competition is fierce.
The final is always an amazing experience and the highlight of mine and many anglers season.
I drew peg 86, a nice peg opposite the rowing club bank and one I fancied to catch a good weight from, and I was in the hunt. For sure there was probably better pegs on the day and as always some potential surprises, that's why I love the Wye!
I set myself a target of 20lb and felt that with some luck in the form of some bonus fish (big perch/chub) or a run of those puppy chub I could push 30lb.
I decided on two main lines of attack: 10m pole to hand and a bolo/waggler about one third out. I also set up a stick float for close in and a flat float to fish chopped worm/casters.
Fishing 10m to hand is one of my favourite methods on Belmont, especially when I draw a peg with some depth and flow at that length.
It means I can present my float correctly in any conditions and also feed a very tight area if needed. A winning method for me a week before on the festival and I hoped to catch on this at the start of the match and then prime the bolo and close in line for later on.
My float was a 4g Sensas inline float with 0.12mm hook length and a size 14 carbon match hook.
Perhaps differently to many anglers who whip fish on the Wye, I fish with a carbon flick tip in preference to elastic. I use a flick tip because I don't lose any length of the pole due to cutting back, it also lets me cast and control lighter floats and finally, I can lift fish of varying sizes more efficiently and consistently. Despite not having any elastic in the pole, its surprising what fish a flick tip can land. In the past, I've had chub up to 4lb, big perch over 2lb and a barbel over 8lb!
Feed on this line was fed via a bait dropper and by loose feeding heavily with hemp. Although I had mixed plenty up, I wasn't planning to use any ground bait on this line. On the previous matches I fished, ground bait attracted smaller fish.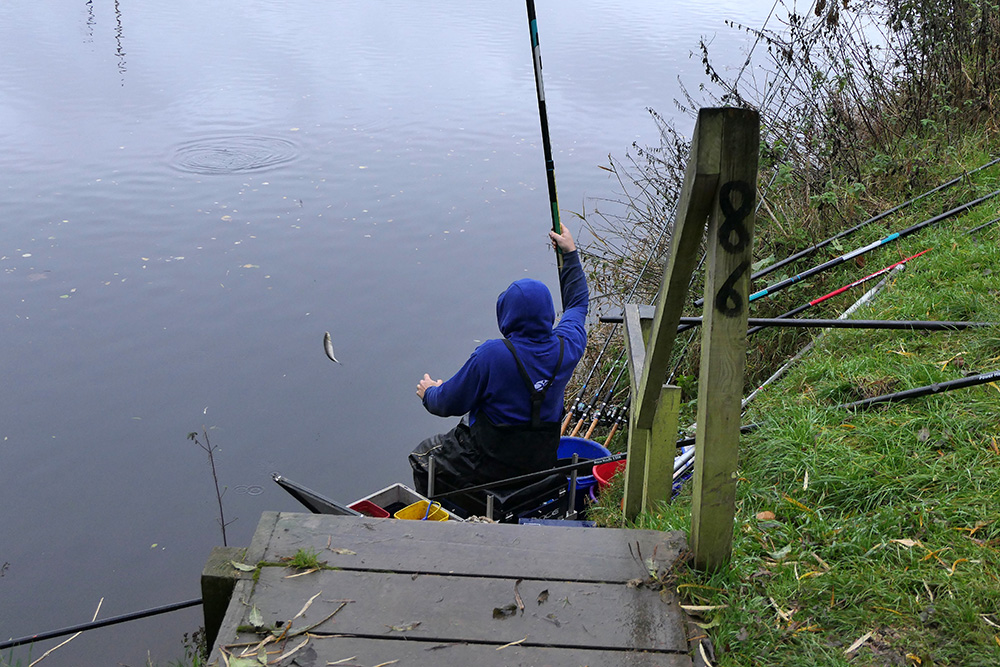 My good friend Colin Harvey was watching me at the start of the match and kept an eye on how the match was progressing.
I started quite well catching nice sized dace (three or four to the pound) and some slightly bigger chub around 6oz. I wasn't bagging, but I was happy to keep putting these decent sized fish in the net.
The weather forecast was dry but it started raining fairly hard after the start of the match. I quickly began to regret leaving my coat in the van, it proved to be a very wet day!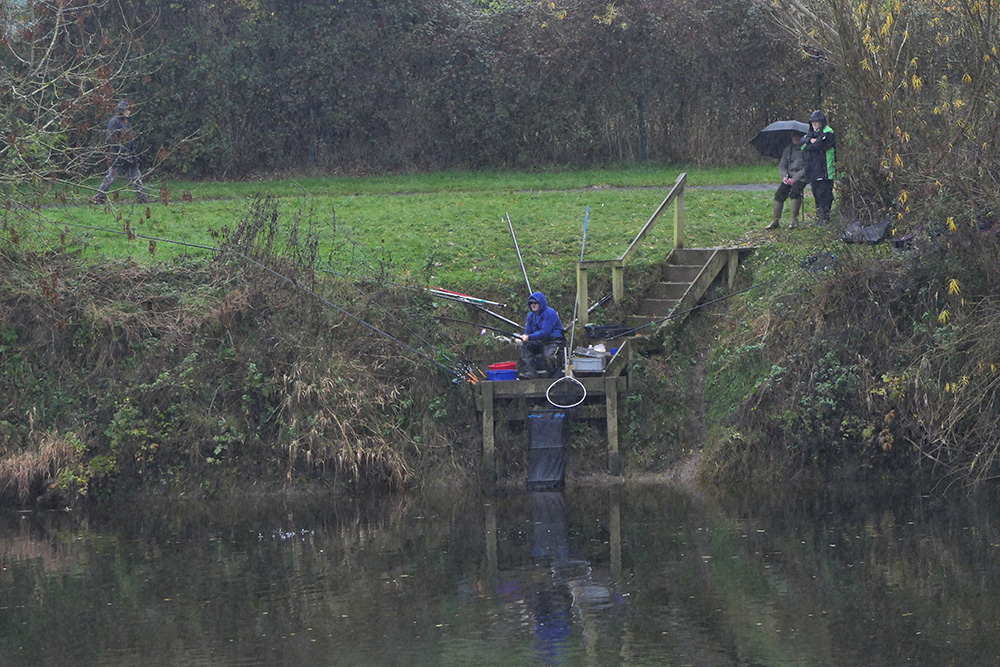 I found the fish on the 10m whip were coming in flurries, maybe three or four fish then it would go slow. Two medium bait droppers of maggots would then bring the fish back, and this tactic/rhythm continued for well over 3 hours. With about 80 fish in the net, I guessed I'd got around 15lb. The bankside telegraph was a bit vague, but it was apparent that the pegs further up above me were catching well as were the railings.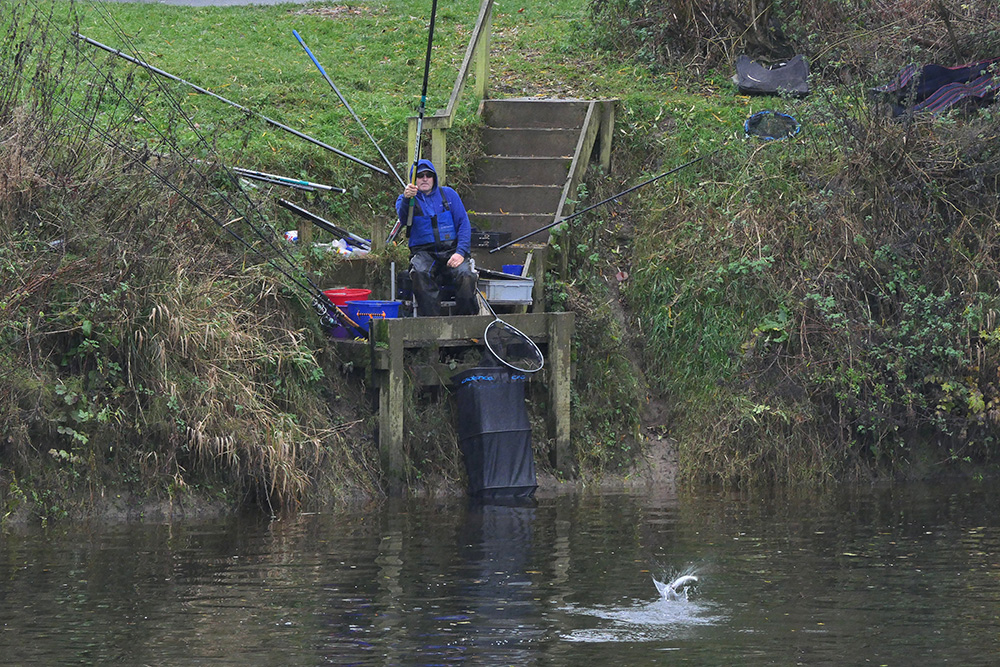 However, I was doing ok and felt it was time to try the bolo/waggler further out on the line I'd been feeding all match. I was getting bites on both methods but missing them and quickly realised they were small bleak/small dace. It was disappointing as I had visions of clattering the big dace and some better chub. I persevered and did catch some better dace only to have a big pike in hot pursuit of them!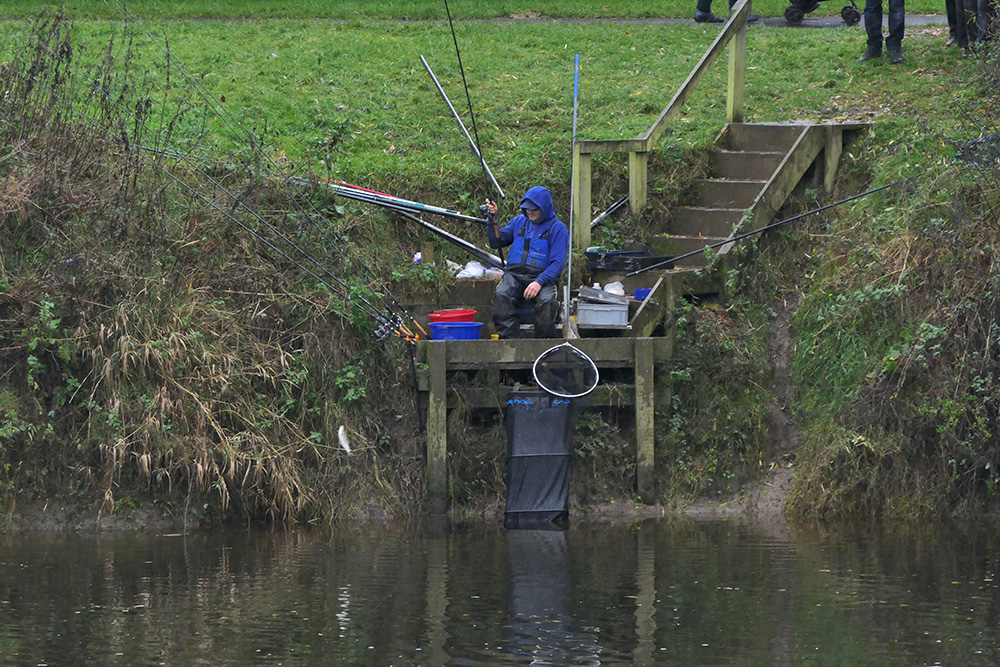 The Next plan was to try the flat float/worm line. The peg looked ideal for it, and I'd been feeding casters and chopped worm at the bottom of the main ledge about 5m out from the bank (but 10m down the peg). My 6g flat float looked perfect, and I was confident of catching some nice perch/roach. It didn't happen! So I decided to go back on the whip and persevere with it for the rest of the match, allowing myself the odd look on the flat float/stick float in the hope of some perch or better roach.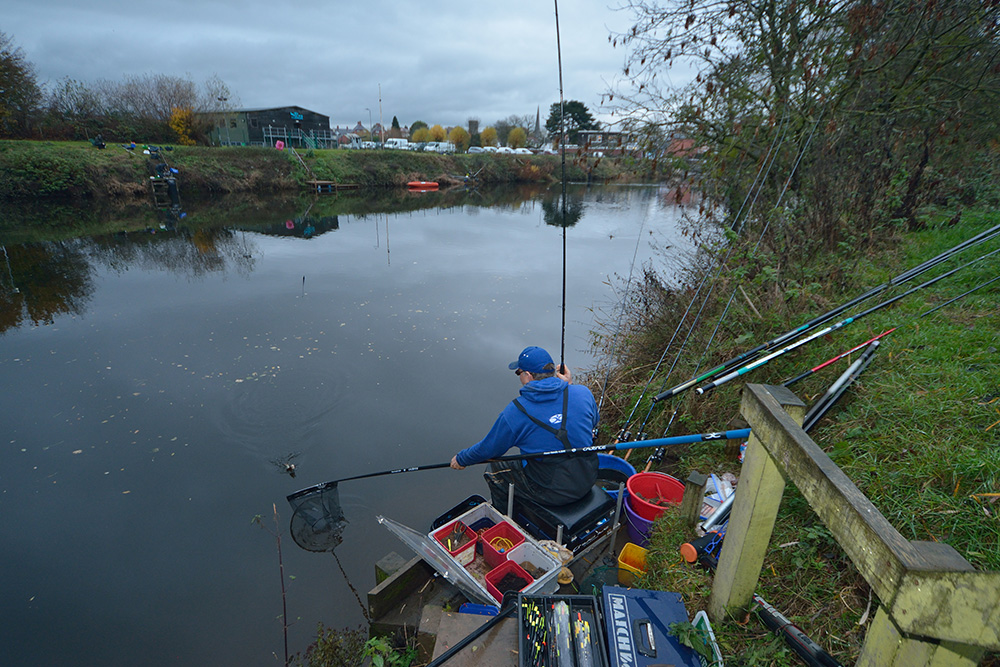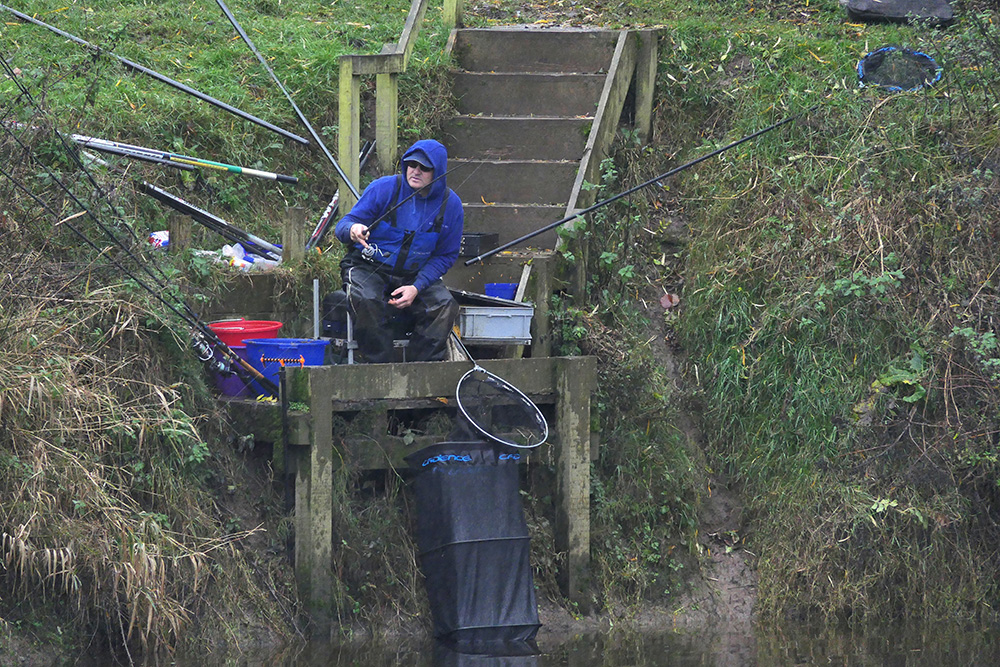 I continued to catch dace on the whip although more sporadically than before and in the last 30 mins caught a perch and some roach on the stick (8 no 4) as well as a few dace on the whip. In total, I'd got around 115 fish and was pleased to weigh 25lb 4oz.
This was good enough to win my 6 peg section (worth £250) and I was around 10th overall.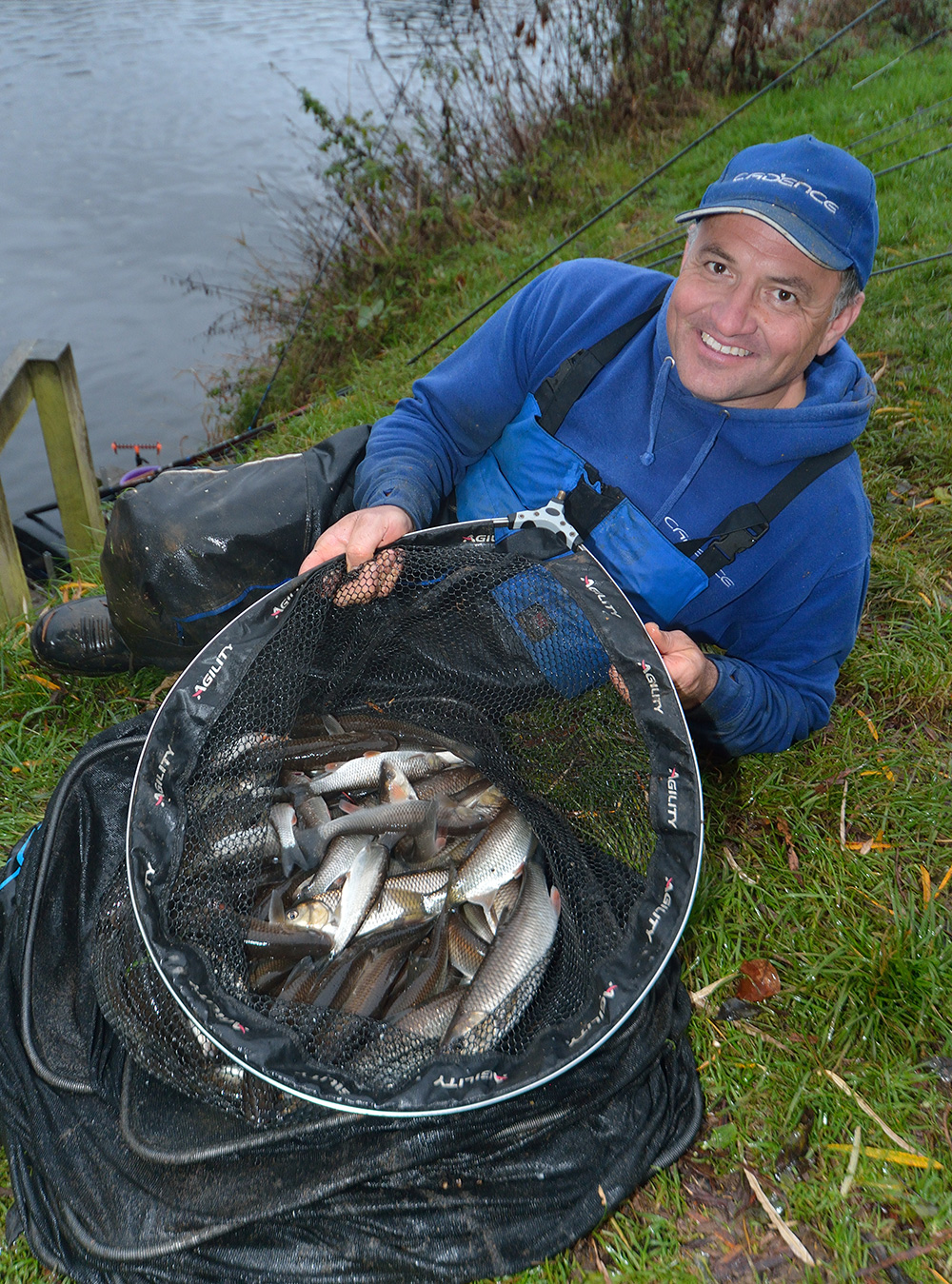 My teammates Mike Bedding (peg 77) and Sam Merry (peg 76) had 41lb 10oz and 41lb 4oz and were heading the leaderboard after day one and in a great position as they were heading to zone B the next day.
I was heading for zone A and many of these pegs had fished very poorly. My main hope of making the overall frame was to draw on the railings or pegs opposite on the Ash path. I was going to need some luck!
I had decided to stop in Hereford that evening and had given myself strict instructions not to have a late night and drink too much. In all honesty, that didn't happen. I had a fantastic evening in Hereford with so many of my mates. The Barrels Pub was full of anglers, and we inevitably ended up having a curry next door too.
Despite the late night I was still fully mobilised and ready for day two, even if I was a little late for the draw! In fact, I didn't have a draw as there was only one peg left in the bag, peg 10.
Now peg 10 has some good barbel form in the past but this area had been terrible the day before with 1oz being caught from the peg.
The river had risen overnight and I have to say I was fairly optimistic about catching a barbel or two, hopefully enough to get me in the mainframe. Thanks to Paul Johnson for helping me get to my peg, it's more than a hop and a skip to the top pegs.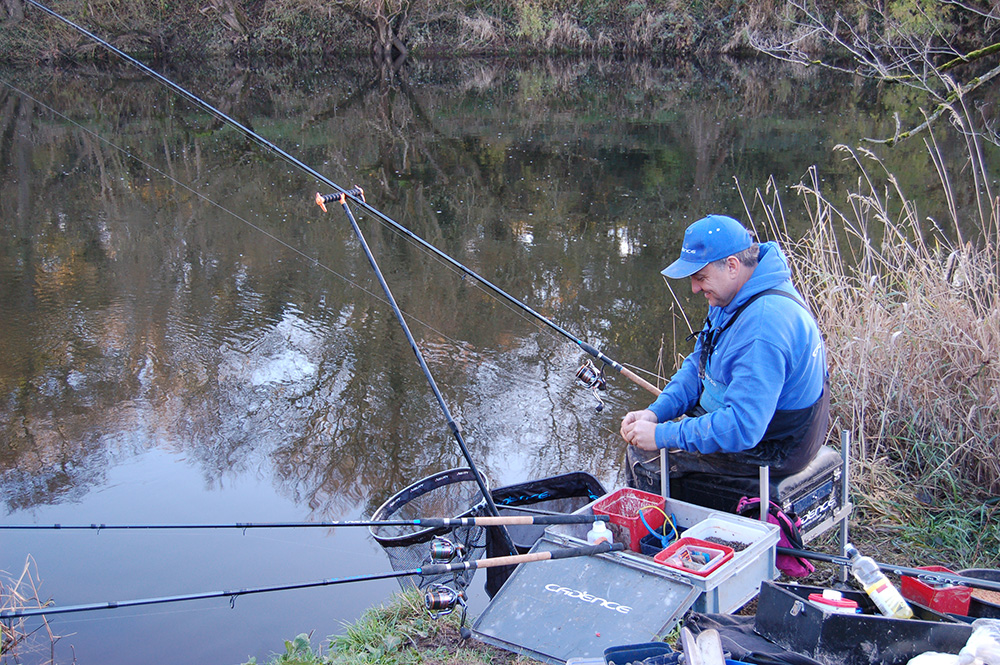 I won't go into too much detail about the actual match as I failed to catch anything apart from a tiny fry to avoid a dry net.
I tried hard to catch on the feeder using a variety of baits and tricks that usually work, but the barbel and chub just didn't want to know.
I'd had some great banter through the match (and refreshments) from Alan Barnes, Barry Zoomer, Dave Feeney and James Brewer, many thanks lads.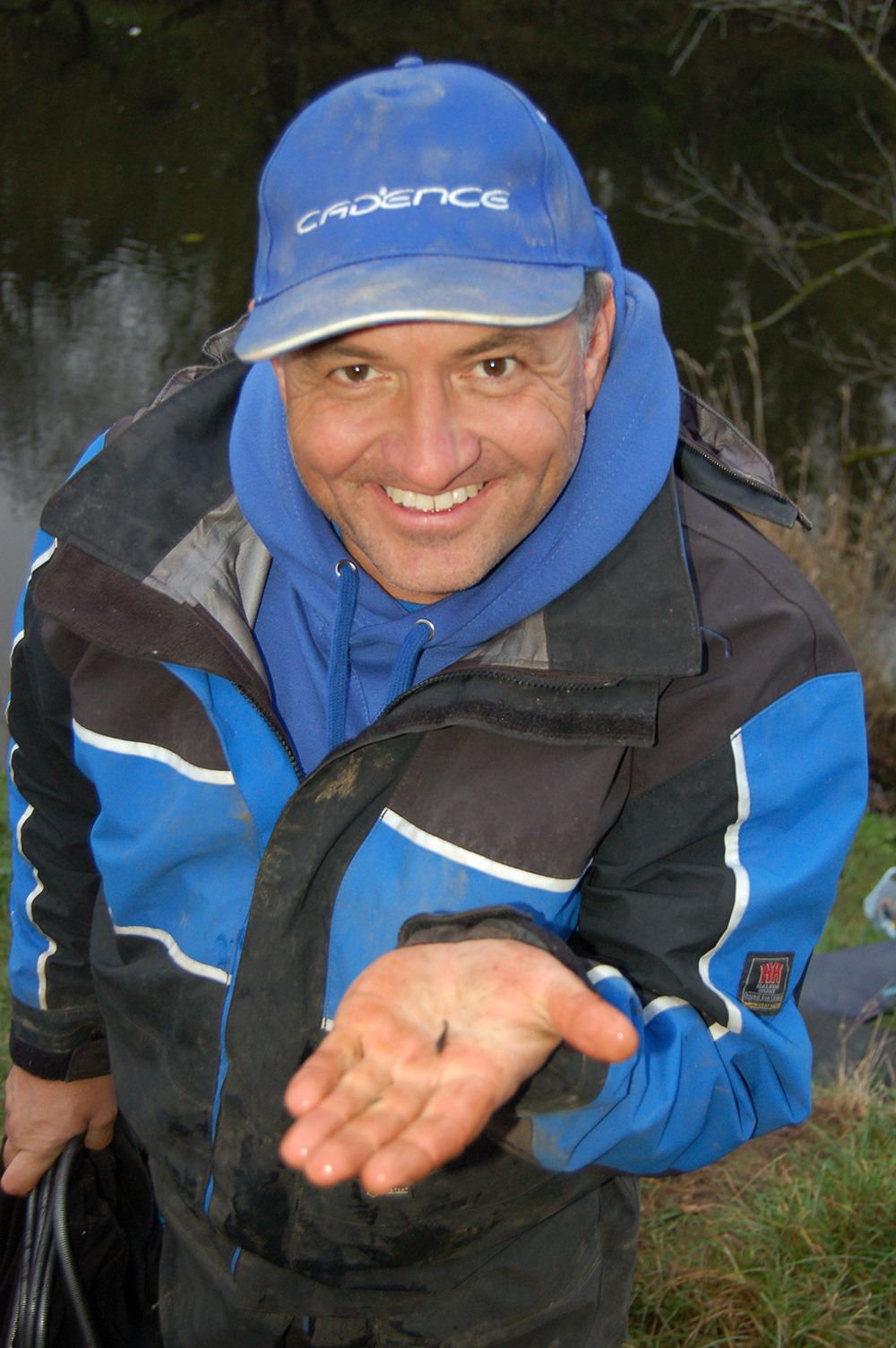 The influx of cold water overnight had a dramatic effect on the fishing and all the talk was how hard the river had fished, even on the favoured pegs on the town.
As I made my way back to the van and rowing club, I knew I had failed to make the top 10, but must have come close. It turned out I only needed just over 2lb on the day to make 10th position (and £1000), painfully close!
My thoughts turned to how my teammates had done. Mike and Sam had drawn similar pegs in the 60's and had another titanic battle, with Mike winning 8lb 13oz vs Sam's 8lb 4oz.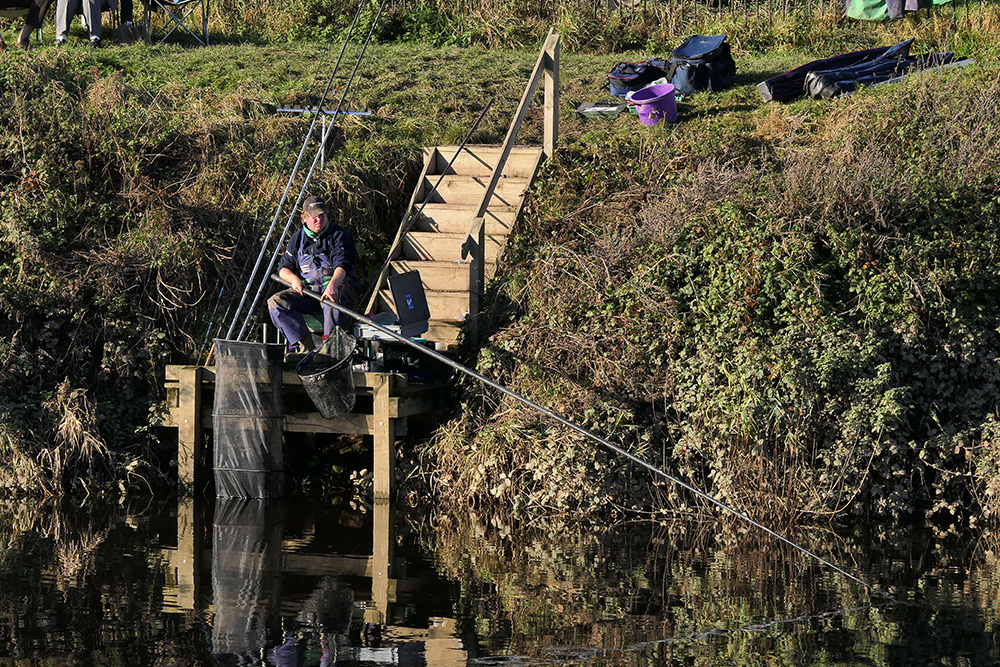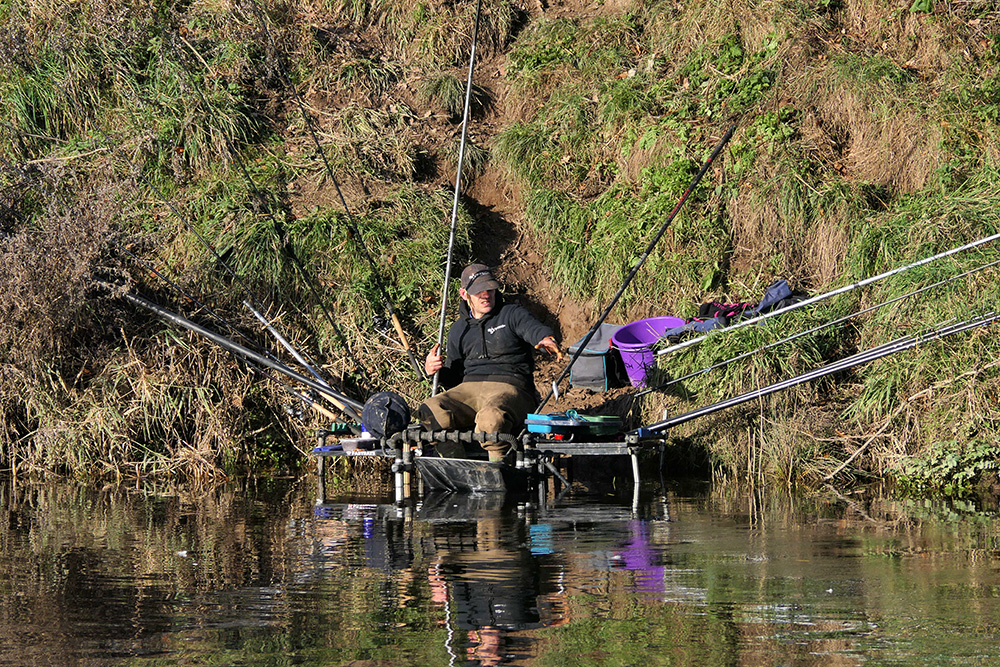 I was so pleased to hear that Mike had won and Sam was second. Mike is one of my travelling mates, and as this win proved, he is tremendously versatile and talented.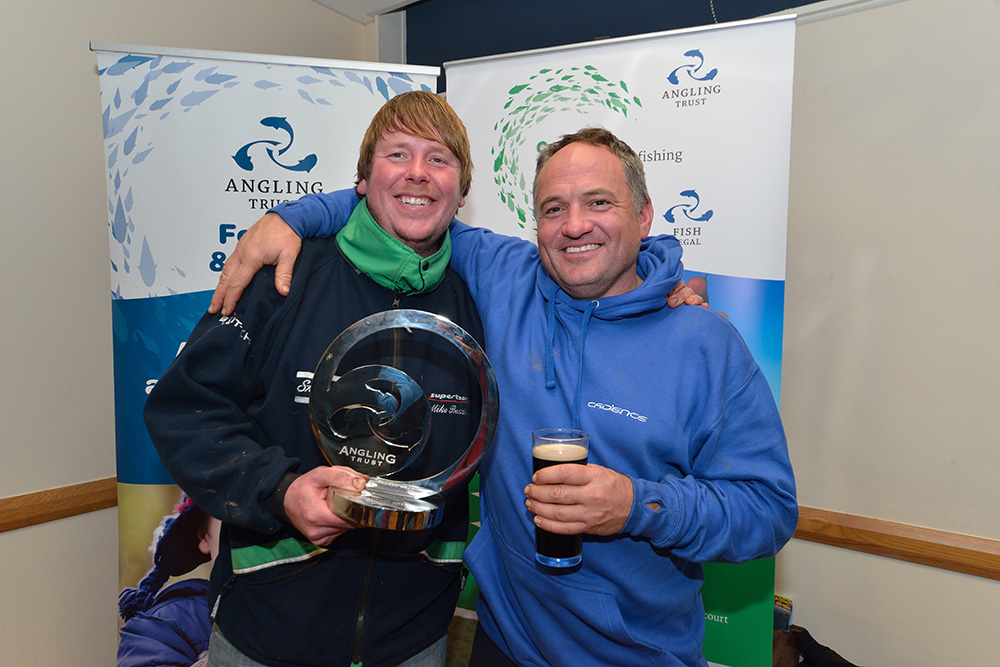 What an amazing competition Riverfest is! Thanks to the Angling Trust, Dave Harrel and Tony Birt and all the other helpers that put some much into the competition and final.
Here are the top 10 results:
RESULTS
Mike Bedding 50-7-0 (£13,000)
Sam Merry 49-8-0 (£6,000)
Sean Ashby 37-14-0 (£4,000)
Dan Ashington 36-10-0 (£2,000)
Pete Morris 36-1-0 (£1,500)
Andrew Murphy 32-6-0 (£1,400)
Colin Taylor 29-10-0 (£1,300)
Alan Henry 29-7-0 (£1,200)
Steve Hemingray 29-6-0 (£1,100)
Lee Edwards 27-7-0 (£1,000)