Pole Position
I was one of the early customers to invest in a Cadence pole. Several years later, it hasn't disappointed me in any way. I bought the 14.5m version because that's all I needed, considering my dodgy back doesn't like supporting anything longer (where I prefer to switch to waggler tactics anyway). I bought plenty of match and power kits to cover everything from fine to heavy-duty elastic usage, including solid and hollow types. I'm glad I invested in a good bundle of spares because I later added the Cadence CP800 9m Margin Pole to my armoury, discovering all the top kits are interchangeable. I've used many long pole designs, and I think the Cadence CP2000 is as good, if not better than most. It's lightweight to handle, stiff in nature and yet not overly rigid. Once elastic comes into play, I prefer a pole that gives a bit with it, providing a better feel factor.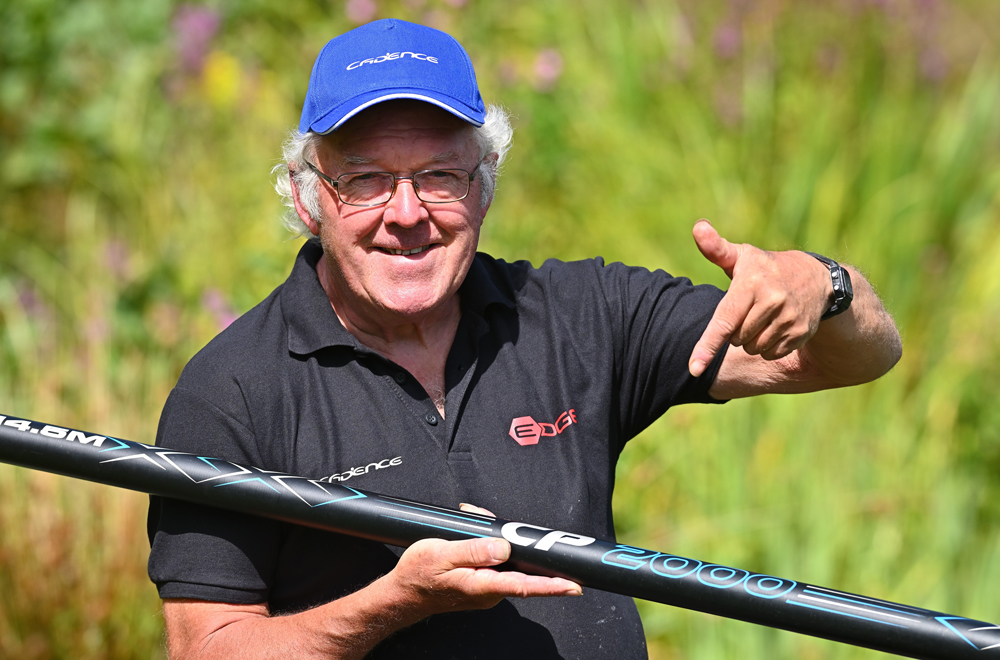 Short Session
With just a few hours to play with, on a venue I had never seen before, I needed to try and kick start my swim quickly. The only info I had about the place was that it held plenty of roach. After finding five feet of water a fair distance out, I cupped in soft groundbait, laced with plenty of casters and a few sweet-flavoured micro pellets. It was a hot and sunny day, so I planned to dink in casters regularly with a catapult. I started by searching for bites at full depth, intending to shallow up as the session progressed. As is often the case when conditions are warm and bright, the first couple of indications on my sensitive fibre-tipped pole float were very fast too speedy to connect with. I tried going further over depth, but the same thing happened again. After that, I caught a small roach as the tackle settled, followed by another, telling me the fish were intercepting feed off the bottom.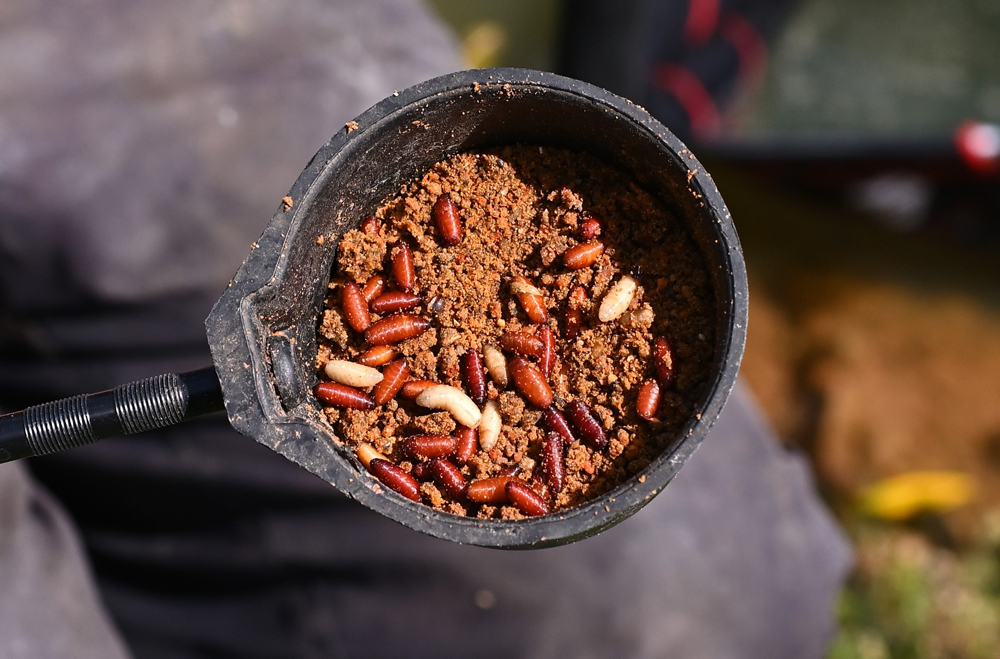 Clouding Up
I moved my float down a foot and cupped in some more soft groundbait, forming a lingering and slow-falling cloud of particles, again laced with a few casters and micro pellets. I add micros just in case any skimmers are about, but I will stop putting them in if it turns into a roach catching exercise. I like using loose groundbait on clear water venues for silverfish. It goes back to when I practised for big matches with England international Kim Milsom in my Essex County days. Kim loved using sloppy Van Den Eynde Supercup for roach. He sometimes put in a whole bag at the start to kickstart his peg, not minding if it covered quite a large area. The resulting haze would hover in the water for ages, attracting every red fin for miles. I remember doing the same thing over in Ireland, getting some funny looks, but I caught roach all day while everyone else around dry-netted.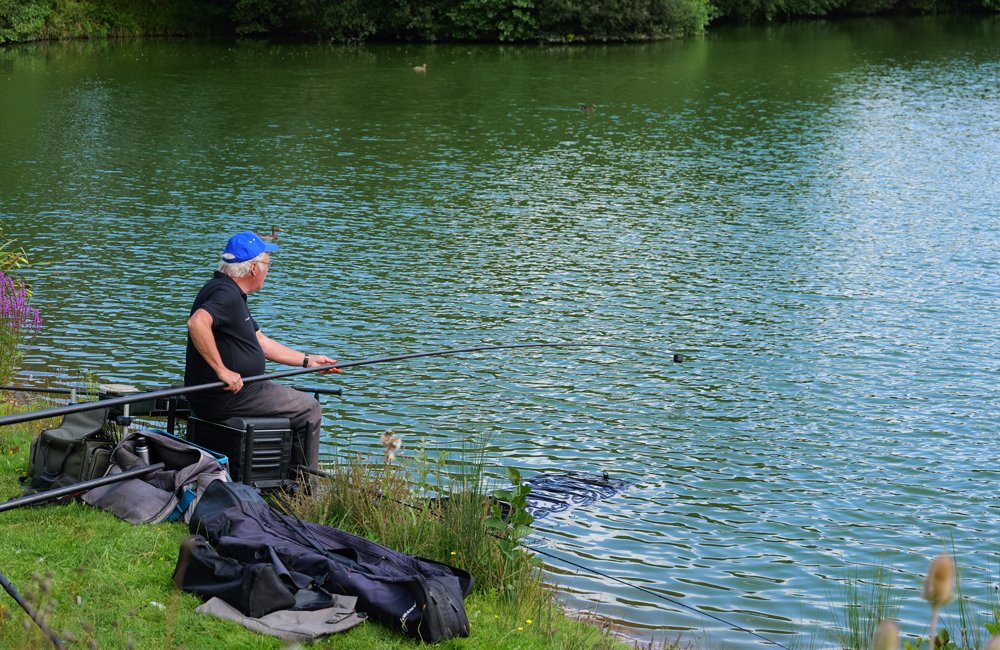 Rigging Right
I'm fussy with my shallow silver fish pole rigs, choosing well-balanced floats that settle upright without being worked into position. They need to have a streamlined nature for this and be super sensitive. I modified these Sensas Desque floats, glueing in fine-diameter clear fibreglass tips, which I then coated directly with fluorescent orange paint. Having no undercoat makes them translucent and much easier to see at a distance while providing minimal resistance. I often use wire-stemmed models for on-the-drop and shallow rigs, but this Sensas design has a nice long carbon stem that cocks it perfectly as the tackle settles. I mainly use a few number 10s as spread bulks, with 3 number 12s or 13s more widely spaced down to the hook. I prefer long hook lengths when using finer diameter lines because they are stronger than short ones and give a superior presentation.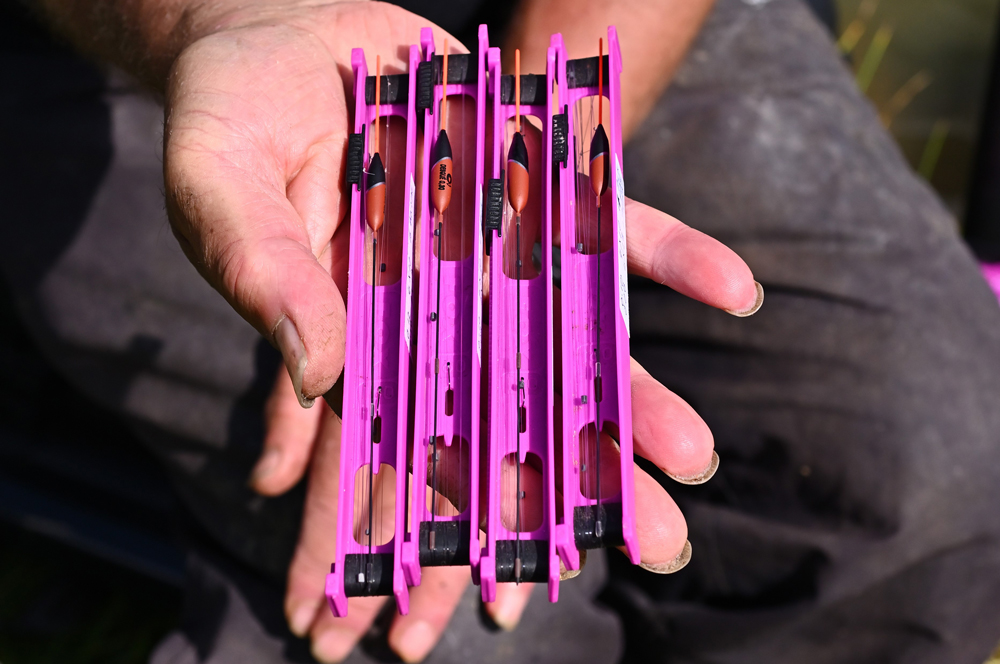 Stretching Further
I'm using Edge Tackle 3-4 Hybrid elastic on this occasion. It's bright orange, super stretchy and highly visible. I fit it through the top two sections of the pole, utilising it in two ways: as a straight shock absorber or with a puller bung system. I bring the latter into play if big fish are likely, especially carp—this fine-diameter solid elastic stretches so incredibly far when you hook big intruders on light gear. Using a puller bung dramatically speeds up landing them, gaining better control, even with small hooks and fine lines. Edge Hybrid Solid 3-4 elastic matches well with 0.08mm to 0.12mm hook lengths, although dropping down to 2-3 Yellow in the same range works in hard conditions or for bagging lots of small fish. That's not the case here, where constantly feeding casters has quickly pulled in bigger roach. I've shallowed up my rig and spread the bulk out even more, and far more positive bites resulted. 
Pole Catty
I often play with catapults, not afraid to experiment by fitting different elastics to them. This small plastic perforated pouch from Preston Innovations is hard to beat, ideal for regularly dinking small amounts of baits like casters or hemp. I combine it with a well-used Fox Match frame. For elastic, I often use hollow pole gear. Spare latex for catapults can put you back between three and six quid these days for a couple of short pieces, while a pack of 5m metre hollow pole elastic will keep a favourite catapult in service for several years. I prefer to use short lengths of thin, stretchy stuff. Having less in play helps prevent tangles and keep the pouch closer to hand, making one-handed filling easier when the catapult is laid out over a bait tub. Shorter elastics also help you gauge distance better, grouping bait exactly where you want it to go.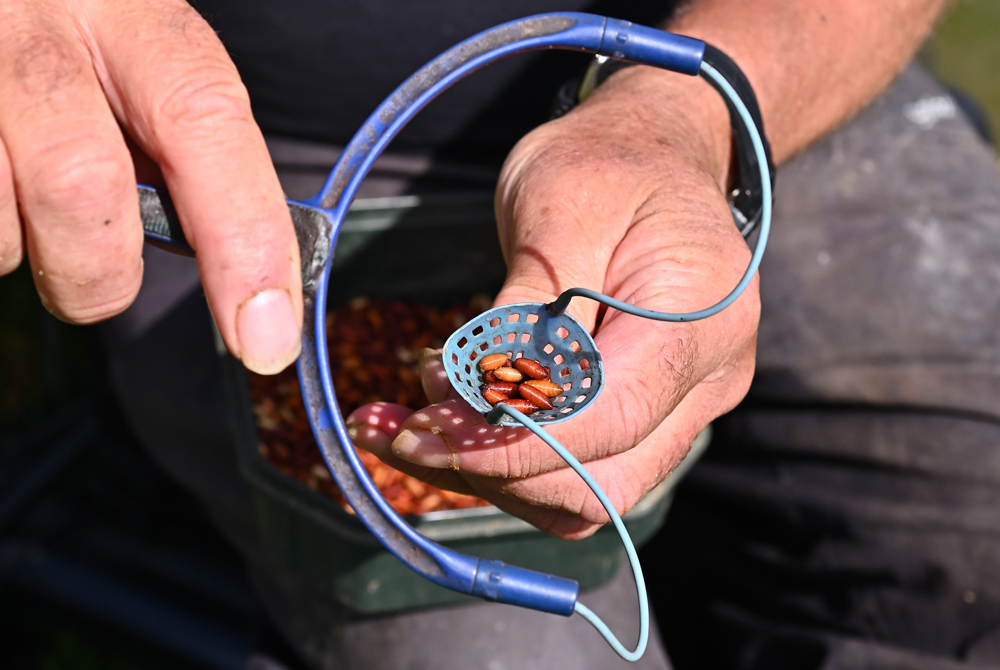 Target Species
Fishing shallower immediately found where the bigger roach were. By laying my rig in on a tight line, the float was slowly lifting itself upright and, most times, darting away before the tackle had a chance to settle properly. As is often the case when regularly loose feeding, if nothing happened on the way down, suspended hook baits also resulted in quality fish. I adjust rig depth a lot to find where most bites occur—just below halfway turned out to be best. If I see good roach swirling on top for loose feed, I will change to an even lighter and less deep setup. That would involve a wire stem float, taking hardly any shot – just three spread number 13s. I again use modified pole floats fitted with titanium wire stems that don't bend out of shape. They are not needed here yet, as the red fins seem happy a bit deeper, competing for crispy dark casters.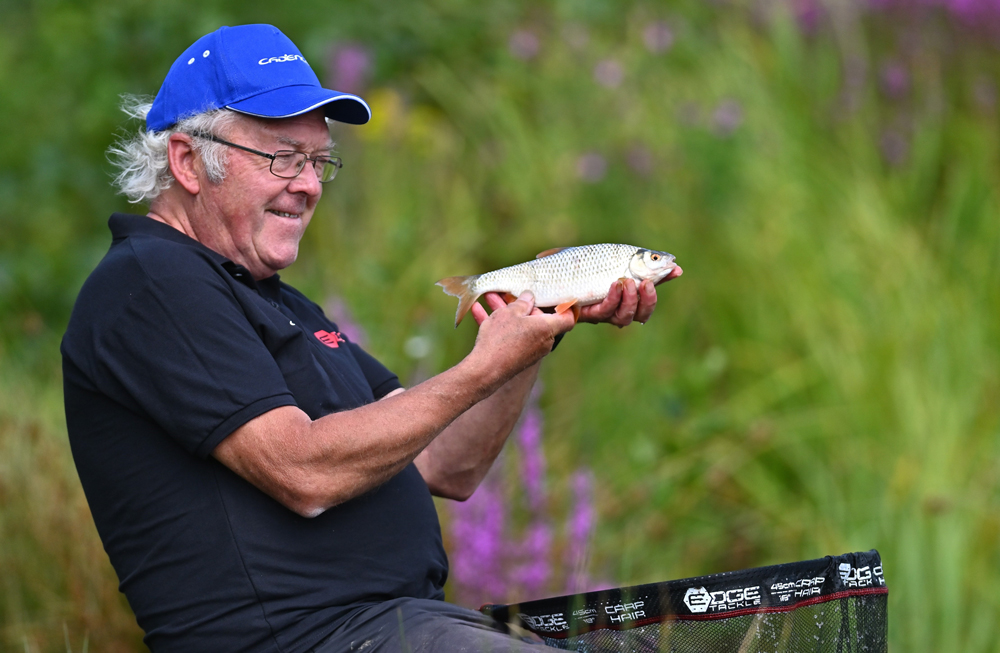 Best Baits
Catching quality roach can be hard graft, involving being highly active with a catapult while supporting a long pole, but it's well worth the effort. A constant trickle of baits like maggots, casters or hemp going in forces bigger roach into competing for the free grub, a rare time when they tend to make mistakes and get caught. Putting too much feed in allows fish to be picky, but making them fight for lesser amounts is another story. I prefer casters because they pull more quality fish than maggots, while hemp is a bit trickier to use. Seed baits may be more selective at times, but the fiddly ways of attaching them to a hook can slow you down. Casters offer easier attachment. My favourite is lightly hooking through the blunt end, which I do most of the time. However, when bites are hard to connect with, I will try nicking the thinner end or burying the hook completely inside.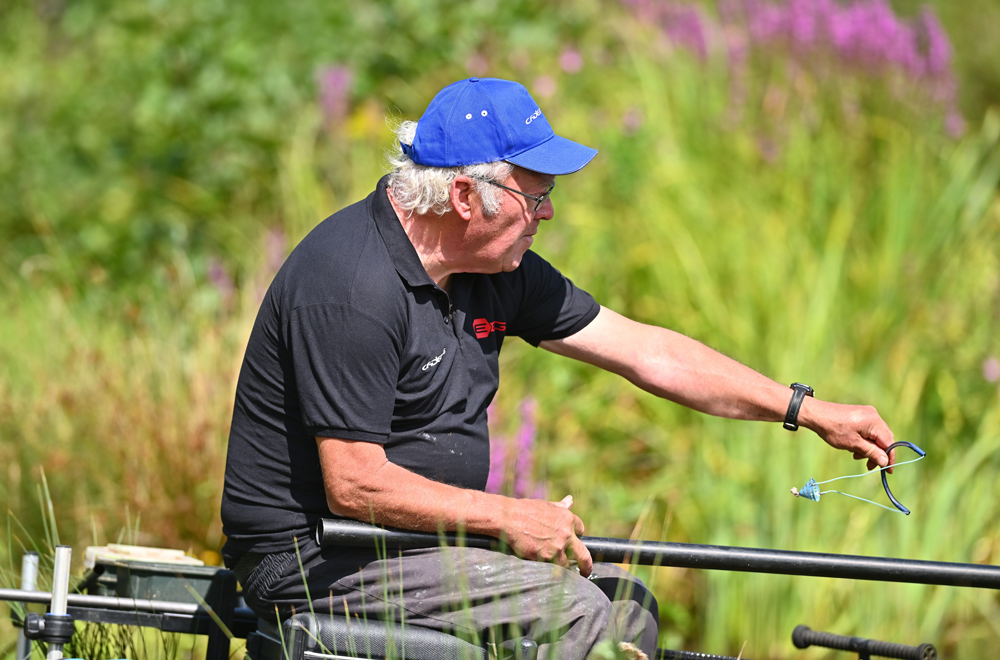 Fighting Fit
It's a pleasing sensation latching into a big roach with fine tackle and light pole elastic, seeing the shock absorber streaming out of its PTFE bush. With my Cadence CP2000 pole, I can feel everything that's going on, which is important in helping not to put too much pressure on. Big roach are shy biters, often only mouthing baits, which normally results in them being lightly nicked in their top lips. You need to play them carefully to avoid hook pulls. Hook choice is also important due to this. I use the Sensas Feeling 3405 Black Nickel pattern most, nipping the barb off this round bend design because it can cause lost fish when they are only lightly attached. If a barb doesn't penetrate on the strike, it's easier for fish to wriggle off as you try to play them in. A barbless hook will normally gain a better hold when bigger roach surge off or as they boil on the surface like this one is doing.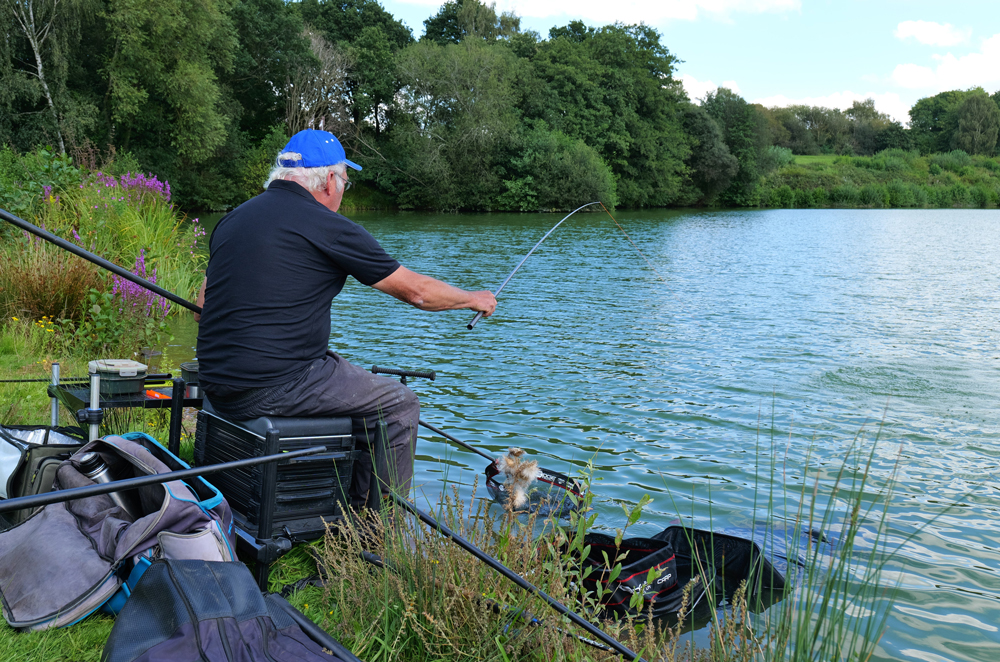 One More
I never tire of catching fish like this because you must be on the ball to keep them coming. Most of my best roach hauls have resulted from fishing shallow, which has also accounted for some big specimens. I've landed them over the magical two-pound barrier, using delicate pole tackle with thin lines and tiny hooks. Bigger roach can be elusive on hard-fished waters, and the best way of finding them, in my experience, is to fish up in the water. They can ignore bottom-presented hook baits completely, knowing from previous experiences they spell danger. But by keeping a constant trickle of loose feed going in, very few sizable roach will resist having a go. On matches, I often have two feed lines going, one to my left and one to my right. The reason is that if one spot gets disturbed by hooking a big fish, the other will keep producing until everything settles down.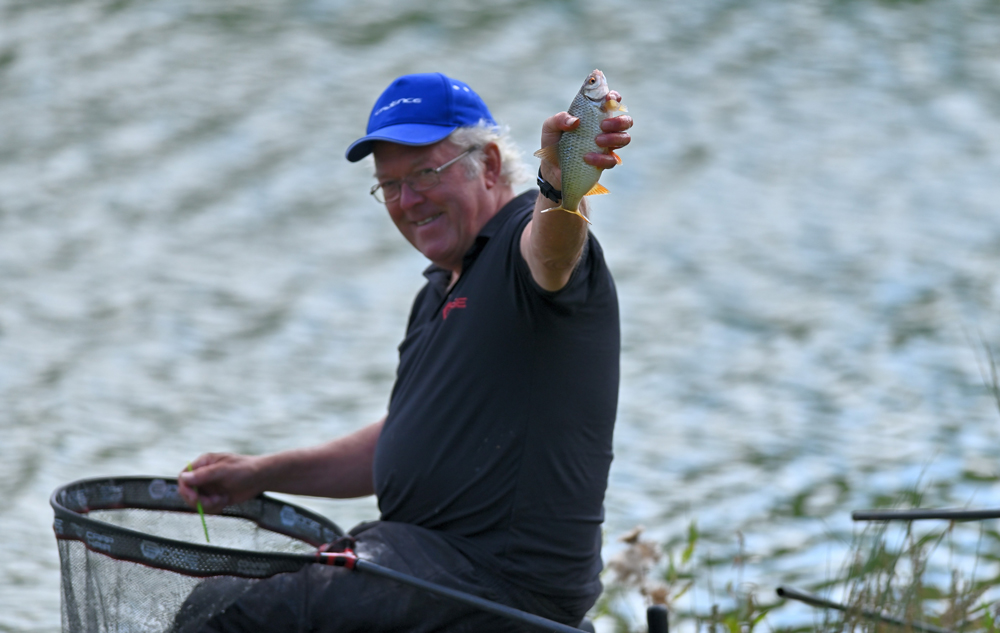 Getting Bigger
This is a classic example of where a spare feed line would be handy because you can't bully bigger fish on such light tackle. I've enjoyed great competition success by switching to a secondary feed area after landing bonus-sized fish, which give a great scrap. It might take several minutes to pull back the rest of the shoal after all this disturbance while having another primed area a few yards away, unsuspecting fish will still be competing for the free grub I've been feeding. Another good trick with red fins is to use groundbait as an initial attractor but then to loose feed baits like maggots or casters just past where it landed. The reason is that bigger roach often hold back from ground baited areas due to their shy nature, picking off any odd scraps that smaller fish miss. Adding a pole section after initially fishing over groundbait can be very productive.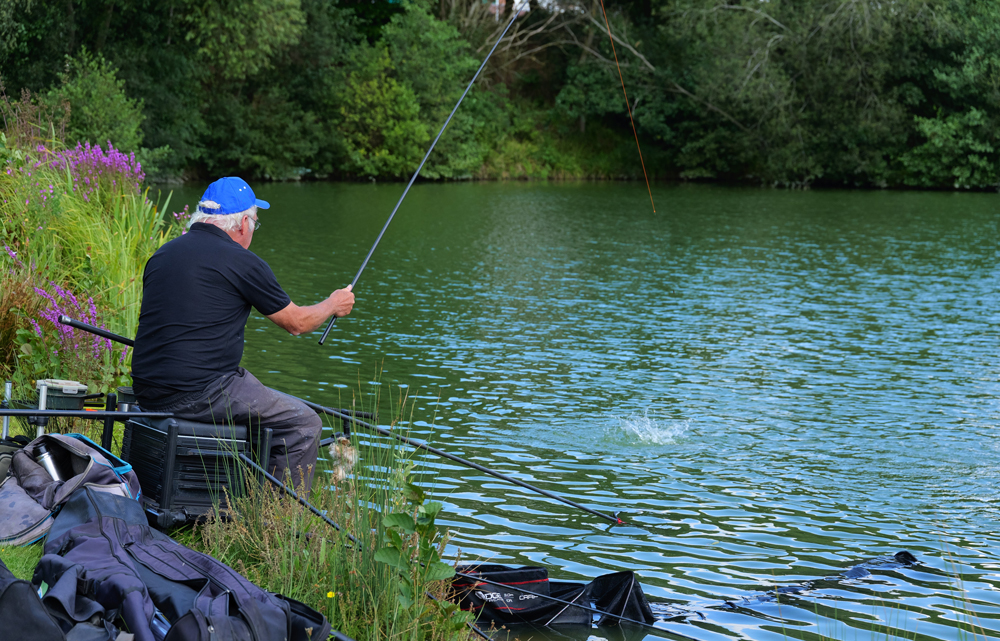 Pole Position
I've not yet fished with long poles that can better what my Cadence CP2000 can do, particularly considering its competitive price. It's a joy to use for actively bagging superb roach shallow or fishing deeper and waiting for bigger bream, tench and carp to appear. It does everything I want and more, especially as I can switch sections about with my Cadence Margin Pole should the need arise to target even bigger fish. I particularly like the power top kits don't affect the pole's balance, a problem I've experienced with other designs, making them sag. I try not to use ridiculously thick elastic in my power kits because it adds extra weight. Modern pole elastics Edge Tackle offers are so good that there's little need to go over thick. I should also mention the half-butt extensions that are available for this pole, which prevent any damage to its lower sections.