Problem Solving
It can get windy out in the fens due to the flat nature of the terrain, making long pole fishing tricky at times. Many drains have high banks behind, which also makes unshipping longer lengths of pole awkward. A good alternative in both cases is to switch to a decent length whip, something I have been doing a fair bit of recently. This led me to giving the Cadence CP200 model a run out. Plumbing up after clearing my swim with a weed rake, I discovered a good 10 feet of water on a 6 metres to hand rig. Beyond that, it was snaggy and closer in there was less depth. I began by feeding casters and a few pellets in stiff groundbait, getting everything hard on the bottom. Small fish are rife during the warm months on venues like this, so you need to be positive to get through them. While initially getting to know the Cadence CP200, I immediately liked its positive and yet lightweight feel.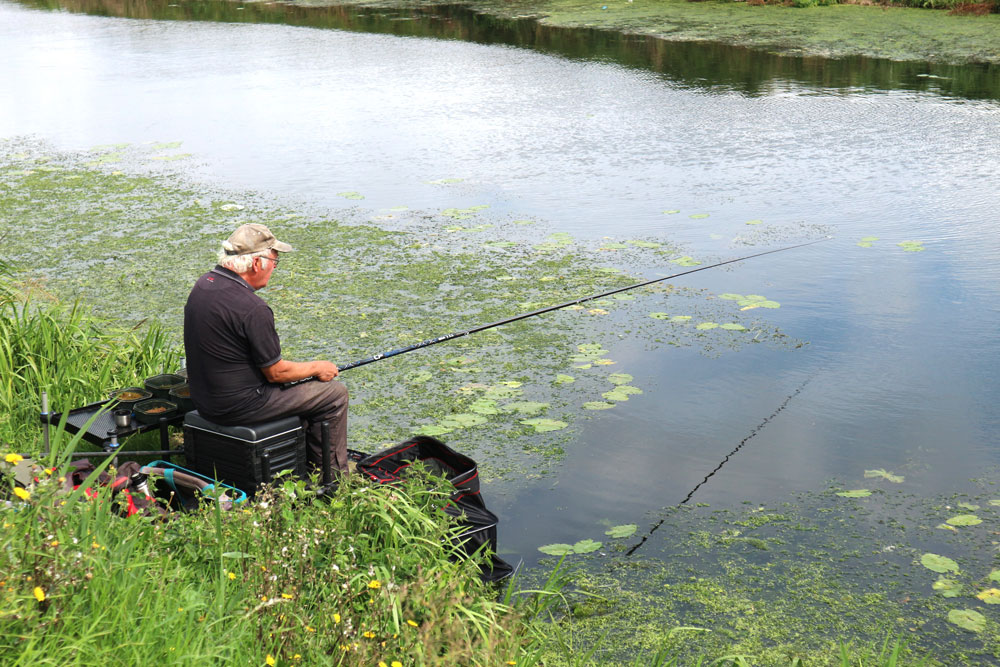 Swim Clearing
A decent weed rake is essential out in the wilder parts of fenland, where many miles of waterways never see an angler, or hardly anyone else for that matter. Even the deeper drains get weeded up, making it difficult to fish at full depth. Several chucks with this special tool soon sorted out a clear area, getting rid of a mountain of Canadian pond weed, straggly lily stalks and clingy underwater cabbage leaves. A heavy rake attached to several metres of strong rope makes lots of disturbance, but every time I've taken this route, I've been surprised to catch fish straight away. I think this is due to stirring up the bottom silt and putting a big cloud of colour in the water. Fish are inquisitive creatures, and I imagine a lot of natural food gets stirred up. I used to experience similar when ice breaking in the winter. You would think it would frighten everything off, but it does the opposite.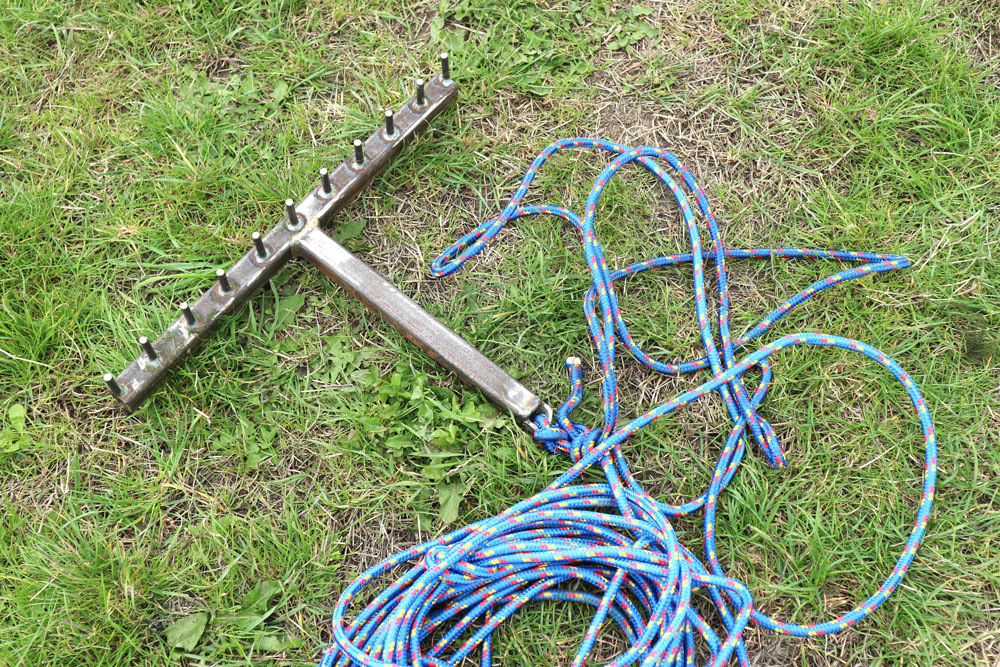 Length Options
While sorting out the distance I was going to fish at, I discovered the Cadence CP200 9m whip has three super smooth lower sections, clearly marked at 6m, 7.5m and 9m. They all have practical EVA joint aligners, which is a nice touch, plus there's an additional half butt extension. The latter is reversible, so it fits both the 7.5m and 9m sections. I think this is a good idea because when fishing to-hand style at longer distances, whips get a lot of punishment under your forearm. The lower sections are all take-apart, while the top 6 metres of pole are telescopic, packing neatly away into one piece. This format results in a classy product, which is light but with a fast action. Longer whip lengths need to be responsive, in my opinion, rather than too forgiving or soft, to be capable of dealing with an attacking approach. Get it right and this is a speedy way of fishing that nothing else can beat on its day.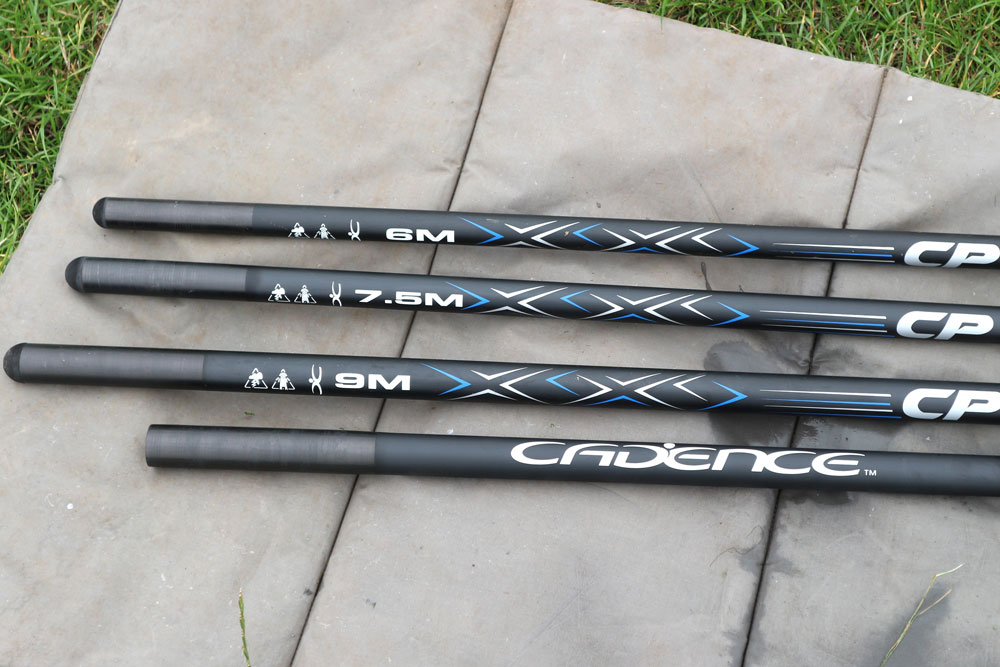 Being Positive
Many of my longer whip rigs were originally made for use in Ireland, where fishing to-hand style provided some massive hauls of roach, hybrids, perch, and skimmers. I also find these tackles perfect for deeper drains in the UK, where the method works just as well and can provide some surprising results. Although the fens are manmade, they are generally classed as wild fisheries because they have matured naturally. Most of my whip rigs are geared up for quality silver fish, comprising carbon stem body-down shape pole floats, with fibre tips and capacities between 1g and 3g. Larger floats are stored on 26 mm winders, having 0.10 mm or 0.12 mm mono at their business ends, combined with 0.15 mm main line and mostly size 16 hooks. The majority feature tungsten olivettes, although a few have spread bulks of number 8s, which can be a useful alternative if the fish are proving difficult.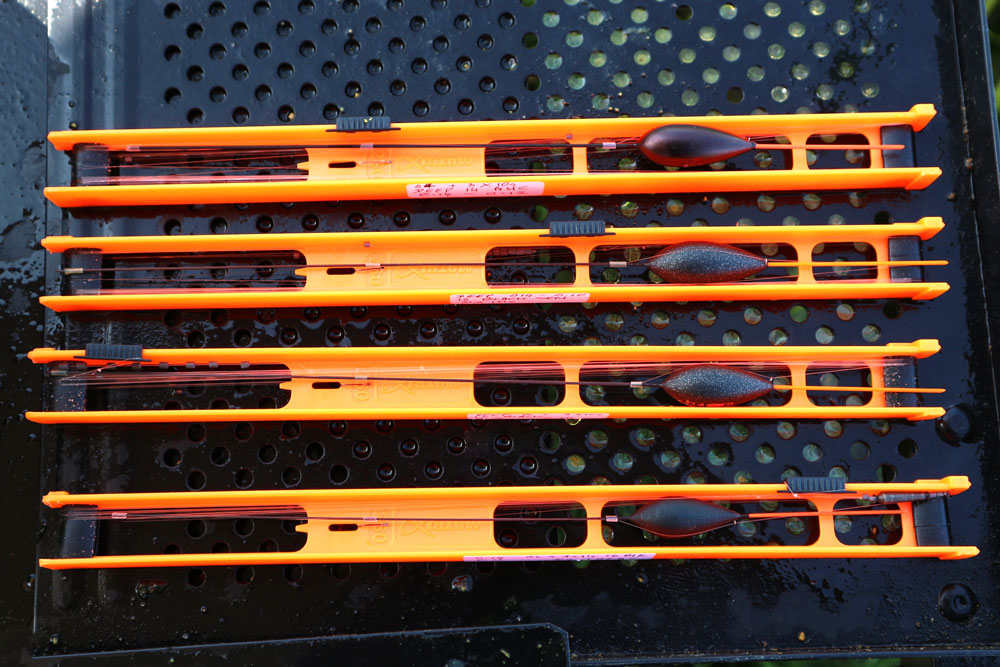 Simple Connection
There are all sorts of fancy ways of anchoring rigs to the solid carbon flick tips whips are supplied with, but I like the simplicity of glue-on plastic connectors. The new Drennan ones are good because you get 0.8 mm, 1.0 mm and 1.2 mm sizes in a pack, which means you can trim back the solid carbon part of the whip's tip section to suit the thickness and action you require. The reason many anglers don't like plastic connectors is their locking sleeves can work loose, which could result in a lost rig. I doubt that will ever happen with the well-made Drennan design, but just to be certain, I always have a small length of silicone tube installed behind the connector. Once the rig has been locked on, I push the silicone tight up behind the locking sleeve, so it can never work open while fishing. I've used this trick for many years, going back to early Stonfo whip connectors, and it has never let me down.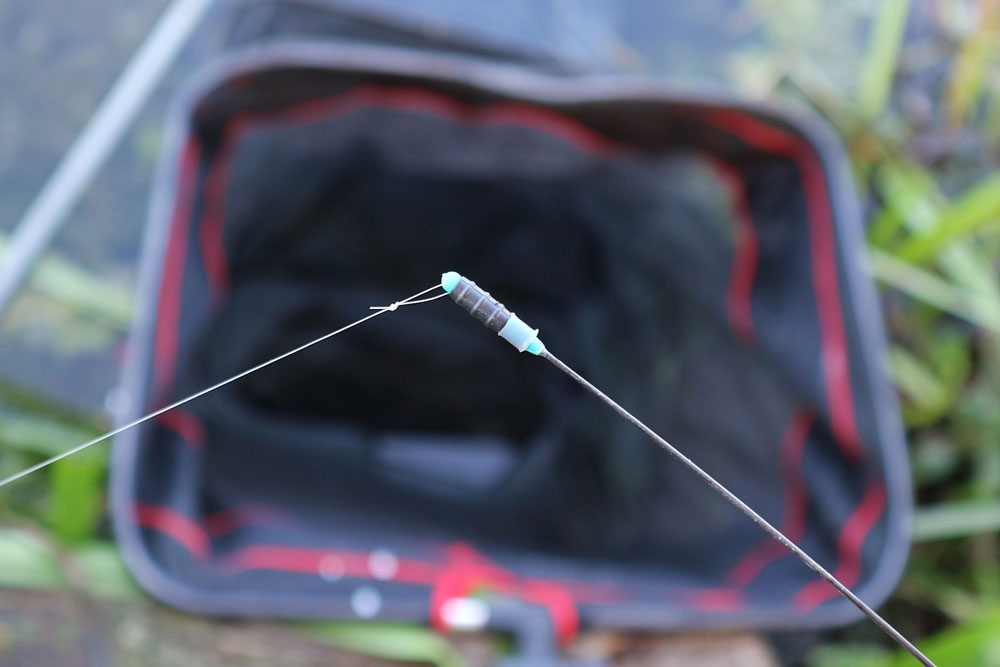 Bagging Time
It didn't take long to get into the rhythm of regularly putting a small nugget of groundbait over a 2g float, fished on 6 metres of pole. It's best to have the rig a bit shorter than the length of pole being used, which still allows the hook to come close to hand, but most importantly compensates for a bend in the tip section when swinging fish in. This saves having to reach down low to try to grab them. After raking the swim, I caught small skimmers, perch, and rudd straight away. Big skimmers moved in a short time later. Using a flick tip was enjoyable because it provided a better feel factor, transmitting the fight all the way down the pole as each fish was hooked. You can use elastic with this method, cutting off the solid carbon tip on a spare top kit, only using a short length of shock absorber to retain good control. But it's surprising the size of fish you can land with a flick tip.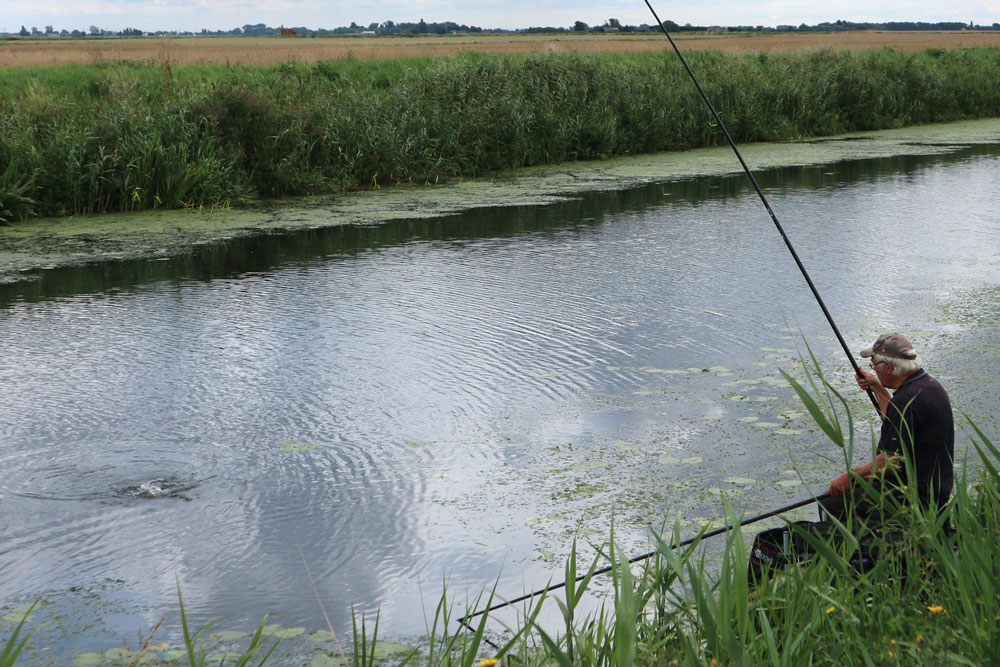 Skimmer Magic
The whip is particularly good at amassing big weights of quality skimmers. I use 0.10 mm or 0.12 mm Edge Premium Mono as hook lengths, with a stepped-up gauge as main line. This format copes fine. When there's a big head of fish, I think the whip is better than shipping out a longer length of your main pole to fish the same spot with a short line rig. Although the latter is more direct for tackle control and striking, it's harder to feed groundbait so regularly, requiring a cupping kit for accuracy. Cupping slows you down, while a whip is much thinner and lighter, making it easier to feed groundbait faster and more accurately by hand. By using a long length of line between the pole tip and float, it doesn't matter so much if the feed is spread out a little more because you can search around for bites. Sometimes being too precise can be negative and cause you to miss out.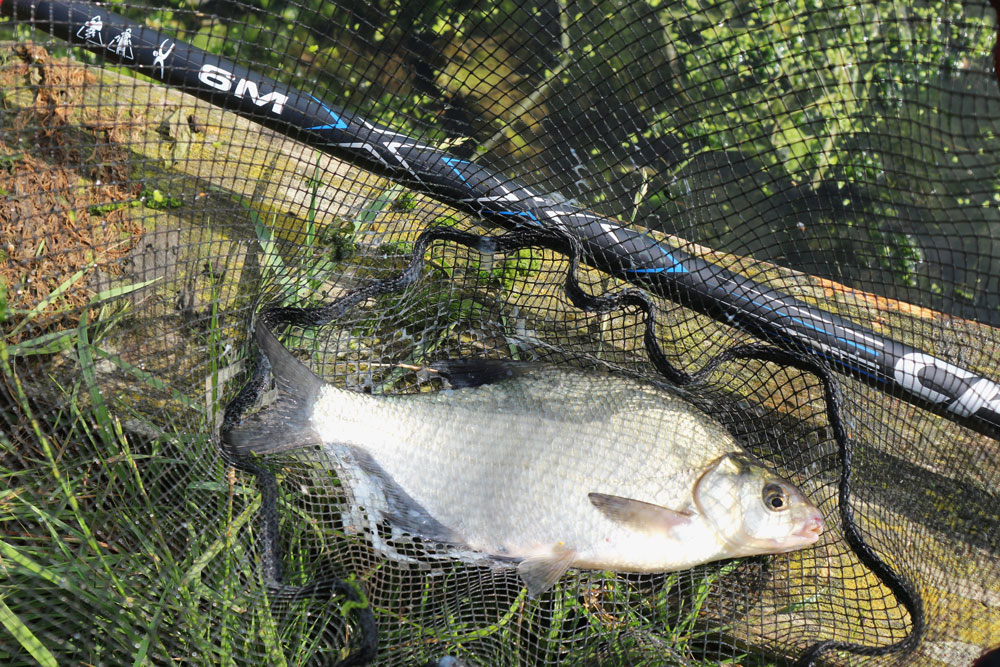 Attacking Approach
Baits like squatts, pinkies and punched bread become important for catching on the drains in winter, but at this time of the year it pays to be more attacking minded to get through small fish. The venues I've been exploring are all heaving with tiny rudd, bleak, roach, perch, hybrids, and blade sized skimmers. You need to feed on the heavy side to get through them, also trying bigger baits on the hook. Maggots and casters are important to get swims producing, but feeding some micro and larger pellets for later is a good idea, before trying hard banded pellets or sweetcorn on the hook to bypass the bits. The well-used pole float I used here had been blacked out with a waterproof felt tip pen. It originally boasted a brightly coloured body, but that reflected back, making it difficult to see if it had cocked properly. A black tip is also normally required when fishing against white surface water.
Fishy Baits
It's been a long time since I enjoyed hectic sport like this, on a method, you rarely see anglers using these pellet and fishmeal orientated days. But just because the whip is thought of as old school, doesn't mean it won't work well with modern baits. On many canals I've fished, it has been noticeable that more and more pellets are being used for species like skimmers and bigger bream. It appears the same applies on the fens, which are very canal like anyway. I suspect many pleasure anglers rely on baits that are used extensively on commercials, which are convenient for spur of the moment trips elsewhere. It certainly seems the fish are familiar with offerings like this because even well away from more easily accessible swims, I'm getting plenty of action using pellet-based gear. It takes longer to work on its own, but produces much quicker by feeding naturals to begin with.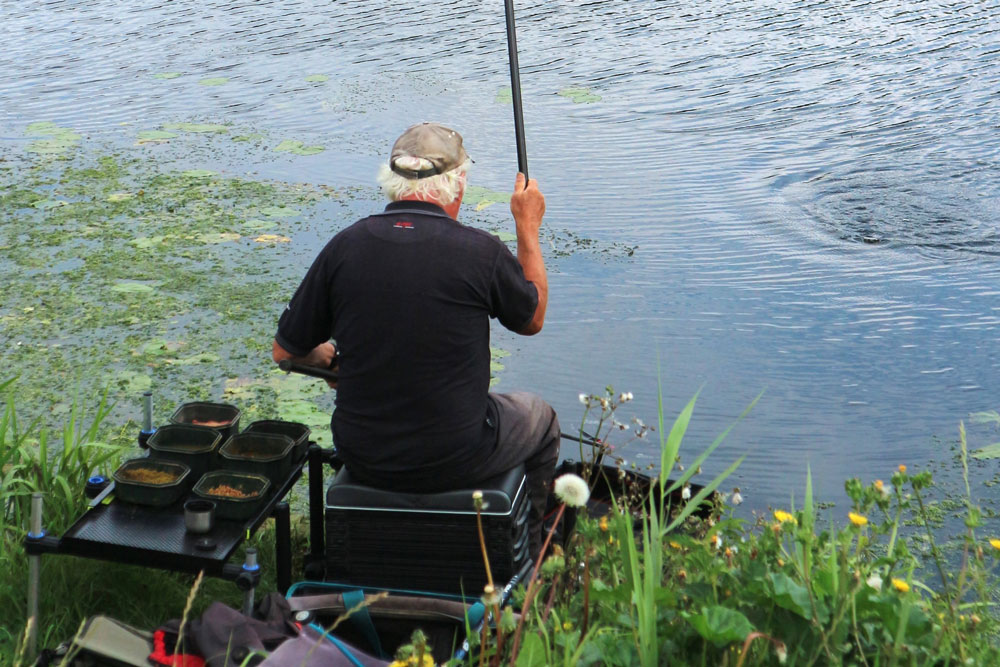 Local Knowledge
I used to spend fortunes travelling abroad to fish this way, but now I can do it on my doorstep. In Cambridgeshire, I drive along deserted fens that are crammed with fish like this. It takes a little effort to find an accessible spot, then walk your gear into the fields and clear a swim. But the price of a club season ticket in most cases is a snip and the rewards are fantastic. It's not always easy, but I love learning to crack new places. I started on this venue a few months ago and managed to put a couple of double figure weights of small fish together. Then, as I grew bolder, quality fish came into the picture, resulting in nearer twenty-pound catches. By pushing things further, constantly switching baits and methods around, my keepnet was bulging even more. On this occasion, I had arrived at a different place compared to where I started. Sport was hectic, and the fish were getting even bigger.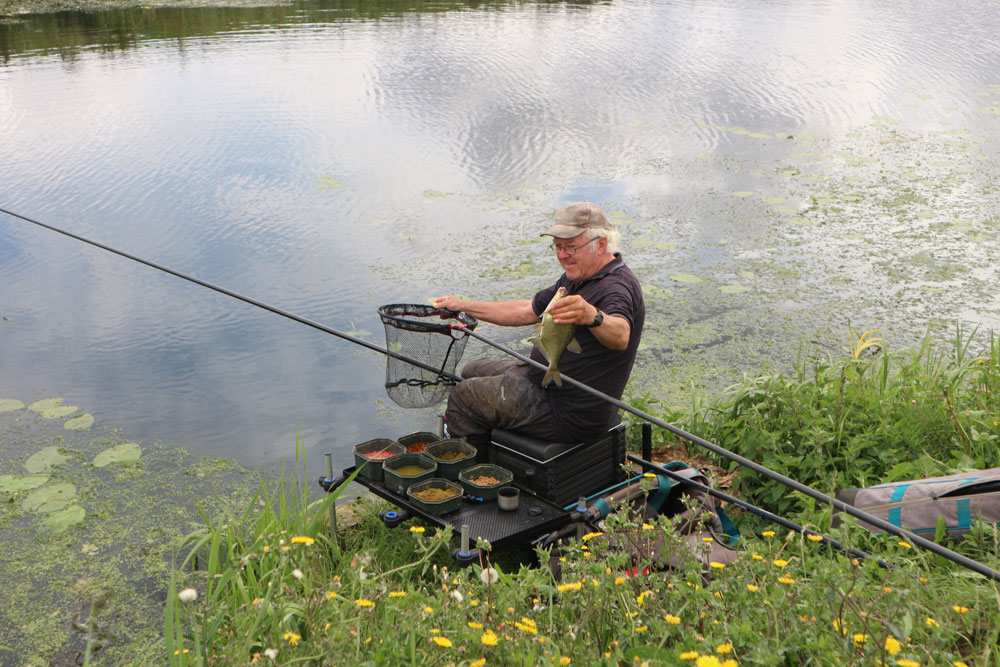 The Predator
It was inevitable all the action was going to pull in something with teeth, but when my whip bent into a much more powerful force, I wasn't expecting it to be a zander. It's many years since I caught one of these, back in my London days when I used to travel to matches far and wide. Not many anglers do that these days, due to the high cost of fuel. That's partly why I moved closer to places I enjoy fishing, but also because lots of travelling and fishing for long stints, gets harder as you get older. This amazing fish was hooked in the tip of its snout, and otherwise it would have probably bitten through my thin hook length. I was impressed with the way the Cadence CP200 whip and a carbon flick tip handled the situation. The pole bent round alarmingly as this predator fought like a demented demon. After I got it to the surface, it was another big struggle getting it into my landing net.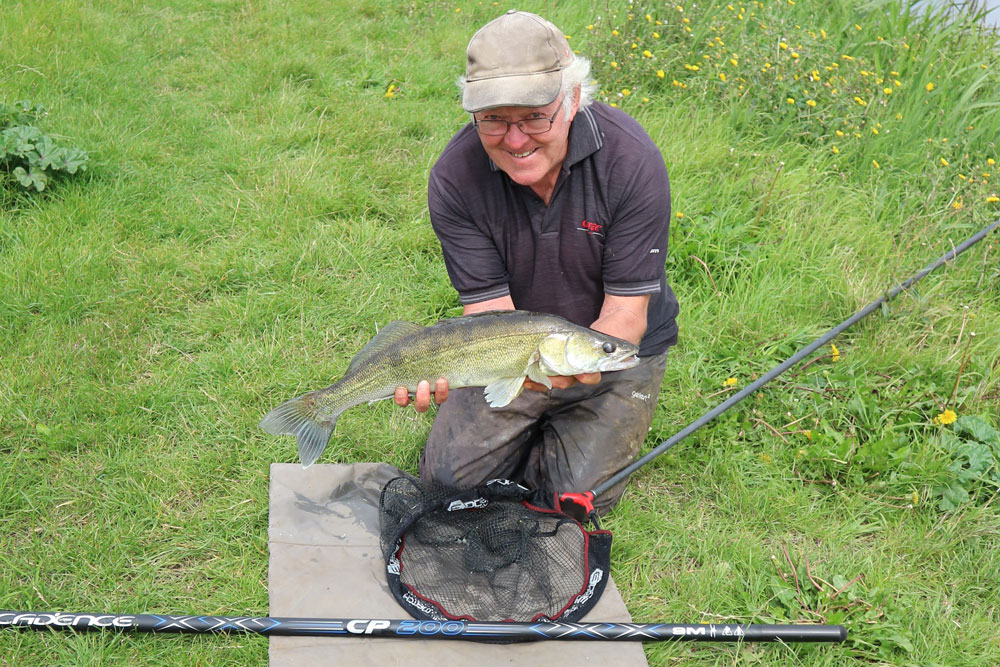 Method Found
I started off dusting down my favourite old canal squatt, pinkie and punch rigs for the fens, never imagining my trusty fishing to hand style Irish style bagging gear might be needed. Combined with the Cadence CP200 9m whip, it has been a revelation. Apart from loads of skimmers and that zander, I also managed to land a 4lb tench, all without elastic on a flick tip. I might have been a bit lucky when the bonus tench weeded me. But by being patient with it, keeping up the pressure, it eventually came loose and gave up. I think the 9m CP200 suits my needs most because I will be venturing onto some even deeper and wider drains soon. I should mention the 6m version has a slightly different format with top 3 telescopic sections, rather than the top 5 tele set up the longer model has. Both are similar otherwise, brilliant for speed fishing and serious bagging; an absolute joy to use.