Leigh Harrison looks at his perfect rod and reel combination when fishing in big, fast water, the CR10 13ft 8in Power Feeder and CS10 5000 Feeder Reel.
I've been lucky enough to have had access to some fantastic waters and catch some even better fish over past few years. Fish I could have only dreamed of as a youngster and like many things in life, I wish I knew then what I know now regarding the methods and techniques to target them.
Having the right equipment also helps enormously, particularly when fishing rivers. Those faster flowing shallower stretches can make demands on your tackle that are quite out of the ordinary and having the right rod and reel can make a complete difference in these scenarios.
The excellent CR10 14ft #3 Feeder rod covers most of my feeder fishing on the River Trent, however, there are stretches, especially earlier in the season, where barbel, chub and bream tend to live for a while – usually in the more oxygenated water that is almost always a lot shallower and faster flowing.
These stretches are so powerful that you might need 8oz of lead or more to hold the bottom, even on a normal summer level running river. I hadn't got anything to cope with that until just over a year ago when I got hold of the Cadence CR10 13ft 8in #4 Power Feeder rod.
This gave me the opportunity to fish some pegs on the river I'd wanted to fish for ages, and with the lockdown last spring, I walked miles and miles of the Trent to find any new stretches I didn't know much about which might have all the right ingredients I was looking for.
Having found some ideal spots in a few places, all I needed to do was pick the right days when the river was bang on, and hopefully I could attract a few fish and get them out more comfortably than I might have been able to have done so before.
The three-piece rod is hollow all the way to the tip and has tremendous power all the way through the blank. It is a real beast tamer and is perfect for big rivers like the Trent. The Power Feeder doesn't come with a coloured tip section, it can be used as a heavy powered float rod. Ideal when fishing for still water carp. I have added some white and fluorescent orange whipping on mine as I only use it for feeder fishing.
After landing some smaller 5lb+ barbel and chub on a practice session it was time to see what this rod could really do. I fished a new stretch of water that was only three to four feet deep and had a lovely gravel bed, so beloved by barbel and chub. A 6ozs feeder was needed to hold bottom, later 8ozs was required as the river rose slightly, but this rod can handle this weight with no problems whatsoever.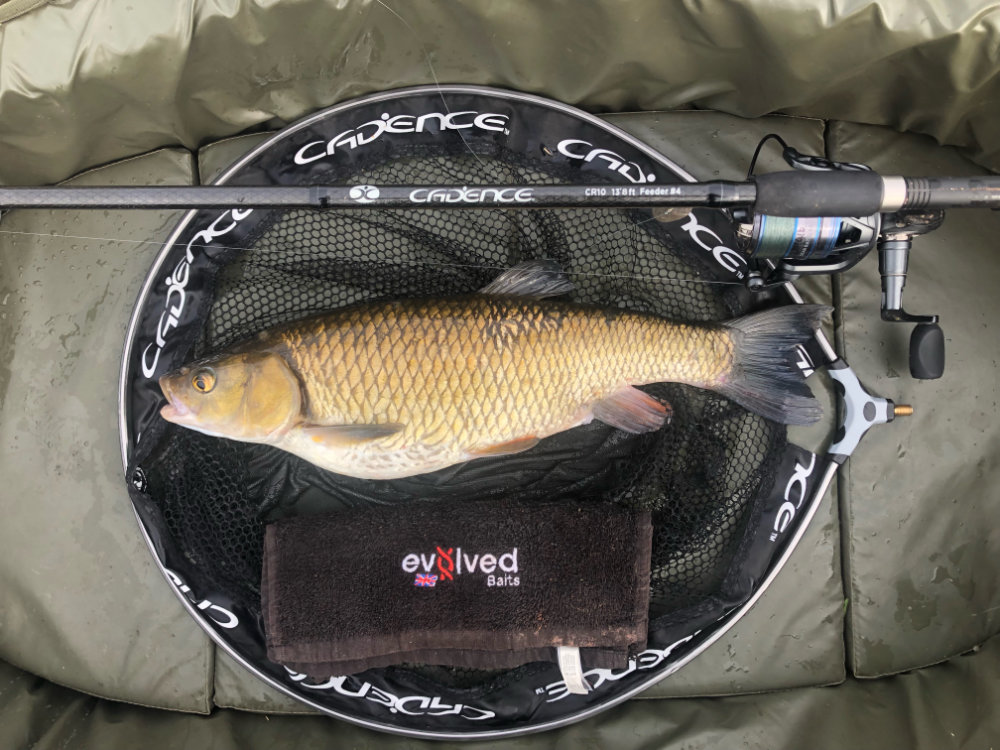 After a gentle hour of preparing and feeding the swim I carefully cast the feeder and within five seconds the rod had hooped over, the classic three3 foot twitch, and I was playing a large fish. You know when they're big because they just hold the bottom for ages until you trust your tackle enough to start trying to move them. Five minutes later and a 10lb+ barbel was safely in the net. The rod performed exactly as I needed and expected it to do so. It kept the fish out of any snags, and I felt in near complete control all of the time I was playing the fish.
A word or two on the reel I'd paired this rod up with, the CS10 5000. I'd already used this on a couple of occasions previously on my cr10 14ft #3 Feeder rods and I fell in love with them straight away. They felt exactly the right size for this sort of fishing, enabling even easier casting and playing of larger fish. The smoothness of the reel aligned with the preciseness of the drag show what an awesome accompanying product this really is.
Some lovely early season chub and barbel hauls had highlighted this and it was no different on the more powerful CR10 13ft 8in Power Feeder.
So after only one cast and a perfect double figure barbel safely released back to her home, this session turned into a mad three hours of catching fish after fish including another 10lber, two large 9lbers and numerous 8s, 7s and 6s!
In total over 90lbs of barbel were landed on a beautiful sunny morning, and the rod and reel had performed perfectly. Not one lost fish at all!
I'll be honest and admit that after all that non-stop action I was exhausted.
Sometimes it's better to savour what you've achieved, and with a long walk back to my vehicle I thought discretion was the better part of valour. There's always another day, hopefully, and the anticipation of fishing this peg in the future keeps me excited, especially on those cold winter nights. I'm certain there's a personal best in there for me, hopefully this summer, if I'm lucky?
I have since fished numerous pegs on different stretches of the river with this exact combination and it has never let me down once. More double figure fish have been caught, including catches of over 40 barbel in one session, but what has surprised me the most is how bites show up from smaller and more delicately mouthed fish as well. I've had loads of large dace, 1lb+ roach and delicately mouthed skimmers and bream, with the bites being totally unmissable!
This combo is perfect for those flood conditions, and I believe that is what most people will use it for, however, I really think it's a much more useful tool than that, and I hope this shows what an invaluable and versatile rod and reel combination this really is.
If you're after one rod to fish beefed up match tactics, or just a rod that can cope with rivers with a bit of pace in them, then you'd be doing yourself a big favour by looking at the Cadence CR10 13ft 8in Power Feeder combined with a CS10 5000 Feeder Reel.
There is a lot more to them than fishing with them for those few sessions a year on a big, flooded river. It's a rod that can be used to attack the river and I'm glad it is in my armoury so that I can do so. I carry it on every feeder session I do on the Trent now, without fail.
Now the river fishing season is in full swing, it might be time for you to consider this perfect big fish, fast water, summer combination!