A few years ago, I came back to angling after over fifteen years away. After contacting a few old friends from my previous fishing life, Mr Cadence himself, James Robbins, invited me to a very cold and wet Open Day at Packington Somers fisheries in the West Midlands. A plan was hatched to let one of my kids catch his first fish and have a well overdue catch-up and chinwag with James.
Talking about fishing rods is probably one of my favourite things to do in fishing. During a meetup, James had told me that rod technology had moved on in my absence. Spliced tipped rods were old hat, and that new, finer hollow tip rods were the way to go for all float fishing requirements, especially on rivers.
Although I didn't want to disbelieve someone as experienced and knowledgeable as James and not want to diss a mate, sometimes you have to fish with a rod to understand a new concept (to me) fully.
I remember doing just that, catching a few mad carp on my first Cadence rod and calling James within an hour of my session, telling him what fantastic rods they were. They were the best rods I'd ever caught a fish on.
What made the rods stand out was the fineness and the softness of the hollow carbon tips combined with the graduated power as you progressed further down the blank towards the butt section.
That lovely parabolic action is what makes these rods so special. Combined with the different power ratings you can get, it gives you a versatile range that can cover virtually any float fishing situation you might come across.
The parabolic action stays the same on every version, but the rod just has a different power rating, with #0 and #1 at the softer, lower end. #2 in the middle and #3 the most powerful to tame those beasts like barbel and carp.
Everybody fishes a little bit differently, and because of that, you will have a preference in what you want from a rod or for what you might encounter in certain situations. I'm no different, and I've found out over the last few years that in some instances, I prefer a slightly softer rod, especially when targeting smaller fish like silvers.
I have such high confidence in the strength and robustness of these rods that I feel secure enough to get almost anything out if I hook a bonus fish, allowing the rod to do all of the work with lighter balanced tackle. This helps when targeting smaller fish and the problem of bumping off fish on the strike.
I love all the softer powered rods in the match rod range, including the 11ft #1, 12ft #1 and the 13ft #1. Alan Barnes helped develop the fantastic 15ft #0, of which I have two in my collection, and they get used an awful lot by me on my local river Trent.
However, it's the 14ft rods that I use the most in many float fishing situations on rivers and still waters. Modern rod technology has improved so much that in many cases 14 foot rods are as light and as good as the old 13 foots we used to use. 14 foot is the new 13 foot.
I like the 14ft #1, and I use it regularly, but I felt we could do with an even more refined 14 foot rod, specifically for roach and silvers fishing on the Trent and other rivers, where small silvers make up many of the catches. This rod would be perfect when light hook lengths and small hooks are the order of the day to fool those larger and more wary stamp fish.
So I asked James if he could make me one and told him why, and with James being the top bloke he is, he duly obliged. He completely understands that people fish differently and that people's techniques for striking and playing fish vary. And so, the Cadence CR10 14ft Match #0 was born.
It is not a simple process making and testing new rods. Any variation in the power specification creates a change that necessitates creating a new, unique mandrel. Getting the blend of carbon correct to create the action and softness you require is no mean feat either. Then after the first rod is made, it will probably need fine-tuning, which usually means making even more mandrels until you've got something you might be happy with.
It's mostly all I've concentrated on fishing with for the past nine months, mainly on the waggler with some stick float work as well, but it has all been well worth it.
The first time I picked up what became the final prototype of the 14ft Match #0, I knew it was right straight away. Sometimes you just get that electric feeling from holding a rod and putting a bend in it. Lovely and light at 172g or 6.1ozs, beautifully balanced with an action from the gods, I hoped it would fish as well as it felt.
I wasn't to be disappointed whatsoever when the first 7oz Trent roach was landed safely in the net in Nottingham last November. It felt incredible, from setting the hook to the tip and the top section doing all the work and looking after all the moves a stamp roach makes. Catching quite a few more roach up to the pound mark indicated that this rod was indeed something special.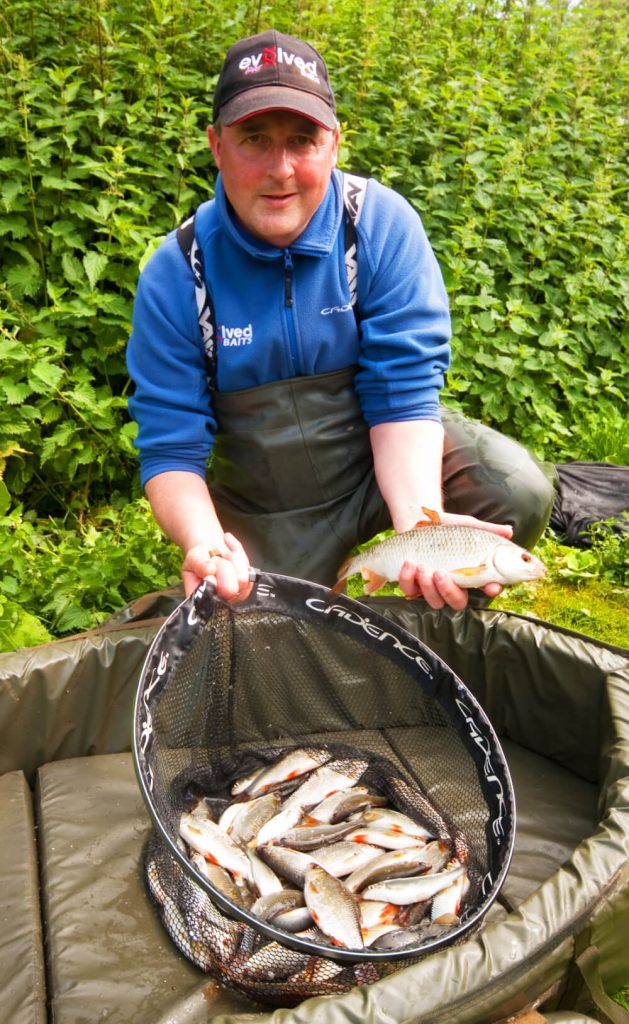 More trips confirmed my initial thoughts with a few mixed bags of 2lbs+ chub to go with more roach and dace.
The river season ended, so it was time to concentrate on the local pools and lakes and catch more of those silvers. Bags of ide and roach were so lovely to muster, along with some soft-mouthed skimmers and bream up to the 4lb mark, but eventually, it was time to test this rod to make sure it could cope with those unexpected bonus fish.
I wanted to catch some larger chub and test it against a few hard fighting carp as well.
There's no better place in Nottinghamshire to do that in the close season than Portland fishing lakes. This put 14ft Match #0 well out of its comfort zone with chub to nearly 4lbs and carp up to 5lbs+ all safely landed with no problems whatsoever. There's a proper bend in the rod with fish of this size. However, they can still be manoeuvred and controlled without any cause for concern.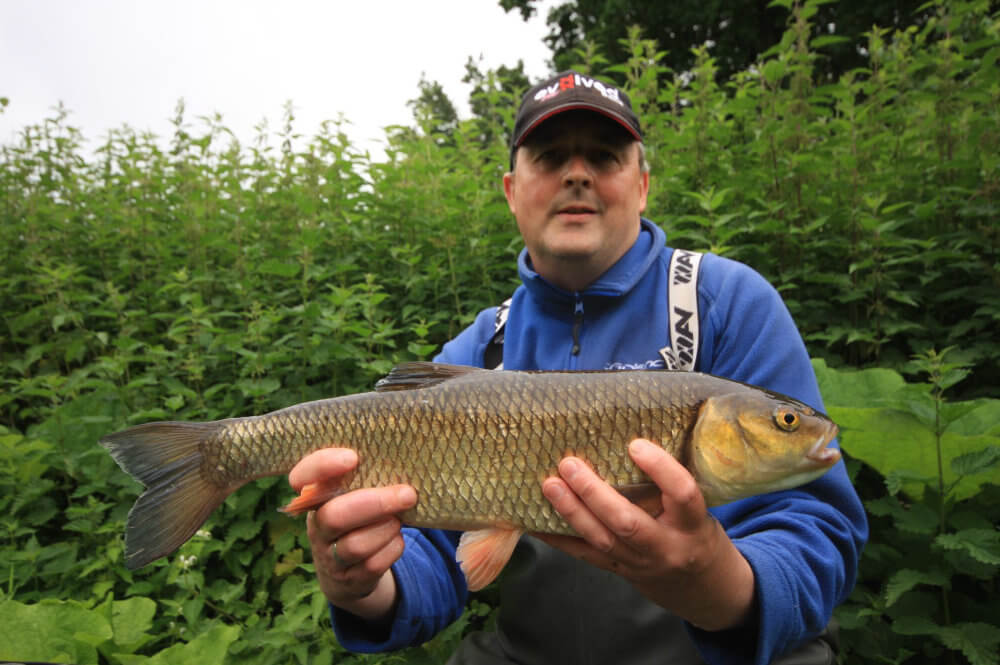 Recent trips on the Trent after the rivers have opened up again have proved what a truly remarkable rod this is. A magnificent 5lb chub and two 4lb+ barbel have been landed whilst fishing for silvers, on really light gear, using 3lb mainline and 0.1mm & 0.12mm hook lengths! Playing the fish carefully in a flowing river and letting the rod do all the work and take the lunges, eventually managing to tire the fish out and succumb to the net, was a dream come true. At no point was I overly concerned about ever losing these fish, a testament to this rod's build quality and action.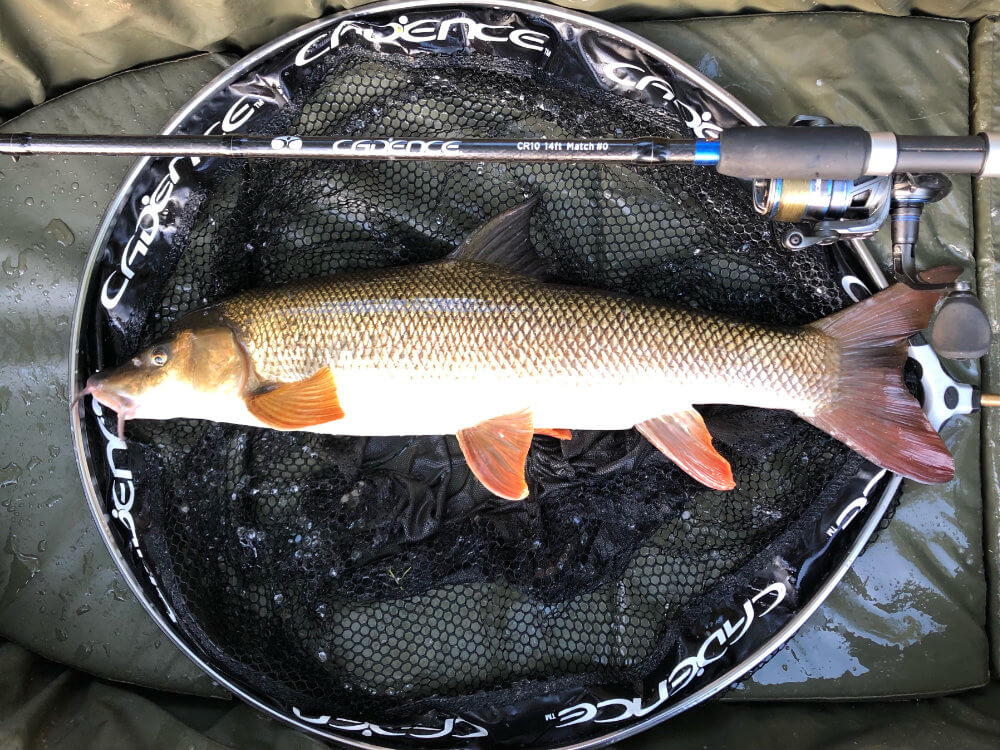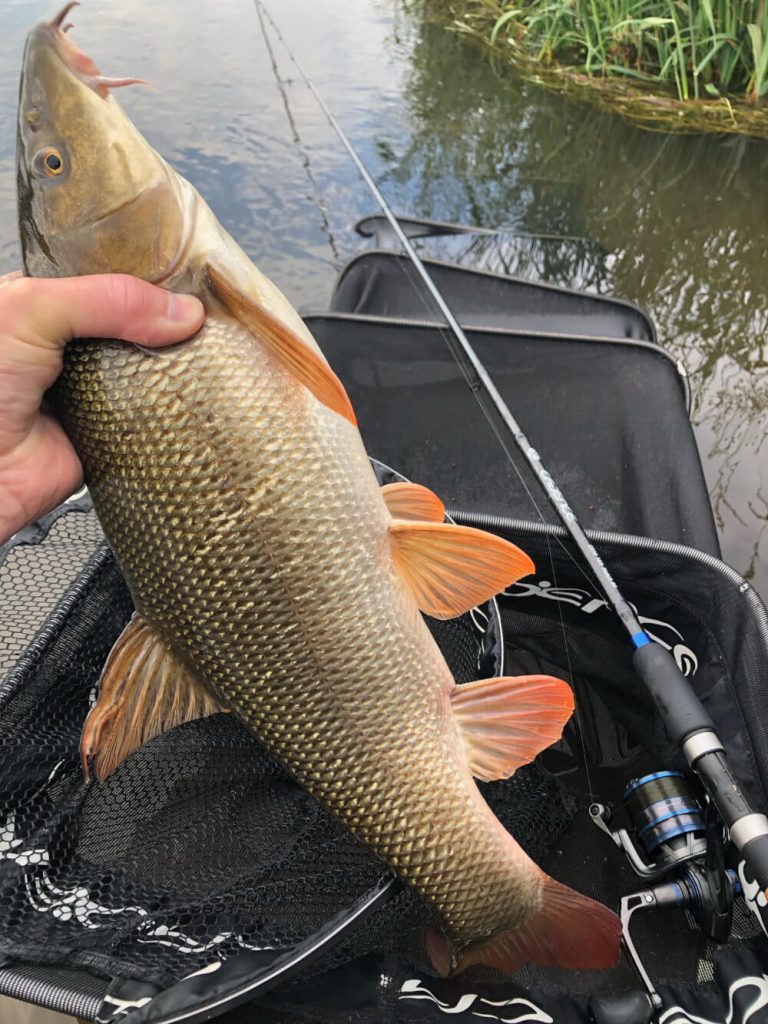 Having also hooked numerous pike up to 10lb on the Trent and an overeager duck on another occasion, I can safely say I've tested this rod to the limits and beyond, and the 14ft Match #0 came through everything with flying colours.
Apart from the size of the fish I've managed to get out, what has been amazing is that although I have caught over 2000+ fish on it, I've not bumped a single one in over 15 sessions. Truly remarkable!
The 14ft Match #0 also casts a lovely waggler, which can be punched out if the wind gets up, and it's also just as happy controlling a stick float and setting the hook to perfection every time as well. This rod has been designed for fish like smaller blade roach up to fish in the region of the 3lbs category. In my experience, it will not let you down at all, and if you do hook a large bonus fish, you've still got a decent chance of getting it out.
You can fish as low as 0.06mm hook lengths with absolute confidence, as I have done, and I've gone up to a 0.12mm hook length for those bigger fish. 2.5lb – 4lb reel lines are ideal for the 14ft #0, and if you need to go heavier, you probably should be moving up to the #1 or the #2.
For all small fish, soft-mouthed roach, rudd, dace, skimmers and bream, and small to medium-sized chub, you really cannot beat it. It's just an absolute dream of a rod to fish with, and I can guarantee, as much as one can do in a written review, that I'd be shocked if anyone didn't feel the same after fishing with one.
I hope the 14ft Match #0 will will turn out to be a classic rod. However, I understand that I'm completely biased, and I would say that, wouldn't I?
It's been an honour and an absolute privilege to have been testing a new rod like this, and I've been very fortunate to be in the position to do so. I hope some of you will feel the same way as I do when you first hold this rod and get to experience the same highs I've had when fishing with it.
The proof of the pudding will be in the feedback we get from you guys, our customers, so don't be shy! If you see one of us out and about, ask us for a waggle or a fish!
I'll stand corrected if I'm wrong, but I don't think there's a more comprehensive 14 foot match rod range on the market at the moment, and it doesn't surprise me that there are now four rods in the Cadence range at that length.
Hopefully, with the end of the restrictions imminent, we'll showcase them properly at the shows and open evenings again shortly, and I very much look forward to doing so.
And yes, I will be purchasing another Cadence match 14 foot #0. It's just too good a rod to have just one of them!
Enjoy!
Leigh Harrison.
Footnote 1: Just a big thank you to everyone at Portland Fishing Lakes, Sibthorpe, Nr Newark, Nottinghamshire for their help in some of the photographs and for their help in assisting me in testing this rod out thoroughly. Your help and support is always greatly appreciated.
Also to Maythorne Farm Fishery, Nr Southwell, who have also been excellent.
I cannot recommend these two places highly enough.
Footnote 2: I've thought long and hard about writing this next bit. However, I think I owe it to the people who've helped me out in the last year, and it would be a tad out of order if I didn't acknowledge that.
This last year has been an absolute nightmare for me personally and is easily the worst year I've had in my near 50 years on this earth. The COVID-19 situation, and the enforced loss of freedoms, have compounded that also.
It hasn't been an easy time at all.
I just want to thank James Robbins for going along with this project, listening to me, believing, and helping me all the way through. His friendship has been invaluable, and this small project has given me a chance to focus on something so positive that it has kept me going in these not so happy times.
I can never pay him back fully, and I hope the work I've done on this will do so in some token way. You've just been a proper mate!
I wish to thank others who've been equally as helpful, and you know who you are, many in the Cadence family.
I will never forget it, and I promise you all I will get back to the happy, pint half full, mickey-taking Noddy I was a couple of years ago!
Thank you all once again!