We join Steve Whitfield and George Robinson for a day at Southfield Reservoir near Doncaster for some top tips on feeder fishing.
A key element to the Cadence business model is our brand ambassadors.
When we launched the brand back in late 2017, we identified the need for respected and talented local anglers to help us develop and promote our tackle, and also provide high-quality content for our social media channels (blogs, videos, Facebook posts and tackle reviews).
During the last three years, we have developed an amazing group of Brand Ambassadors around the country and they have proved to be instrumental to the growth and success of the brand in the UK.
In this blog we are focusing on two of our Brand ambassadors from Yorkshire:
Steve Whitfield
Steve is based in Sheffield and is one of our most influential brand ambassadors. Steve has great respect on the local and national match scene winning many big opens, team competitions and festivals, particularly on natural river and lake venues.
In recent years Steve has focused on feeder fishing competitions and been a massive help developing and testing our range of feeder rods in particular.
Along with George and my great mate Wayne Bartholomew, Steve has helped us to arrange some really successful open evenings in this region; another key attribute of our brand ambassadors. The open evenings have really helped us to promote and demonstrate our product range to anglers all around the country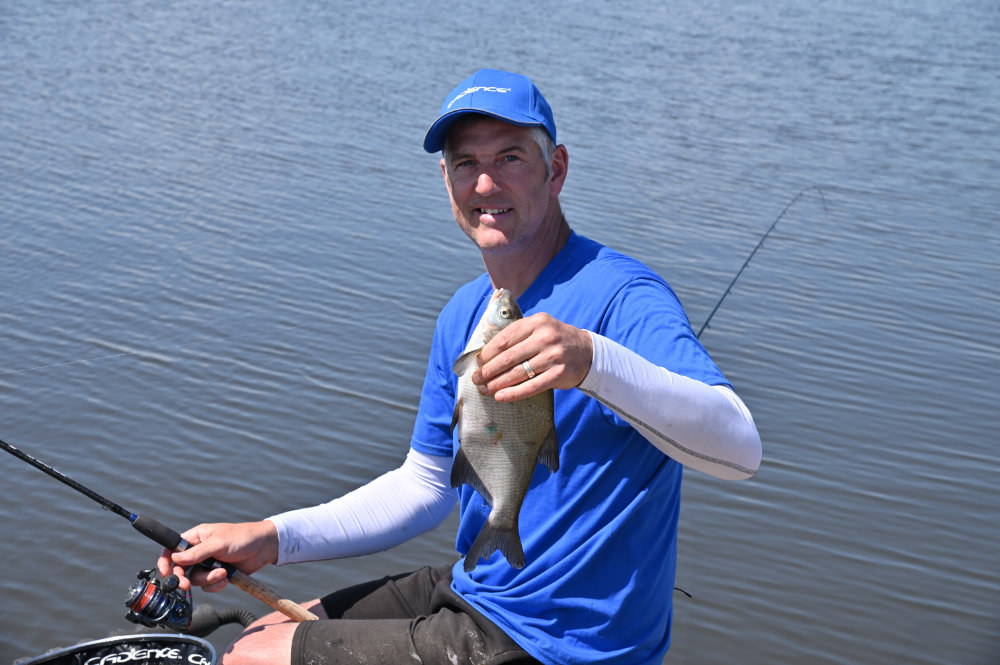 George Robinson
At 26, George is one of our youngest brand ambassadors and based in Scunthorpe. I first met him at one of our open evenings in Nottingham last summer.
It was great to meet such a keen and knowledgeable young match angler and George came highly recommended by Steve as an emerging talent on the match scene.
Initially, I asked George to test some of our rods and write a review on them for our website and in just a year George has really blossomed as both a match angler and a brand ambassador.
Last year George qualified for the Feeder Masters final, NuFish Feeder King final and the Golden Reel final! He now also fishes with Steve in the extremely talented NuFish North feeder team.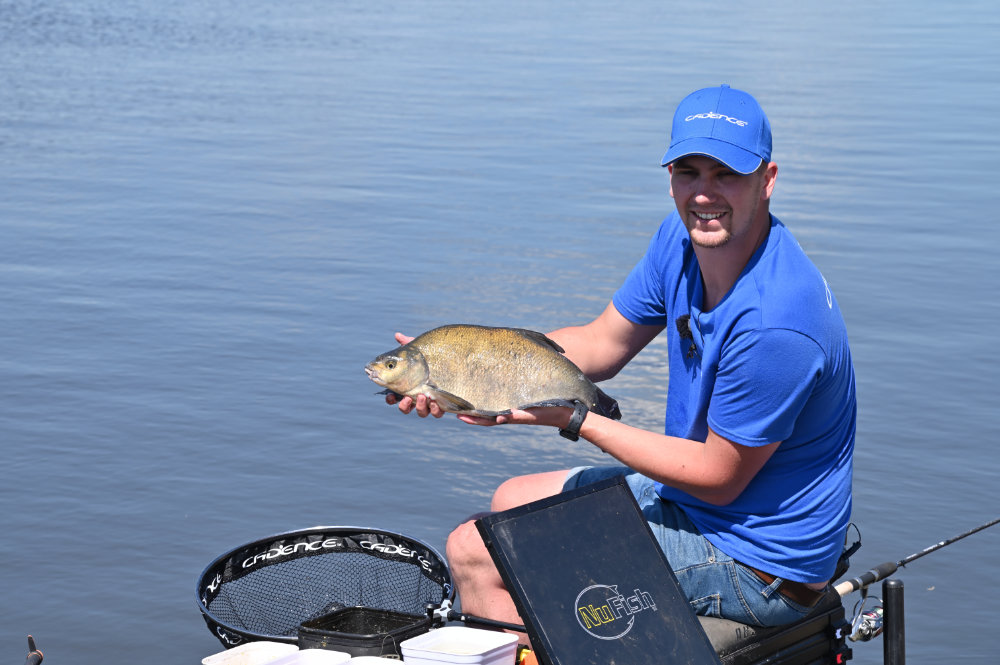 Both Steve and George wanted to shoot a video together for our Cadence youtube channel and we arranged to meet them at Southfield reservoir in East Yorkshire.
Southfield is a venue they both love to fish and have a lot of experience match fishing.
It's a new venue for me and I was really looking forward to seeing how they approached the famous venue, and was keen to get some tips from them both and share them with you.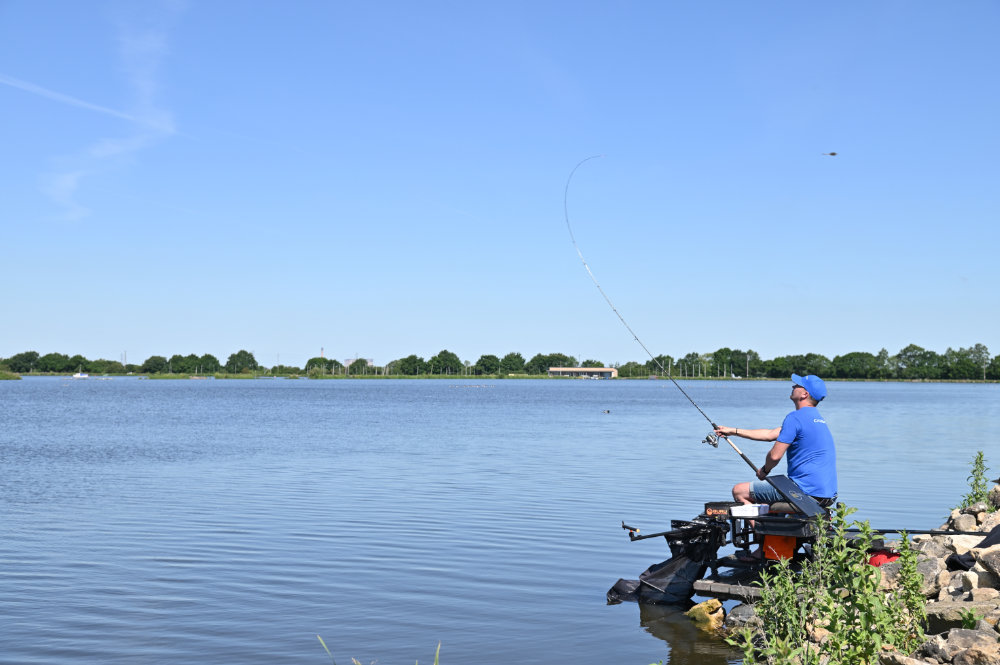 The pegs we selected were in the 40's on the roadside bank. It's fair to say the conditions were tough with flat, calm conditions and bright sunshine!
Originally we had hoped to shoot a head to head type competition for the video but soon realised that with the conditions, that would be a tough task.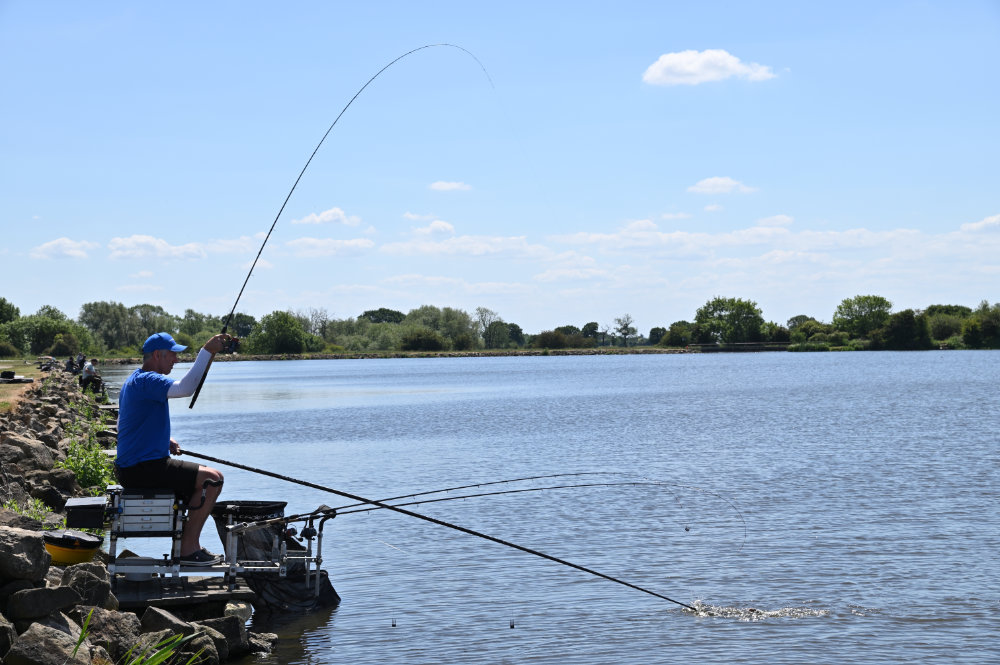 Steve decided to fish conventional feeder tactics at various distances using our CR10 11ft #1 and 12ft #2 feeder rods.
Due to the tough conditions the main aim was to catch anything he could, and Steve soon started to get bites and catch some smaller skimmers and roach.
Obviously we all love catching big bream when feeder fishing! What sets anglers like Steve apart from others in match situations is responding quickly to the conditions and maximising the potential from the peg. This is why Steve and his team are so devastating in the various feeder competitions and leagues.
Feeder Fishing: Swimfeeder Rig Tips
Here are some tips I really appreciated Steve sharing and am sure will help us all when feeder fishing on similar venues around the country:
• Running paternoster rig: In many feeder only competitions the feeder rig has to be running not fixed. The Paternoster is a brilliant rig for feeder fishing on lakes / reservoirs and one of my favourites, however it's usually fixed and not running.
I really like this version of the rig that Steve has developed, all the benefits of the paternoster's presentation and tangle free but still running. The rig incorporates a 3inch boom of line that attaches the feeder with a snap swivel at the bottom and a bent over swivel at the top. Bending the top eye of the swivel (that runs on the line) creates some friction on the mainline and stops the paternoster moving during the cast and when in place on the bottom – brilliant!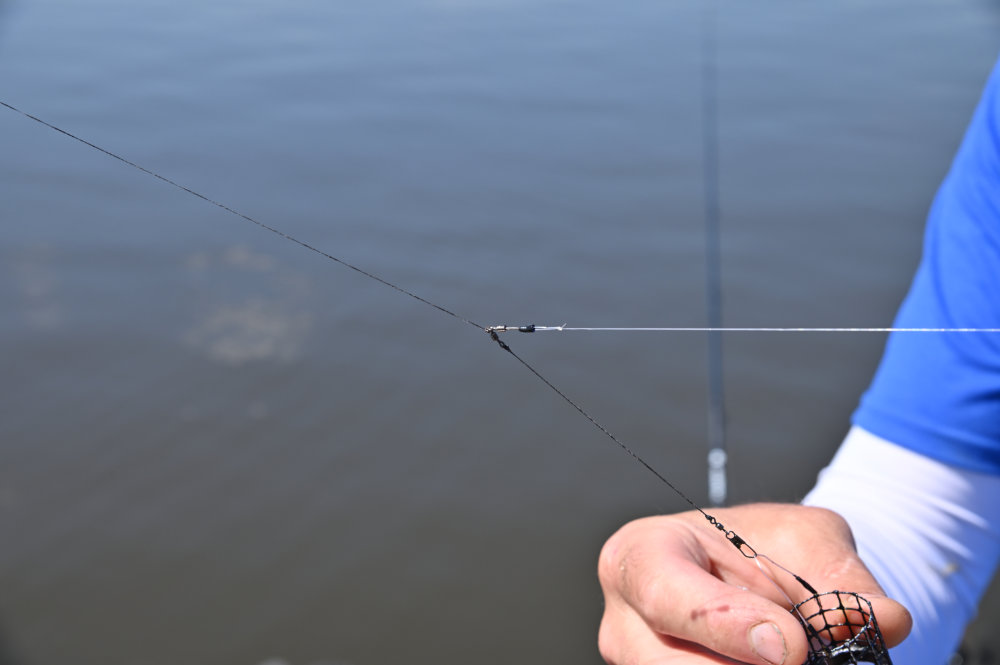 • 0.18mm Fluorocarbon boom – Steve likes to add a 25cm section 0.18mm fluorocarbon line below the feeder as part of the hook length. This provides a stiff and strong section of line to help reduce tangles especially when fishing in a strong head wind. At the end of this 25cm section steve attaches a quick change swivel and attached is hook length (in this case 0.11mm)
• Lighter weight feeder on closer lines – when fishing shallower venues like Southfield, Steve prefers to fish a lighter feeder on his closer lines (up to 20m). In this case the feeder is modified to be just 10 grms in weight and helps to create a quieter plop into the water rather than a big splash; key to a more stealthy approach on tough days.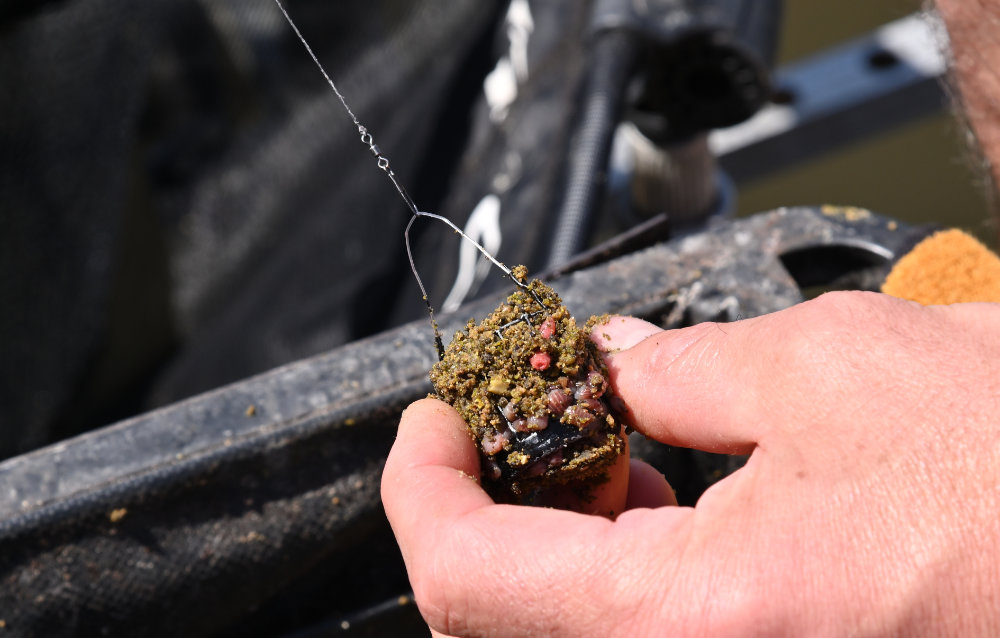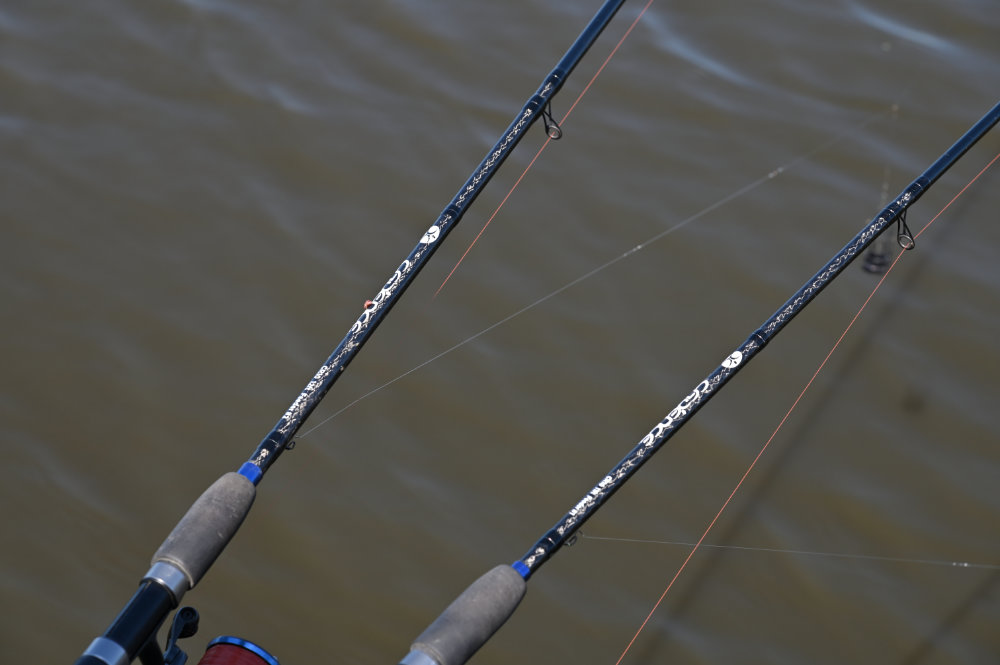 • Coping with tow – noticed that Steve had two CR10 12ft #2 feeder rods set up. One had a CS10 4000 spooled up with 0.10mm braid the other 0.18mm stone river low stretch mono. Shallow windy venues like Southfield can create powerful undercurrents and tow. Setting two identical rods up with different mainlines allows Steve to adapt to the conditions perfectly. On a calm day with little tow then braid is the first choice due to its thin diameter (to aid casting distance) and minimal stretch (help positive bite detection). However, if the tow increases and becomes a problem with braid Steve will switch over to the mono mainline. The mono will sink better and beat the tow and also the extra stretch of the mono will help to cushion the effect of tow on the line and allow better bite detection. Anyone who's fished in a strong tow with braid will know how much the tip will be bent around and it's difficult to set the tip properly.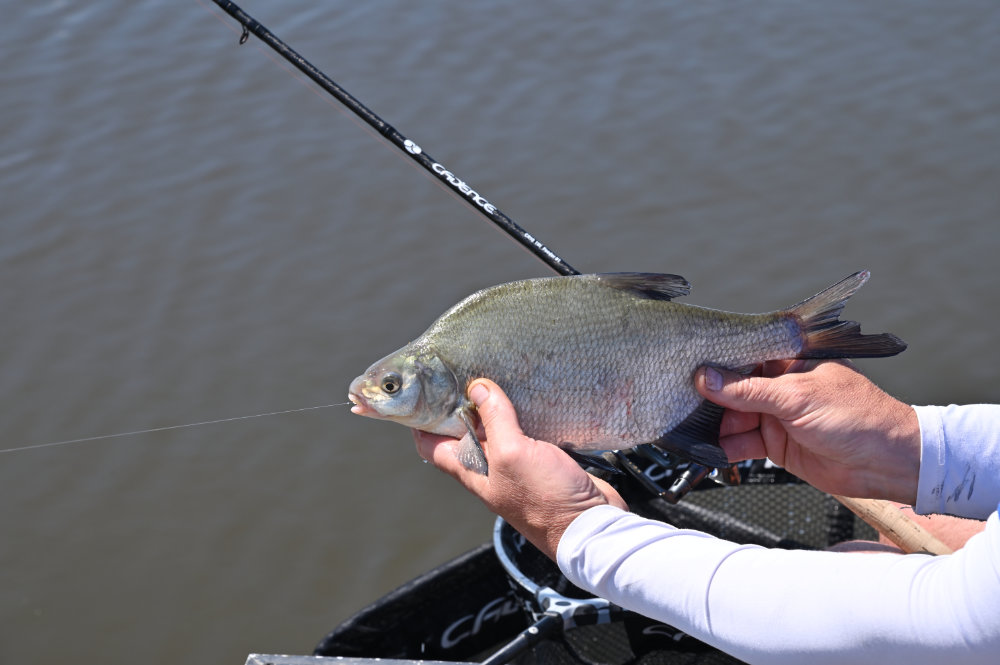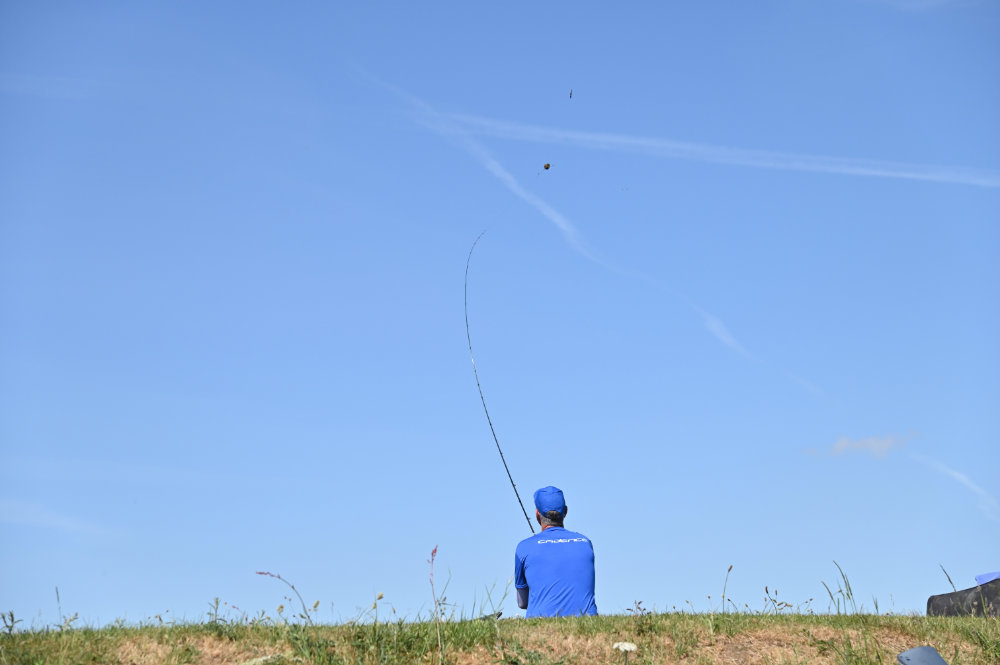 Feeder Fishing: Hybrid Feeder Tips
George wanted to experiment with using a hybrid feeder. He felt this would show a contrast to the traditional feeder rig Steve was using. Also likes using practice sessions like this to test out new rigs and hook baits. Method feeders / hybrid feeders are not allowed in the feeder competitions at Southfield but are allowed in club matches and when pleasure fishing.
It was interesting to see how George caught less fish than Steve on the Hybrid feeder but the size of the skimmers and bream were bigger
George fished two lines and used the CR10 10ft #2 feeder at 20m and the CR10 11ft feeder at 35m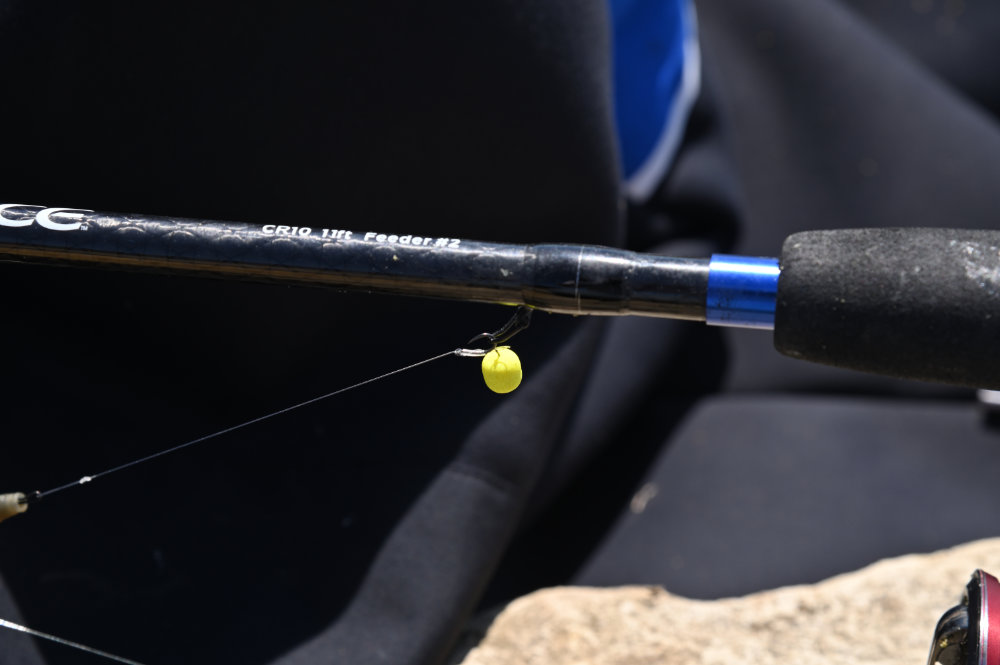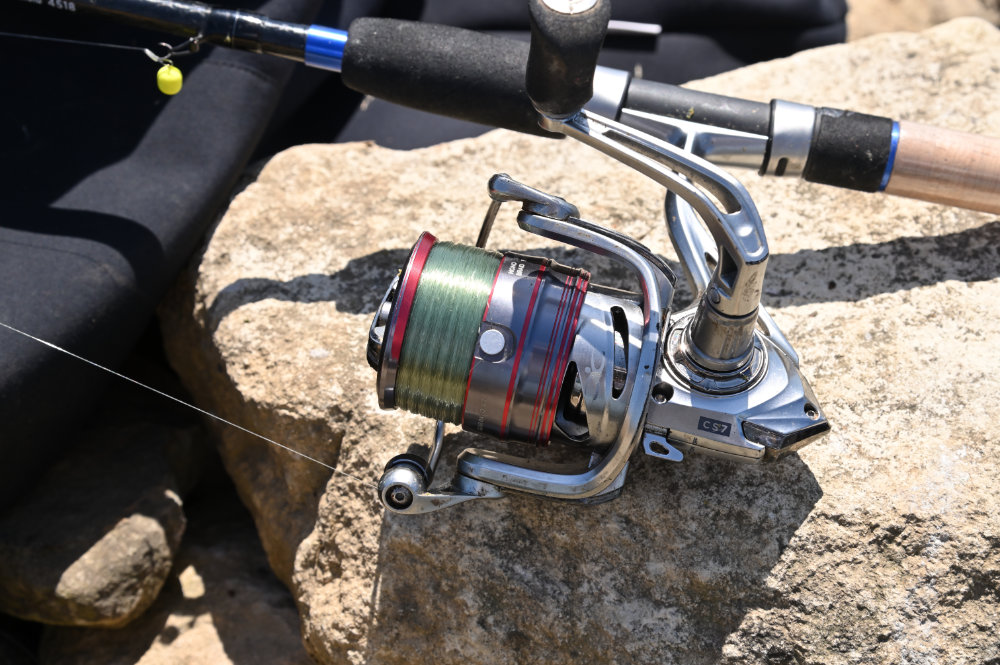 • Why use a Hybrid feeder over a standard method feeder? A hybrid gives much better bait protection when casting, especially on longer distances and in windy conditions. Sometimes the groundbait and bait can come away from the method feeder when it hits the water and sinks to the lake bed. The design of the hybrid feeder helps to prevent this. Also helps to keep the groundbait and bait in position when fishing on days with a significant to / flow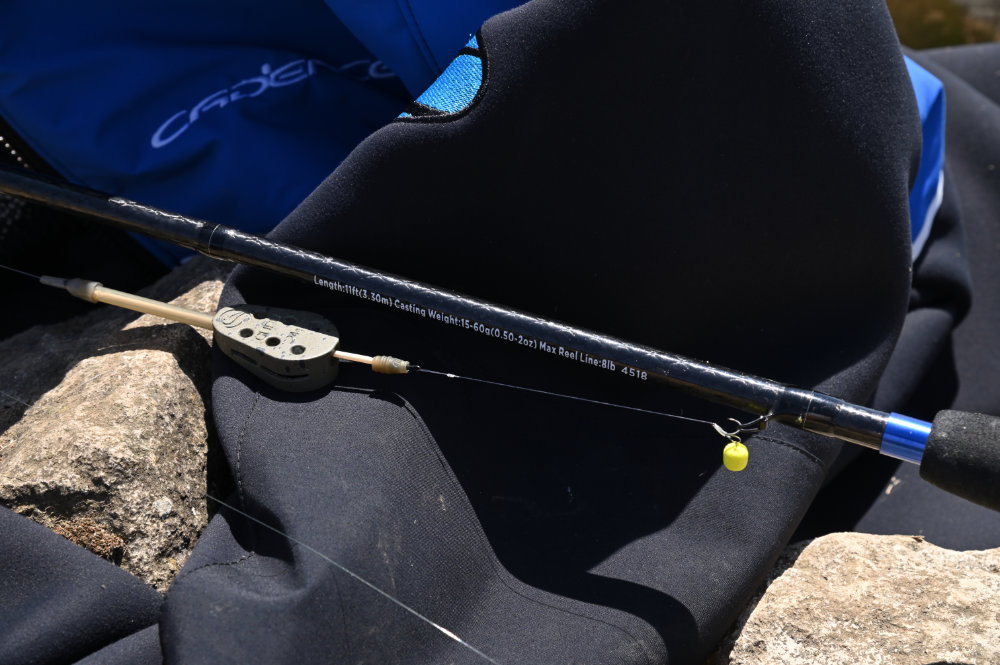 • Positive method – George emphasised how using a hybrid or method feeder can be a more positive rig than a conventional open end feeder. The bites are easier to differentiate from line bites as the fish often hook themselves and the bites are quite aggressive. This bolt effect is enhanced by using a short 4inch hook length.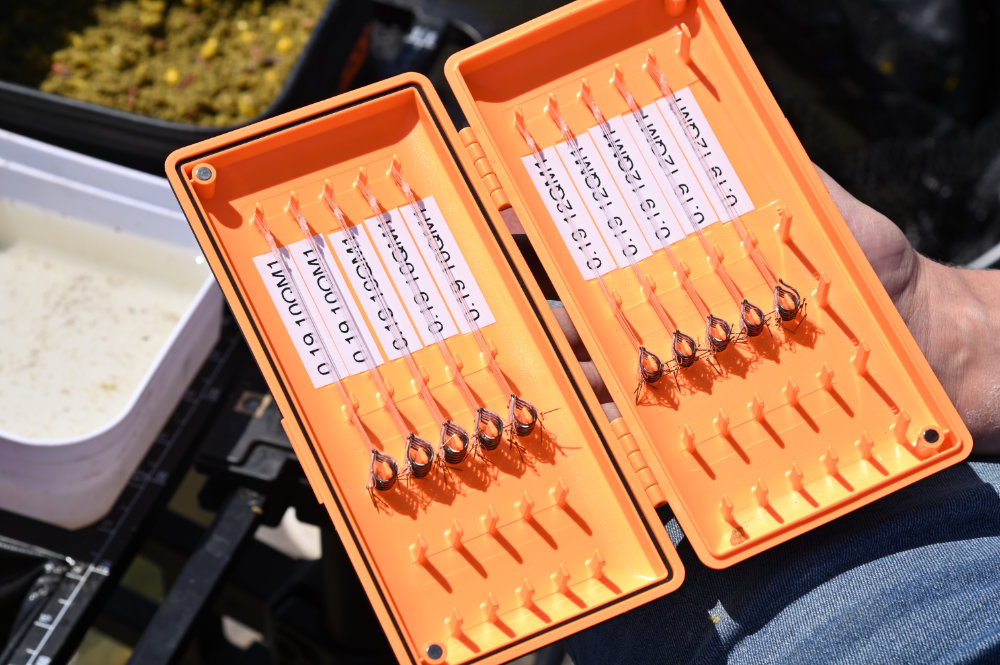 • Hookbait – George was experimenting with some Ringers mini wafters. These semi-buoyant baits are great when fishing a hybrid / method as they are visible to the fish and are also less likely to be rejected by the fish. A great tip was to test the wafter in a tub of water on your side tray. George showed how the weight of the hook was counterbalanced by the buoyancy of the bait. This helps make the bait move very naturally in water and must enhance the number of fish caught.
George tends to favour a bigger wafter or even mini boilie when he wants the bait to be more selective for targeting bigger size fish.
Also likes to use dead maggot as a change bait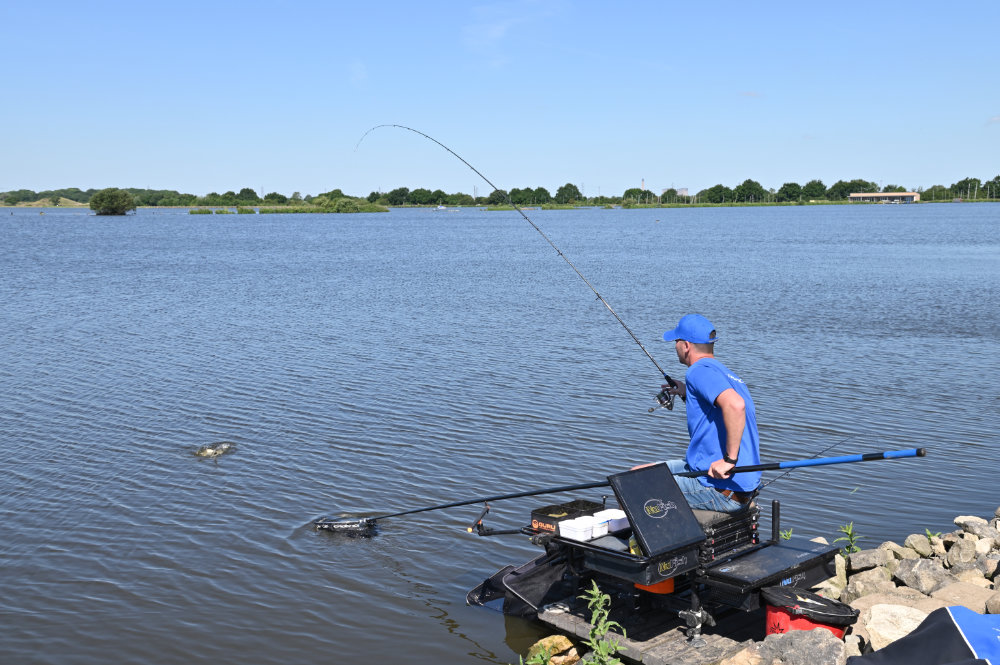 • How to load a hybrid feeder – George showed how he loads his hybrid feeder:
The first layer of groundbait is well compressed into the feeder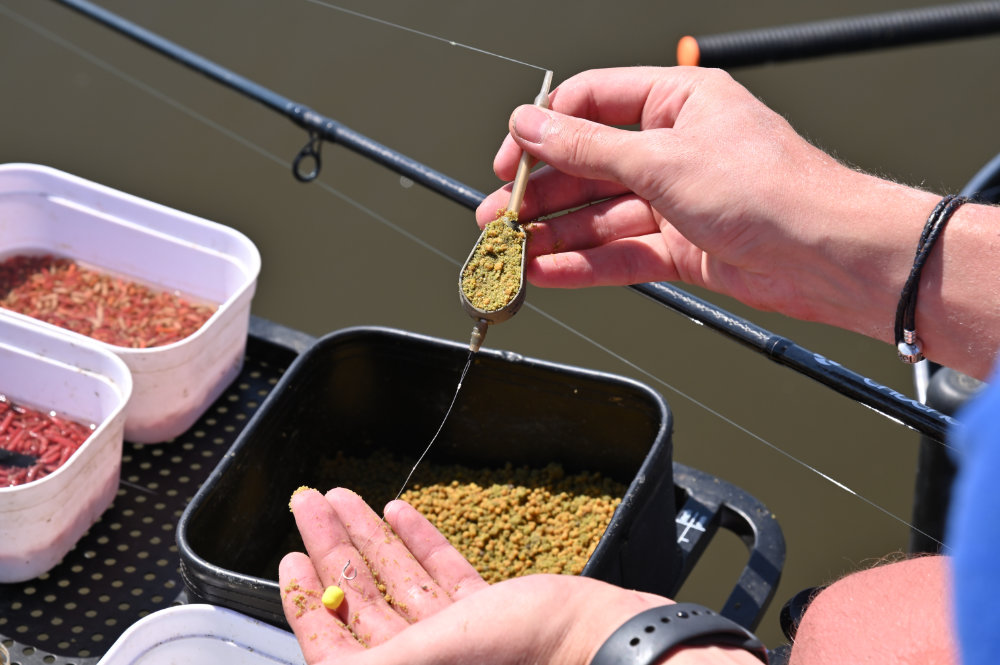 The hookbait is then placed onto this layer and ensures the hook lays flat next to the bait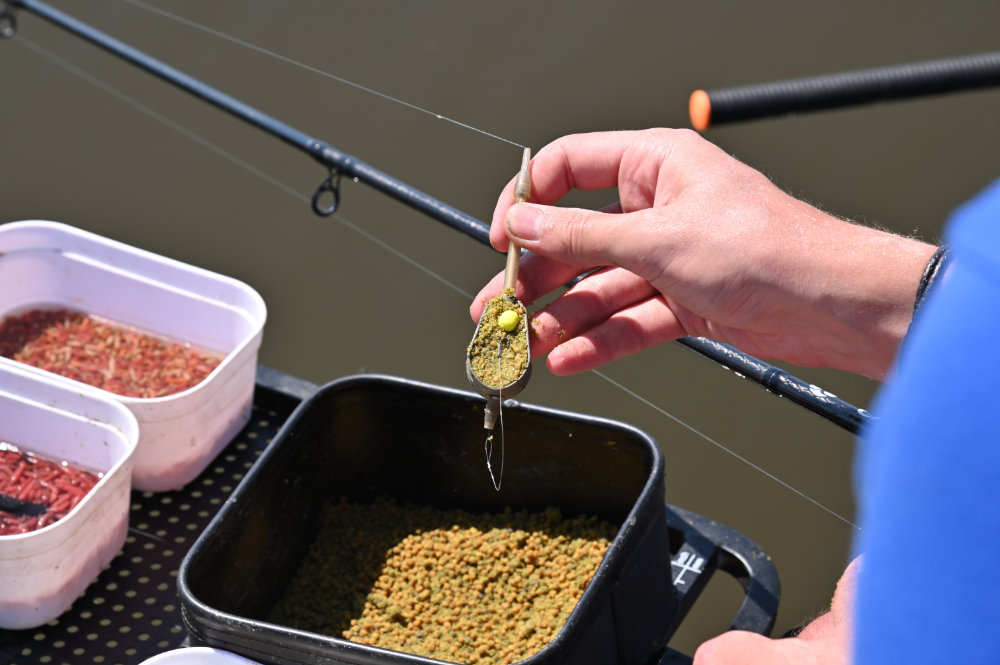 A second layer of groundbait is then added to cover the bait and create an aerodynamic shape to help casting accuracy and distance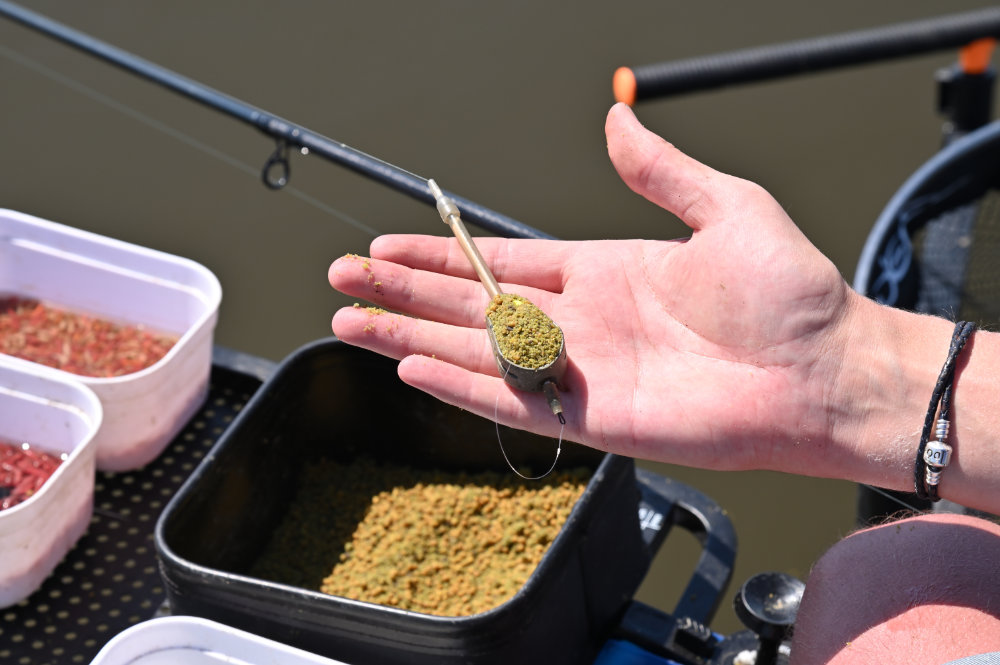 • What type of groundbait mix? For the Hybrid feeder George likes to experiment with the groundbait and pellets used during a session.
The ground bait mix was: 25% Dynamite Marine Halibut, 25% Milled expander, 25% F1 Swim stim, 25% Swim Stim Betaine Green
Pellets where a mix of 2mm Dynamite / 2mm Dynamite F1 sweet
Best today was 50% micro / 50% GB. Sometimes just using micro pellets can be best and on harder days and in the winter George will use 100% GB.