Over the last month and during the latest lockdown, I've enjoyed pleasure fishing on some of my favourite venues. Matches have been cancelled, and this has given me more time to pleasure fish and meet up and fish with some old friends.
This was the case on Sunday when I met up for a quick winter chub session with Andy Burt on the Warwickshire Avon near Barford. I've known Andy for over thirty years, he's a great friend and has had a massive influence on my fishing over the years.
Anyone who knows Andy and has fished with him will know what a massively experienced angler he is. As a match angler, he's hard to beat on most venues, especially on rivers, where he loves to fish the most.
I've learnt so much from Andy and have to credit him massively for helping me improve many of my skills and tactics. His influence has most significantly related to float fishing on rivers. You could call him the float fishing Jedi Master!
In recent years Andy has moved away from match fishing, preferring to pick and choose the species and venues he wants to target.
This was such an opportunity, and we had the chance to meet up for a quick session in the afternoon, conditions looked great for fishing the river, and we had to get out fishing.
After a long period of higher levels, the river had finally dropped down to something like a normal winter height. Hard frosts the previous week had lowered water temperatures, but this was a mild morning, it was overcast and very still. It would be hard to pick a better day to target a winter chub on the float with bread; a big clue was the bucket of liquidised bread I saw in Andy's car when he arrived!
Bread fishing for chub is a devastating method throughout the year, but it becomes our primary method for the "river pigs" during colder winter months.
In most cases, it's a very instant bait, and the positive tackle needed to fish it correctly also gives you a fighting chance of landing big chub quickly and effectively.
Andy decided on a more static approach, choosing to fish a lovely looking peg opposite some willow trees with a nice depth of around five feet and steady flow – it looked very chubby!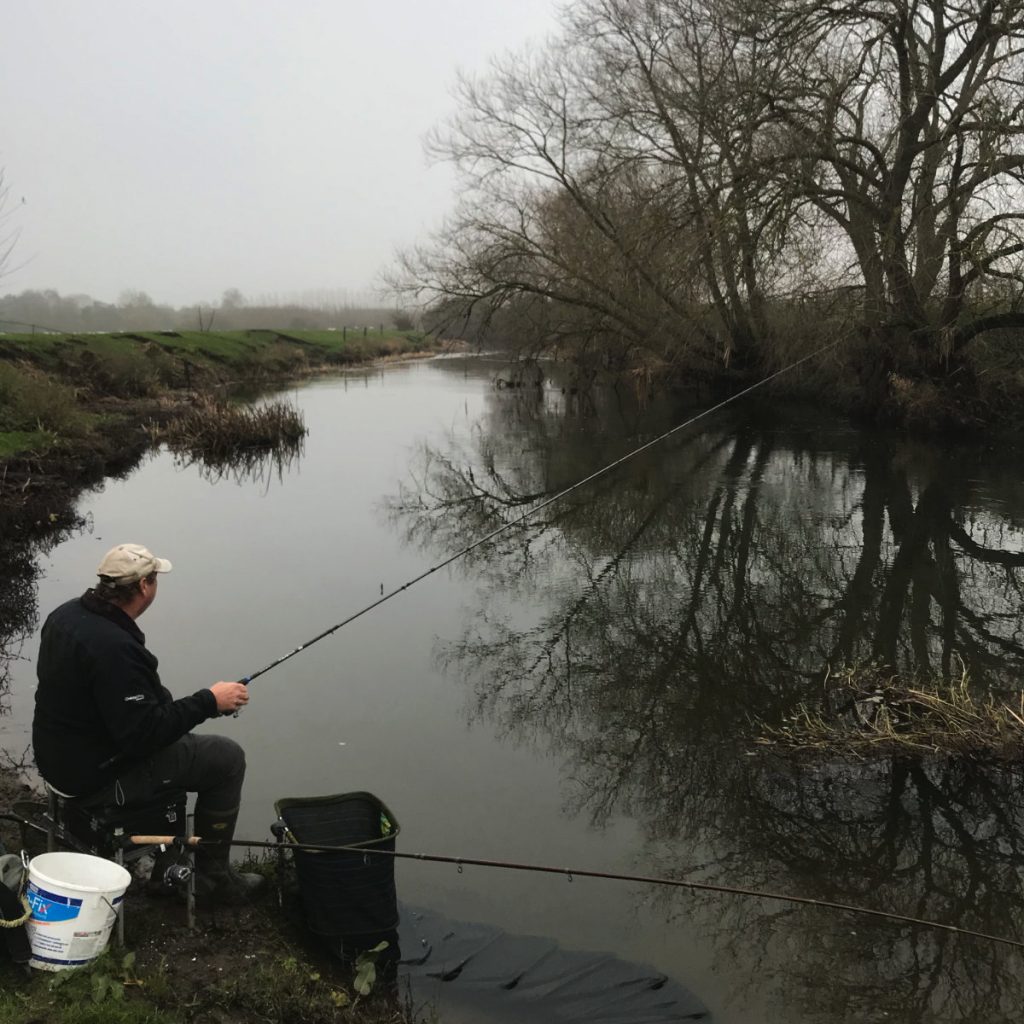 I decided to travel light and roam along the stretch with Monty, fishing in different pegs quickly. We only had a few hours of fishing time, but I enjoyed watching and chatting to Andy as he set up and started fishing. I thought it would be interesting to share how Andy fished the bread for chub on rivers and explain his tactics and thinking.
The float Andy selected was a 6g Sensas bolo float. I know Andy spent a lot of time searching for a perfect commercially available "bread" float that met his strict Jedi requirements. This pattern has a strong carbon stem that adds balance to the float without being too heavy and has a balsa body and tip. The shape of the body allows good float control without creating too much resistance and splash on the strike. Also, the balsa tip has a decent diameter that has excellent visibility and adds some buoyancy as well, crucial when fishing bigger baits like bread.
On a more powerful and deeper peg, say on a larger river like the Wye, Andy would think nothing of fishing bread with a float up to 10 grams in capacity. Over the years Andy has constantly surprised me by catching fish in pegs and conditions most would only feeder fish or ledger. Andy would argue that fishing a float is often more effective as it allows the bait to be fished more naturally and also searches the peg very efficiently. Like many of us, if Andy can fish a float over a lead then he always will – it's what fires him up the most!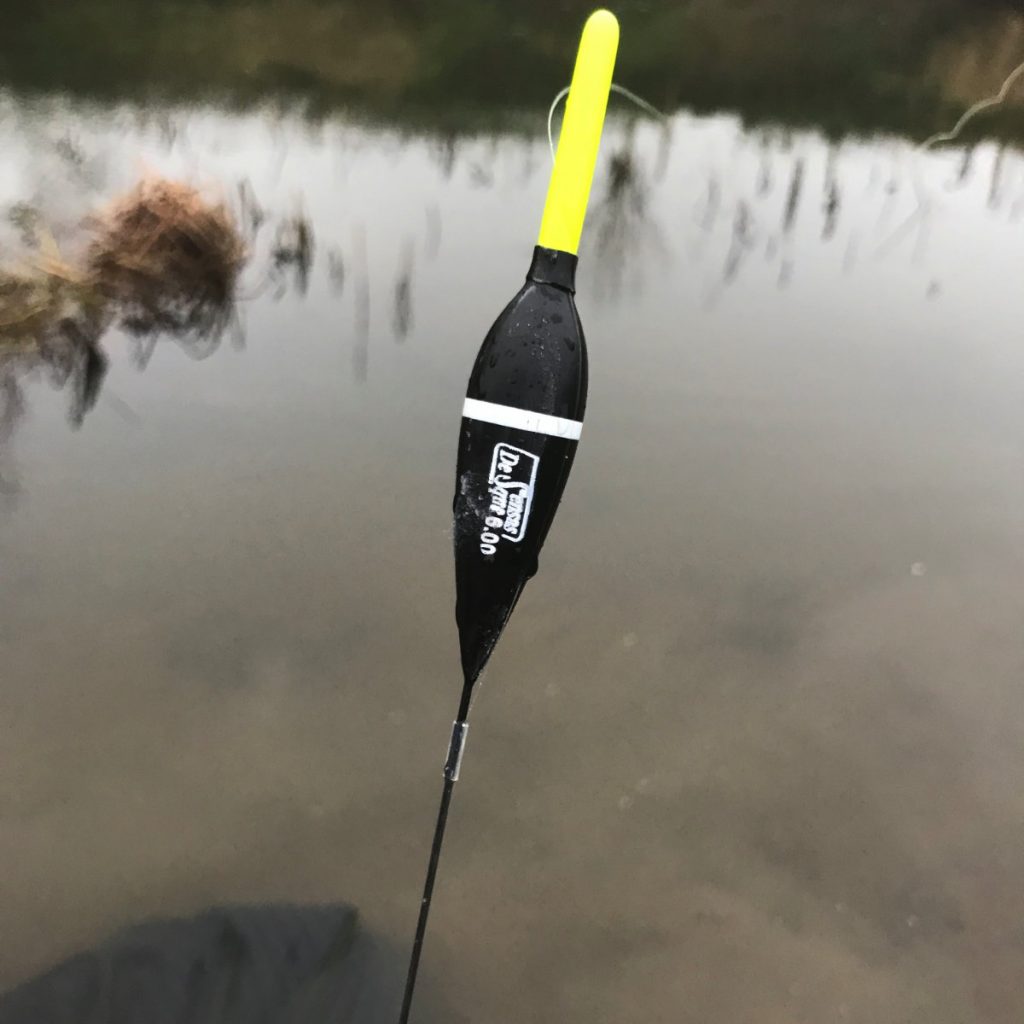 Andy doesn't mess around with small pieces of bread on the hook, and it's a positive rig that Andy quickly sets up.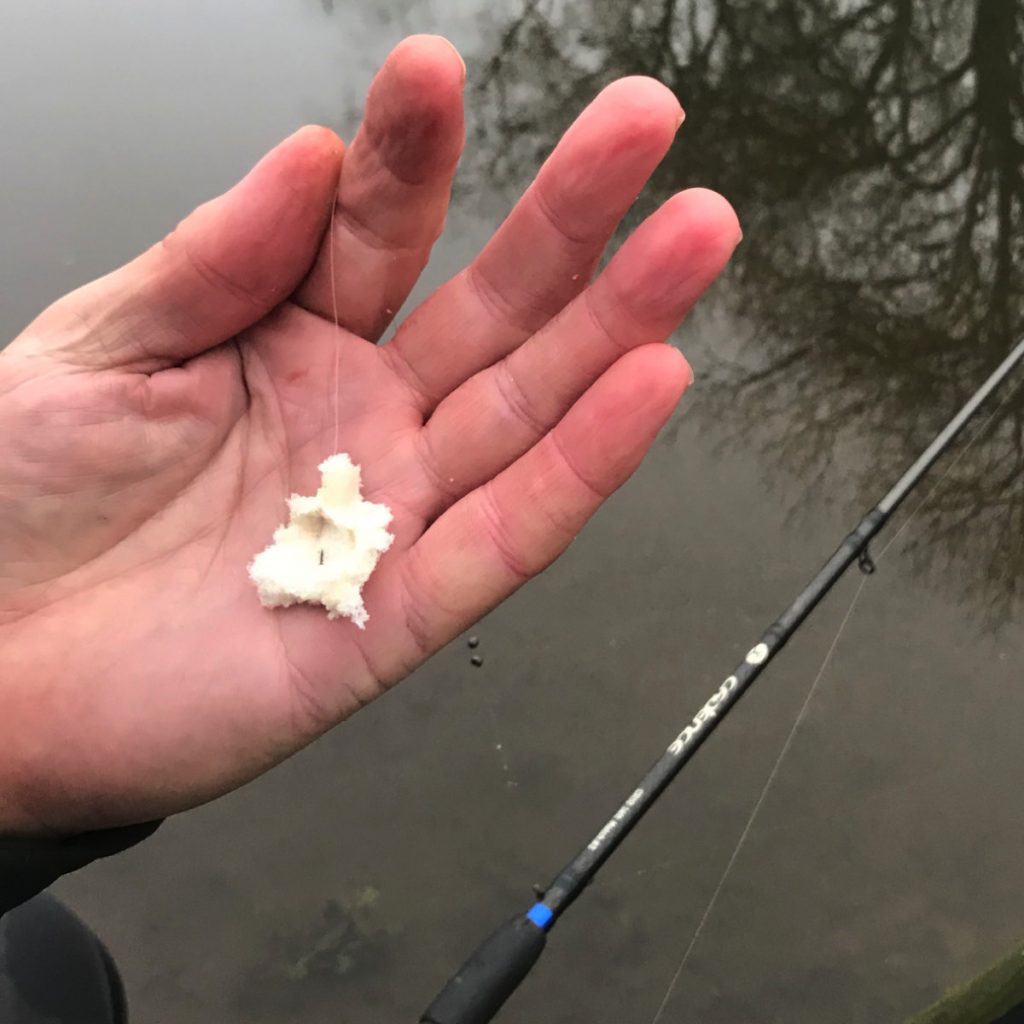 The rig incorporates a 5.5g inline olivette trapped on the line with two float stops. Three x number 4 shot are positioned below the olivette and to start with Andy places two of them together above the hooklength as a dropper.
This simple and positive rig is important when bread fishing in many ways – it helps to reduce tangles, will "boss" the large and buoyant bread flake hook bait during the cast and when it's in the water. Next time you try bread flake, drop it in the water at your feet and watch how it will often suspend above the dropper shot and even the bulk if both aren't heavy enough.
Andy finds he gets far more bites by ensuring the bread sinks. To do this before casting quickly dip the bread in the water then gently squeeze the soft bit. This will remove the air ensuring it sinks but still leave this bit of the bait soft. make sure it does not get too soggy or the soft part will come off!
Mainline is 5lb Pro Gold spooled up on a Cadence CS7 4000 reel.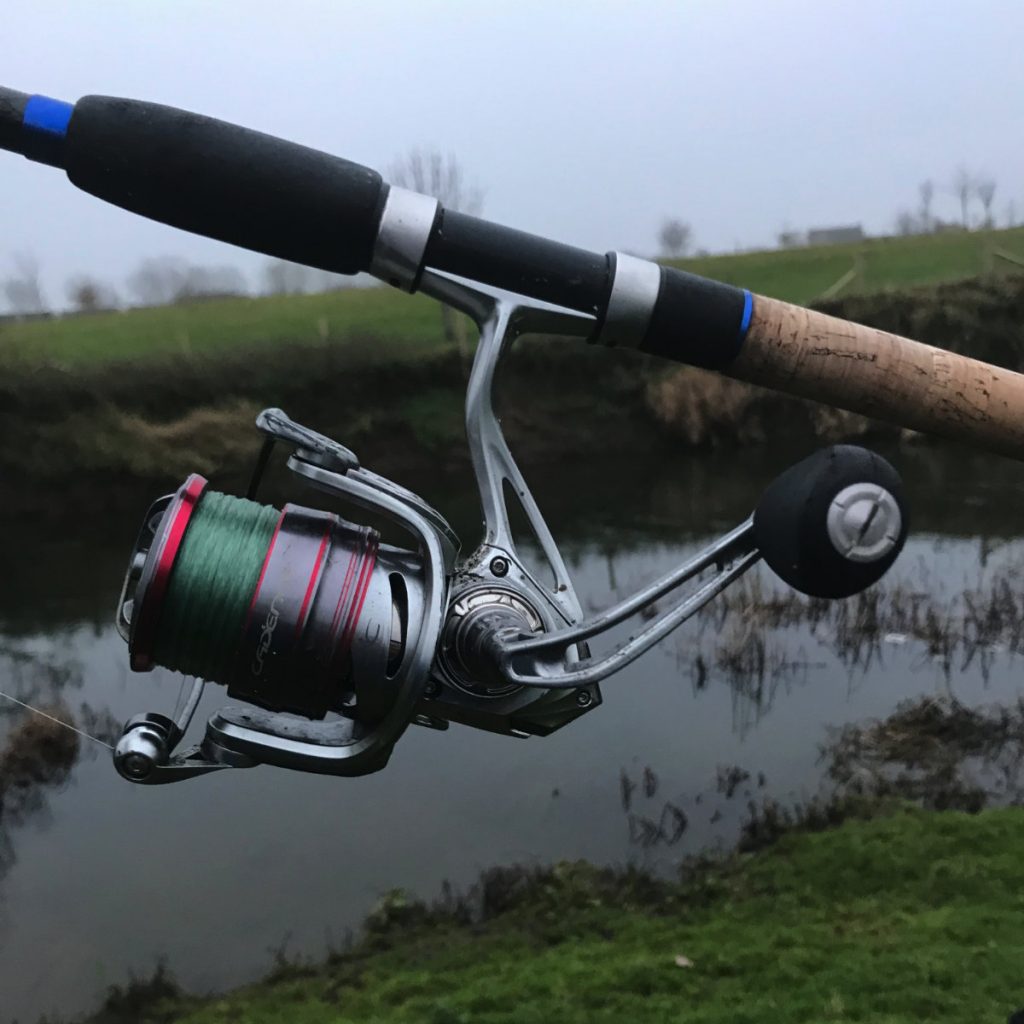 Hooklength is 0.20mm Grand Max Fluorocarbon, and the hook is a size 8 Kamasan B920.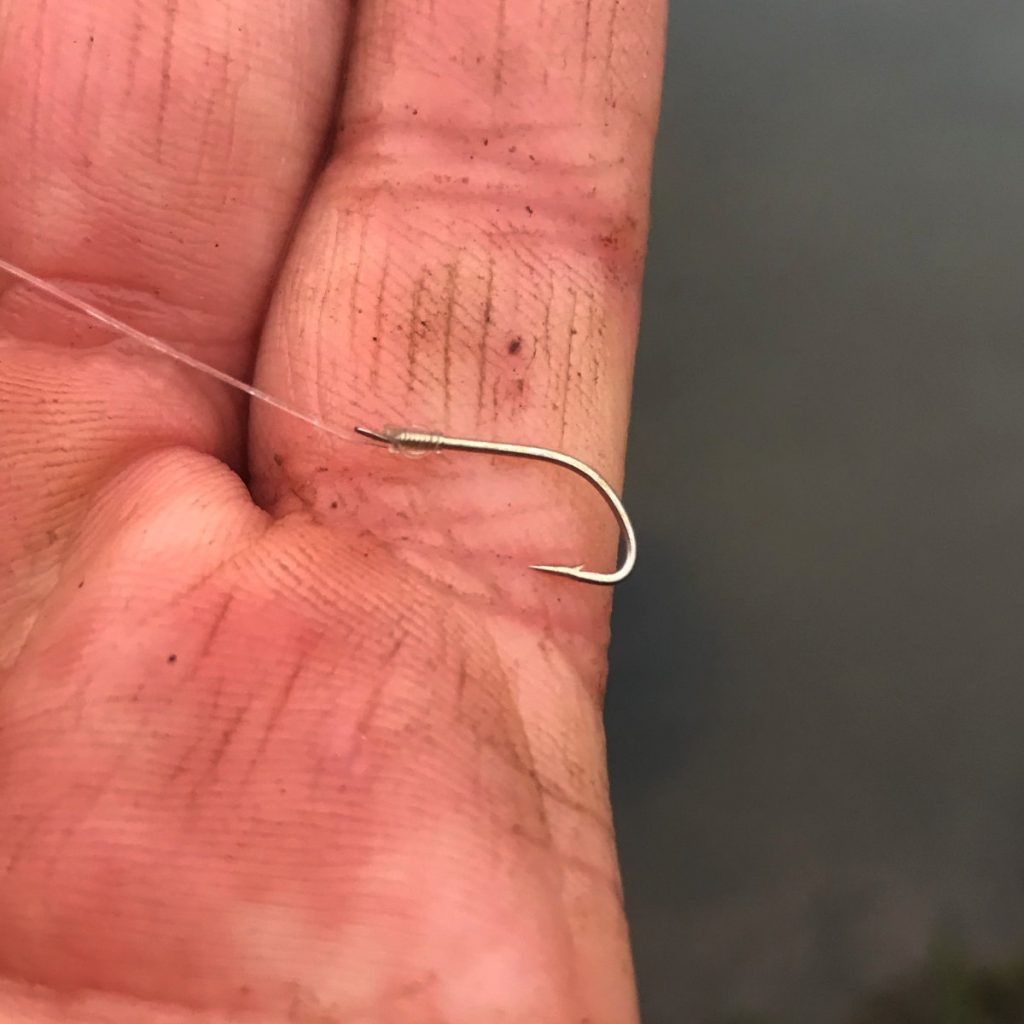 A significant advantage of fishing with bread flake is that it allows the use of heavier gear like Andy's set up. Chub can be notoriously crafty and difficult to fool with heavier hooks and hooklengths when using small baits like maggots and casters. The chub avoid the hookbait unless it's presented perfectly, and this can prove very frustrating. Often fishing finer hooks and line is required, making landing big chub tricky and precarious; they fight dirty and use all the tricks in the book to snag you up or break the line.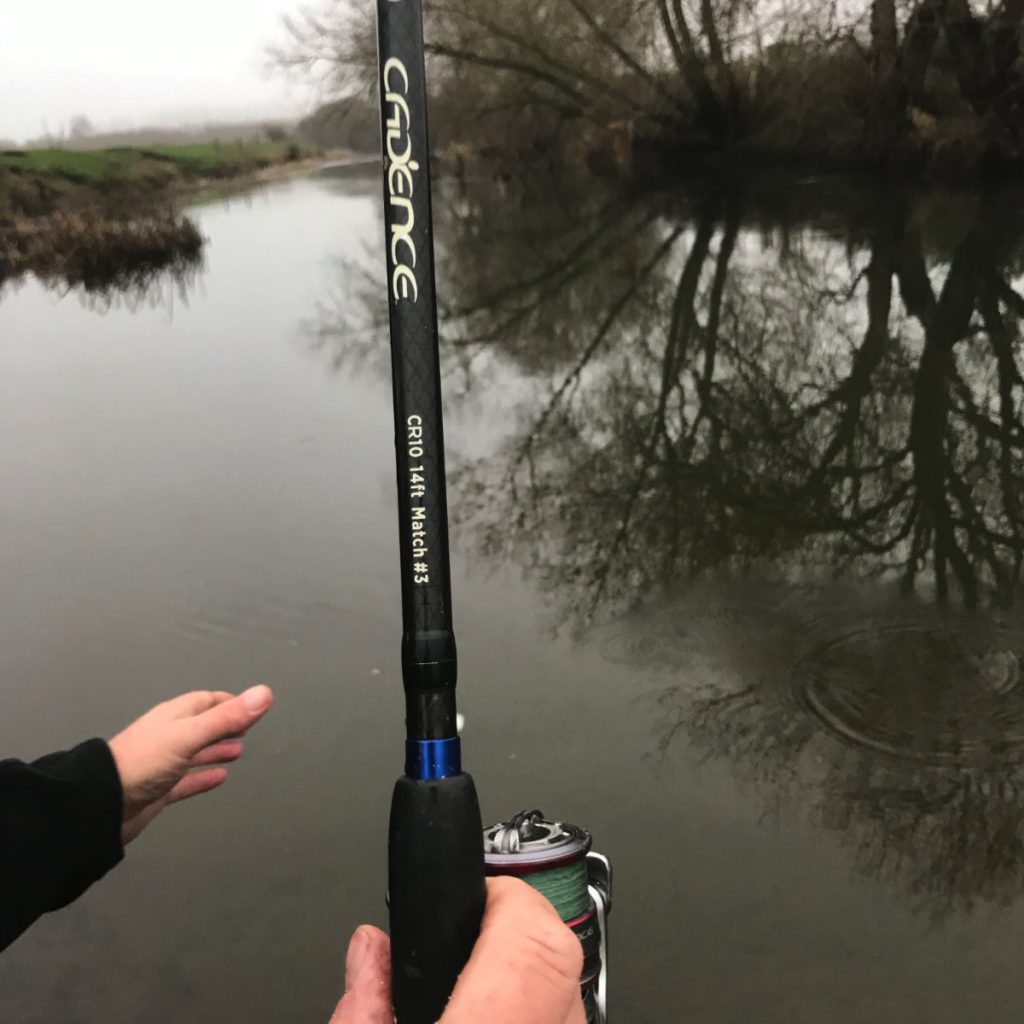 Andy is using is the Cadence CR10 14ft #3 Match Rod. The extra power and progressive action is perfect for targeting bigger hard fighting fish like chub and when using heavier floats. Andy was a great help to me when we developed and tested the CS10 rod range.
Andy has had a lot of experience developing rods over the years and was heavily involved with the famous Normark and the Carbotech rods in the past, and we were fortunate to have his input. I have to credit him for the concept of developing the range to include different powers for different lengths of rods (#0, #1, #2, 3#, #4). It's a simple way to explain the power of the rods and also allows the angler to select the power that suits their style and venues perfectly. Most importantly, we ensured that all the blanks had lovely progressive actions that do not lock up, something we both agree on passionately!
Before I started fishing, I decided to stay and watch Andy for a while. He was in his element and very confident. On the second cast, the float buried halfway down the swim, and Andy struck and hooked into a good chub, "that's on!"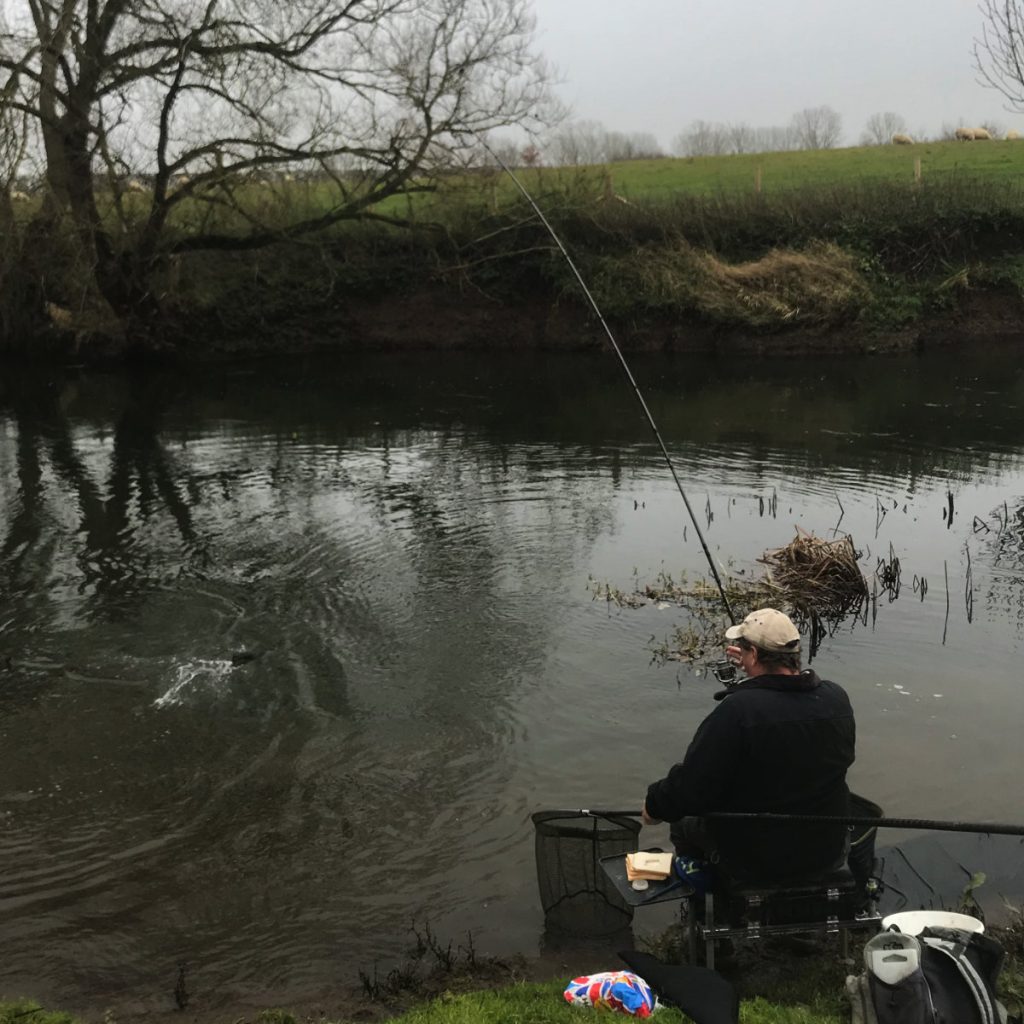 I took some photos and watched him land the chub that was easily over 3lbs, what a lovely fish, now I had to get fishing…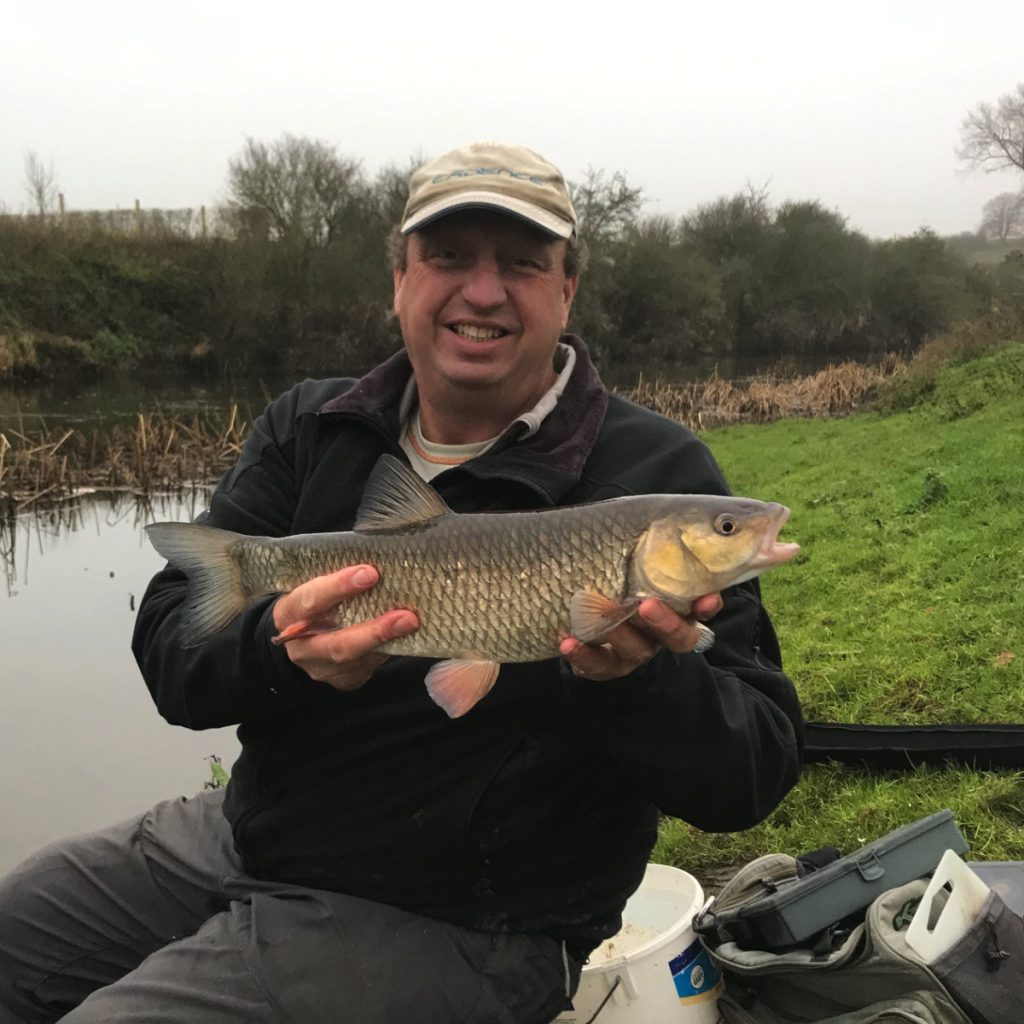 I had a great few hours float fishing bread like Andy and catching three good winter chub up 3.5lbs out of three different swims. I had Monty with me for company, and it's not always easy to fish stealthily!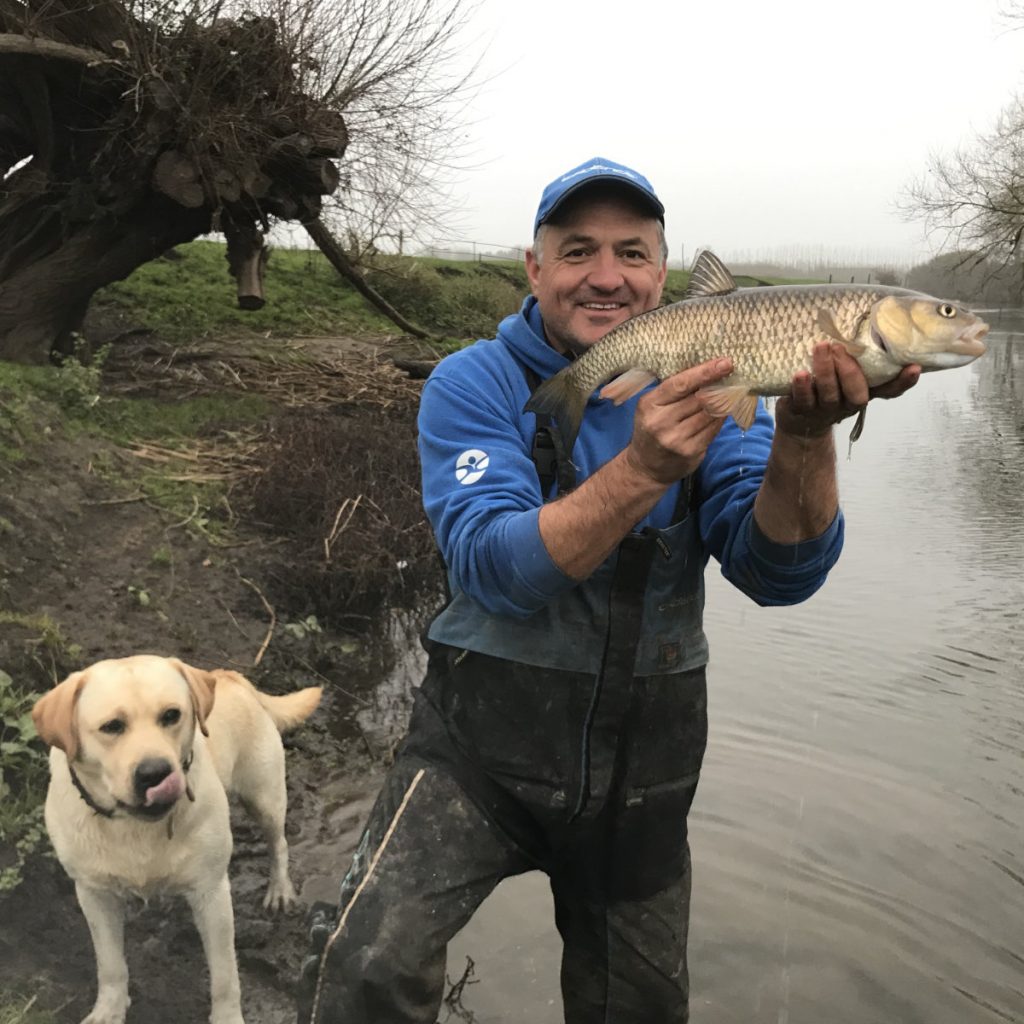 Andy had caught five winter chub between 3 and 4lbs, a successful quick session, and it was great to catch up with my old mate.
As Andy packed up, I asked him for five top tips to share about targeting river winter chub on bread, here they are:
Andy's top winter chub fishing tips:
Don't plumb the depth – When Andy has set up his float and is comfortable in the peg he likes to make a couple of exploratory casts trotting the float gently down the swim without any bait on the hook. His aim is to be as quiet as possible and get a rough idea of the depth and also understand the flow and nature of the swim. Andy feels plumbing the depth could risk spooking the wary chub in the swim before he's started fishing.
Target the main flow – Andy will focus his feeding and float in that area of the swim. Hopefully, by feeding in the main flow, the chub will be attracted out of their lairs and start to compete with the rest of the chub for the feed and the hookbait.
Feeding – To start with, Andy likes to introduce a couple of tangerine sized balls of liquidised bread into the swim, slightly upstream. The bread is roughly liquidised and is lovely and fluffy in its consistency. This allows the feed to be thrown out without breaking up in the air. It also lands softly and floats for a second or two before sinking like a "comet" of bread that sinks to the bottom within trotting range.
Feather the float when casting – Andy skilfully casts his float out into the swim feathering the line as the float is just about to land on the water. This ensures the rig and bait lands gently and neatly and is instantly easy to control.
Adjust the float depth – initially Andy likes to fish the bread flake just off the bottom (two or three inches). The fish typically respond confidently and quickly to the bread feed and running the bread just off the bottom indicates bites very positively. With time and when the bites slow up he will fish up to a foot over depth, this enables him to slow the float down and also "lift and flap" the float and bait down the swim. This will often trick the sneakiest of chub!

Local controlling clubs with similar venues to consider: