Dave Coster looks at the amazing effectiveness of pole fishing and the diverse places where it excels.
Canal Beginnings
Pole fishing has evolved to new levels. It all began on canal towpaths, where top anglers have constantly devised clever tactics to get the best out of every swim, bearing in mind there's less water to play with than most other venues. Switching around several feed lines helps to improve catches considerably, working over towards the far bank, where bigger fish are more likely to be located. Feeding up prime areas for later in sessions, rather than charging into them, has also resulted in better results. Pole fishing has become a very controlled method, where rotating rigs and feed lines unlocks most types of venues, none more so than commercial fisheries. Keeping versatile greatly increases your chances of turning slow sessions into red-letter days. The intricate planning aspect and constant quest for a winning formula can be both fascinating and rewarding.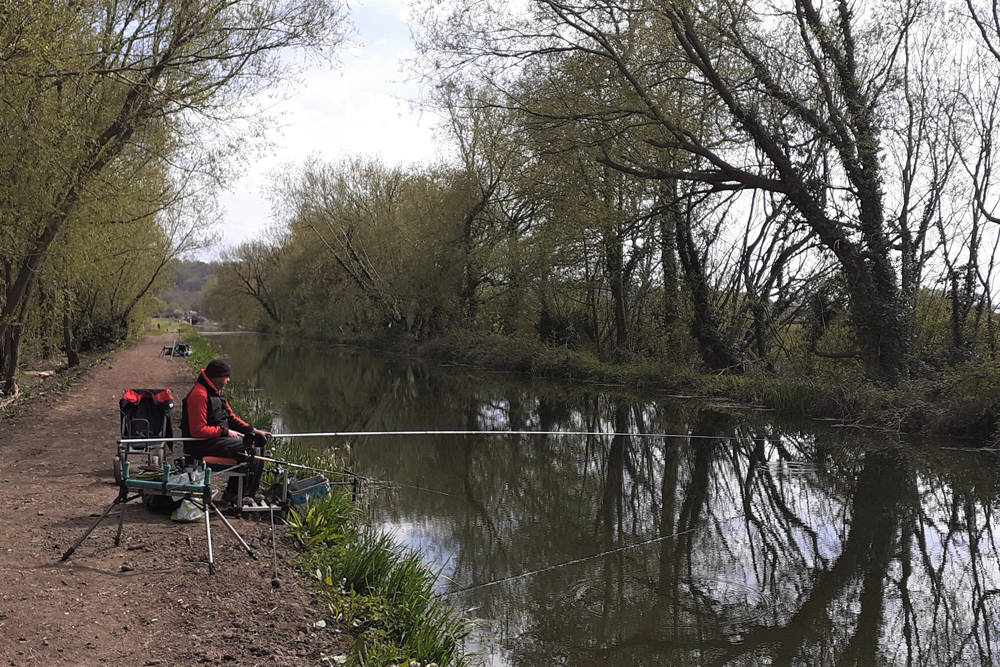 Snake Fishing
While there are still canals well worth fishing, the majority of anglers have switched to commercial venues, where there's less hassle with car parking and little chance of being disturbed. The canal concept still lives on with the creation of similar snake lakes, which are free of bikers and boaters. Snakes are tailor-made for pole fishing, offering a similar approach to towpaths and drains, but with prospects of catching a lot more (and bigger) fish. There are options of targeting the margins, the deeper main track and tight over against the far bank. Most snakes are heavily stocked with carp and silver fish, offering a great choice of different species. This has created a new way of doing things, using tiny feed pots permanently attached to pole top kits, dribbling small amounts of free bait over the float. This really is precision fishing, which almost guarantees lots of action.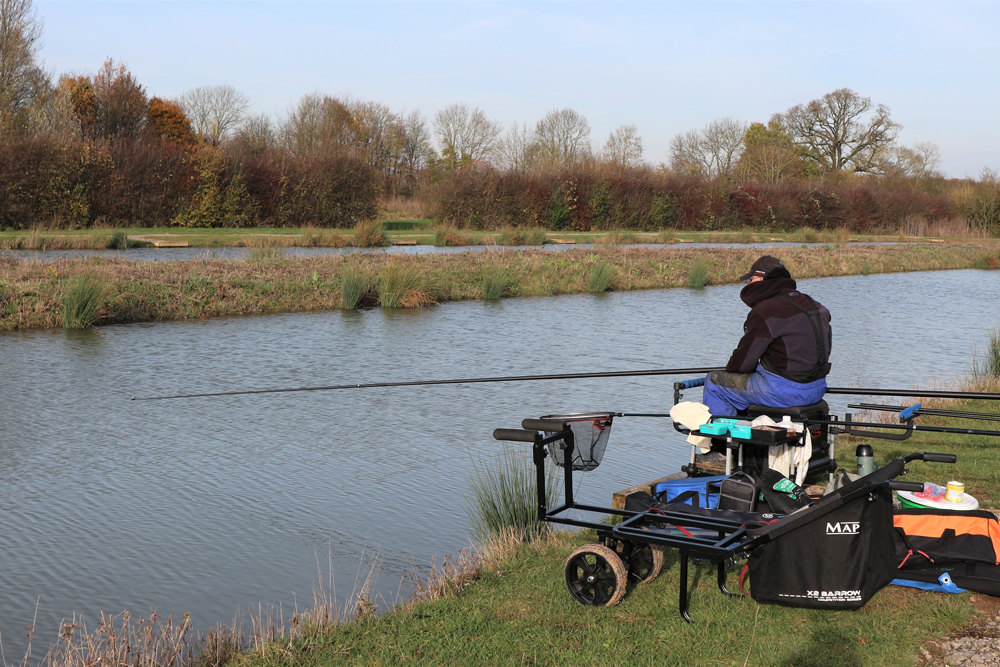 Crossing Over
I spent many years fishing canals, finding them intriguing places. You never quite knew which species were going to win competitions. Despite flier pegs, top weights didn't always come from them. I remember drawing the same swim twice in big matches, struggling for ounces on the first occasion and winning with a huge catch the next time. Snake lakes can be a bit like that. The wind creates currents and moves fish around, plus in such heavily stocked waters, if one species doesn't show there's normally another to keep you busy. Of all types of commercial fisheries, I prefer this category best. You get a more secluded area to work with, rather than sitting shoulder to shoulder on open water, which offers fewer features to target. This mixed bag of carp and silvers was a classic framing haul in a snake match. It might take several canal outings to amass anywhere near as much.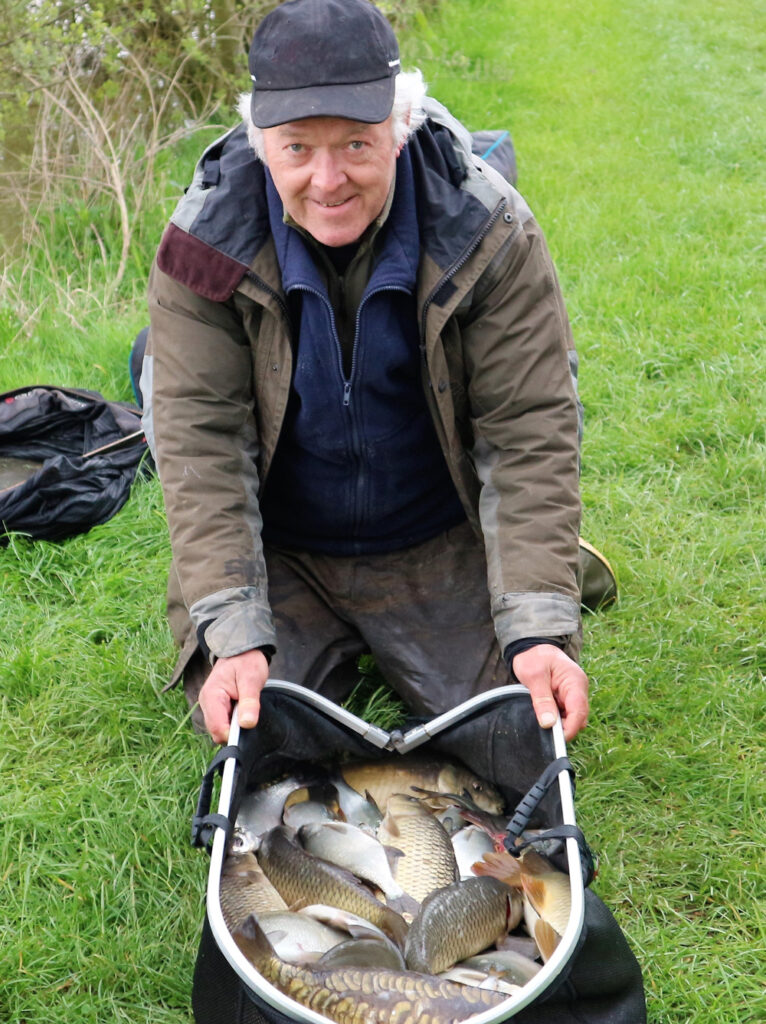 Down the Edge
Exploring the margins has become a major way of amassing bumper catches on commercial fisheries. Many competitions are won fishing down the edge, particularly during the latter stages of events. This way of fishing has become incredibly popular, resulting in a whole range of tackle being developed around it. This includes super strong margin poles, seriously powerful and stretchy elastics, plus virtually indestructible floats. Targeting close in makes sense on heavily stocked venues, saving a lot of time compared to unshipping long lengths of pole. But there's more to it than that. Bigger fish have learnt to forage in the margins because that's where many anglers dump excess bait when they pack up. A good way of approaching this method is a dual attack, feeding areas to the left and right of your peg, which in effect doubles your catch potential.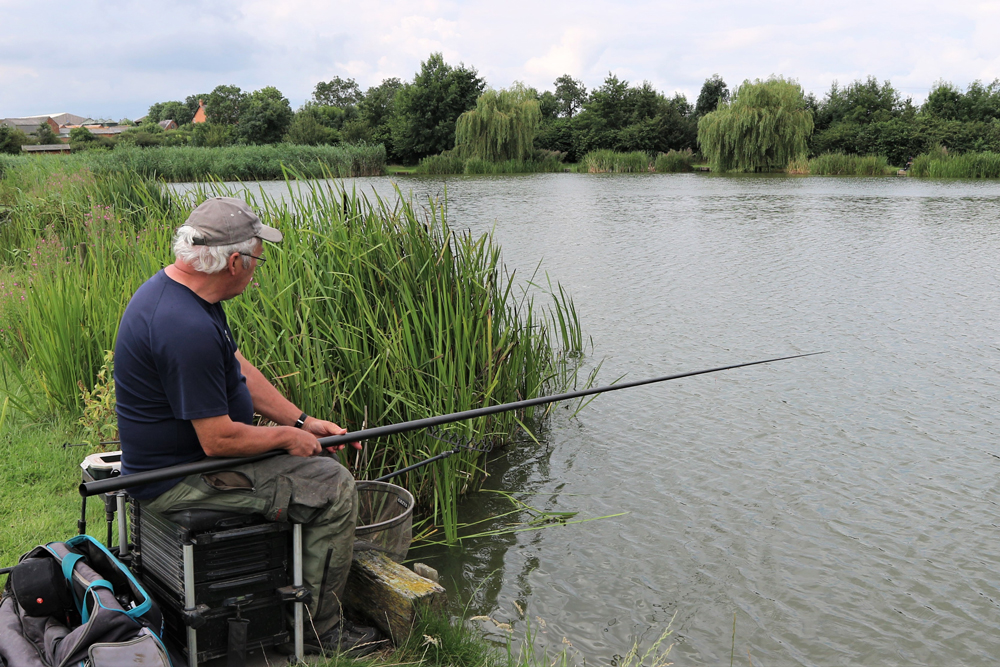 Whip Time
Wild venues require a different pole approach to commercial fisheries. Rigs need to be more refined, switching to finer hooks, thinner lines and silver fish style floats. Long pole tactics work, but when there are huge shoals to target on natural waters, fishing to-hand style with a whip is hard to beat. This easy way of doing things helps to amass bigger catches, being so much faster than all other options. Pulling quality fish within range by feeding positively, can result in bumper weights of roach, rudd, hybrids and skimmers, particularly on deep stillwaters and slow-moving rivers. The whip is a super fast way of filling keepnets with smaller fish, too. This shot was taken pre-Cadence, when early Shimano Beastmaster Margin Poles and the renowned Daiwa Tournament Whip were popular for this way of fishing. These days I would seriously consider Cadence CP200 6m or 9m Whips.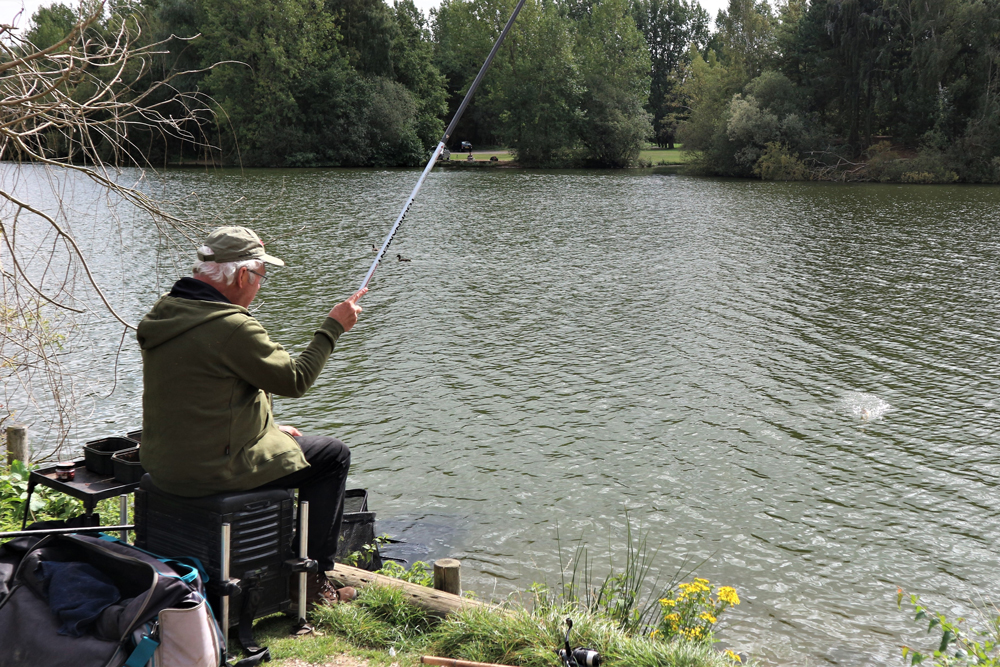 Keeping Busy
Targeting silver fish makes for hectic sessions, where there's little chance of getting bored. Silvers tend to be more widely spread than carp, so it's possible to catch good bags of them from most pegs. They are not always easy to catch, though, often requiring a lighter approach with both tackle and feeding. Another option is to switch between silvers and carp, keeping active with the smaller fish when the bigger ones go quiet. Resting a big fish area and switching to a silver fish line, not only boosts your catch, but can also get the carp feeding positively again. Skimmers are a favourite secondary species to target on carp dominated venues, helping to boost weights considerably. They pack on weight with all the fishmeal-based products they eat. Skimmer pole tactics typically entail using similar groundbaits to carp mixes, combined with pellets, maggots, worms, or casters.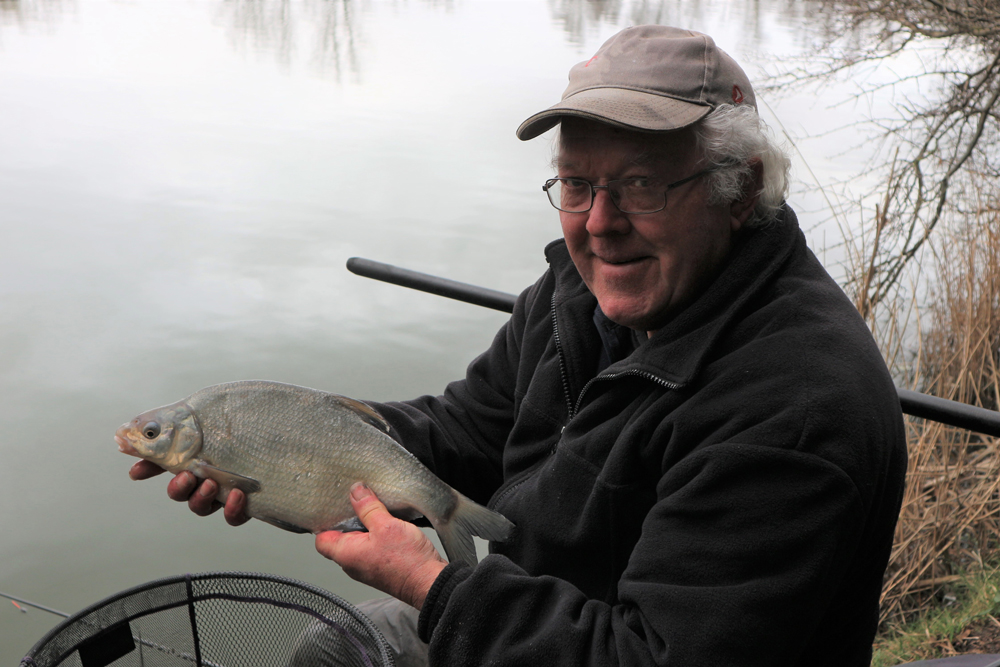 The Carp Factor
The popularity of carp bagging pools has created a massive boost for the tackle industry. Apart from flagship poles, there are lots of good lower priced models, which give everyone a chance of catching netfuls of decent sized fish. Power top kits, extra strong margin and carp poles, bungee elastics, tougher floats, robust lines and super strong hooks are all part of the current scene. Some would have you believe this way of fishing is dying out, which makes me laugh because I see poles being waved about just about everywhere I go. The popularity of this category has improved many related products, particularly pole rollers, which are bigger and more versatile. I see lots more pole roosts being used too, keeping spare top kits off the ground, well out of the way of passing feet and undergrowth. Being better organised definitely increases the number of fish you catch.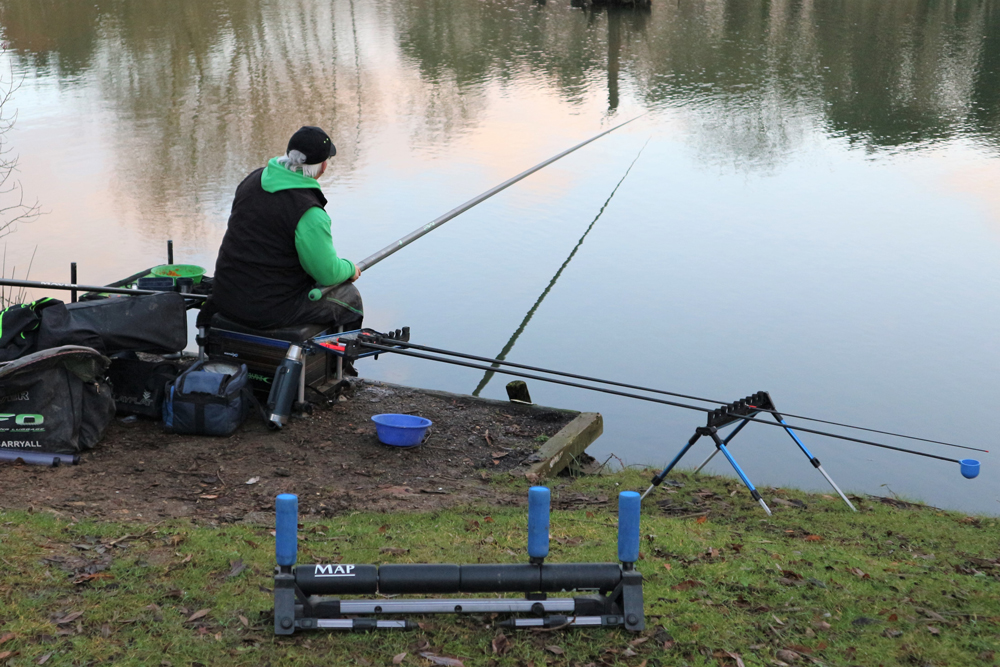 Stretching Further
Pole fishing has moved on from distant days of limited white or black elastic choice and the way it was used. Puller bung systems and super-stretchy coloured latex have changed everything. We now have power top kits, which when kitted out correctly, can almost stop a train in its tracks. Better still, combining puller bung systems with thinner elastics, allows lighter and far more versatile rigs. Gone are the days of hanging on, waiting for shock absorbers to bottom out, followed by smashed end tackle. Catching bonus fish on light line set-ups and fine wire hooks, aimed at whatever comes along, has become more normal now. I particularly like hybrid pole elastic because this amazing stuff stretches greater distances. With lighter rigs, it always improves the chances of landing any big fish that turn up. A puller bung system keeps you in control and helps to land large fish much faster.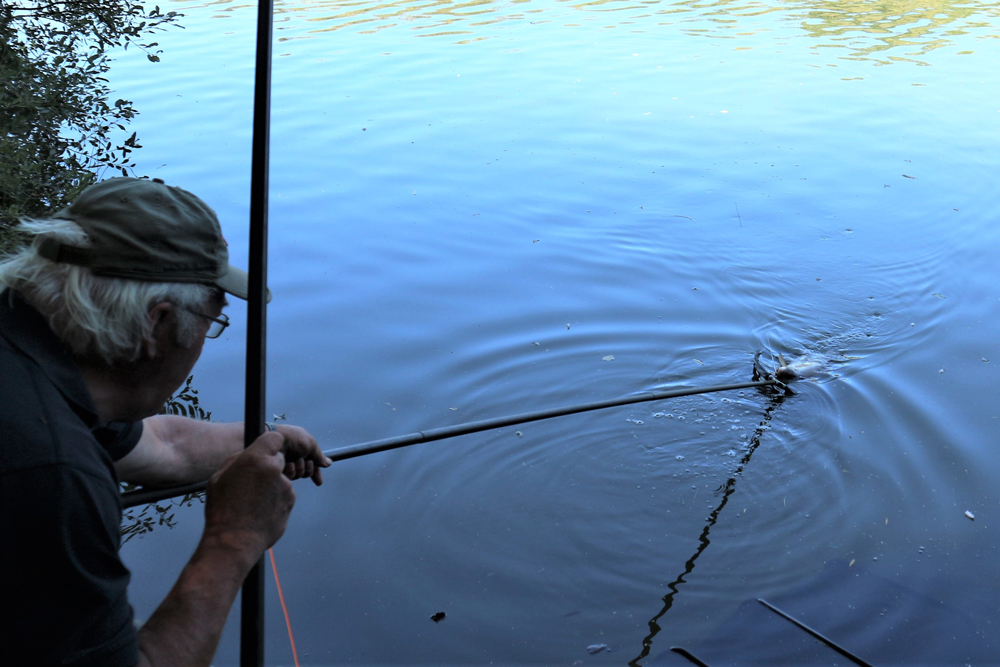 Catching More
The precise nature of pole fishing allows everything to be centred on a pinhead. It's similar to in-line feeder methods where the hook bait is presented right among free offerings, only in this case cupping in freebies and dropping a hook bait in their midst. But an added advantage with the pole is once you have got the fish concentrated, you can start loose feeding regularly and catch even more quickly by switching to shallow rigs. The pole dominates on many popular venues, being capable of amassing huge weights of fish. Whether you take this route, or prefer a more traditional rod and line approach, the carp bagging aspect has become important. It pulls more people into the sport. Carp puddles, as smaller commercials are often called, hold good shoals of silver fish too, even bonus chub and barbel. All this makes it much easier to catch consistently, which maintains interest.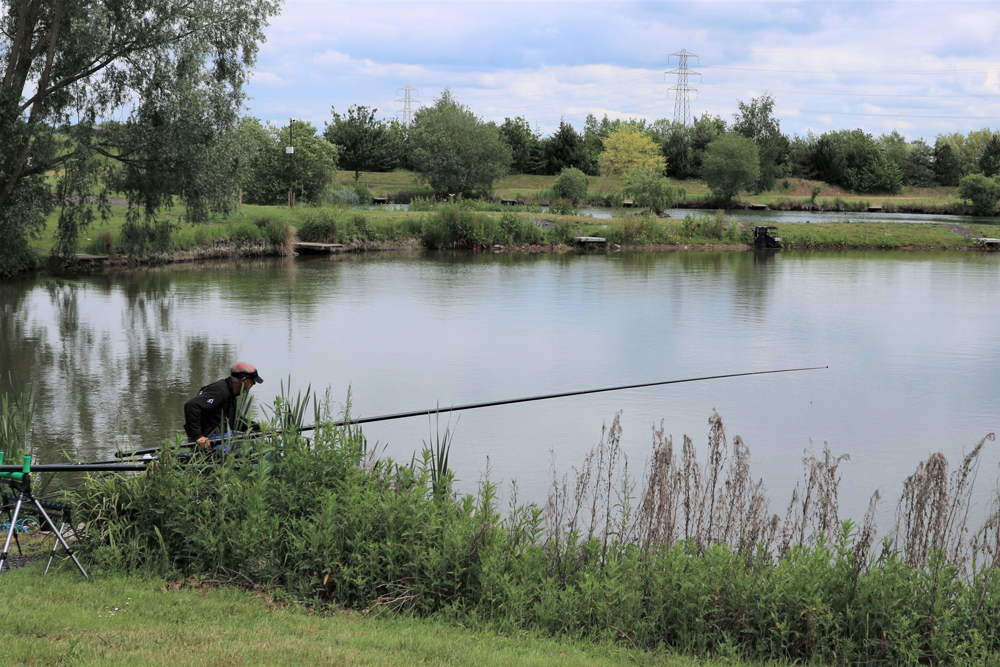 Greater Finesse
Pole fishing allows much lighter tackle, scaling down everything which helps to dramatically conjure up more interest, particularly useful on tricky venues. Many pole rigs are built around super sensitive floats that take well under a gram, mostly relying on micro shot to cock them correctly. It's not unusual to use extremely fine diameter hook lengths, too. This helps to present various baits in a more natural manner, fooling the shiest of fish. Combining light rigs with modern pole elastics makes up for any tackle frailty. Carefully matching line diameters with the right gauge of shock absorber improves any rig's strength factor. This can result in big fish being landed on surprisingly fragile tackle. Pole floats have improved dramatically too, with many having super bright, translucent fibre or hollow plastic sight tips, which are much easier to see under just about all conditions.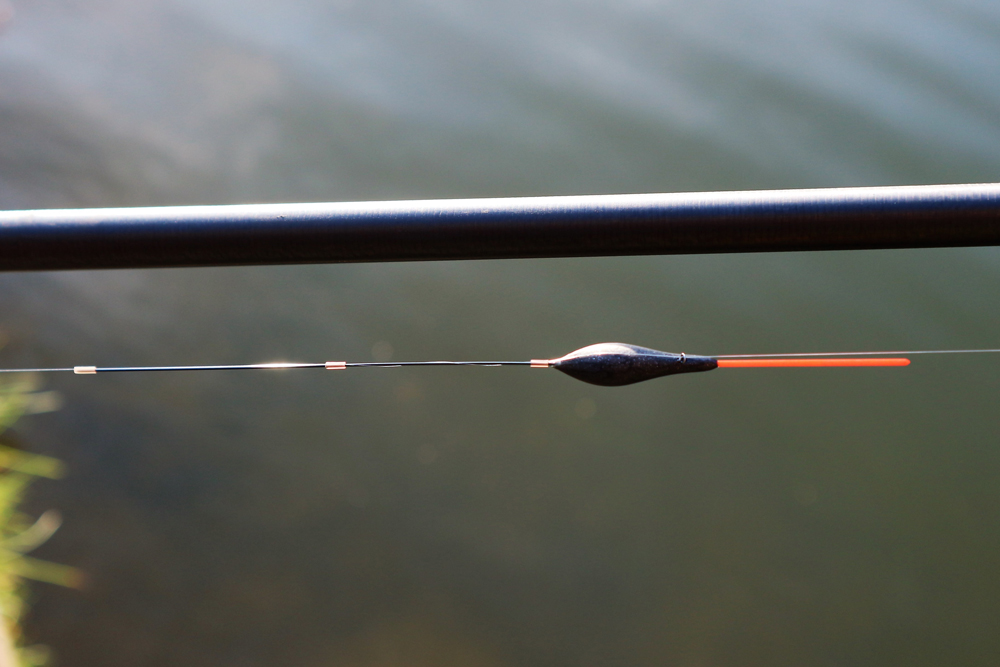 Clever Feeding
There are several ways of feeding with a pole, including using a dedicated cupping kit, having a small cad pot installed, throwing bait in by hand, or using a catapult. Most pole anglers switch between all these methods. Cupping in larger amounts of groundbait or loose gear at the beginning of sessions is normal practise, followed by regularly topping up with neat bait using a light action catapult. It's better to use a big pole cup during quiet periods when swims need a proper boost. But there will be some occasions when this isn't needed and loose feed keeps bites coming. Smaller cad pots work better on well stocked, heavily pressured fisheries, dribbling tiny amounts of baits like pellets, maggots, or casters directly over the float. Regularly putting groundbait and loose feed in by hand mainly applies when fishing with a short pole, or whip, keeping the fish competing closer in.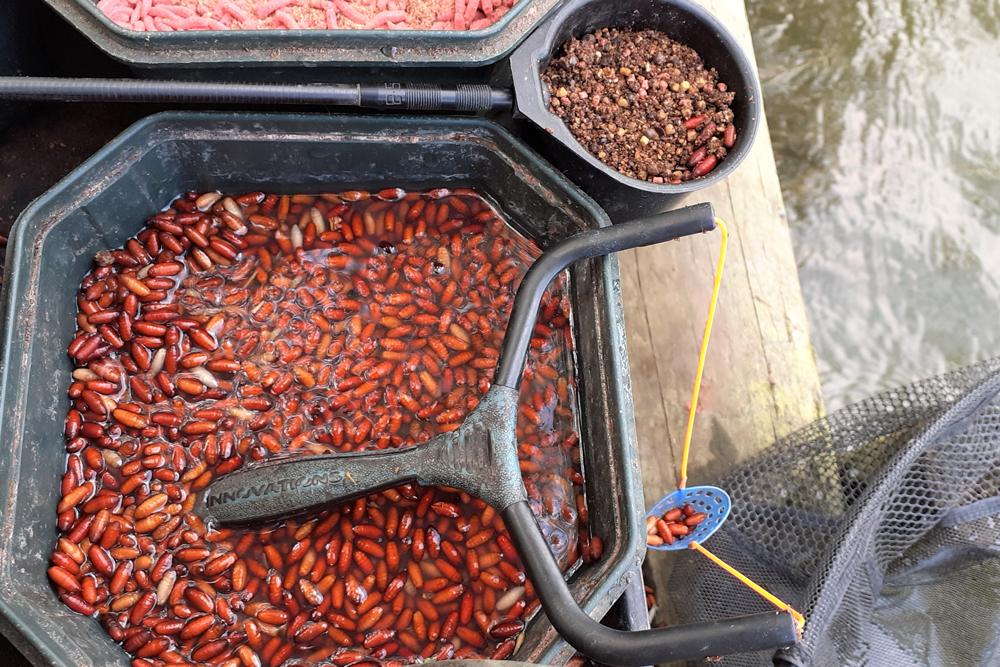 Where it Works
This hefty match catch wouldn't have happened any other way than with a pole, in a difficult shallow swim with lots of surface debris from overhanging trees. A waggler set up constantly saw the main line getting covered with willow fluff, snagging on the reel and in the rod rings. The same applied to bomb tackle, and it was too shallow for the feeder. Pole tackle always provides good presentation when conditions and pegs aren't easy for other methods. The other thing a pole does, particularly when using a short length of line to the float, is enhance how you can make the hook bait behave. Lifting, twitching, holding everything still, or edging the tackle through, are all ways of tempting more bites. You can also push pole rigs into areas that are inaccessible to running line gear, such as in among weed beds, tight to or even under features. It's a method that's impossible to ignore.