Marching On
I've always been fascinated by drains and canals because the majority are interconnected with miles of other waterways. This means you never really know what might turn up. I've recently moved to the heart of fenland, now living close to the Old River Nene, which looks like a canal but is really a drain. This is March, a popular winter hotspot. It's currently summer and most mornings I stroll by famous swims at Wigstones, the Town and Health Centre bridges, finding these places are already crammed with fish. The accompanying photograph was taken in winter, when huge shoals from surrounding drains traditionally pack into built up and well-sheltered areas like the library stretch. The potential of mega hauls of roach, rudd and skimmers attracts anglers from far and wide. Not far from here, an amazing 87lb catch of rudd smashed the match record earlier this year.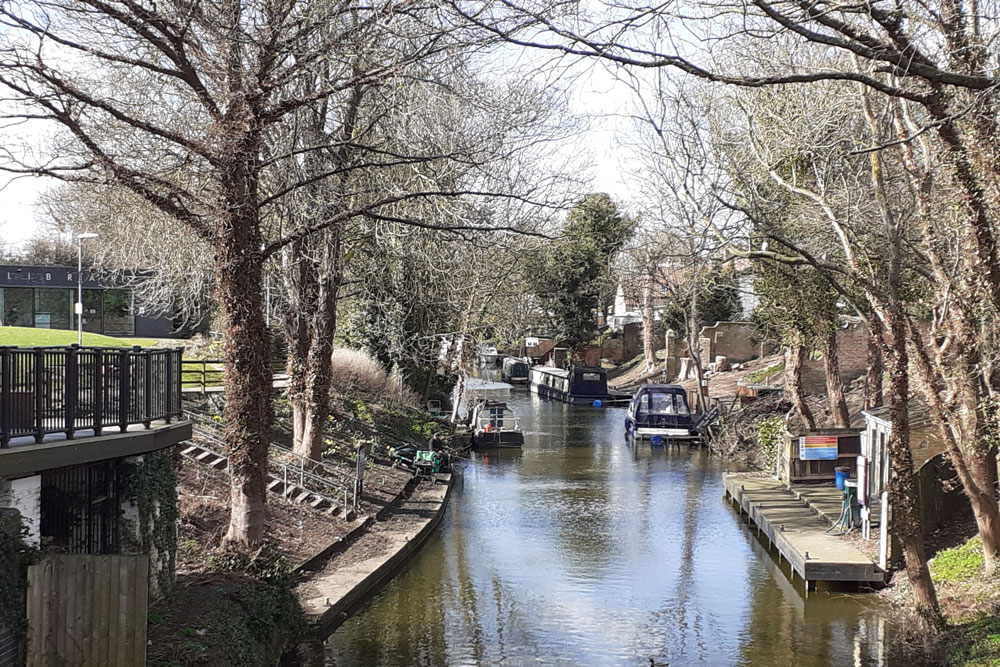 Another Hotshot
Benwick is a famous Old Nene haunt, now just down the road. I hadn't completely lost touch with this venue, as it was within reasonable travelling distance of where I previously lived. I used to come up from London to fish winter league events on here in the distant past. Matches are still very popular, and I'm sure I will be having a go, once I get back into the swing of things. This was me getting used to the fens again recently. It reminded me of the canals around London, where I started match fishing. It takes a while to get accustomed to because once favourite baits from long ago, such as squatts, pinkies, hemp and bread punch are suddenly back on the menu. This demands a diverse mixture of light and quite sturdy pole rigs, aimed at catching lots of small fish, while never ignoring chances of useful weight building bonuses like big tench, bream and perch.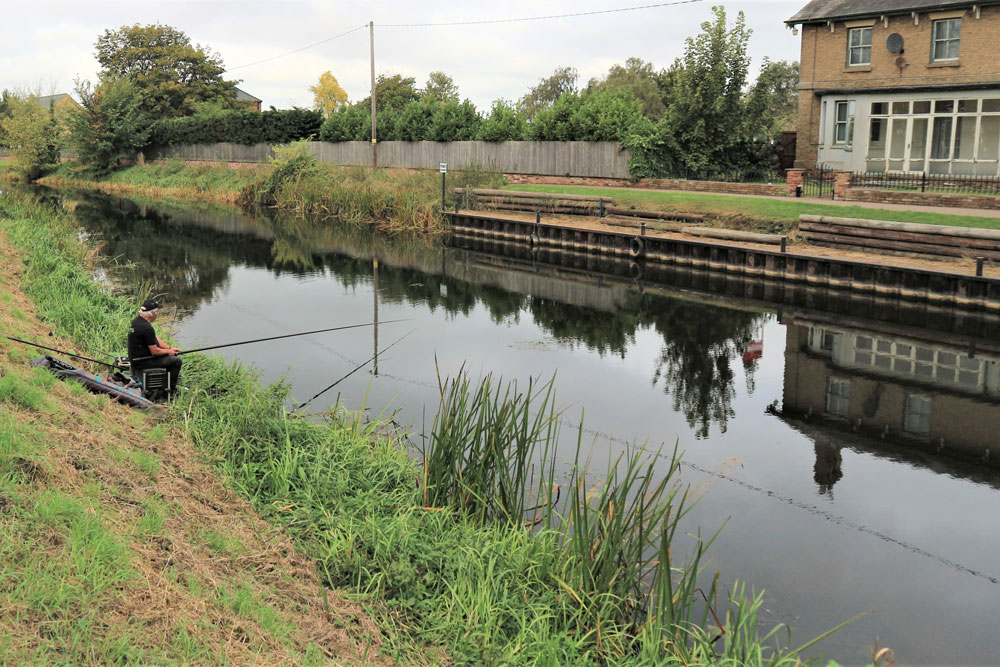 Stamp Fish
Slotting back into drain fishing requires figuring out how to find stamp fish. These are better sized shoal species like roach, rudd, perch and skimmers. Similar to canals, you can get very busy on baits like bread punch and squatts, but there's always a danger of ending up going nowhere if the fish remain on the small side. The trick is to find ways of pulling in better quality samples. Switching to baits like big maggots, hemp, tares, worms or casters is one route. Another is to make a complete change, targeting proper big fish. However, the best way is normally a compromise. This involves catching lots of small stuff initially, while constantly working on improving the average size as sessions progress, also hoping to add crucial big fish that can make all the difference in matches. It's like a game of chess, continuously looking to pick the right moments to switch tactics.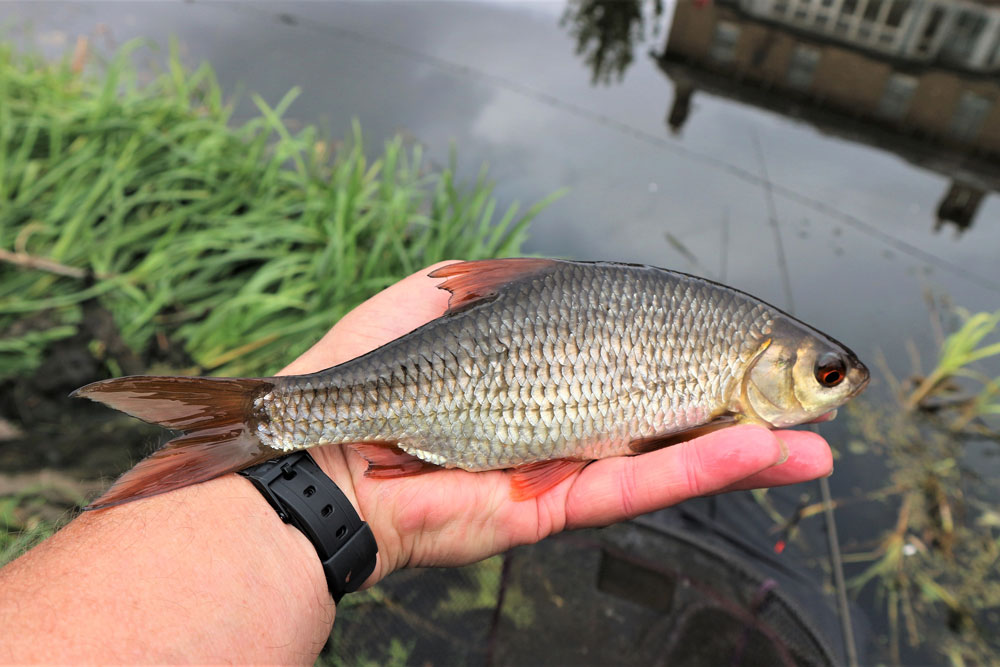 Hemp Factor
Hemp seed was a big get-out-of-trouble bait for me on the canal match circuit, when attendances were big on venues like the Grand Union, Regent's Arm and Oxford towpaths. It could take time to make seed baits work, often over the main feed line, after working through baits like punched bread, squatts and pinkies. Another option was to have a secondary area just for hemp, feeding it from the off, regularly checking to see if anything had switched onto it. It might take several hours for the latter to happen, but if it did, you could easily double your weight. Hemp is also a great way of getting through small fish on drains, but the only problem is the hooking process. Pre-cooked tinned products are okay to feed, but tricky to hook because the shells break apart easily. Some anglers use bayonets, others drill or even hair rig, but for me, a soft small tare is normally the best solution.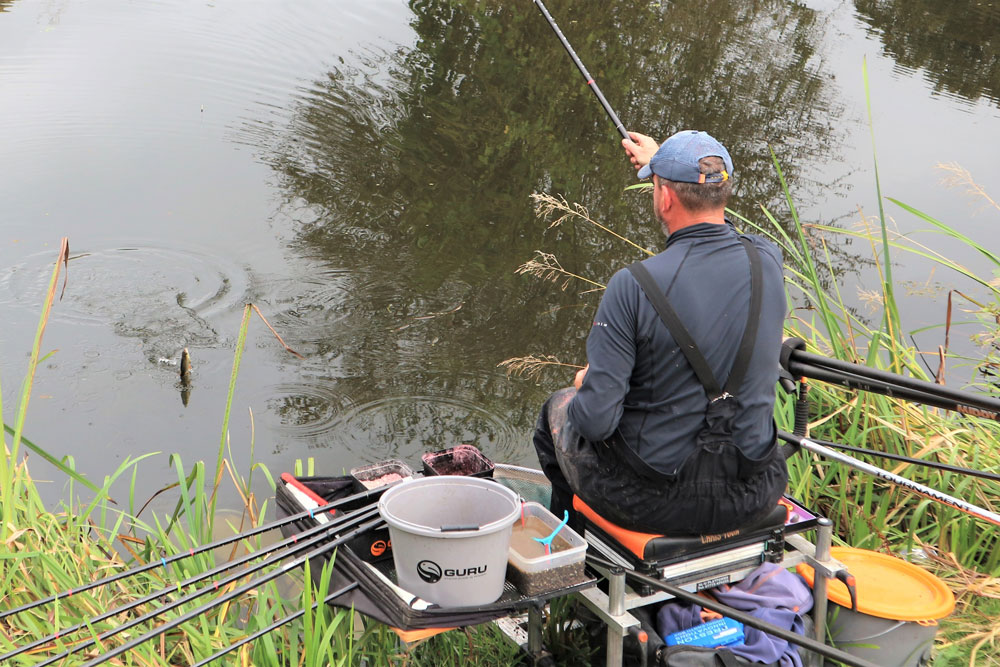 Famous Pegs
My move to March happened at the beginning of the close season, so I had to wait an agonising three months before I could get fishing on the fens. That didn't stop me from exploring the many miles of surrounding water. The famous footbridges in town had huge shoals of quality rudd under them, but being in parkland, during the warm weather months these places get very busy. You get a right mixture of dog walkers, bikers, joggers and family outings. At 8 o'clock, one Sunday morning, I came across what sounded like a rock band warming up near the swimming pool and skatepark. Music was blasting everywhere. There was also plenty of activity in the gardens and moorings opposite. I decided when the season opened, quieter spots just out of town would do me for starters, although there was a bewildering amount of water to choose from.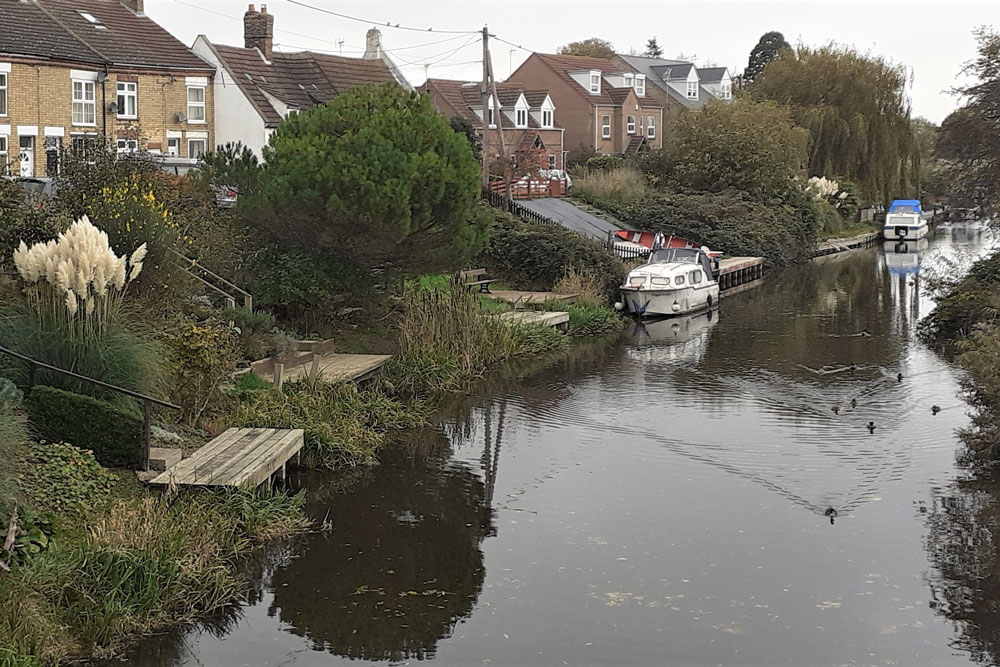 Getting Started
While waiting to get on the fens, I tried out some local stillwaters. My mate Andy from down south accompanied me to suss out what was on offer. We struggled to find much detail on the Internet, sifting through lots of hazy and outdated information. As has been the case in previous areas I've lived, it turned out the best ways to discover good fishing is to enquire at local tackle shops, or go out and find it yourself. We ended up at Townsend Lakes, on the fringes of Wisbech. At least they had a website that tempted you to give this day ticket venue a go. There was a tackle and bait shop too, providing useful tips regarding the nearby drains, which we had driven past on the way. The waterways around this part of the world don't appear to be blighted with miles of floating duckweed, which I had to endure in the Grantham area for several years and won't miss at all.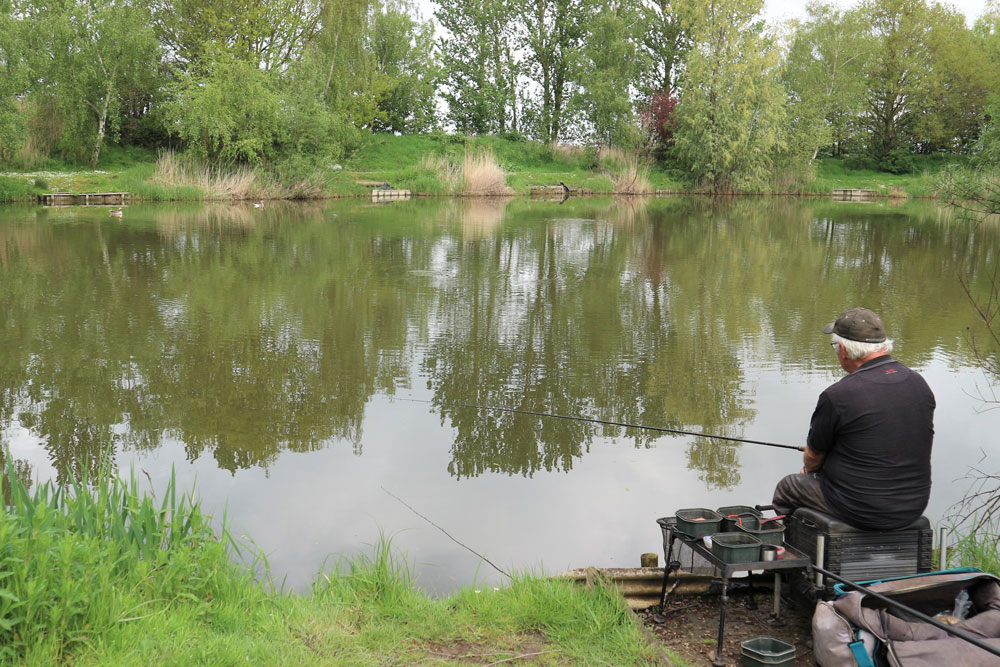 Keeping Busy
We fished Kingfisher Lake. I set up running line float tackle, while Andy concentrated on the pole. I often start with conventional insert waggler tactics on new venues, as it's a method that catches most species. With plenty of open water to explore, my first choice tends to be a 13ft float rod, something like the Cadence CR10 13ft Match #2 is ideal. I couple the rod with a Cadence CS10 3000 reel, along with Edge Tackle 4lb Sinking Mono and a 0.12mm hook length. Feed wise, a good starting point is to catapult dampened 3mm pellets, combined with casters or maggots. I use 3mm pellets because when wet they fire the same distance as my other bait. Being small, you can put in a good bed of them, without overfeeding your swim. Krill is a good flavour for most species. It didn't take long before plenty of rudd and roach turned up, followed by some better-sized skimmers.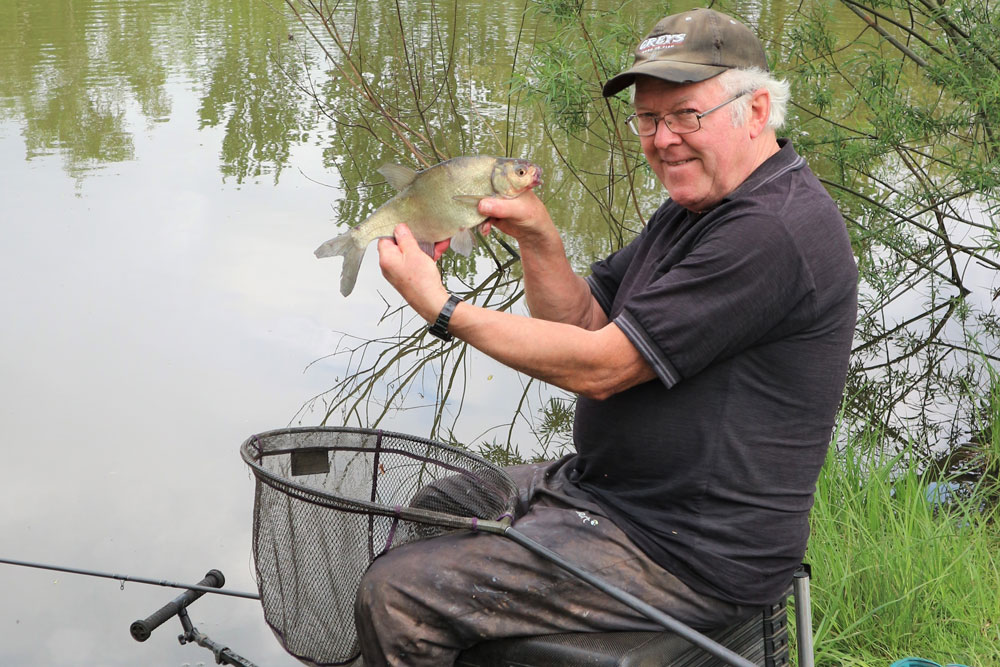 Mixing It
I caught loads of rudd shallow, along with odd roach and skimmers at full depth. A single caster or banded 4mm pellet worked, while maggot on the hook found small fish. Andy struggled with a full depth rig, but quickly sussed out pinging pellets regularly pulled in plenty of F1s and odd bigger carp to a shallow set up. I tried upping the loose feed, which also pulled in F1s and carp. The place was heaving, and it soon became impossible to get my waggler rig to settle at full depth, where the better skimmers were. I caught rudd, with plenty of netters and some lively carp. Most of the latter were around the pound mark, but a few proper rod benders put in an appearance. I witnessed Andy playing an unusual golden carp. We both lost count after that. I returned a few days later and fished the smaller Woodpecker lake, adding tench and chub to the ever-growing species chart.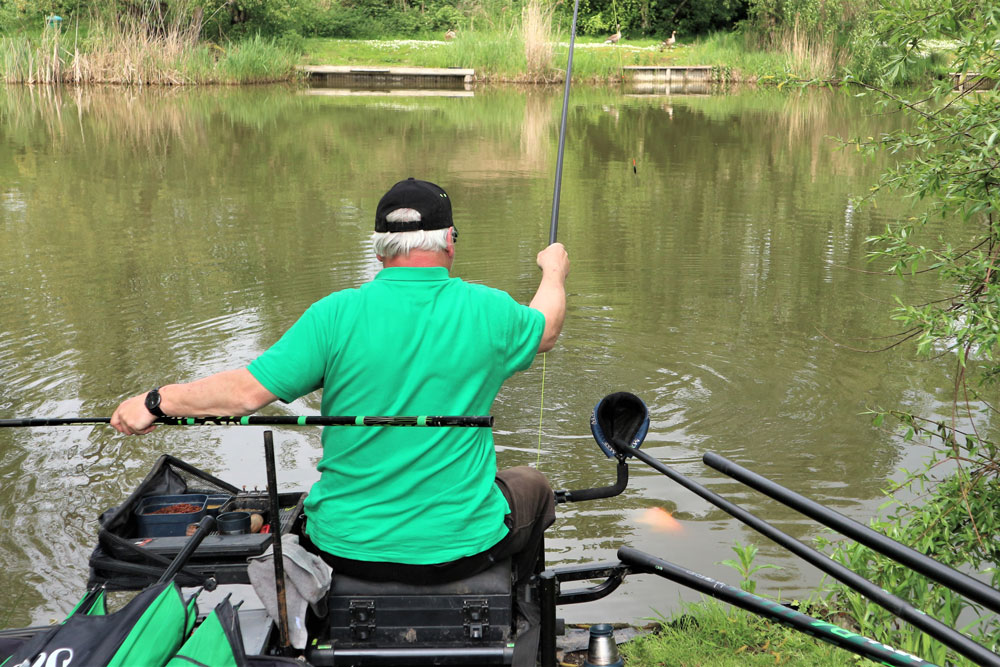 Learning Curve
Before moving to March, I watched quite a few of the Fenland Fishing TV videos on YouTube, which gave a good flavour of what to expect in the area. I had noted the amazing tackle shop that Alex Bates runs at Rookery Waters. Situated beside an inviting looking lake made it even more attractive to visit. I wasn't disappointed by the Aladdin's cave of tackle, with lots of interesting niche gear that most shops don't bother with, but which I want! Alex turned out to be a mine of information, not just promoting the popular fishery where his shop was, but also the many fen hotspots in the surrounding area. I had a go on Rook Lake outside, finding the oldest water on the complex heaving with rudd. I caught some other species fishing at full depth, but quickly decided to concentrate on a shallow pole rig with casters, keeping busy catching well over 70lbs of quality silvers.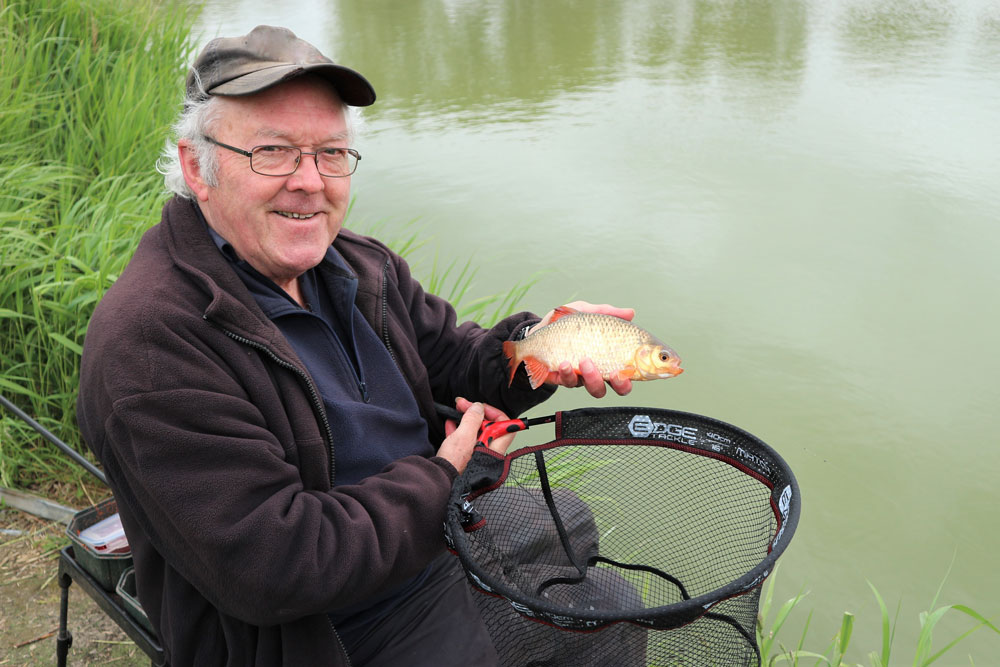 Opening Day
Finally, June the 16th arrived. I decided to go to the 20 Foot River, which is on the outskirts of March and much quieter than the busy Old Nene in the town centre. I was armed with a platform and shears because the banks on this venue were heavily overgrown when I checked it out a few weeks previously. To my amazement, the place had been manicured, revealing plenty of well-spaced and comfortable fishing stands, many of which you could park behind. This saved lots of hassle because it was steaming hot. The bailiff told me some decent bream and tench had been caught earlier, but with a blue sky, gin clear water and hardly any wind, it wasn't going to be easy now the sun was up. I still caught plenty of rudd, along with odd skimmers, perch and roach. Tench were moving about in the weedy margins, but seemed more interested in spawning than feeding.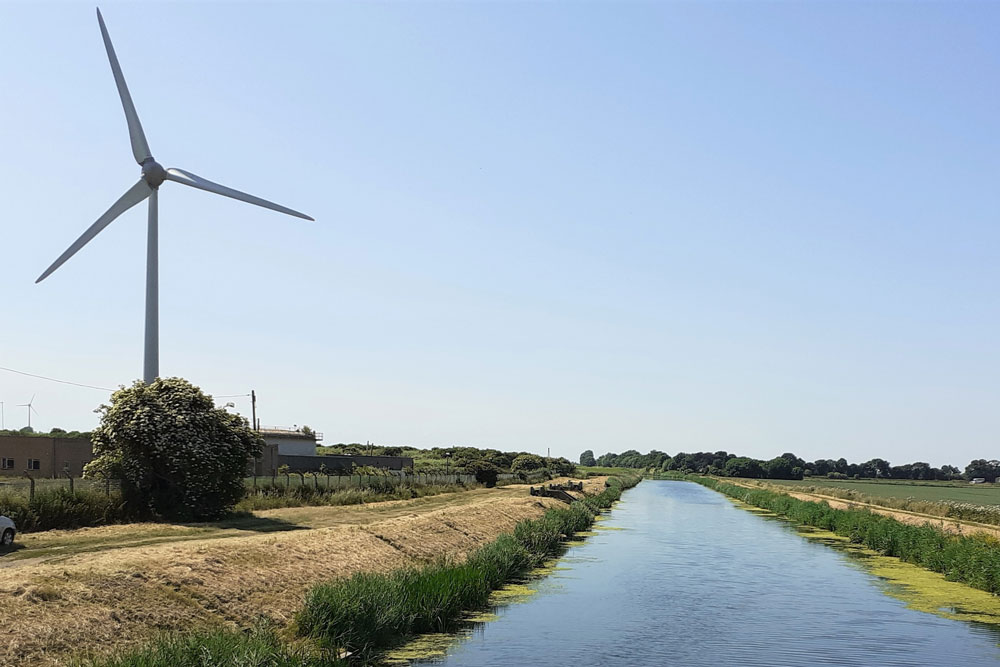 Where Next?
In recent times, I've visited other local Fenland drains like the Maude Foster, North Level, Hobhole and South Holland. Living closer now, these are all back on my to-do list. I enjoyed a couple of great days on the North Level at Tydd Gote a few seasons back, catching a nice bag of fish using a whip in windy conditions, also putting together a good haul of roach on hemp and tares when it was calm enough for a longer pole. The secret on drains is finding where the fish are because they move around a lot. You can bag up one day and struggle the next. Underwater and margin weed can be troublesome too, so a rake and rope is handy. Many banks have awkward slopes, requiring a sturdy platform. This catch came from the South Holland at Leedsgate Bridge several years ago and included a small carp. My mate in the next peg caught one too, so there must be quite a few of them.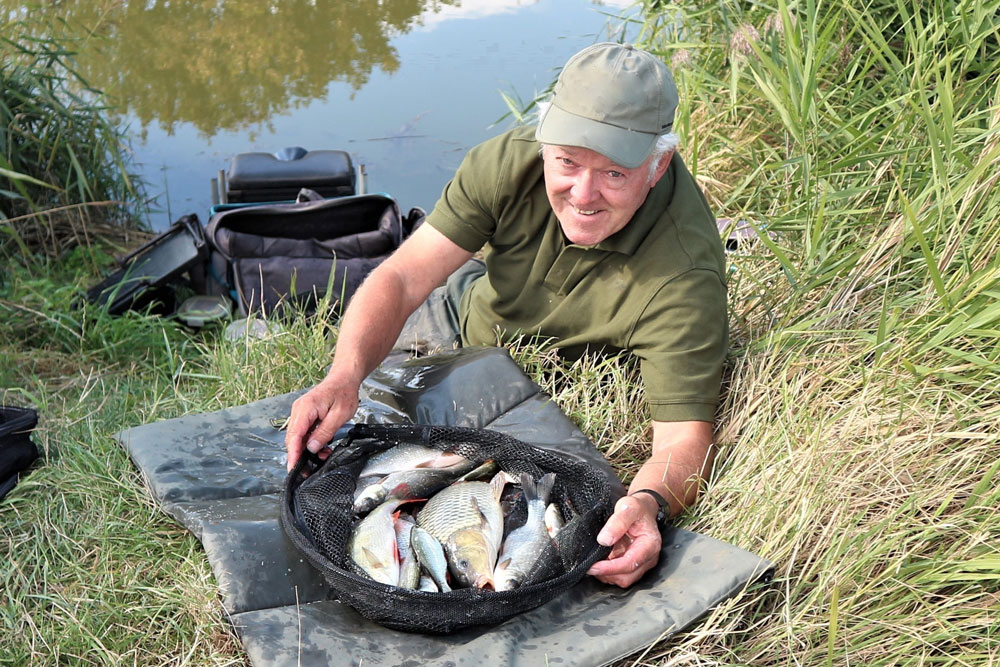 Maze Hopping
I'm discovering pristine fen rudd everywhere, along with plenty of skimmers, roach, perch and hybrids. Surprisingly, big bleak also turn up, and the local bailiff said he even caught a fair-sized catfish. There are rumours of big chub lurking in some of the drains too. Driving around reveals what a huge network of waterways there are. Access is a big problem in many cases, with busy roads to contend with and hardly any places to park a car. This rules out many miles, but also means when you do find a fishable spot, there's lots of water to draw fish from. I'm already evolving my approach, modifying my feeders to suit. It's only a short chuck on many venues, so I've scaled loadings down to 10g or less. A slower sink rate, with a long tail to the hook bait, is finding good bags of quality rudd. Bonus tench and bream are responding to this tactic too in the clear and weedy conditions.