Alan Barnes takes a comprehensive look at the preparation, tackle and tactics needed for successful river float fishing with punched bread.
Let there be bread
Bread is a cheap, cheerful and devastating bait – and the thing I find puzzling is why it is so often overlooked in favour of maggots and casters when targeting river species such as chub and roach, especially on the float.
It baffles me, quite frankly, because I have found that bread, or punched bread to be more precise, really sort out a better stamp of fish when the water goes colder, from November to the end of February.
Not only does it sort out a better stamp of fish but it is pretty much instant in terms of triggering bites. On rivers, it is difficult to overfeed the fish, too, so there is no need to worry on that score.
I can understand why match anglers would choose maggots over bread for everyday speed fishing when it is crucial to maximise the ratio of bites to hooked fish in the net.
But when pleasure fishing it is a different matter. You can afford to relax, take your foot off the gas, breathe in the air, watch the wildlife, stop for a cuppa, watch big roach topping in the early morning mist – and above all, grab the chance to really enjoy your fishing! Life is sometimes too short to live it at full tilt. We will leave that to Keith Richards, eh!
And let's face it, it an age when maggots in many shops are averaging £2.80 to £3 a pint, let me pose a simple question: What could possibly be wrong with buying six medium-sliced white loaves at 36 pence each and a Toastie loaf from Aldi for 50p and then having a day when you might catch 30 to 40lb of prime redfins or big chub. Answer: Not a lot!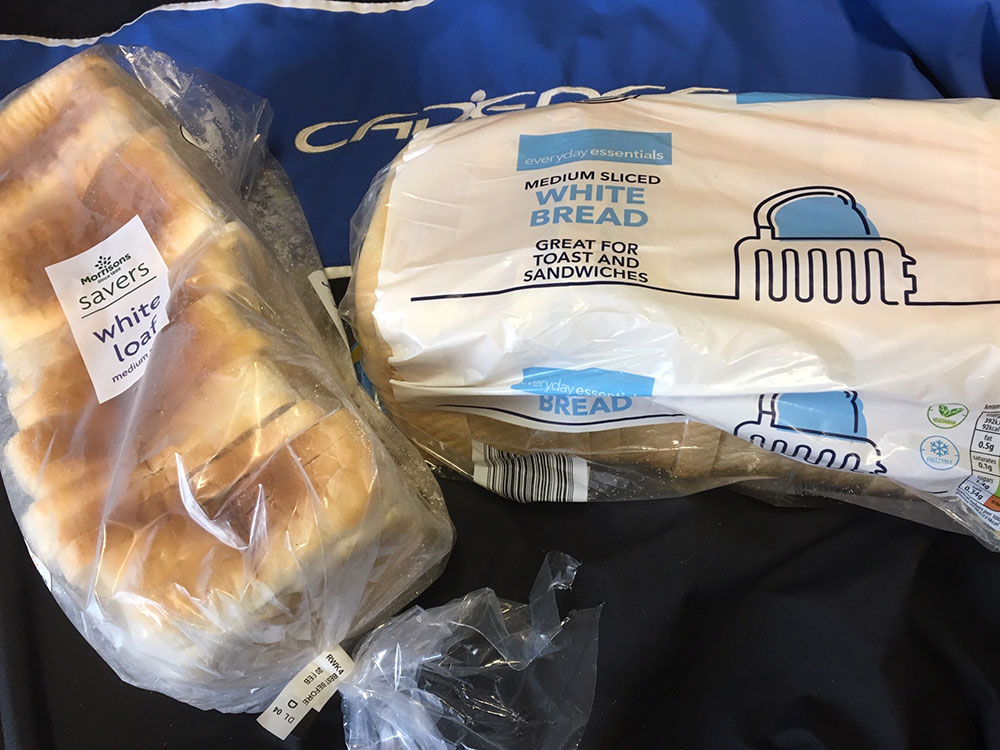 So if you are pleasure fishing and want to put the emphasis on better stamp fish generally, then a fairly bold breadpunch attack will often yield excellent results. Trust me, I'm a doctor!!! (Doctor of Roach Crumping: University of Life)
My stomping ground is the River Ribble in and around Preston in Lancashire. This spate river is an excellent silver fish venue, with big shoals of dace, roach and chub. Cadence main man James Robbins loves the Ribble and wishes it was closer to his Midlands home, I can assure you. It is easy to understand why. The roach fishing is arguably second only in quality to the Wye around Hereford.
And those magical and mythical two-pound redfins, or 'crumpers' as I like to call them, are caught frequently enough on the Ribble to be able to confidently make the claim that it is probably the best big roach river in the country right now.
So there we are, an explanation of the basic pulling power of bread. I believe that anywhere where the public feed ducks with bread, that's going to also be home to roach, bream, dace and chub. It is the same on canals. Roach and bream love to home in on the activity and swim underneath the ducks, leaving the duck feeding public blissfully unaware they are present, devouring the tiny particles that drift down through the depths. Even barbel and trout have been caught on bread so it seems most fish will have a go at this very cheap but powerful bait.
Bread preparation for river float fishing with punched bread
Now let's look at the way I prepare bread for feeding and for the hook, before going onto talk about the tackle that I use for my bread fishing.
For feeding I need three basic ingredients – cheap medium sliced white supermarket bread; a punch crumb or plain white groundbait to act as a binder, and a couple of pints of well-cooked hempseed to mix into the bread to add weight to get it down in deep water.
Here in pre-Brexit Great Britain, you can buy a medium-sliced white loaf from Morrisons or Aldi for as little as 36p. I tend to buy eight loaves at a time (total cost £2.88) and liquidise all of it, crusts and all.
But before liquidising the bread I spread it out on maggot riddles and my wife Sally's seedling growing trays in the greenhouse (!!!) for three to five days. Doing this allows the bread to dry out quite a bit or go stale, so it creates a better basic liquidised bread mix.
If you blast it in a liquidiser on the day of purchase you end up with a quite doughy feed and I don't want that as I want it to break up properly in the water. A doughy ball of liquidised bread, say the size of a golf ball, could be intercepted by a chub on its own, swallowed whole. I don't want that scenario to happen as it can fill up the one fish and also stop other fish from being drawn into the peg. I want loads of bread particles, some bigger than others, going through the peg, attracting fish and encouraging them to look for the bigger lump – the punched piece with my hook, inside it.
So after three to five days air drying or going stale, it all goes through the liquidiser and once blasted for a minute or two I transfer it into large supermarket sandwich bags. I bag it up in proportions the size of a melon and these can either be put in the bait fridge if fishing the next day or, stored in the freezer for future use. I generally take two or three bags with me for a day's sport – and if it is a good day, I intend to use most if not all of it.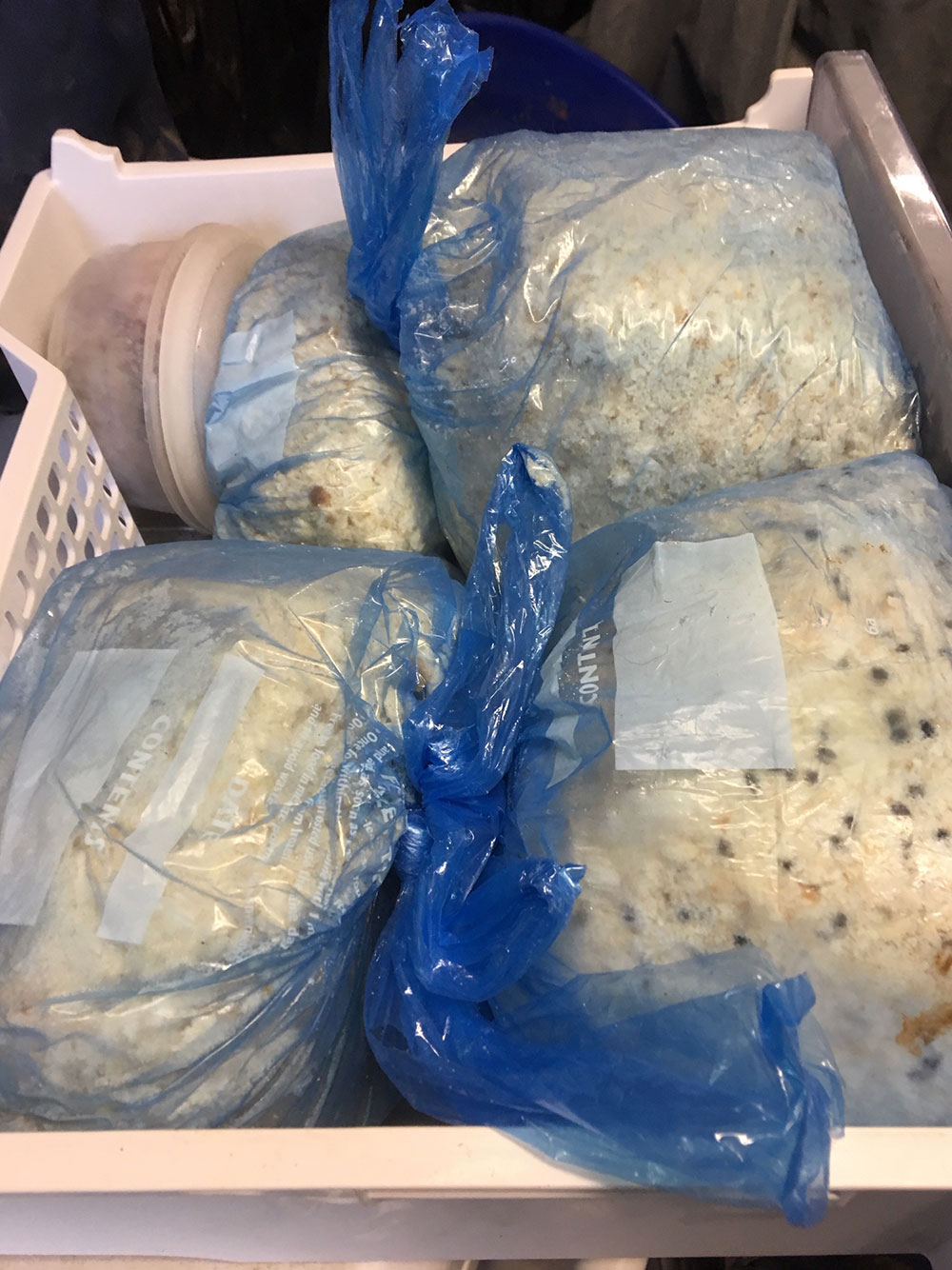 Bread for the hook and how to prepare it
I buy a Toastie loaf from Aldi (50p) the day before a session and after tea, I will prepare it for the next day's fishing. All I do is cut off the crusts (which are then kept and frozen to be liquidised for more groundbait) and I find that 12 slices are enough for a full day on the river.
I need to give credit to fellow Cadence ambassador, Yorkshireman and all-round good egg Paul Kozyra at this point, because the way I store slices for the hook is down to him. If you want a visual explanation, watch the Cadence video he made with James Robbins on the River Hull by clicking here.
Basically, I buy some sealable sandwich bags which can take as many as six crustless toastie slices. You lay the bread slices in side by side (see picture) and then remove any air in the bag before sealing. Roll the bag up, expel any more air through the seal, and simply put the rolled up bag of bread in your bait fridge overnight, ready for the next day.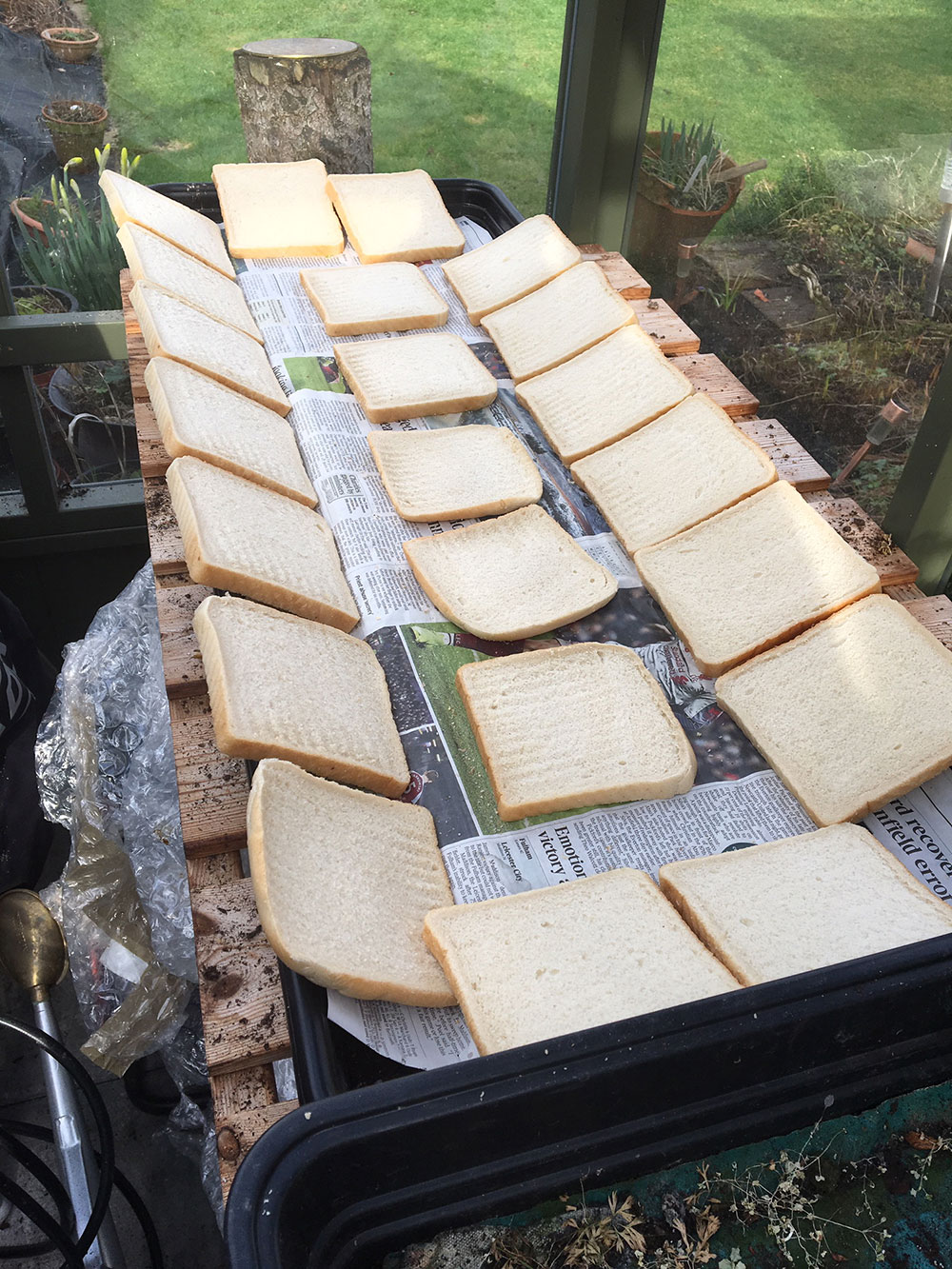 There is no need to roll the bread or steam it over a kettle spot, or even to bother microwaving it for 15 seconds. All that these things just mentioned achieve is to make bread too compressed and less appealing to roach and chub. You want to be able to punch a pellet that fluffs up within a few seconds of being exposed to water. That's how to get more bites and hook more fish.
So there you have a basic overview of bread preparation for the hook and for feeding.
Getting the mix right
This is really important and the good news is that it is very easy to get the bread mix right, very difficult to get wrong.
Let's say you put six pints of liquidised bread (2 x 3pt Drennan bait tubs worth) into a bucket or mixing bowl. Now add a half-pint of either plain white breadcrumb or the punch crumb of your choice. Just recently I have started using MPW punch crumb, which is available in two flavours, Spiced Punch or Superfine Sweet Punch Crumb. Coming in 900g bags, these each retail at £3.50. More details about the entire range of MPW groundbaits can be seen via their website at www.mpwangling.co.uk.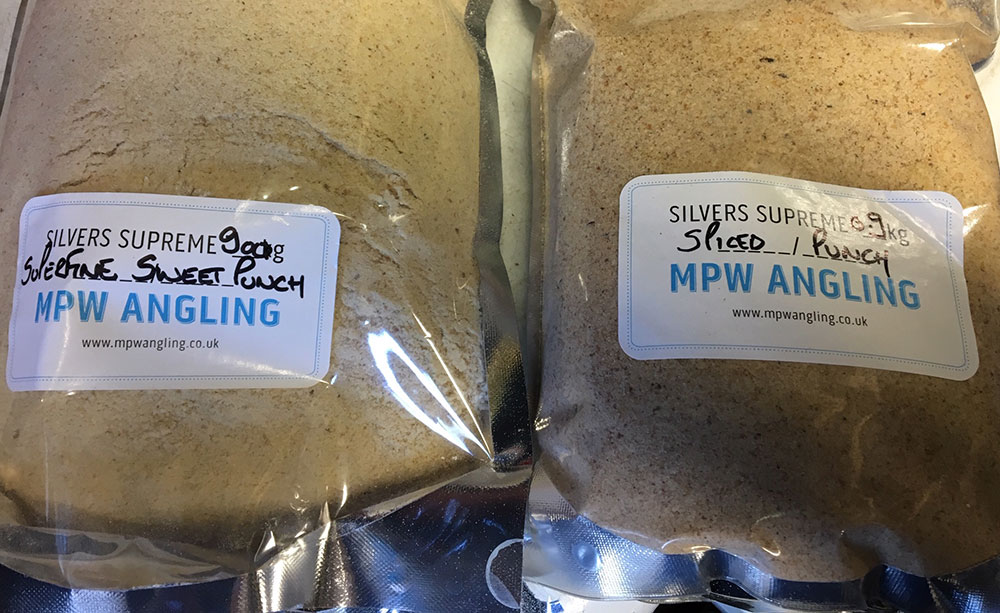 Mix the liquidised bread and the dry white crumb or punch crumb together vigorously, then start dripping water into the mix until you can squeeze a firm ball (firm but not stodgy or rock-hard) with one hand. This is the texture and consistency you want to achieve. Now add a pint of well-cooked hemp, minus any water you stored the hemp in, into the mix. The hemp does two things. Firstly it adds attraction, as roach, chub and dace love hemp. There's nothing wrong with that!
Secondly, and very importantly, the hemp also adds a little extra weight, enabling the bread to get down through the water to the bottom.
This is very, very important as rivers like the Ribble, the Wye, the Trent and the Severn are what we describe as 'heavy water' venues. This means they are powerful and can be a little boily and if you are facing a deep peg of say eight feet or more, you really need to make sure the bread goes in and gets down to the deck in the first three or four metres after hitting the surface.
A new angling pal, whose acquaintance I have made through the Cadence brand, told me he had tackled a 12 ft deep peg on the Ribble a couple of weeks ago and fed just liquidised bread, not wetted. The likelihood is that it was too light in consistency and ended up only getting four feet down in 12 ft of water before it had totally broken up. He said it took a while to get fish coming and the reason is that they had little to home in on.
Oh, and by the way, don't worry if you have a load of unused liquidised feed left over at the end of the day. Simply rebag it, take it home and refreeze it. It will not take any harm and is perfectly useable next time out. Just allow it to defrost for a few hours and, after thawing, push it through a coarse maggot riddle – not a pinkie riddle as the mesh is too small – before re-bagging and putting in your carryall.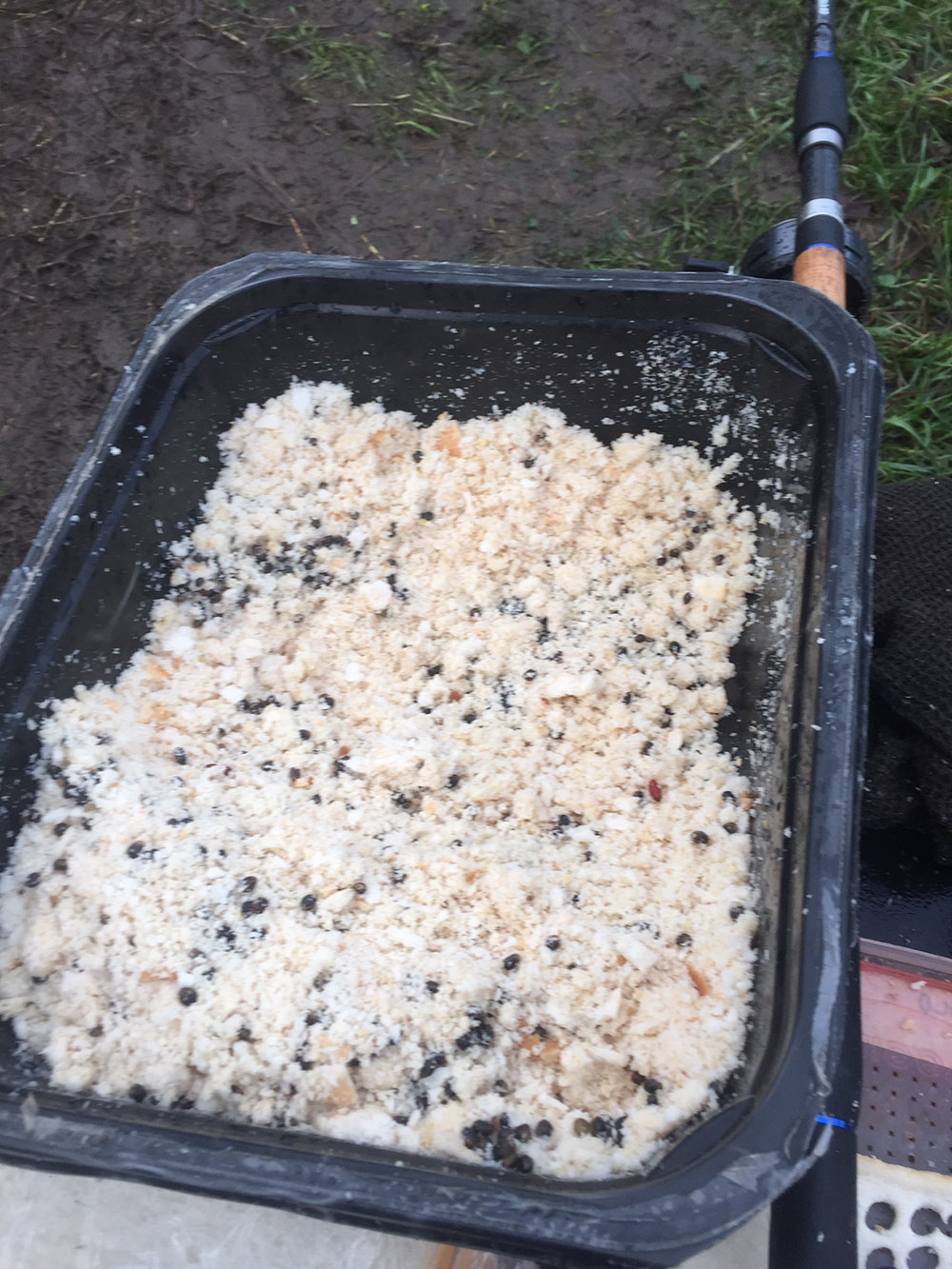 Talking about tackle
It's all very well getting the bread basics right but there is more to do before you start catching the nets of roach you really cherish and it starts with arming yourself with the right gear.
Firstly rods. Without a shadow of a doubt you need to achieve good control on the float and the longer the rod, the better.
This winter I have been seriously impressed by the Cadence CR10 16ft #1 Match rod. It is extremely versatile and I love the progressive playing action. There is enough grunt in the mid section to punch a bolo or Avon out but the tippy top section has enough cushion to handle big chub to 5lbs plus and roach to over 2lbs. It handles smaller fish with ease and you seldom lose a fish when playing them thanks to its terrific action.
Another rod I have been using extensively is a prototype of the new Cadence CR10 15ft Zero which I had a hand in developing. The reason we are introducing the 15ft Zero is that I have personally always favoured lighter-actioned rods. We are all different in what we want from our rods and the Zero just feels dead right to me, whether fishing a stick off the rod end with hooklengths down to .07mm, whether casting a slider out into 15ft plus of water or fishing a waggler on the Trent or the Ribble. The 15ft CR10 Zero will be available to buy online, via the Cadence Fishing UK website, from some time in March 2019. It will sit perfectly alongside the other 15 ft options, the CR10 Nos 1 and 2.
I used it before Christmas on a chub peg on the Ribble and caught 13 'subs' for 43lb on 10mm punched bread and it was flawless in the way it handled those fish in an eight ft deep swim. Having shown it to several anglers whose opinions I respect, I am sure it will quickly find favour with many fans of the Cadence brand, alongside the CR10 15ft #1 and #2 models.
Allied to a good rod you need a smooth and powerful reel and I use a combination of Cadence CS10 4000s and CS5 4000 reels for all my float work. The spools interchange between these two models, too. For roach fishing, I tend to use either 2lb Maxima or 2lb Shakespeare Omni, which unfortunately you cannot buy any more. I was fortunate enough to track down a couple of trade boxes on eBay but I am down to 16 spools left and counting…I wish Cadence would source that line and bring it back to the market! (Go on James, you know it makes sense!!!)
Obviously, Maxima is naturally a line which is easy to sink, so I always treat the line on the spool to make it float as you need to be able to mend your line without hampering the float's progress on the intended line down the peg. I use a product called Greased Lightning by a tackle firm called Kryston. Three dabs of this on the reel will see it float all day long. The liquid also coats the rod's eyes, putting yards on the cast with a minimum of effort required.
The top four feet of line directly above the float is also treated with Mucilin grease. This is available in tackle shops and is used primarily by fly anglers who want to make their leaders float when fishing on or near the surface.
Floats and shotting
Let's look at floats or bread fishing. Yes, you can catch with bread on the waggler but when you have dace in your peg it makes life difficult, hooking bites, using a bottom end only float.
Wherever possible, I favour a top and bottom float approach with bread, because the strike is positive, control is better because you create a straight line, presentation wise between float tip and rod tip, with no bow in the line, and I find that by using an olivette rather than a bulk of shot, the float sails out effortlessly to the landing area and you can feather the hook down by applying gentle pressure on the reel spool.
If I was told I was allowed only four float patterns or shapes for bread fishing on rivers, in no particular order they would be Drennan Wire Stem Avons in a range from 3BB (6 no 4) to 7BB (14no 4); DH Angling No1 insert sticks from 6 no 4 to 14 no 4; DH Angling No2 Alloy Avons in a range from 2 grammes to 6 grammes; and finally DH Angling No5 Bolos from 2 grammes to 4 grammes.
The Drennan Wire Avons are superb floats for pegs from four feet to 10 ft –plus deep, especially when the water is slightly boily.
I like the big DH Angling No2 Avons for fishing at distance in deep water where again the current isn't totally smooth.
For smooth water fishing anywhere from two to four rods out the DH Angling No1 Insert Sticks are superb and for comfortable mid-river work in smooth water conditions the DH angling No6 bolo, with its slim, body up design and finesse bristle, is spot-on.


The key to good control and presentation is to use more weight than you think you might need. You can present well when in contact with a big float and a big olivette, plus it means you are getting the hookbait down where it matters quickly, in amongst the feeding fish.
I favour lock and slide olivettes – the ones with a peg at each end which are fixed on the line by two pieces of fine silicone tubing, and where possible I like to build a micro-swivel into the shotting arrangement.
As far as dropper shot go, I like small shots when targeting roach, and by small, I mean No 10s as droppers beneath the olivette. I find that smaller shot means a more natural fall of the bread for the last two to three feet below the olivette. Whether this encourages bigger roach to intercept the hookbait or not, I do not know, as I do not have X-Ray vision, nor can I see underwater. But it is whatever you think works and this is my starting reference.
So let's take a 10 ft deep peg. The float would be fixed at 10ft, with the bread either tripping or just off the bottom. The correct size of olivette would be positioned three feet from the hook. A micro-swivel would be incorporated some 18 inches to two feet above the hook. One number 10 would be positioned on the hooklength some six inches below the micro swivel and another no 10 would be positioned six inches above the micro swivel, with the olivette fixed, six inches above the uppermost no 10. The important factor is to have the olivette, the shots and the micro-swivel all fixed equidistant to each other to avoid tangles when casting.
Any additional or 'tuning shot' needed to get the float to sit down to the correct capacity would be fixed directly abutting the bottom of the olivette. I tend to use either sixes or eights to fine-tune a float.
Of course, there is always another scenario, which requires one more type of float and I came across this situation just a few days ago in February. With us being so close to the end of the river season, the urge to grab a few hours is always in your mind. I'd been at the Northern Angling Show in Manchester with James, Paul Kozyra and Wayne Bartholomew on the Cadence stand on Saturday and I just needed to get my fishing 'fix' if only for a few hours, on Sunday.
I was on the banks of the Ribble just before dawn and it was a sight for sore eyes watching pound-plus roach priming all across the river. I couldn't wait to get started.
I tackled up the 15ft Cadence CR10 Zero and attached a CS5 reel loaded with 2lb Maxima. The wind was a stiff, awkward downstreamer and it was this, combined with the slow pace and depth on the inside on the peg I had chosen that informed my float choice.
For starters, I wanted a float that I could mend to without it deviating off line or 'lifting' out of the water. A thin, wire-stemmed model it would have to be. I also wanted a float that could be shotted delicately, with a string of 20-plus tiny number 10 shots, so that I could create an irresistible, slow fall of the hookbait through the six to seven feet of water I had right off the rod end. But I also wanted that slow fall because the water was gin clear. My thinking was that if the fish could see the punched bread slowly dropping through the layers, they would find it hard to resist.
The final pieces of the jigsaw saw me incorporate two number eight backshot, one 18 inches above the float, and a second one a further 24 inches above the first one towards the rod tip. These backshot really helped me to get the line behaving properly between float tip and rod tip. Backshot can make a huge difference to your presentation. Arguably the finest river float angler ever, Nottinghamshire's John Dean, endorsed their use and fished with backshot a lot of the time. And a good friend who is a fantastic canal angler, Steve Wilson, from Preston, once said to me: "Alan, if your presentation is better with backshot when it is windy, how much better will it be with backshot in normal conditions when there is hardly a breath of wind? Got me thinking, that one, Steve! And I think you are right.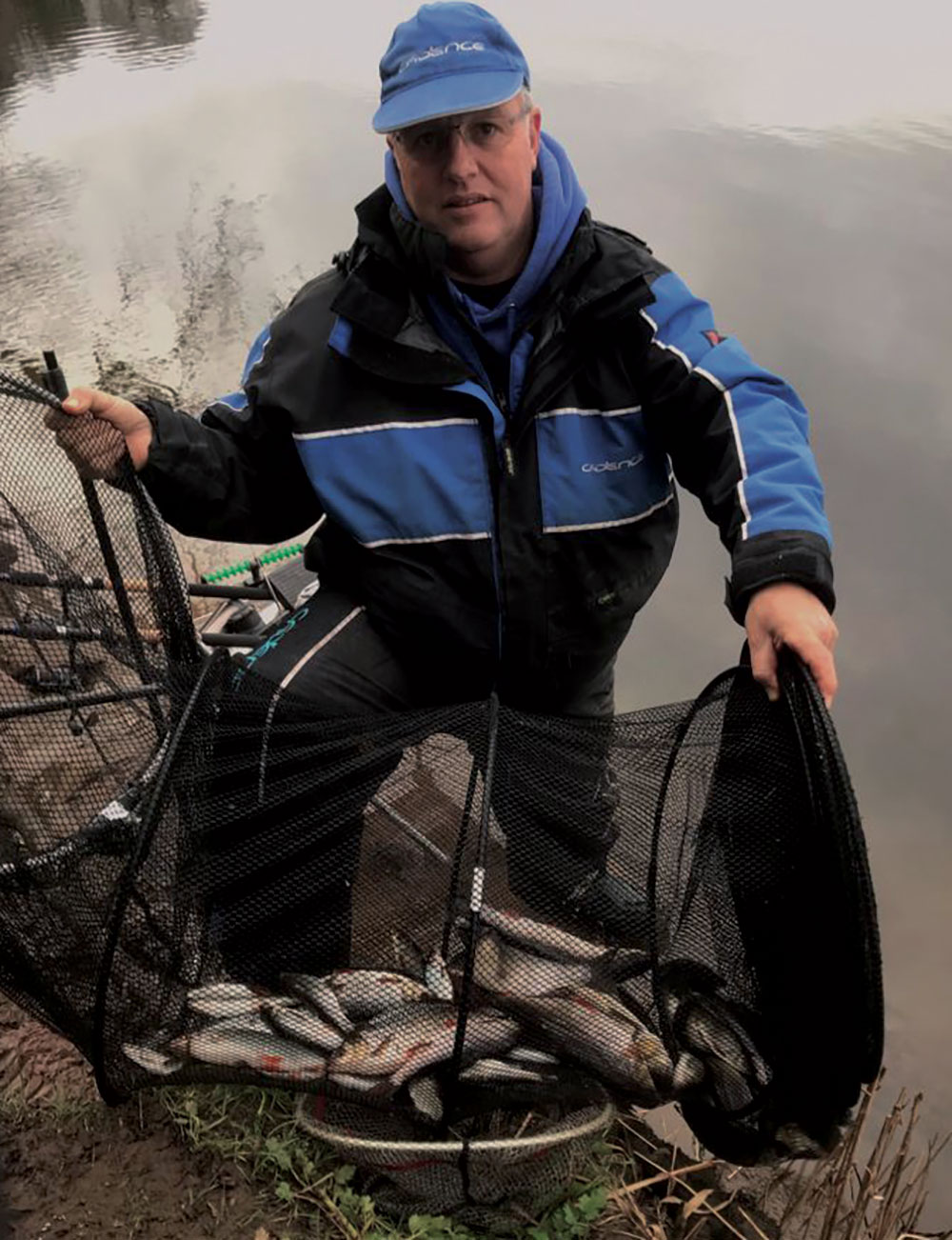 Hooklength material and hooks
The strength of hooklength depends on only one factor – the predominant species being targeted.
So if I am on an out and out chub peg – and in the Ribble in winter you often catch 3-5lb fish – I will always use a minimum of .12mm diameter which is usually 2-3lb breaking strain.
If I am on a roach and dace peg I will scale down to .10mm, which is usually 1.5;b to 2lb breaking strain. If it is gin clear and likely to be a day for coaxing odd bites, then I will drop down to a .08 hooklength. The hooklength brands that I personally use are: Match Team, Drennan Supplex and some old Omni that I managed to find.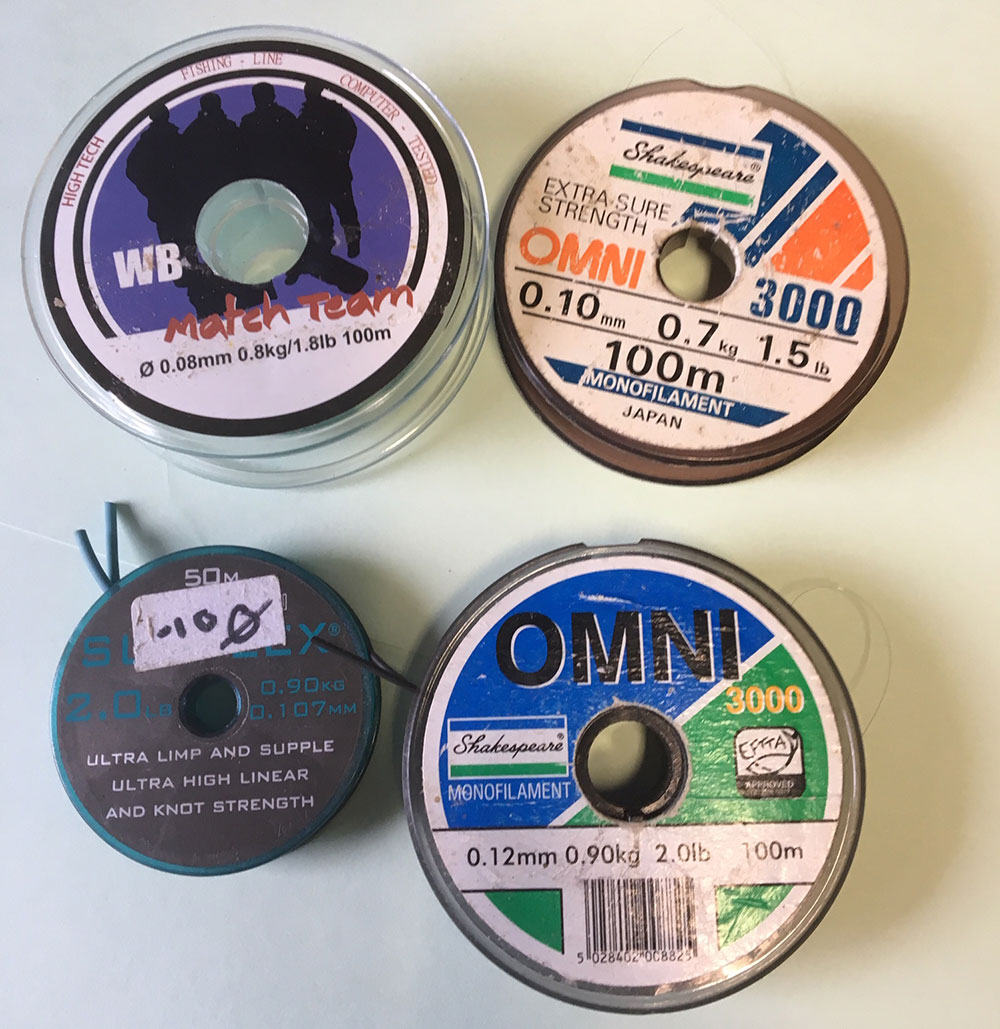 I have never been smashed by chub on .12mm diameter line and never been smashed by roach to 2lb plus on .10mm line. However, balanced tackle is critical so don't go fishing with a poker-actioned rod with these diameter hooklengths or you are asking for trouble. Treat yourself to a Cadence rod. It makes good sense!
Whilst talking about balanced tackle, the first time I field-tested the Cadence CR10 15ft Zero float rod, I had tied on a .085 Drennan Supplex hooklength to a size 18 Colmic B957 hook as I was fishing with a single caster. I hooked an 8-10lb salmon, which my friend Barry Broad and I saw leap out as soon as it was hooked, and I played it for a good 20 minutes before the line sheared on the hook's spade. Balanced tackle will help you land many bonus fish.
Hooks and bread punches
My choice of hooks has been narrowed down to four patterns or makes. I think the Drennan Carbon Match in a 16 or 14 is a terrific bread hook and is my go-to starting hook when roach fishing. The gauge of the wire is just right in my opinion. If I am in a peg where chub are the target and might find a snag or try to head for a snag, I step up to a Kamasan B560 in a 16 or 14. This is a slightly thicker wire pattern, so that extra bit of security is important. Both have wide gapes, enabling me to double punch the bread, but I will come n to that in a minute.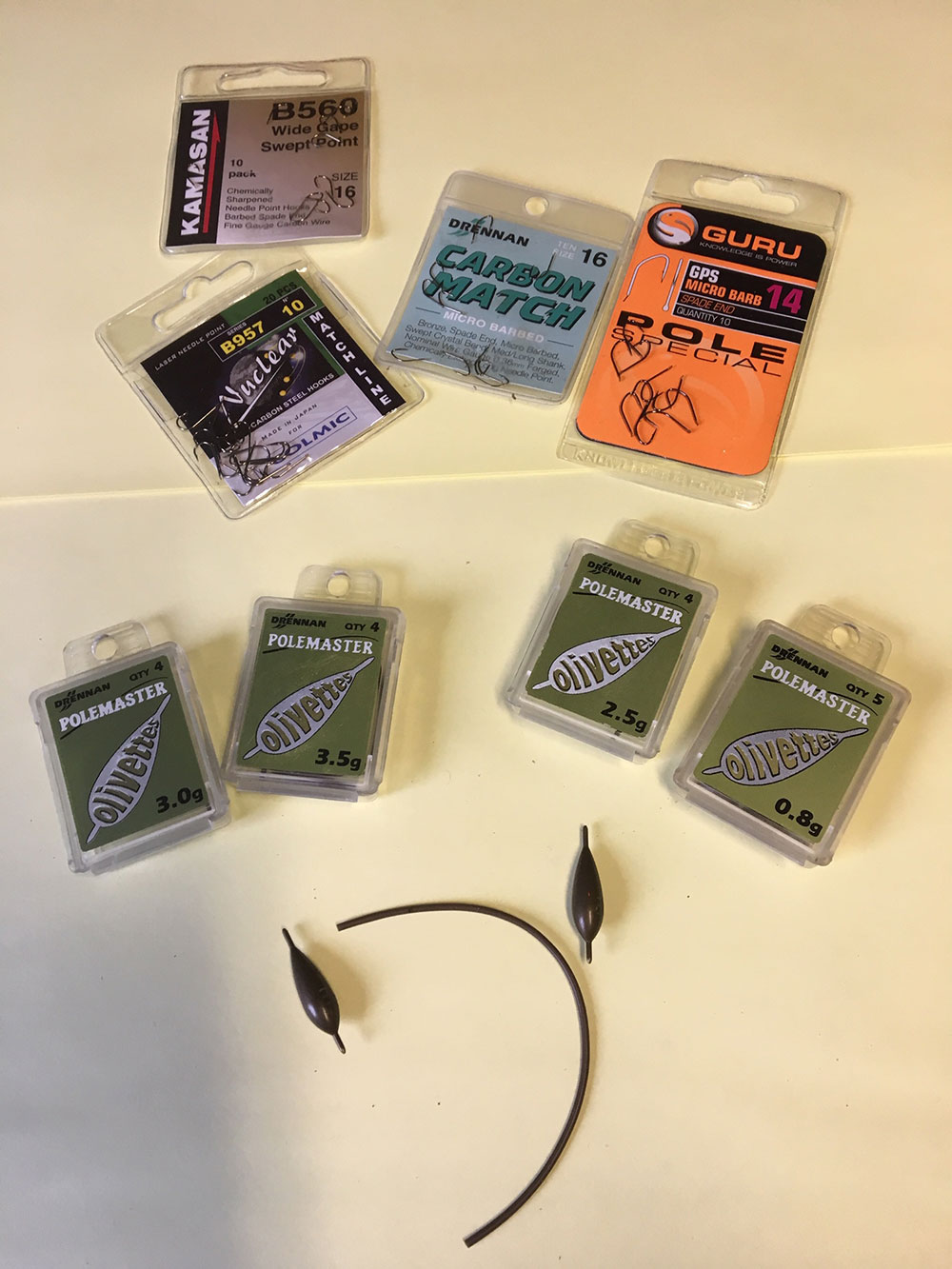 My other favoured patterns are the ubiquitous Colmic B957, which is a bronzed, round bend pattern with a medium long shank and a micro barb. This is a fantastic hook, which can be used for all manner of baits; worms, bread, corn, casters, maggots. It is slightly finer in the wire than either the Drennan Carbon Match or the B560 but it is very, very strong and holds its shape. Also, importantly, it does not blunt as easily as the Kamasan B560 if you decide to drag line along the bottom, as is often the case when fishing a waggler with a reverse taper shape, or 'truncheon' shape. The fourth and final hook choice is a Guru Fine Pole pattern in a 14 or 16. I like the long shank and wide gape crystal bend of this pattern. Another good hook which isn't like a grappling iron.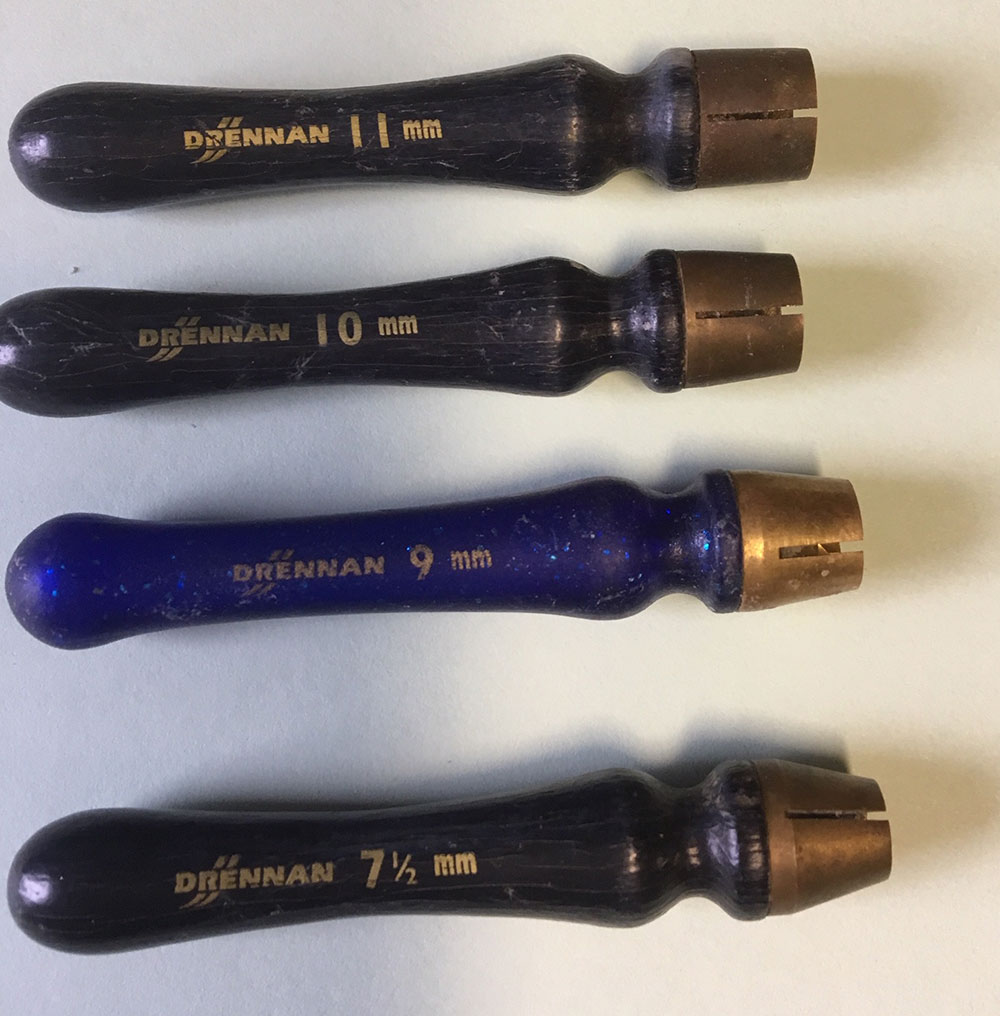 Breadpunch wise, invest in a set of the blue handled Drennan brass headed bread punches, or similar. For around a tenner with the Drennan jobs you get five punches in sizes: 7.5mm, 8mm, 9mm, 10mm and 11mm. These are excellent and cut perfect discs of bread.
Now a word about double punching. I have had some fantastic results by punching two discs out at once, so both are compressed in the head of the punch, before sliding the hook into them.
Both chub and big roach really like this arrangement. It must look like a Big Mac to them!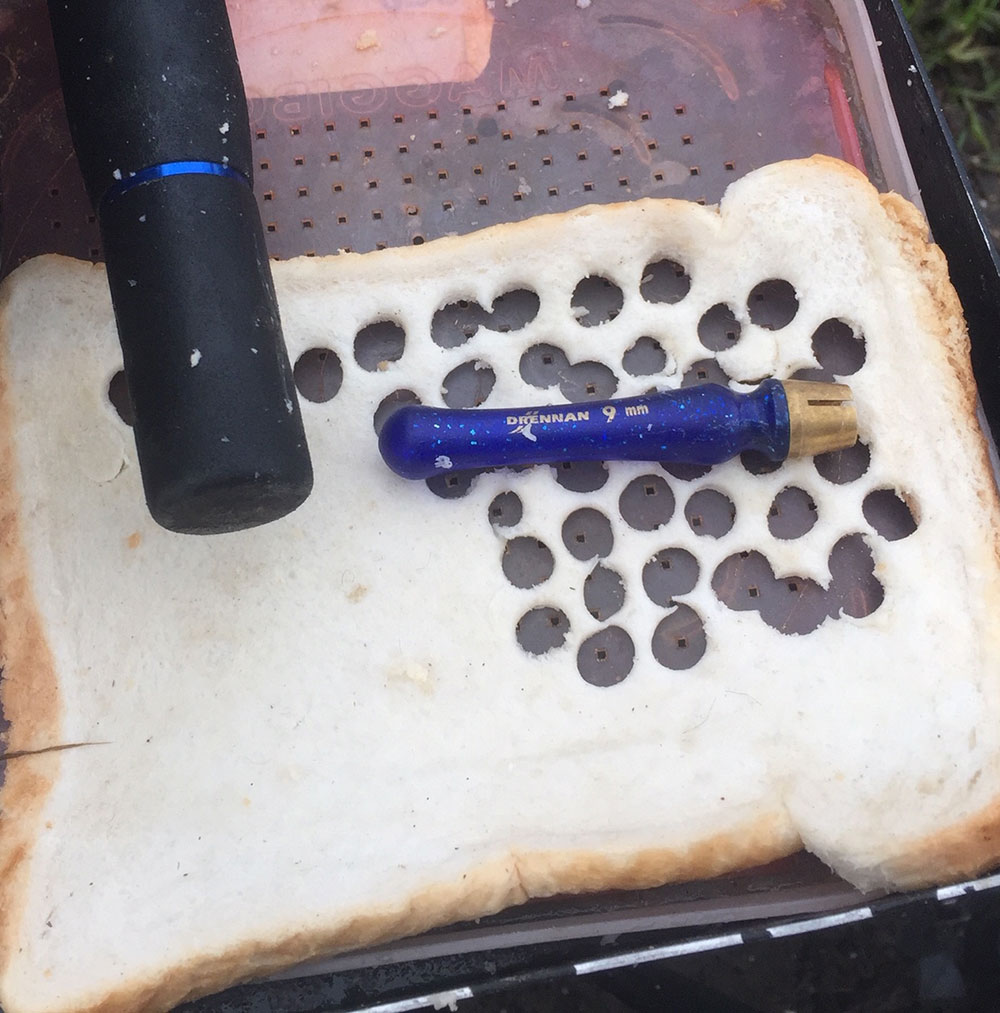 Feeding
There are no hard and fast rules with feeding bread on rivers. It's simple in my opinion – and certainly when pleasure fishing I like to give the fish a ball a chuck. A ball the size of a golf ball or slightly smaller is enough on a day when the fish are confident. Knock it down to a nugget the size of a grape on harder days. As mentioned earlier, you are dealing with powerful water in the Ribble, the fish are a decent stamp and they need some food to line them up in the pantry. So don't be negative, be positive. And if you are fishing some distance from the bank you need to have a decent catapult. The green-handled Drennan version that I have photographed – it is called the Soft Feed Groundbait Catapult – is spot-on. The soft semi-moulded pouch fires the bread out effortlessly and accurately. Buy one, you will not regret it. This catapult will allow you to fish down the middle or towards the far bank if that's where the fish like to live, especially chub.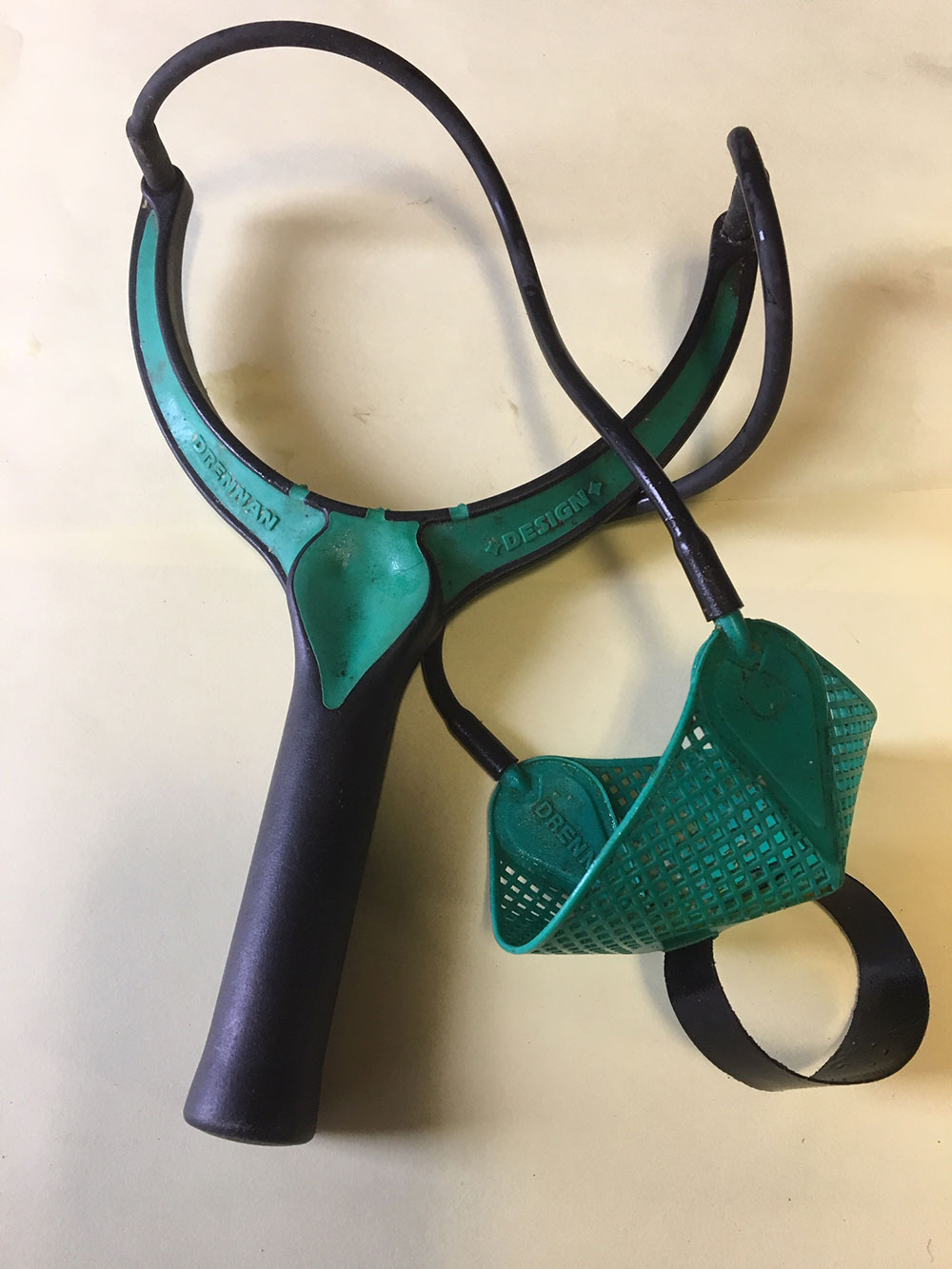 Conclusion: Go to it!
So there you have my take on fishing with liquidised bread and breadpunch. It isn't a difficult skill to master with a little bit of practice and the rewards can be seen in a couple of the catch pictures seen alongside the blog.
The key to success is good hookbait and groundbait preparation, selecting the right rods, line, hooks and shotting and working on your presentation. Once these pieces of the jigsaw puzzle fall into place you will enjoy some serious bagging. Good luck and don't forget to please leave some of those crumpers in the rivers for me!