The annual RiverFest Final was held over the weekend of the 7th of December on the River Severn at Shrewsbury. After two difficult days fishing, Cadence Ambassador Ian Ward was crowned RiverFest Champion. Ian takes up the story…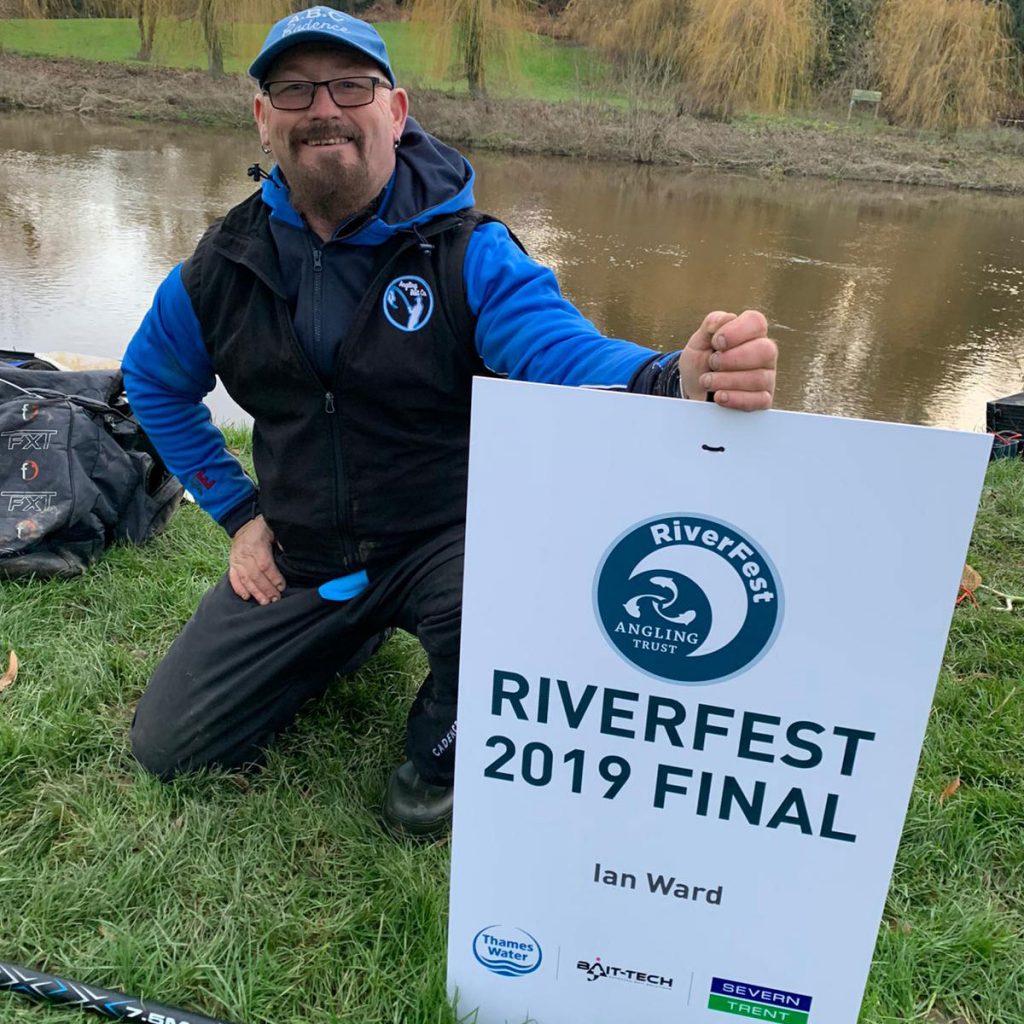 Well, now I've come down a little from all the euphoria of lifting the title I thought I would reflect on my weekend's escapades.
I had booked the Thursday afternoon and Friday morning off work to finish my prep and to go and get my bait from Denz at ABC. An adage I use which rings true every time is "fail to prepare, prepare to fail". With everything in place, I couldn't wait for Saturday morning to come. I was shocked to see that a big pulse of water had descended down the River Vyrnwy. I knew this would affect the sport severely, certainly on day one.
I arrived at the HQ at 7 am, and I have to say what a great event to be part of, 72 of the best river anglers ready to do battle over two days, and it was great to catch up with a few of the lads I hadn't seen for a while.
Day One
The draw put me on peg 77 and even with the river being full of sediment, I honestly thought there would be a few fish to be caught. I decided on three of my Cadence CP200 Whips to be fished at 6 metres, a 6g rig for running through slowly, a 5g rig for running through and a 12g flat float rig for big fish on the inside.
I didn't bother with a running line float rig due to a bush impeding my inside line. I also set up a Cadence CR10 12ft #2 Feeder to fish for dace a third out, with the more powerful Cadence 14ft #3 Feeder rod, paired with the new Cadence CS10 5000 Feeder reel, in the hope of finding bigger fish.
The match start signal came, and I fed the whip line with four balls of groundbait and fed the chopped worm line. I decided to kick off on the cage feeder, a third out, after ten minutes, I had a small dace followed by another. Hoping this was a sign that fish were about I had a cheeky look on the whip line but had nothing either running through or holding back. I had a nose on the worm line but, again no sign of life.
I went back to the cage feeder, but again, fishing was poor, for all of my efforts on my chosen methods, I only mustered another two dace which went to a poultry 4oz. With just over 5lb leading, the final was still in play.
I didn't stop and headed off home to evaluate my approach and come up with a plan for day two. In my mind, I wanted one of four pegs, those being 43 to 46 as they had silvers, though small off all those pegs during day one. I barely slept, I was chomping at the bit and hoping I could land on one of those pegs.
Day Two
I couldn't believe it when out popped peg 44! I had my game plan already sorted, and this was to concentrate on the whip lines with a chopped worm line close in as these pegs can produce big perch. Two CP200's at 6 and 7.5 metres were the order of the day, both sporting 1.5g rigs, ideal for the depth and pace of the section being 6ft deep and a proper worm rig for those big old perch.
The previous day they had caught small dace, which can signal there are better ones about too, they usually show up on the Priory Wall pegs as the river starts to fine off.
I planned to feed four balls at the start of the match with pinkie feed in them to hold the small fish, while loose feeding the outer whip line with maggot at the top of the swim. I would feed the mid swim with small amounts of hemp and caster at regular intervals, keeping the perch line topped up with worm.
The match started, and my plan went into action, I kicked off on the perch line, but with no bites, after ten minutes I swapped to the small fish line and was into micro dace straight away. I like to give that outer line a good thirty minutes before having a look, and this paid off as my first run on the outer line produced a dace of 4oz. From that point on, I never looked back, and the only issue was managing the atrocious wind adorning the tree to my left.
I did have the odd baron spell but, on the whole, caught throughout most of the day ending up with 80 dace, seven roach, a perch, chub and a rogue skimmer.
At the end of the match news filtered down that my mate Mat had snared a big barbel, so it was "squeaky bum time" as I thought I'd got maybe 12lbs. As the scales arrived, I was told that Mat had a total of just over 11lbs. As I lifted the net out of the water, I had a feeling I'd done enough.
I tipped my fish into the scales and watched them go around to over 14lbs. With the scales confirming my victory, the adrenalin and emotion took over, heading up the bank to hug my best mate and wife, Caroline. I'm not ashamed to say I was in tears. The feeling was awesome! My only regret was that my partner in crime for many years, the legend that was Perry Dalgarno, was not at my side. But I'm sure he was looking down on me with pride.