After finishing the winter league campaign on the drains with my Preston Innovations Blackhorse Team, I decided to have a few weeks off from fishing to sort my gear out and gain some brownie points at home.
During my time off I helped out on the Cadence stand at the Big One Show at Farnborough along with fellow ambassadors Terry Trueman, Leigh Harrison, Steve Cowley, Steven Chatfield, Andy Dixon and James Moore.
Not only was this a great social weekend for us all, but it was very successful for the Cadence brand, as more people are getting to hear about the quality tackle Cadence produce. It was pleasing to see plenty of people walking around with their new Cadence rods and reels.
So after a month away from the bank, I was itching to go fishing. As I've been invited to the Matrix British Feeder Championship at Barston Lakes, I decided to have a morning on a local venue, Rysons Lake, bream fishing with the feeder. This would get me used to casting accurately and hitting the line clip on my reel after such a long time out of action. It also allowed me to try out some new groundbait from new bait company, Evolved.
I arrived at the lake around 7:30am and decided to sit with the wind off my back, it was a cold northeasterly wind, but the temperature had risen over the previous two days from frosty mornings to a balmy 8 degrees, with the forecast predicting it to get as high as 15 degrees.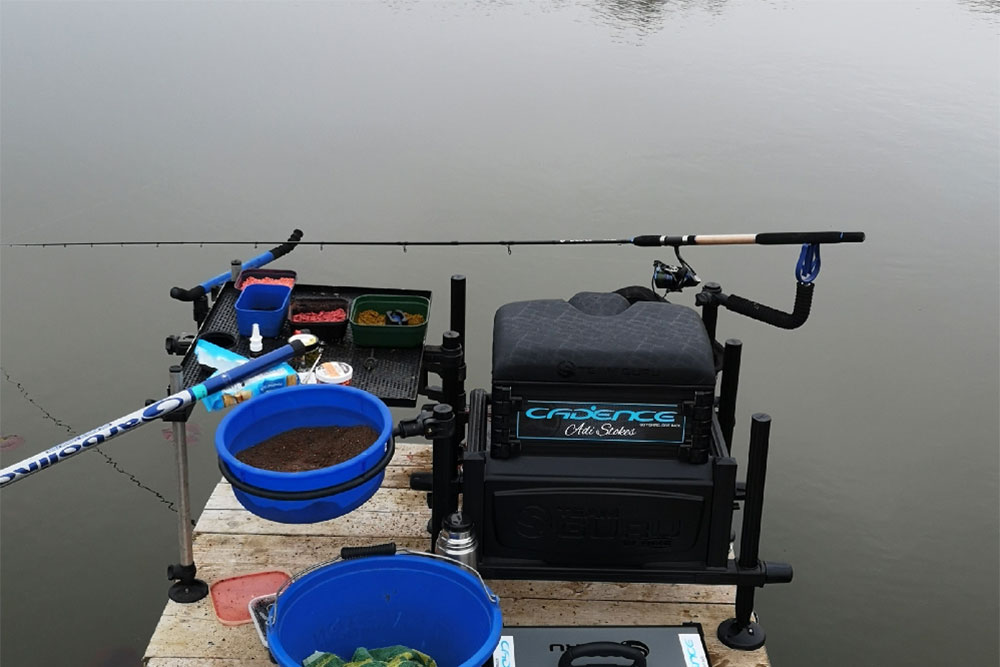 I decided to sit on peg 26, which has a floating island to your right and open water in front. I planned to fish a cage feeder in front and a method to the island.
Adrian's Bream Fishing Open Water Tackle
Rod: Cadence CR10 12ft #2 Feeder
Reel: Cadence CS10 4000
Line: Sufix Advance in 0.20mm diameter
Feeder: Guru 3 Hole Xchange with 20g weight
Hook: Guru SWG Size 16/14 tied to 0.12mm line
Bait: Worm, corn, dead maggot, expander pellet
Groundbait: 50/50 mix of Evolved Baits Sweet Fishmeal Black and Green Betaine.
Adrian's Bream Fishing Method Feeder Tackle
Rod: Cadence CR10 11ft #1 Feeder
Reel: Cadence CS10 4000
Line: Sufix Advance in 0.20mm diameter
Feeder: Preston Flatbed ICS Dura Method in 30g with elasticated stem
Hook: Guru QM1 in a 14 tied to 0.16mm line
Bait: Chocolate orange wafter in 8mm
Groundbait: Evolved Baits Sticky Method Pellet in Sweet Fishmeal Flavour, I would also have the open water mix to use if bites slowed down.
Feeder Bream Fishing Session
At the start of the session I put enough of the groundbait mix in a bowl to put 5 or 6 big feeder fulls into the swim, I added some corn, dead maggot and pinkie as well as some chopped worm into the mix. Combining all of these ingredients would hopefully bring the fish into the area. I decided to leave this swim for 45 mins and try to nick a few early fish on the method.
I started off with 3 dead red maggots on the hook, and for the first few casts, all I had were tap, tap, tap bites from small roach. A change to a chocolate orange wafter stopped the nuisance fish, and after a few minutes, bream number one was trying to pull the rod off the rest. After a short fight, the net was slipped under a nice 3lb fish. The next four casts all produced either wrap around or drop back bites, and four more bream to 5lb found their way into my net.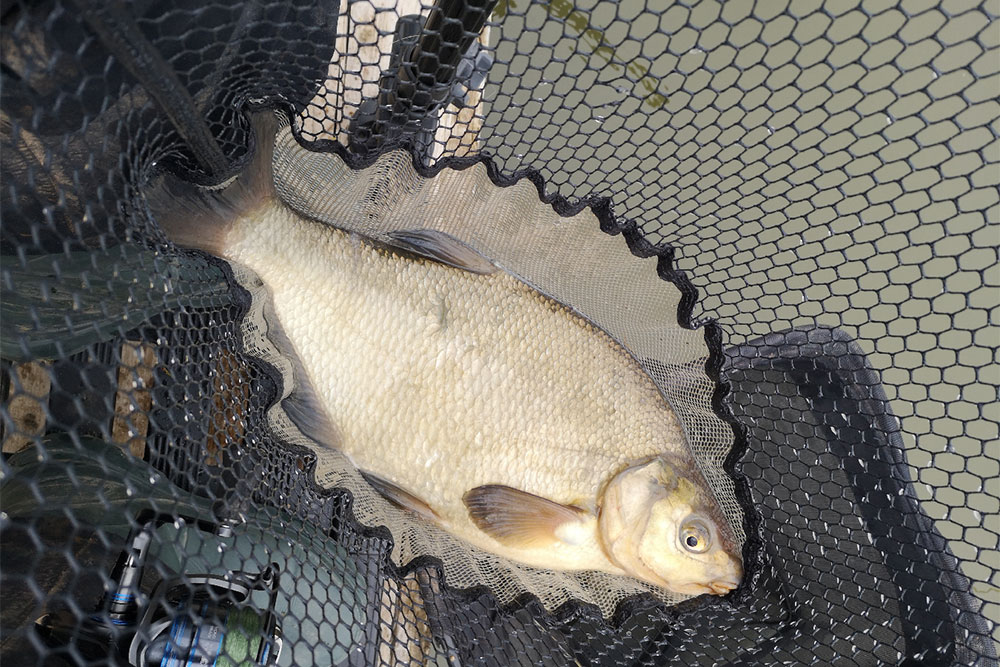 At this point, the wind got up, and the temperature dropped which resulted in bites drying up on the method.
I picked up the CR10 12ft #2 Feeder and put on a worm and 2 dead reds and cast over the pre-baited area. The swim was absolutely solid with small roach and rudd of around an ounce apiece, and it didn't matter what bait I tried, be it corn, expander pellets, 2 worms, big bunches of maggots all I had were the same tap, tap, tap bites from small fish. I decided to throw the method over that line with a wafter on, the tip never moved, so it seemed that big beds of bait just attracted small fish.
For the rest of the session, I kept casting the method every 10 mins to the island by swapping colours of wafters and casting around the island area. I caught another eight bream to 7lb, a small 8oz skimmer, as well as a tench of around 4lb to finish. At the end of my session, I ended up with 13 bream and the tench for a catch close to 50lb, not bad for four hours bream fishing.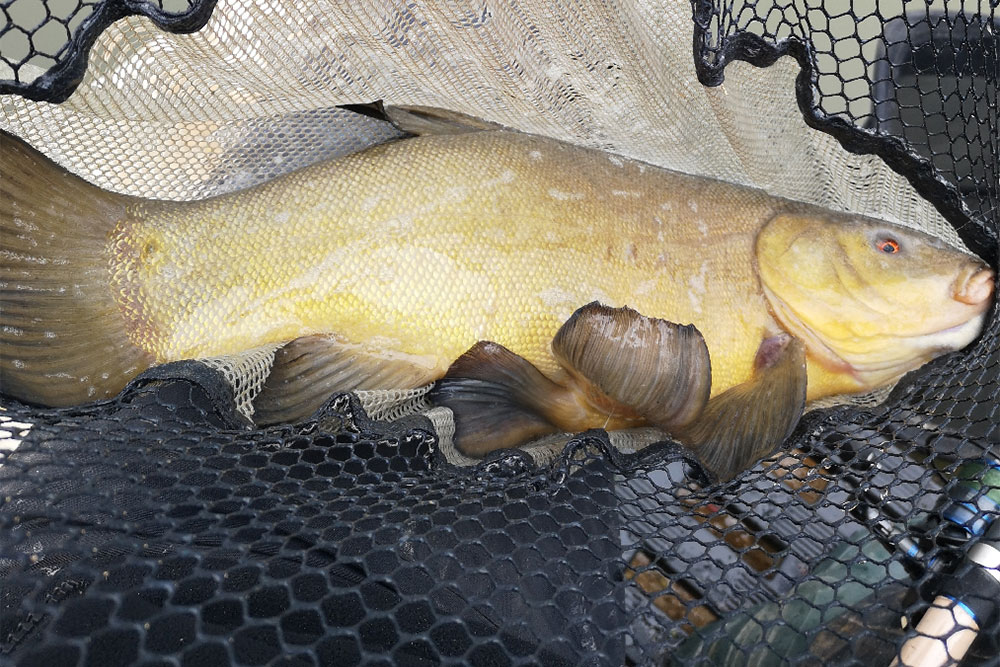 About the Cadence 11ft #1 Feeder
Designed with the help of Cadence Brand Ambassador and feeder fishing maestro Stephen Whitfield, it's an absolutely awesome rod for catching skimmers and bream.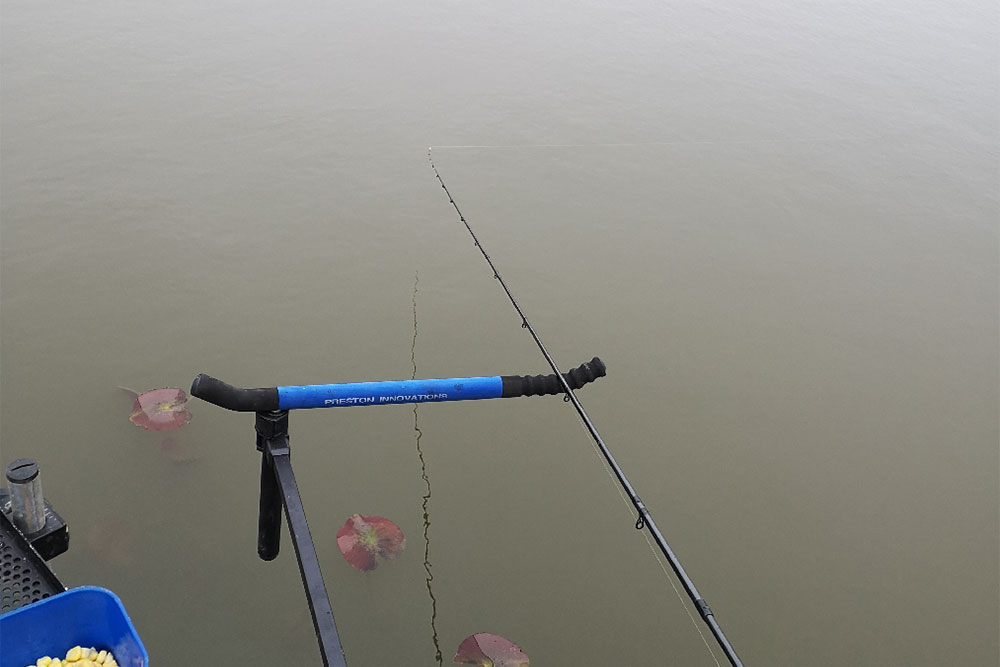 It comes in three sections and has three push in tips of 1, 1 1/2 and 2oz. Fitted with quality fittings from Fuji including a screw down reel seat and Alconite lined guides, its also equipped with AAA cork with an EVA grip handle.
It has a lovely action with no flat spots and has hidden power for casting feeders. It remains soft enough not to bump off fish when they are under the rod tip. All in all, a dream rod.