With the increased popularity of silver fish leagues, Keith Easton reckons that the best way to fish is the traditional waggler.
Every cloud has a silver lining and if anglers across the country have ever needed one, I think it's true to say now is the time!
With the increasing popularity of silver fish matches on commercial venues, I'd like to look at and sing the praises of an often overlooked approach, waggler fishing.
As the water gets colder, it tends to lose its colour and catching consistently under a pole becomes more difficult, often resulting in dry spells in matches where fish have backed away from the feed.
That said, I've found that fishing the waggler allows me to naturally spread bait over a bigger area and therefore avoid spooking the fish as I pick them off from various areas, this then naturally extends productive periods in matches.
The approach
Today, I have come to the beautiful Messingham Sands Fishery, in North Lincolnshire. The generous pegging at Messingham allows me to further split my peg into two, feeding left and right leaving a ten-metre gap between the two.
My approach is to feed groundbait on the windward side, while over the other swim I'm looking to just loose feed. This gives me options, as sometimes it's groundbait they want to feed over and other days it isn't! By splitting the peg and using both feeding methods it gives me two attacking options without putting all my eggs in one basket.
After some careful plumbing up I have found a consistent depth in both sides of my peg, at around twenty-five metres. It's about six-feet, which is perfect. With the waggler, it is never easy to get an exact depth reading anyway.
Bait-wise, I've chosen to fish and feed 6mm expander pellets, this is both selective in the stamp of fish it attracts and easy to feed at distance.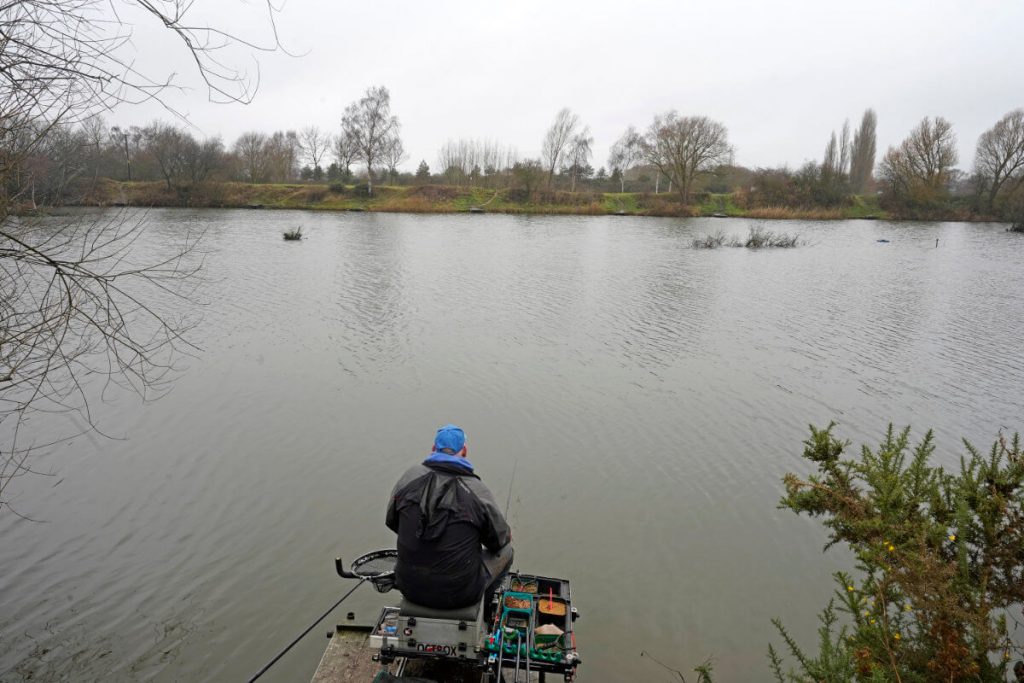 Bait preparation
Expander pellets are one of those baits anglers always seem to struggle with.
I always pump my pellets on the bank, simple as that. For this, I use a large pump, which will take a full bag in one go. When expanded, this makes three pints of bait. More often than not, I will feed this entire amount, but you might need to tailor this to your chosen venue.
Once pumped, I divide the pellets into two plastic bags with just enough water to cover them and then tie them up tightly, making sure to squeeze any air from the bag. After rigging up, they are ready to go.
Opening just one bag at a time gives me enough bait for the first half of a match and keeps the other bag of pellets in tip-top condition for the latter stages.
Kickstarting the session
To start the session I feed three tangerine-sized balls of Milled Expander groundbait with a little soil added. This is fed on my right-hand swim, prior to catapulting around thirty 6mm expanders over the left-hand line.
The groundbait contains no initial particles – pellets – as I want to make my hookbait stand out in the peg as it settles over the feed.
Starting on the loose-fed pellet line, the first few bites have come quickly, but were missed! Before you start to snigger, you'll find that this is often the case as fish start to initially feed. But sure enough, they will soon settle and to prove this fact, I'm soon landing my first skimmer of the day.
By feeding pouchfuls of around 30 pellets, but not feeding too regularly, I'm looking to keep the fish on the deck and settled, as this makes bites easier to connect with, which is important at this time of year.
With three more decent skimmers in the net, another batch of 30 pellets is fed prior to me moving over to the groundbait line.
This immediately results in a bigger skimmer followed by an f1. The next two fish are small skimmers and this, in turn, is the signal for another ball of groundbait and a move left onto the loose fed line.
I find it best to make the groundbait soft enough to break on or near the surface as this helps draw new silver fish into the peg.
First cast back on the left – pellet only line – results in a big skimmer, which is typical of this tactic.
A couple more quickly follow before the stamp shrinks again.
At this point, it would be easy to think you could simply carry on plundering this line, but you can't. As the size of fish lessens it is an indication that it's time to go on the groundbait line again. The important bit to remember though is always feed the line you are leaving before you switch. It's beneficial to never feed the line you're fishing, as this keeps missed bites to a minimum and makes the best of good spells during a match.
Set-up and bite registration
Rod-wise I'm using a Cadence 13ft CR10 #2, coupled with a CS10 3000 size reel. I find that to aid casting, using a 13-foot rod a larger spooled reel is important as the longer length and larger diameter takes a lot of the effort out of casting.
Regards the waggler for silver fish, I use one of my own! I like to use what I call a 'bossy' waggler. This means using a float slightly larger than you need. If you can get to your spot with 4g then start fishing with a 6g. This again aids casting, plus if the wind changes you will still be able to reach your spot with ease. Also, as less effort is put into the cast, it is less likely that a soft bait, like expander pellets, will come off the hook.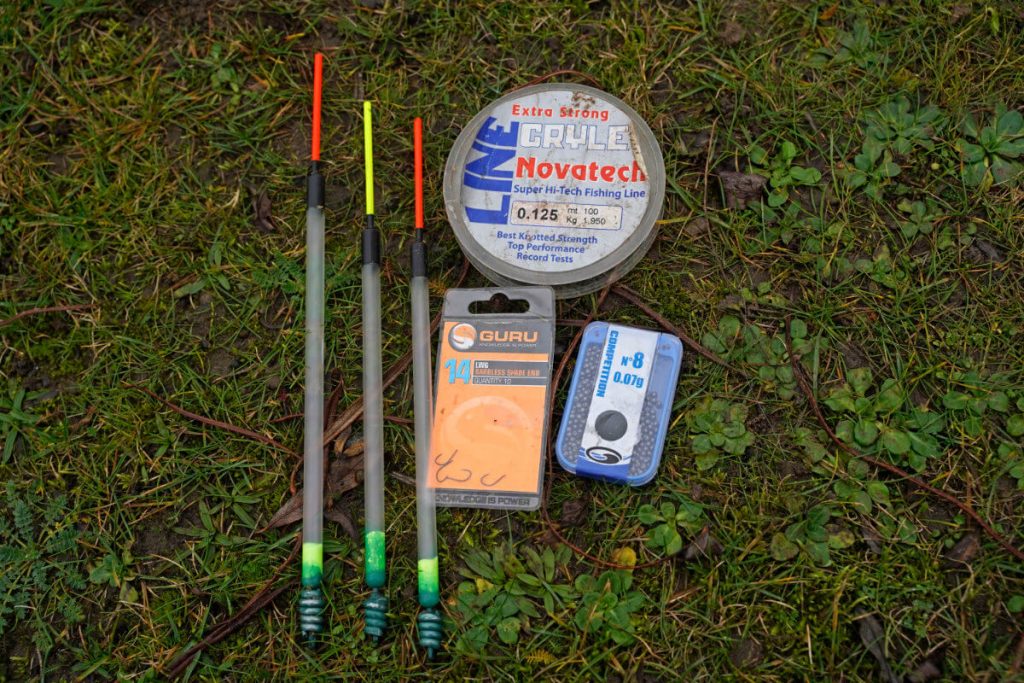 Another tip and lesson worth adhering to is when fishing expanders on a waggler, even on hard days, it's important to use a big enough hook. I tend to choose size 14 Guru LWGs. These also help to ensure the soft bait stays on during the cast.
It is all about getting the correct set-up to fish well.
Reading the dropper shot down is also vital, as bites regularly come in the form of lifts and hold-ups.
To this end, it's worth mentioning the size and position of the dropper shot.
Fishing a big bait, such as a 6mm expander, there is no place for No11 droppers, they are ineffective from a reading point of view at 25 metres and also, they won't hold your bait still on the deck. I think No8s are the way forward, often grouping them and using them as an anchor is best.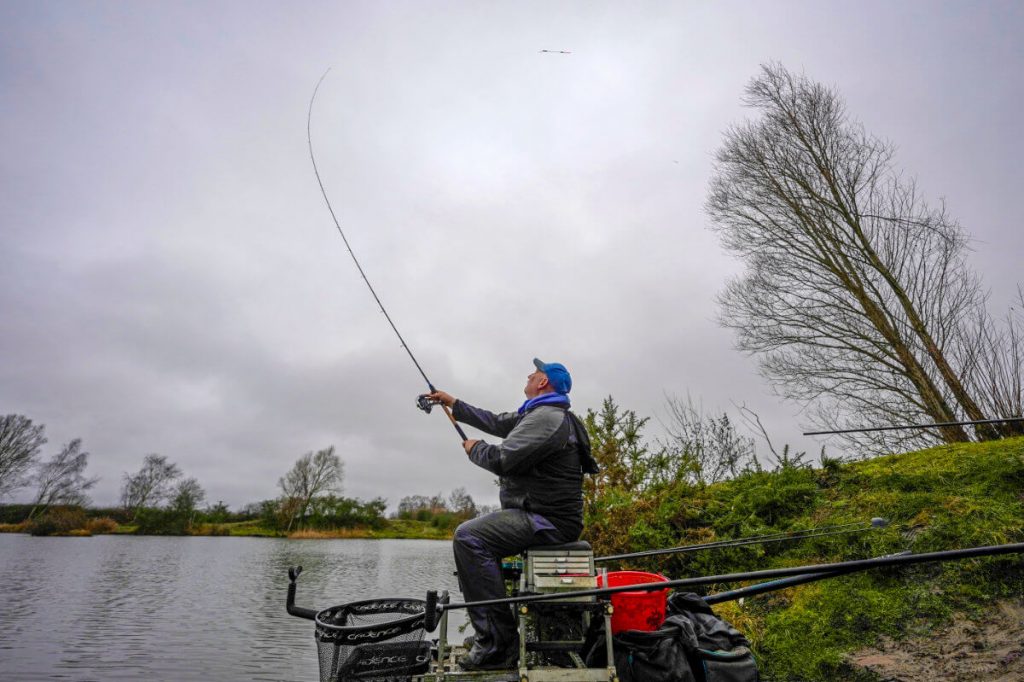 On this occasion, we have very little tow and a spread of four No8s spread across the bottom two feet of the rig is sufficient to hold the rig in place. The last two droppers are laid on the deck.
A short hook length plays its part, as the soft nature of the bait dictates the need to see a bite early before it is mashed up and the hook is ejected. For me, six inches is ample (cheeky!), which is very short regards traditional waggler fishing.
After a couple of hours, it is evident the loose fed line is stronger, so feeding expanders over this line begins, resulting in more bites. Perhaps the rich fishmeal mix is wrong for what is a cooling spell of weather?
Angling is all about changing to the conditions and today I may have learned something for this weekend's silver fish league.
Another option would be to fish caster or maggots over the groundbait and pellets on the opposing line. But, this can see you getting 'bitted out'.
All in all, it's been a great start, with around 15lb in the first hour, however, the catch rate has slowed, a short spell fishing past the bait soon puts that right and rather than chasing the fish with the catty I decide to keep feeding over my lines and give them a safe rest. This produces several more skimmers that find the expander to their liking and before long, dropping onto the feed results in the best skimmer of the session and a good last hour.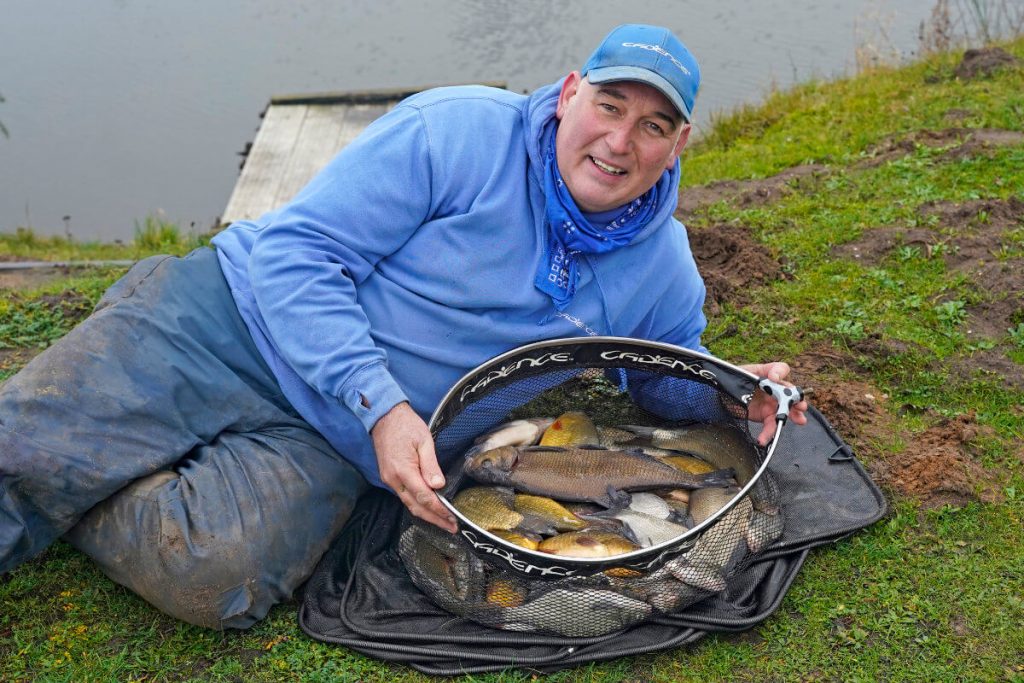 After a cold yet productive three hours on the bank, it's time to get our travelling cameraman on the road.
It's been great as always on this prolific venue. Messingham in my view is the best all-round commercial fishery in the country. The variety of methods that work are almost endless and that's got to be good in my opinion.
Maybe the commercial fisheries you use in winter will respond to the method I've talked about today, if it's open water and has a good head of skimmers and f1s then I'll bet it will.
Footnote
At the time of writing this, my gear is drying out after the latest round of the silver fish league where I finished second in my section with 44lb of mainly hand-sized skimmers, fishing, yes, you've guessed it, the soft pellet waggler.
This feature first appeared Match Fishing Magazine.