After some time off with covid restrictions and catching the virus itself, Terry Trueman heads to a local river for a spot of stick float fishing.
Not being able to fish due to Covid restrictions and then contracting the virus itself, it was great to finally be able to get out on the bank and do what I love the most – fishing the stick float.
With some of the main rivers a little out of sorts due to the cold weather and high-water levels, I thought I would try my luck on a small river I came across last year. The swim I fished is only three to four feet deep and only six meters wide, most of the flow is towards the far bank just before a slight bend. One thing I always do is try to be as quiet as possible and set up well away from the water's edge so not to spook any of the resident chub or any other fish in the swim.
With the weather nice and overcast but with a temperature of only around five degrees, I was feeling very confident that a few fish would be feeding, especially after a few showers the day before had put a nice colour and some pace into the river.
Tackle and Bait
My tackle for the day was going to be the 13ft #3 Cadence Match Rod teamed with the CS10 4000 Match Reel.
My mainline would be 3.5lb Daiwa Justron 0.148mm in black, I have been using this line for the last eighteen months with great success for all my float fishing. Having a nice shine, it floats and performs well and is great value for money for 500m.
Float choice is a Steve Maher or Dave Harrell shallow wire stemmed domed stick in 3×4 No 4 shotted with strung out No 8 shot. Hook choice is a 15 or 17 Kamasan B711 to 0.12mm fluorocarbon.
For the session I went for bread. With a few slices of white bread and some liquidised bread mixed with some brown crumb, I also had three pints of Scott Smith's maggots in red and bronze.
The Fishing
After running the rig through maybe six or seven times, just to make sure I was happy and I had got the depth right, it was time to start fishing. I went for a piece of 11mm punch on the hook, I hadn't fed at this point as you can sometimes hook a fish without any feed going in to begin with. Nothing happened after ten minutes, so I fed a golf ball of my bread and crumb mix slightly downstream then ran the stick float down the peg just past the bend where it buried. A big chub was trying it hardest to snag me up on the far bank. Five minutes later it was 1-0 to Mr Chub. The hook had pulled due to me being a bit rusty and impatient. I pulled too hard! This did seem to kill the swim and no more bites on the bread developed, so time for a coffee break.
While on this coffee break, I rested the swim for ten minutes while feeding maggots, which I hoped would bring in some more chub from downstream.
The first run down on double maggot from the same spot as before and I hooked another big chub, this time I took my time, and it was safely netted. Resting the swim works on these small rivers as I tried it three or four times in the session, after each resting period, I caught.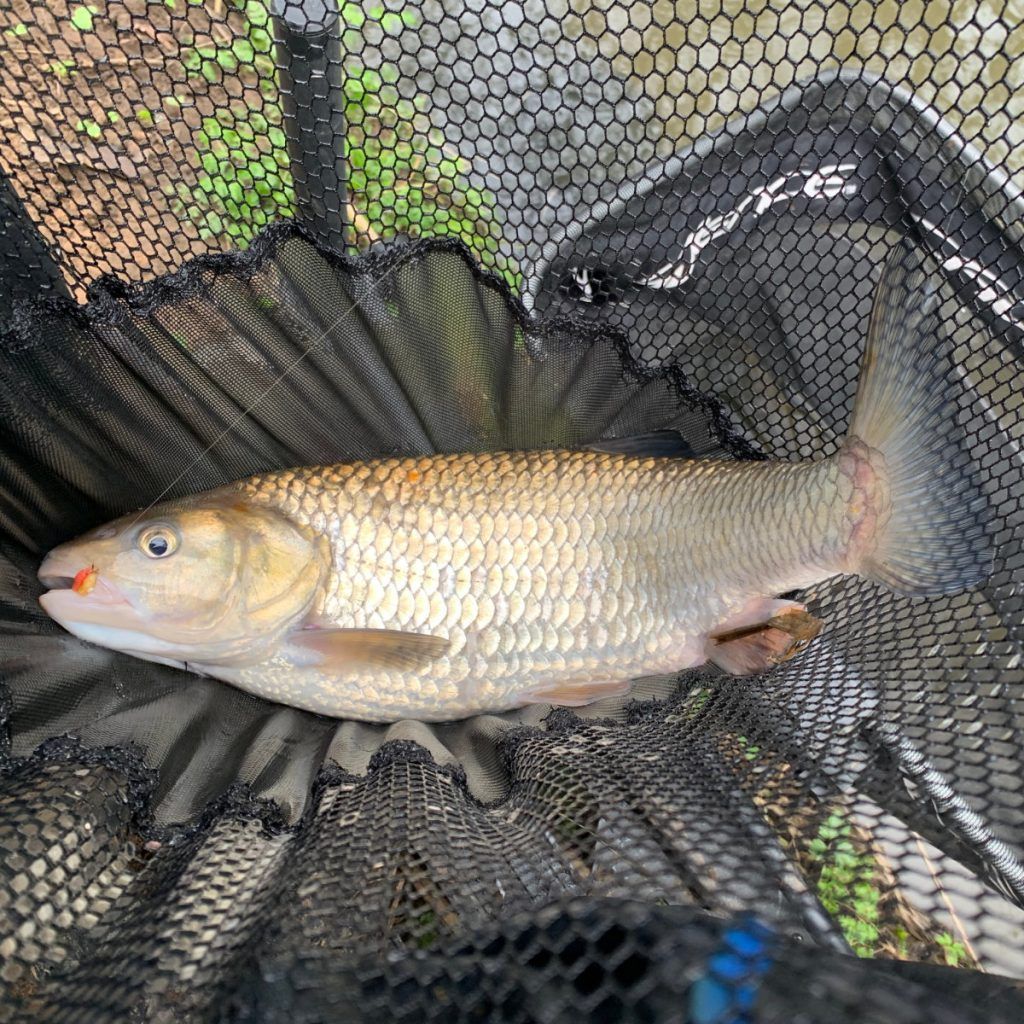 Feeding was also important, as too much, for example, 15 maggots, per run, resulted in no bites, but six to eight maggots proved better with more fish being caught. I also noted that feeding before you cast worked much better than casting first and feeding after.
Line control can also play a part with presentation, so I always use a good floating line and spray it before with some silicone spray. Mending the line and keeping it behind your float is vital. Another thing to remember is where you feed, slightly downstream with maggots and even further with hemp, had the fish where I wanted them and not coming too far upstream where there is a chance that I would be casting down past them.
Getting into a rhythm of feeding then casting in unison with the bait produced more fish from the pantry, where the bait and the fish have settled.
The rod while being the most powerful in its range, is still very forgiving in the upper sections so smaller fish are not bumped off or lost. The CS10 reel had more than enough power for those angry chub and balanced perfectly with the rod. While I was fishing, another angler who lived nearby, stopped for a chat and he was amazed at the size and the number of fish being caught. He had always walked past this swim thinking it was too pacey and shallow. So, it just goes to show that you never really know.