Adrian Stokes has been using the Cadence CP2000 pole for over a year and a half, here are his thoughts in this long term product review.
When Cadence UK's main man James Robbins told me that there would be a flagship pole coming from Cadence, I was excited to see what he would come up with, if it was anything like the rods and reels then I knew it would be a top-quality piece of tackle. James first showed me the prototype at the Big One Show in 2018. I was impressed at how good it was but James being James wasn't completely happy with a few things, so it was another five months or so until the finished product was ready to be launched onto the market.
At the time I was using a top of the range pole from another company that cost me a lot of money, but it was a fantastic pole. So, I arranged to meet up with James to put the poles up side by side and also to have a fish with the Cadence CP2000 on the River Avon at Warwick. When I put the poles alongside each other, I was surprised how much thinner the Cadence was at the butt end. It was also around 18in longer than my current pole. I put both poles up onto rollers, and the Cadence was a fair bit stiffer than mine and also felt lighter whether this is because it is stiffer or better balanced than my pole, I don't know, but the Cadence certainly felt better when I picked it up.
I needed to try the pole, so I had a fish with James' pole for around an hour and caught 4lb of roach and skimmers and also a rogue pike of about 4lb that took a roach. The pole was so responsive on the strike with little tip wobble. It flew through my hands thanks to the finish on the sections.
I was sold on the pole and placed my order there and then. I was so impressed with how the Cadence CP2000 handled. I finally took delivery of my new toy in late July 2018 and couldn't wait to get it elasticated up and get fishing with it. Here are my thoughts on the Cadence CP2000 in this long term review.
Cadence sells the CP2000 as a 13m pole only so you can add whatever extensions, top kits, power kits and spare sections that you want. Selling the pole like this allows you to customise the pole, you can have as much or as little as you need, which is a brilliant idea as a lot of anglers buy a pole at 16m with a load of top kits and never use the 14.5 section or 16m section — paying for stuff they never need. As I do a lot of natural venue fishing like canals, rivers and lakes, I went for the full 16m with a load of top 3 kits and some spare 4+5 sections.
Now, unlike a lot of poles on the market, the Cadence CP2000 comes with a thin hollow carbon no 1 section. This section needs to be either cut back so you can fit a suitable PTFE bush. If you fish commercials a lot, you can take out the no 1 and then put a bush directly into the no 2 section and then elasticate the 2+3 sections.
My first outing with the pole was to Willowbrook Lake for a silvers only match. I plumbed up two lines one at 11.5m for roach and a bonus fish line at 14m at the all-in I cupped in groundbait on both lines. I couldn't believe how easy it was to cup bait in due to the stiffness of the pole, but also the cupping kit is super stiff too. I caught roach steadily, and the pole was a dream to use, so easy to ship in and out thanks to the finish on the sections. I ended up third in the match with 14lb of roach with the odd skimmer to 12oz, so a good first session for the pole.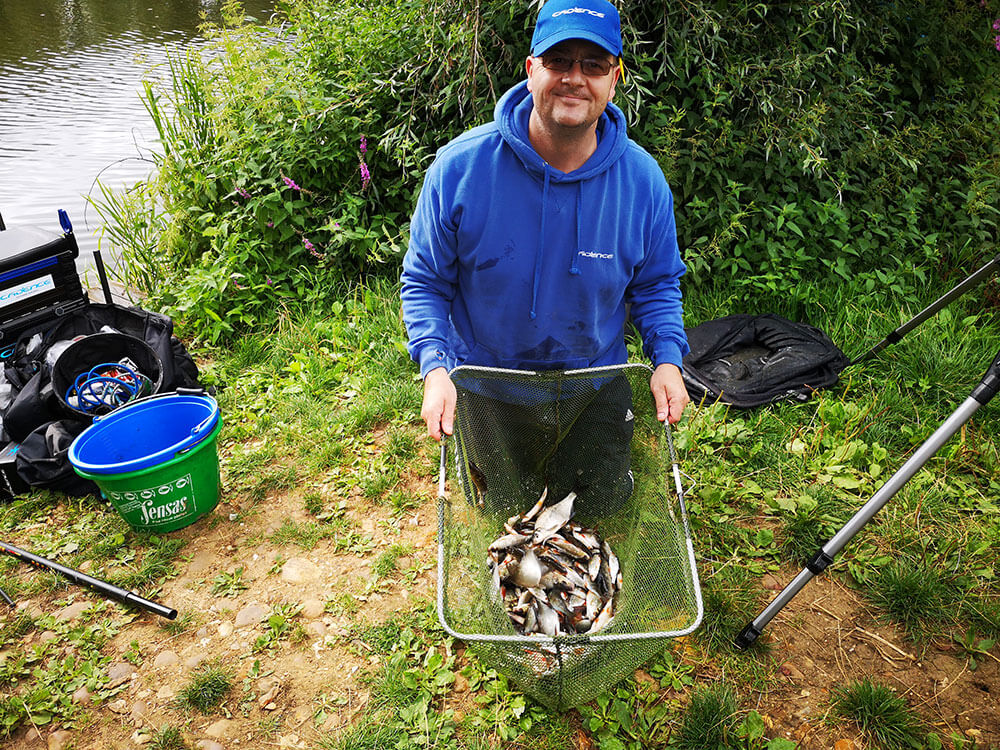 The first real test was a canal match which involved a lot of awkward shipping parallel to the bank and a strong wind blowing straight down the canal. I was able to fish the pole at 14.5m easily, even in the challenging wind, and I caught around 200 fish. Yet again the pole passed all the tests. I have used the pole at 16m a lot, especially on Castle Ashby catching weights of skimmers and bream in some terrible conditions when the anglers around me daren't go longer than 13m with their poles.
I fished with the pole on the drains all last winter which puts lots of strain on a pole as the banks are steep and muddy and again you are catching loads of fish, so your kit needs to be reliable, the Cadence CP2000 never let me down. The final test was to take it to a snake lake with some proper hollo elastic in a Power Top 2 Kit to catch some carp. I deliberately picked a snaggy swim that would require some hit and hold tactics. Well, I didn't need to worry as the pole never let me down. I caught a load of carp up to 8lb and not once did I feel that I wasn't in complete control.
The pole is made from high-quality carbon and weighs a staggering 762gms at 13m. As I mentioned the Top 2 Kit comes with a thin hollow tip, I cut mine back, so the combined length of the Top 2 is around 6ft long and this is spot on for elastic up to a no 6. The no 3 section has a reinforced carbon band so you can drill it to fit a side puller system if you do a lot of commercial fishing. All the sections are numbered from the 4th to the 8th. The finish on the pole from the no 5 right through to the 16m is a lovely matt finish that glides through the hands even when wet. The 13m, 14.5m and 16m sections have got eye-catching yet subtle graphics which give the pole a classy look. The 13m pole fits inside the 14.5m section too, so you don't need extra tubes in your holdall.
You can buy short mini butt extensions which are a godsend if you are shipping back through a hedge or over rough ground as they stop you damaging the ends of your expensive pole these fit the 5+6, 7+8 and 13-16m sections.
I have owned my Cadence CP2000 pole now for nearly 18 months, so I've been able to give it a long term review, I can honestly say that it is the best all-round pole I have ever owned. I haven't had any sections break or chip, and the ends of the sections are not showing any signs of wear even though I've caught 1000's of fish on it. Saying that I do look after my kit and the pole is cleaned and polished after most sessions. I have also fitted nose cone protectors on the 4, 5+6 sections as these are the ones I unship on the most, and I use skid bungs in the ends of the pole which stops any damages (have a read of Alan Barnes article on Keeping Your Fishing Pole in Top Condition). However, if you were unfortunate enough to break a section Cadence have all sections in stock and available on next day delivery and are very reasonably priced.
The thing that has pleased me the most is the number of top anglers that have had a go with my pole and can't believe how good it is, especially when I tell them the price, it is that good. I have owned or had a go on probably 95% of all of the top of the range poles, and I can honestly say that the Cadence CP2000 is the best pole I've ever used and in my opinion, it's the best value for money pole on the market.