If you wish to be a successful match angler, then your preparation before a match or for the forthcoming match fishing season is of vital importance. In this blog I intend to go over the steps I take to get prepared for the venues I will be fishing in the Autumn and Winter. Recently, I have had a swap around, as I do every year ahead of the Shrewsbury Classic and the Wye Winter League.
My summer fishing is mainly on the River Trent, then in the Autumn, my fishing switches to the Severn and the Wye for the most part. The tackle and tactics I use on the Trent are completely different to what I would use on the Severn and the Wye to allow me to be competitive.
Rods and Reels
For summertime Trent fishing, match rods and reels are my standard go-to. This will include the CR10 13ft #1 and the CR10 15ft #1 for stick float fishing. The reason for this comes down to the terminal tackle required to get bites. On a clear river Trent, in summertime, I will have to fish fine and light. For example, at Burton upon Trent I can often be fishing size 20 hooks to 0.08mm or 0.10mm hook lengths. If I fish heavier, I will get less bites. The super soft No 1 (#1) rods allow me to fish light without ripping the hooks out of the fish's mouth. I couple these rods with CS10 3000 reels loaded with 0.14mm mainline. Once summer has finished, these rods will be put away until the following summer.
As I move on into Autumn and Winter, my choice of rod and reel changes. I choose to go to stiffer No 2 (#2) rods in various lengths between 13ft and 18ft in length. Terminal tackle wise, I will be fishing with hooks between sizes 14 and 18, tied to hooklengths of between 0.10mm and 0.14mm.
Cadence No 3 (#3) rods also play a part in my fishing at this time of year, useful when fishing with bigger baits like bread, meat and corn. I'll be fishing with hooks between sizes 6 and 12 with stronger hook lengths. The extra beef in these rods enables me to cast bigger floats better and aids line pick up so I can set the hook good and proper. I tend to go for bigger reel sizes too, using 4000 sized reels loaded with mainlines between 0.16mm and 0.22mm.
Remember, it is all about balanced tackle, so always pick the right tool for the job. The Cadence numbering system makes it easier to pick the right rod for the job with the simple guide below. If you're interested in reading a more in-depth look at our number system, Alan Barnes has written a fantastic blog on how to choose the right rod using the system, which you can read here.
| Cadence No | Action |
| --- | --- |
| 0 | Very Soft |
| 1 | Soft |
| 2 | Medium |
| 3 | Power |
| 4 | Big Power |
All of my rods are set up in ready holdalls with line threaded and an elastic band on a loop for quick set up.
Whips
I have four Cadence CP200 whips that come out in the Autumn / Wintertime, I rarely use them during the summer. I have two CP200 6M Whips and two CP200 9M Whips. These are set up with various elastic setups which can be interchanged through all of the whips. Design-wise, they are partly telescopic, the CP200 6M has a telescopic Top 3 which enables you to fish shorter whips. The CP200 9M whip has a telescopic Top 5 kit which enables the whips to be lighter. A case of bleak whips with the rigs already made up on them comes into play also.
Rigs
Making rigs has to be the most time-consuming job in preparing for a match or even just a general fishing session. This year it hasn't taken too much time though, as they were all done last year and hardly used due to the Covid Lockdown. I keep them in Preston rig boxes and make sure the rig box is marked up correctly. I purchased a brother label printer a couple of years ago and this was a great investment, I don't like wasting preparation and good labelling helps me know what is what.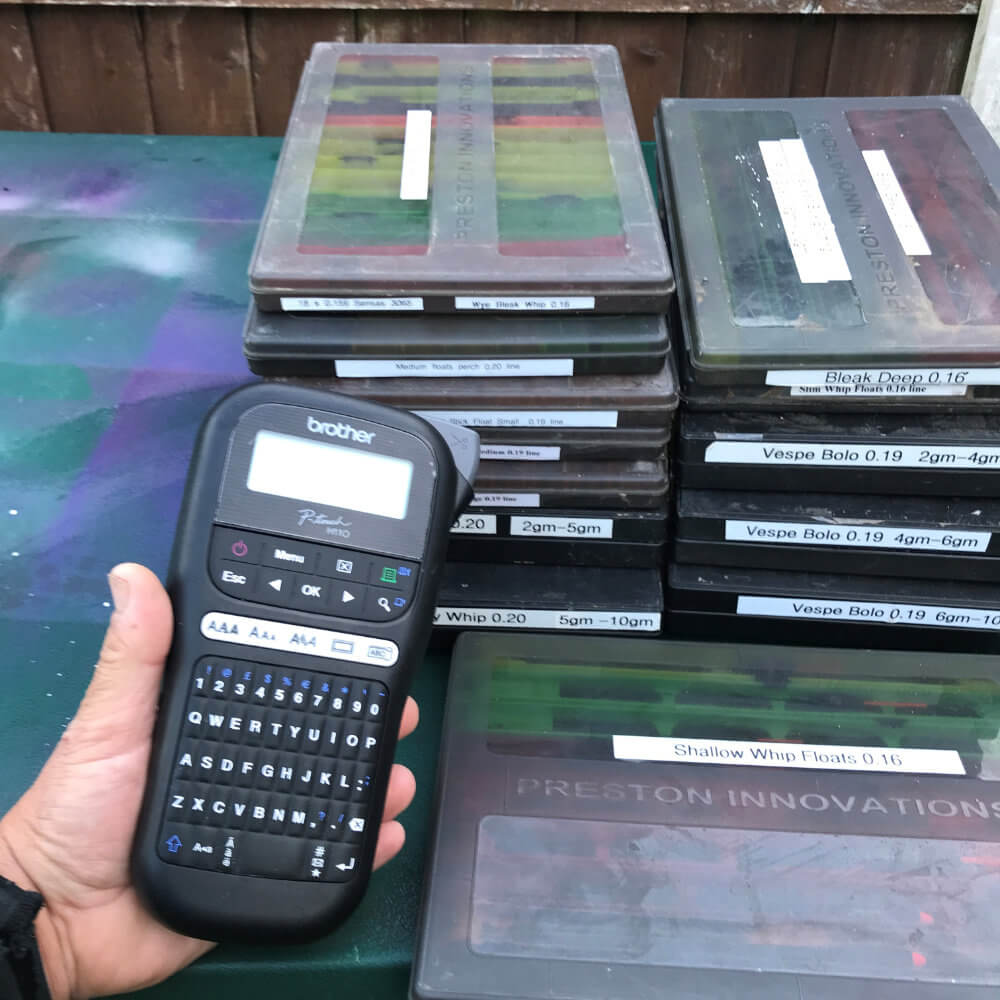 My lighter summer Trent rigs have been put away until next year and replaced with heavier winter rigs. I use a colour coding system with all my rigs, with a different coloured winder corresponding with the length of line on the rig. At the start of the season, my whip rigs, for example, will be on 9 meters of line on a purple winder. Normally these are shortened on the bank to suit the conditions on the day. After the match, if they are in decent condition, they go back onto the right coloured winder. The system I use is:
| Rig Length | Colour |
| --- | --- |
| 7.5 Meters | Red |
| 6 Meters | Green |
| 5 Meters | Yellow |
| 4 Meters | Blue |
| 3 Meters | Orange |
On my next trip, with a quick glance of my rig tray, I know what rig is where. Eventually, I redo the rigs back on a longer length of line. This system saves me hours in preparation time so I can fit a bit of work in around my fishing!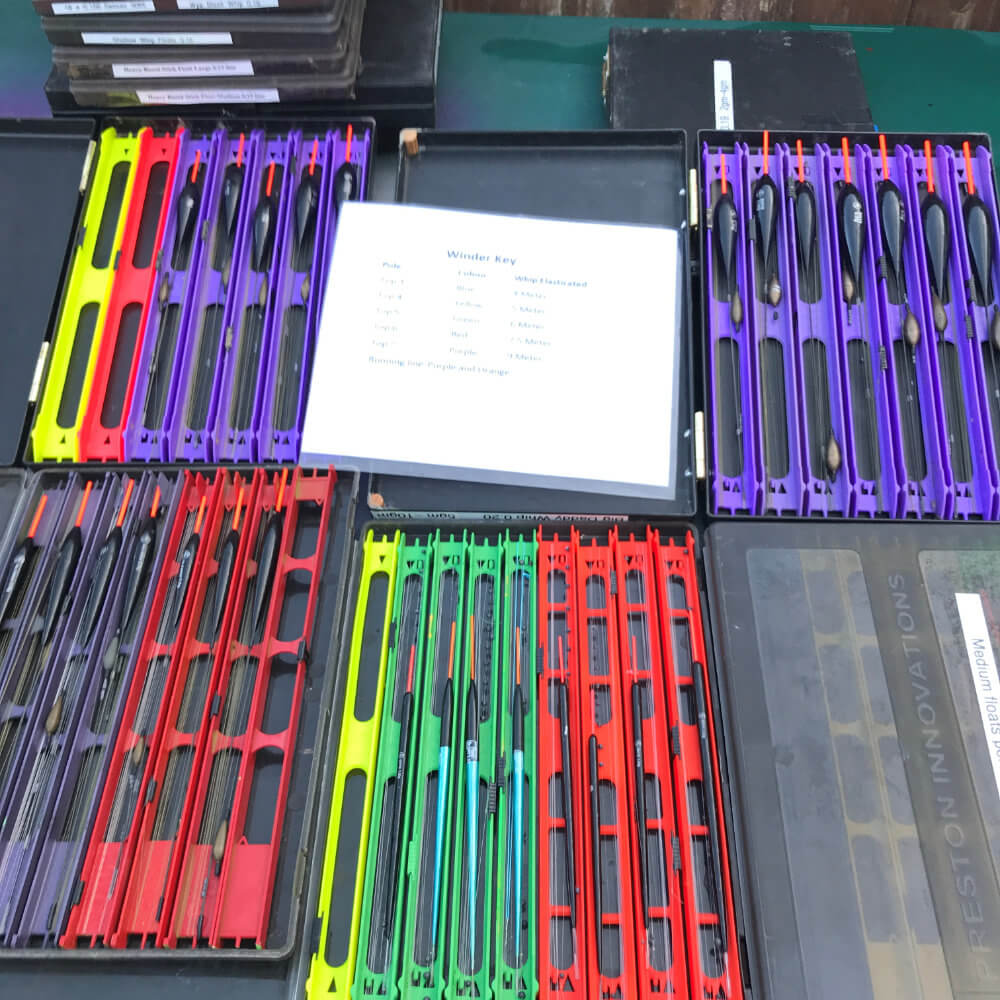 Running line stick float and bolo rigs are generally set up on a shortish piece of 0.20mm line and kept on winders. I have a good-sized loop on the mainline on my rods where I can pass the winder through with the loop to loop set up. The rods are made up in the ready rod holdalls.
I hope that gives you a good insight into the work involved behind the scenes as a match angler.
Fully armed and loaded as we say amongst my Cadence Superteam teammates.
Tight Lines – Riggers.